The gig is up. More and more people are finding out that their food products are full of harmful additives like sneaky sugars, carraggean and "ingredients" that aren't really ingredients at all. And they're over it. They're sick of spending money on products touted as health foods which are actually only making them sicker. Now more than ever people are caring about what's in their food. Here are my top 14 companies that care about it, too.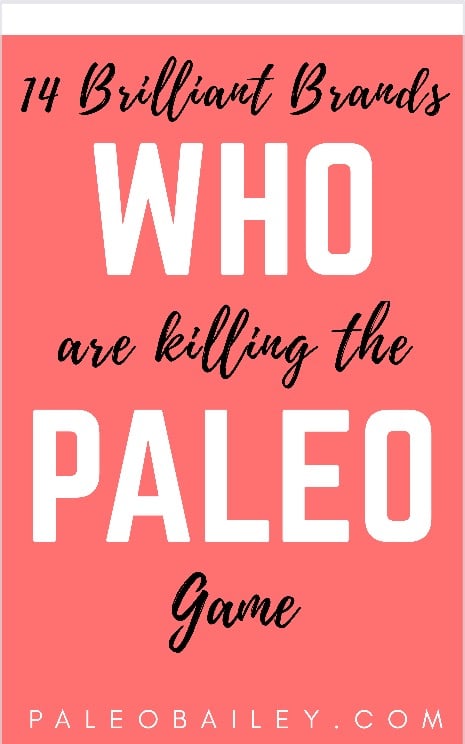 If you're looking for healthier alternatives to overhaul your pantry or just looking to start making healthier swaps here and there where you can, I've got good news for you. It's easier than ever to do it! Companies are starting to hear your voice and gone are the days where the only salad dressings you can find all list sugar as the second ingredient.
Even just a year and a half ago when I first started making the switch, there weren't a lot of crap-free options that were available or they were hard to get your hands on. You had to set aside valuable time to make a lot of these things yourself. Like almond milk, dressings and marinades. Or, sadly, the other option was to go without. The food culture has transformed so much in just a few short years and you're no longer forced to pick between additive-filled packaged foods or none at all.
The general rule when I first started paying attention to my health was pretty much just a blanket guideline of "no packaged foods". The market is changing and that's no longer the case anymore. A lot of people ask me about my thoughts on packaged foods – and while they don't compose the majority of my diet like they did before I lost 120 pounds, all of these companies are making the best Paleo products and offer packaged foods made only with WHOLE ingredients. Meaning that they have a place in my diet because they're making my life easier, grab and go options quicker and meal preparation more efficient.
Here you'll find a smattering of awesome companies that provide trustworthy products ranging from unprocessed, sugar-free meat, snacks, baking/cooking ingredients and condiments. All of which have homes in my kitchen.
Snacks: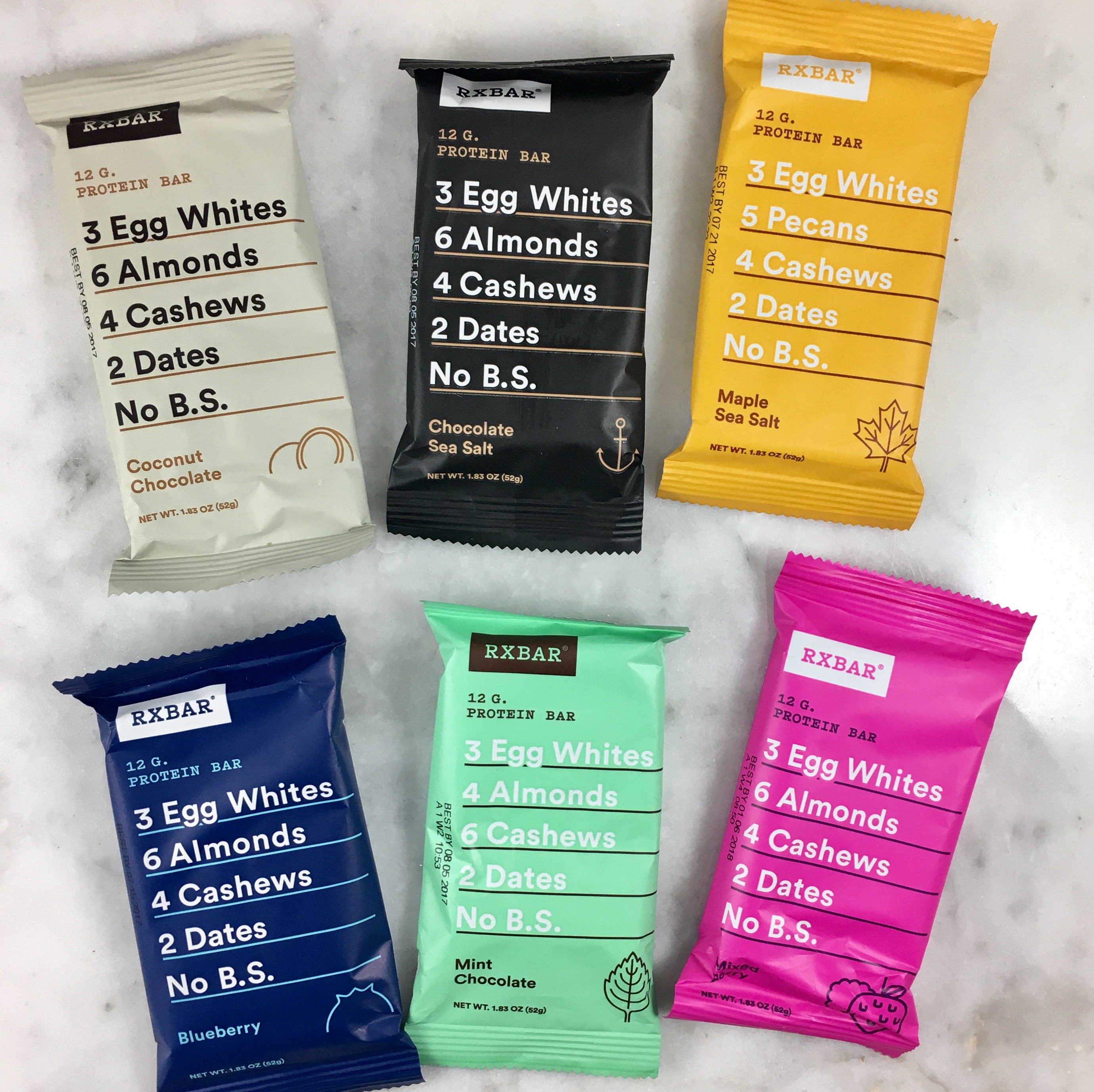 The best tasting flavors for protein bars in the history of existence, Paleo or not. I hide these little babies in my purse, in my car and at work for emergency snacks or grab one on mornings I'm rushing out the door. If you haven't tried the blueberry flavor, you haven't lived. The only one two that aren't Paleo are the ones with peanut right in the name. The other flavors are good to go.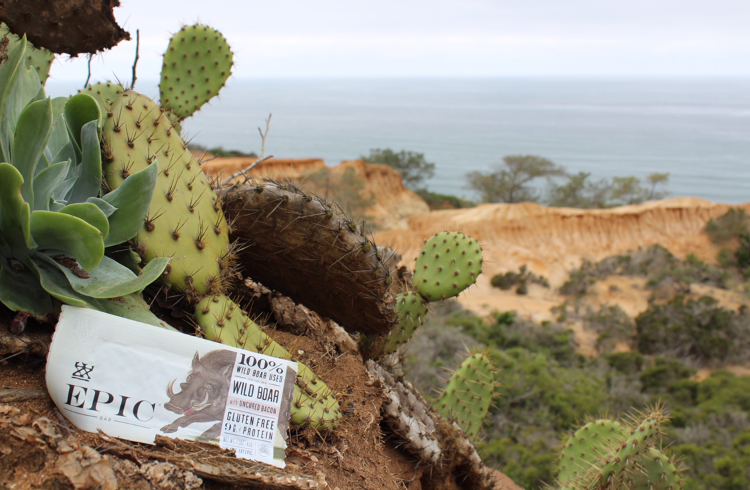 My boyfriend and I rarely fight. I seldomly get angry with him and vice versa. We're both just generally happy to be around each other so it takes a lot for either of us to get worked up. The last time I can even remember being upset with him was because he ate all of my bacon Epic Bars. That's saying something about how valued these things are in my house. You can get them at Whole Foods, online at their website, Amazon or Thrive Market. Fun fact: if you get them at Whole Foods, when you buy a case of 12 they give you 10% off for the case discount.
Super duper ethically sourced meat from a company who's mission is to create awareness and change in the industry. My kind of people. Also, I'm eating one as we speak. Nom nom nom.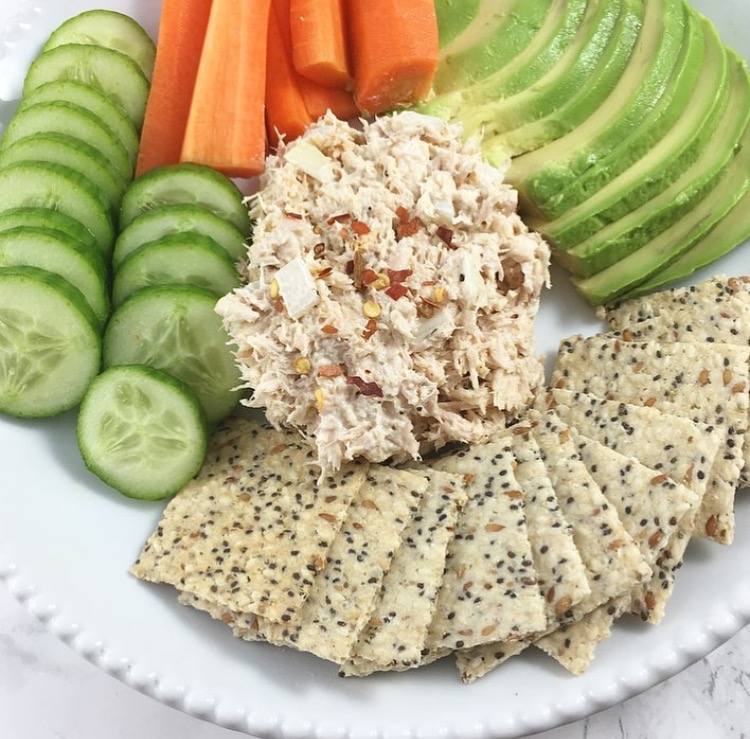 The perfect addition to any veggie tray, tuna salad, soup, breakfast bowl, salad, you name it. Or, just as a crunchy snack! They're 100% grain-free and come in a few different flavors. The Mediterranean is my favorite to go with soup and the sea salt is my favorite for tuna and chicken salads. Get them online at their website, Amazon or Thrive Market.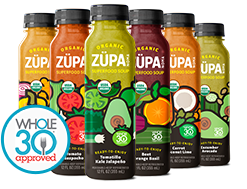 I found these packaged veggie soups at the Natural Foods Expo West this year and I've been in love ever since. They're SO convenient to keep on hand in the fridge for when I don't have time to cook, want something slow to snack on or am leaving the house in a hurry. I often bring them to work for the busy nights at the hospital when I can't find enough time to sit down and eat. Tomato Gazpacho is a top fave.
They're made from all whole veggies with nothing sketchy added and the flavors are super awesome. They just became a Whole30 approved partner too, so you know they're good. Get them here at their website. You can use the code PALEOBAILEY to save 15% off your entire order!
The New Primal –
This company offers packaged jerky and meat sticks that are different textures (more like traditional jerky) and flavors than Epic does, so I have different uses and preferences for both. Sometimes ya just want some beef jerky, ya know?! Anyway, the meat is naturally raised, grass-fed, and crazy delicious. You can find them in some Whole Foods now, on Amazon or at Thrive Market.
Super tasty grain-free, Paleo granola and oatmeal. The granola is one of my favorite road trip snacks to bring with when I'm going anywhere in the car or to throw in a suitcase if I'm checking a bag. I love the variety of flavors they offer and the banana and apple flavors are frequents in my smoothie bowls, too. On days I don't feel like cooking, I eat the granola in a bowl with almond milk like cereal. The oatmeal is awesome for quick breakfast options as well because it's packaged just like regular oatmeal (except better for you) and you just add water and heat.
Condiments, Dressings, Marinades:
My favorite ranch dressing to ever come into existence. The tastiest honey mustard and Caesar to use as dressings or marinades. Perfect, healthy, junk-free mayo. They got it all. I use the avocado oil to cook just about every single thing I make and I use it so often, it rarely makes it's way back into the cupboard so it's new home is right on the counter. You can find select products in Whole Foods or the whole line on Amazon, their website (use GROK15 at checkout to save some cash money) or on Thrive Market.
Some ways I use Primal Kitchen in my kitchen:
One Pan Honey Mustard Chicken and Veggies
Chicken and Bacon Spaghetti Squash Pasta

Saucy Lips –
I LOVE using these to marinade meat or put on a salad. They have a bunch of different flavors but mine are definitely the tangy mango, zesty cilantro and Thai pineapple. Use the Thai pineapple to marinade your next wings with and thank me later.
As far as I know, you can only get them through their website and Amazon currently.
Super Saucy Recipes:
The ones I typically use are the BBQ, ketchup and mustard but I like almost all of the salad dressings they carry too. I often use the lemon garlic and Italian to marinade chicken with. One nice thing about these is that you can find them at your local grocery stores and always at Whole Foods. If you watch for sales you can pick them up for 2 for $6 sometimes. Careful though, not all of them are Paleo and contain soy so read your labels!
Slow Cooker BBQ Pulled Pork & Pineapple Salsa
Baking and Cooking:
Bob's Red Mill –
They have a variety of products I keep in my pantry and find myself reaching for while I'm cooking. My favorites are their almond meal and almond flour, coconut flour, arrowroot powder and tapioca starch. I use them as breading for meat and chicken nuggets and as thickener in soups and sauces. For baking (which I admit I don't do often because I'm the world's worst baker) I use their Paleo flour, which can also be used for breading things you're going to fry (like buffalo wings). Most of their products are available at retailers such as Whole Foods or online at Amazon or Thrive Market.
Recipes I use Bob's Red Mill with:
Spicy Pork Meatballs and Sesame Noodles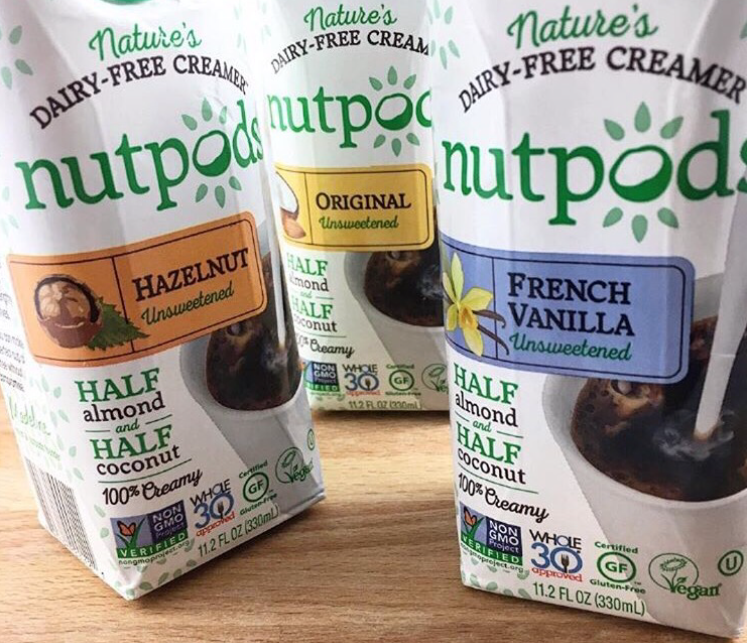 I don't even know how to adequately describe my love for this company. Seriously. Madeline, the founder, and her team are amazing. After waiting and waiting for a dairy-free creamer to come out, Madeline who's dairy intolerant, went ahead and made it herself. What started out as a Kickstarter campaign to raise the funds to get her company going lead to a #1 release on Amazon. I fan-girled so hard when I met Madeline, I don't even remember the conversation or if I even got real words out at all!
The product really does speak for itself. During my first round of Whole30, something like this didn't exist. I gave up my coffee creamer, gave up my creamy soups and sauces, gave up my will to live. Just kidding. But I am thrilled to have something so awesome and so healthy to help fill the gap that removing half and half from my kitchen left in my coffee and in my recipes. If you're a hardcore coffee creamer addict, you need this.
Recipes to throw a little nutpods in:
Pretty much the easiest way to change up your meals without doing any extra work. They have tons of different spice blends that can take the boredom out of your routine. I can make chicken or roasted veggies with different flavor combinations in the matter of a few shakes. The Meat & Potatoes seasoning and Adobo seasoning are my favorite but truthfully, they're all good.
Meat: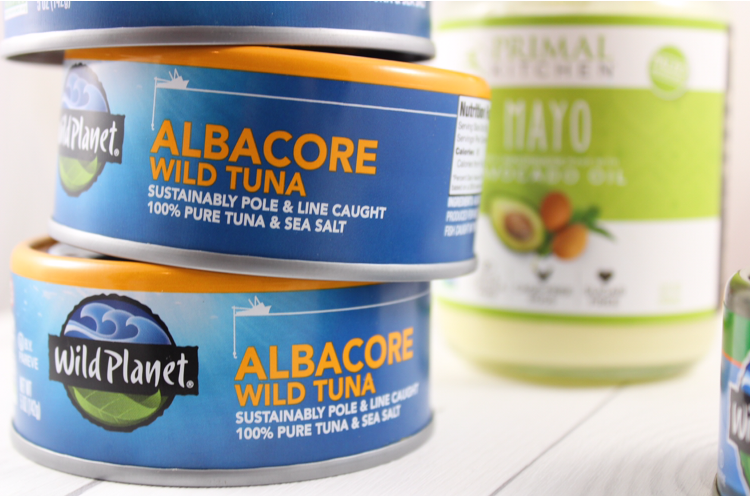 One time I watched a documentary that highlighted overfishing, hatcheries, dams and the Alaskan salmon run. The point of that fun fact isn't to clue you into how nerdy I am but to tell you that we have a big, big problem in this country that (I think) not enough people are informed about. I'm not saying after watching a documentary and doing a little teensy bit of follow up research that I'm an expert, but it did freak me out enough to start thinking about where my fish is coming from.
From that point on I've been using Wild Planet for all of my canned tuna, salmon and chicken because I believe in their methods, ethics and principles. I eat a lot of tuna and chicken salad so they save me a whole ton of time too nonetheless. You can get it at Whole Foods, Amazon, some other health food stores and it's cheapest on Thrive Market, which is where I usually get it. Can you tell I do a lot of my shopping there? Free shipping, cheaper products and I don't have to leave my house… Can't beat it.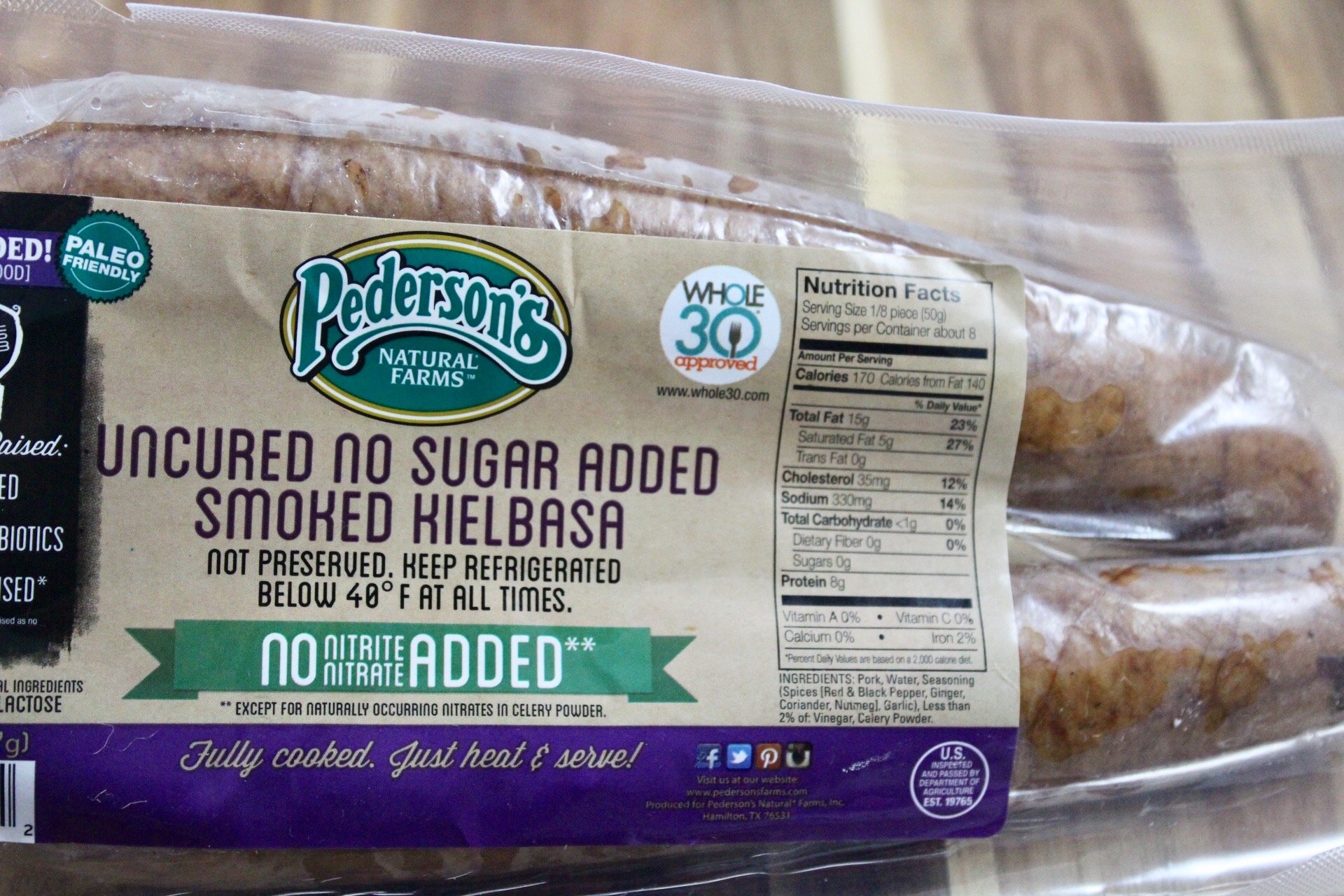 Pederson's Natural Farms –
THE best bacon. Even if I didn't eat Paleo or didn't care if my bacon was loaded with sugar and nitrates, I'd still eat Pederson's bacon because it tastes that much better. Plus, all of their meat products are totally crap-free and equally delicious. Some of my other favorite products are the breakfast sausage, kielbasa and chorizo. As an added bonus, I love their story too. They started off as just a two employee company in 1992 with a mission to produce organic, natural meat products processed in a humane and responsible way.
You can find their products in a number of different stores like Whole Foods or online at Paleo on the Go or The Simple Grocer.
Meals made with Pederson's:
One Pan Shrimp and Kielbasa Skillet
Chorizo and Butternut Squash Chili
There ya have it. Some of the best brands to get your Paleo packaged foods from if you want to make your life easier and your time in the kitchen more efficient. There's plenty of other awesome companies that I love, but these ones definitely make the top of the list!
Have a favorite that didn't make it? Let me know so I can check them out! I love finding new products!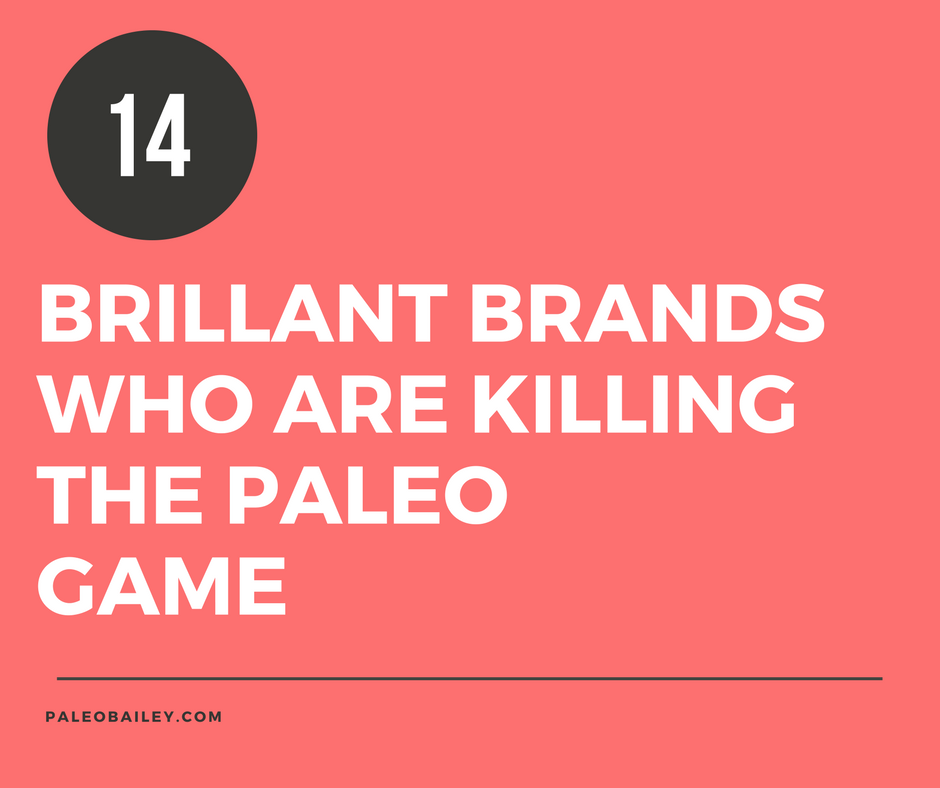 This post contains affiliate links, though all products are ones I use personally and recommend. When you purchase anything using my links, it costs you absolutely nothing extra, but it does give Paleobailey.com a little financial support which helps to keep this blog running. Thank you for your continued support, both with your dollars and your interest.