I've tried many'a meatball recipes in my day and the search for the best ones are finally over. Because I made them. My Paleo meatballs are the best, as far as Italian style ones go anyway. I'm not even saying that because I'm biased. These really are reeeally good. Just ask my Nana. She's also not biased. She just happens to love everything I do.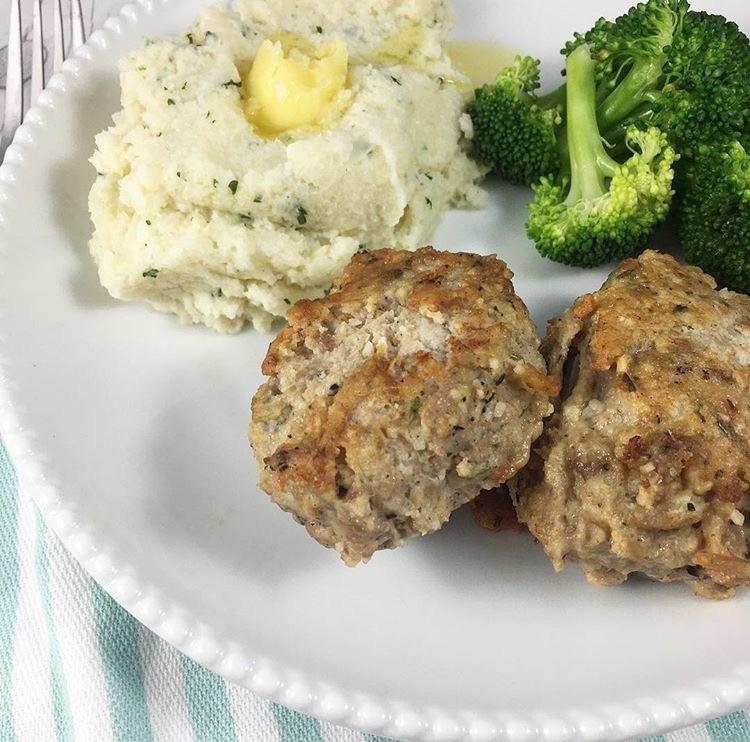 I don't know, maybe these aren't thee best. But I love them and I think you will, too. These meatballs definitely eliminated my need to keep any other recipe floating around the kitchen. The sausage and chicken together makes them just the right amount juicy and cooking them on a skillet for a few minutes first make the perfect texture. This is a hit with my family as well. Winner-winner-sausage-chicken-dinner.
You can make them any size and they're one of my favorite things to throw into the freezer for later. That's because unlike other things, meatballs are super versatile. I can take them out of the freezer and make them into an easy meal. Typically with butternut squash noodles, zoodles, or spaghetti squash noodles and marinara. Or I eat them alone with sides of veggies, like these cauliflower mashed potatoes. What I usually do is throw 2 or 3 meatballs into individual bags or containers so that I can just take a serving out when I don't feel like cooking. I let them defrost or pop them in the microwave, depending on how much foresight I have and my level of preparedness.
Check these Paleo meatballs out! Whether you're Paleo or not, I'm pretty confident your family will love them as much as mine!
Print
The Only Recipe For Meatballs You Need in Life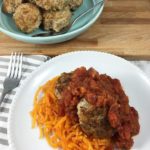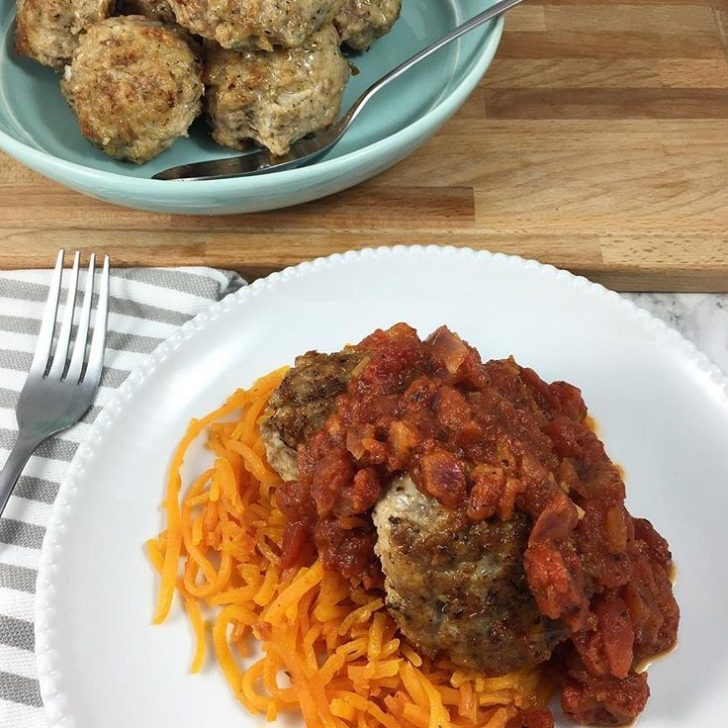 Ingredients
1 pound ground mild pork sausage
1 pound ground chicken
1 egg
2/3 cup almond meal/flour (I used Bob's Red Mill)
1/2 white onion, grated directly into bowl
2 tablespoons olive oil
1/2 tablespoon parsley
1/2 tablespoon thyme
1/2 tablespoon rosemary
1/2 tablespoon garlic powder
1 teaspoon salt
1 teaspoon pepper
Instructions
Preheat oven to 350 degrees F.
Mix all ingredients together in a large bowl, excluding olive oil, make sure to grate onion directly into the bowl to keep the juices
Use hands to roll into 2 inch balls (or desired size)
Preheat pan on stove top with olive oil over medium heat
Cook meatballs for 4 minutes on each side
Place in baking dish and put in oven
Finish cooking for 25 minutes or until cooked thoroughly
This post contains affiliate links, though products are ones I use personally and recommend. When you purchase anything using my links, it costs you absolutely nothing extra, but it does give wholekitchensink.com a little financial support which helps to keep this blog running. Thank you for your continued support, both with your dollars and your interest.