A trusty beef brisket recipe is a good staple to keep around. What I love about it is that even though it takes a few hours, it's a relatively low maintenance meal. It makes a good Sunday night dinner for the family or a good addition to a meal prep day being you can do the rest of your prepping for the week while this is cooking.
I always add BBQ sauce to it before I eat it but that's just my preference. When I meal prep this Paleo beef brisket, I'll usually separate it out into containers and add Tessemae's BBQ to it before I stick them in the fridge. That way they're already ready to go. Another way I eat the leftovers from this is to slice the brisket even thinner (as seen in the picture below) and throw it over a salad. It's quick and easy on busy days. Plus, it gives me a break from the chicken salads I usually end up with.
When I make this for a big dinner I usually make a hearty, savory side to go with it. I made creamy butter & garlic Brussels sprouts and they were the perfect addition to round out the meal.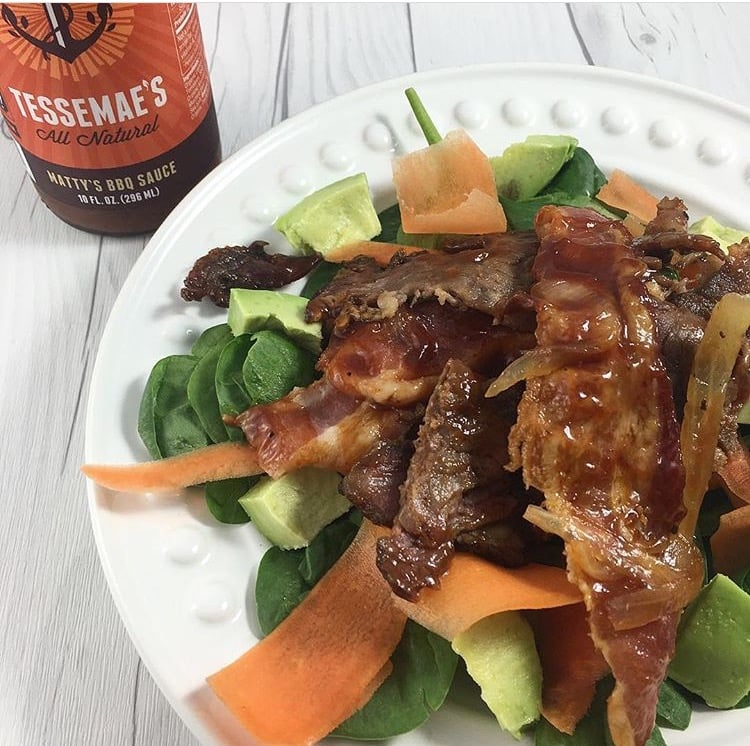 Print
Paleo Beef Brisket
Prep Time: 10 minutes
Cook Time: 4 hours
Total Time: 4 hours 10 minutes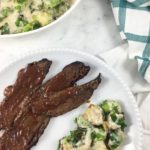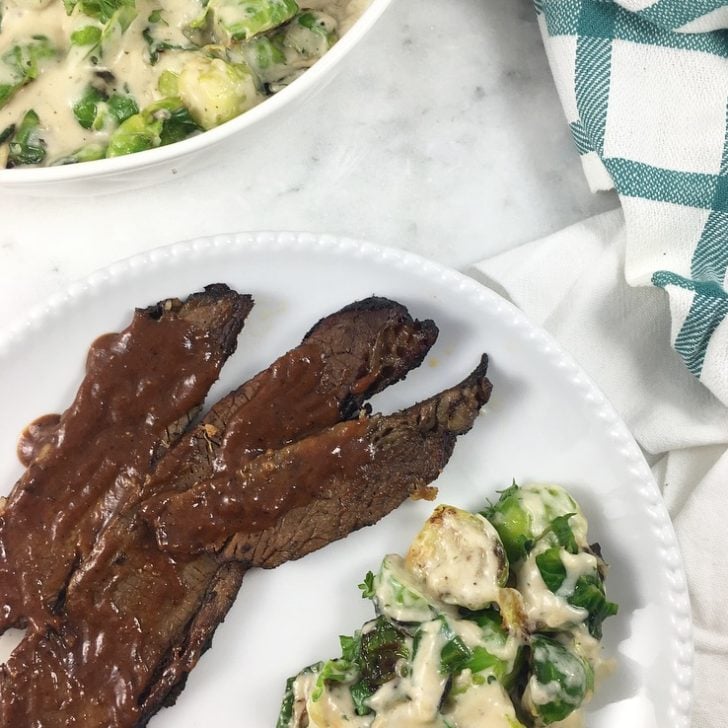 Ingredients
4 pounds beef brisket
1 and 1/2 cup beef stock or beef bone broth
2 tablespoons salt
2 tablespoons chili powder
1 and 1/2 tablesoons onion powder
1 and 1/2 tablespoons pepper
1 tablespoon garlic powder
1 tablespoon allspice
2 teaspoons ground mustard seeds
2 bay leaves
Instructions
Preheat oven to 350 degrees
In small bowl, create a dry rub by combining the spices, except bay leaves
Rub mixture into brisket, covering both sides
Optional: place in large Ziploc or wrap tightly with plastic wrap and refrigerate meat for at least 2 hours up to 24 hours.
Place in roasting pan and allow to cook uncovered in oven for 1 hour
Add in beef stock and bay leaves
If the stock doesn't fill pan to 1/2 inch, add water
Lower oven temperature to 300 degrees, cover pan and continue cooking for 2 and 1/2 to 3 hours or until tender
Optional: add 1 white sliced onion to pan with this step
Remove, trim fat and slice thinly
Get the recipe for the creamy butter and garlic Brussels sprouts!
This post contains affiliate links, though all products are ones I use personally and recommend. When you purchase anything using my links, it costs you absolutely nothing extra, but it does give wholekitchensink.com a little financial support which helps to keep this blog running. Thank you for your continued support, both with your dollars and your interest.