I've gotten into the habit of making smoothies in the mornings before a workout and then eating breakfast immediately when I get home. I've found that it helps me actually GO to the gym right away instead of putzing around slowly making breakfast, flipping through the news, you know… doing everything but going to the gym. This grapefruit and raspberry smoothie is one of my favorites because the grapefruit definitely helps to wake me up but isn't overpowering like it would be eating it plain.
Yeah, no thank you on the straight up grapefruit.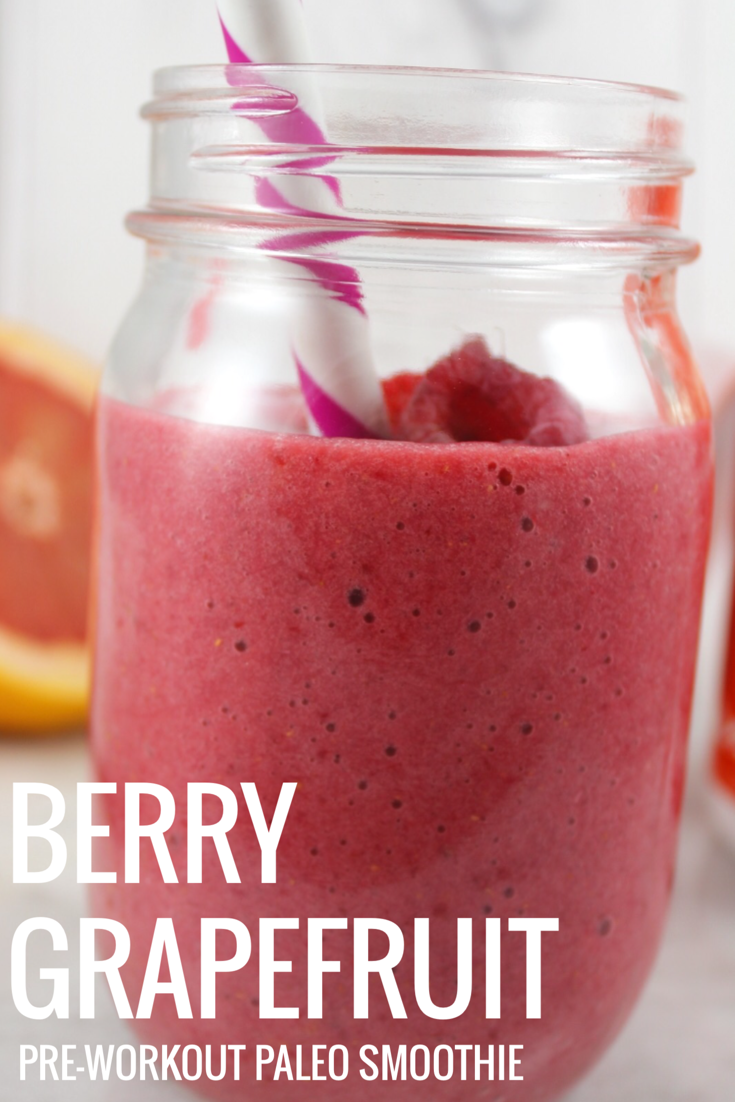 I've been using Rootz, a new (to me), pre-workout in the mornings to not only get me up and moving faster, but to bring more energy to my workouts. A lot of people have asked me on Instagram over the months what protein powder or pre-workout supplements I use. I've always just responded with, "I don't". That wasn't for lack of trying, though. I had been on the hunt for a great Paleo protein powder for a long time. I just had yet to find a good pre-workout that had only real ingredients that I actually liked. I'm not going to recommend something I don't like, don't find effective or isn't healthy.
After seeing tons of positive reviews from my favorite Paleo buddies, like Cassie, I decided to try it. I was hesitant at first. Frankly, I was sick of collecting stuff that I wasn't going to use. I did my homework beforehand and saw all of the awesome ingredients that are in both the pre and post workout proteins offered by Rootz. They're loaded with vitamins, minerals and super foods. So by using it, I'm just adding additional nutrients to my diet as opposed to chemicals like what are found in traditional pre-workouts and protein powders.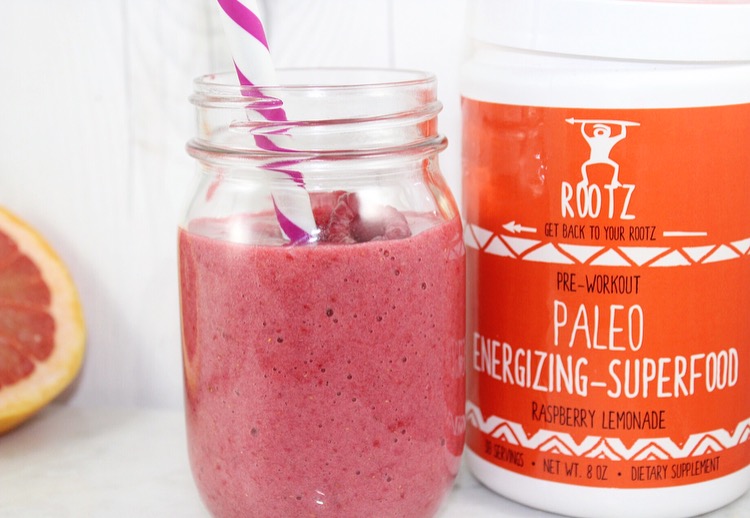 Anyway, I tried it for a few weeks without mentioning it because I wanted to get a feel for if it provided any noticeable benefits to my workouts. Well, I'm happy to report that it totally does. Not only am I using this before a workout, I've found myself using it before long nightshifts at the hospital instead of my usual massive intake of coffee.
My favorite way to use it aside from throwing it in smoothies, like this Paleo preworkout smoothie, is to just mix it in with my sparkling water. I've found the lemon or berry LaCroix (or any brand) are the best. They both go so well with the raspberry lemonade flavor of the pre-workout. It's an easier grab and go option when I'm busy and need some extra energy. Mixing it with sparkling water is generally what I do when I have it before work, too.
If you want to try out Rootz and get the benefits of extra energy and extra nutrients from either the pre or post workout powder I'm currently in love with, they gave me a code for you to save 10% off your order! The post-workout is equally as good but it's a creamy chocolate flavor! Just use the code paleobailey10 at checkout. They have sample sizes too if you're skeptical at first like I was ;).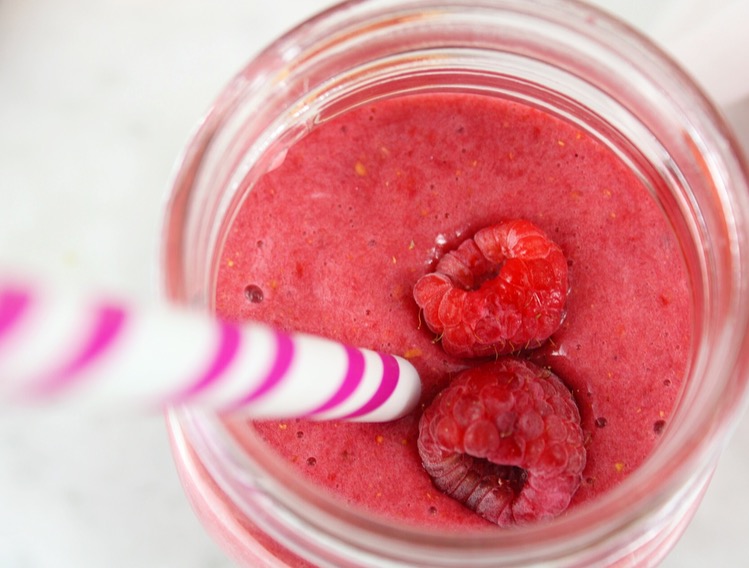 This Paleo preworkout smoothie is super easy to make and uses a few ingredients. You could add more depending on your preference or what you have on hand! I simply used raspberries, strawberries, a banana and half of a pink grapefruit. Of course saving the other half for my smoothie the following morning.
There's so many health benefits to grapefruit but because they're hard for me to eat like regular fruit. So I know I don't eat nearly enough. Adding in some here and there where I can (read: where I can effectively hide the flavor) is a win for me.
Print
Berry Grapefruit Pre-Workout Paleo Smoothie
Prep Time: 5 minutes
Total Time: 5 minutes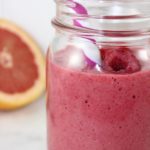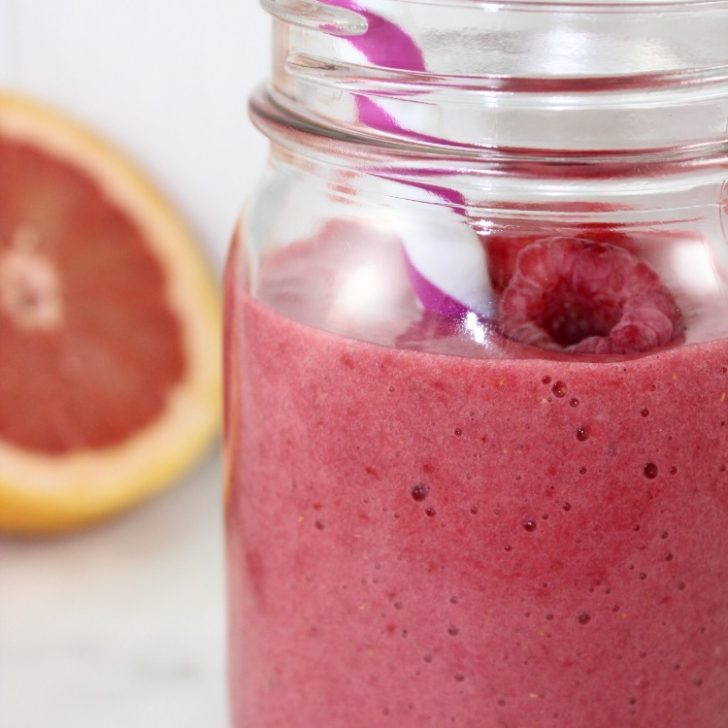 Ingredients
1 peeled banana
1 cup fresh or frozen raspberries
1/2 cup strawberries with tops removed
Juice and resulting pulp from 1/2 grapefruit
1–2 scoops Rootz Paleo Pre-Workout (They're offering 10% off your order with the code paleobailey10!)
Instructions
Place all ingredients in a blender and blend until smooth!
Add ice, dairy-free milk or any other of your favorite ingredients!
This post may contain affiliate links, though all products are ones I use personally and recommend. When you purchase anything using my links, it costs you absolutely nothing extra, but it does give Paleobailey.com a few pennies which helps to keep this blog running. Thank you for your continued support, both with your dollars and your interest.