The dessert to bring to that event you have to go to shouldn't be the one you have to spend 3 hours making. This easy Paleo chocolate fudge is 2 ingredients, no bake, and will only take up a bit of freezer room! It's no secret I really don't love baking, but that doesn't mean I can't have a little chocolate in my life still!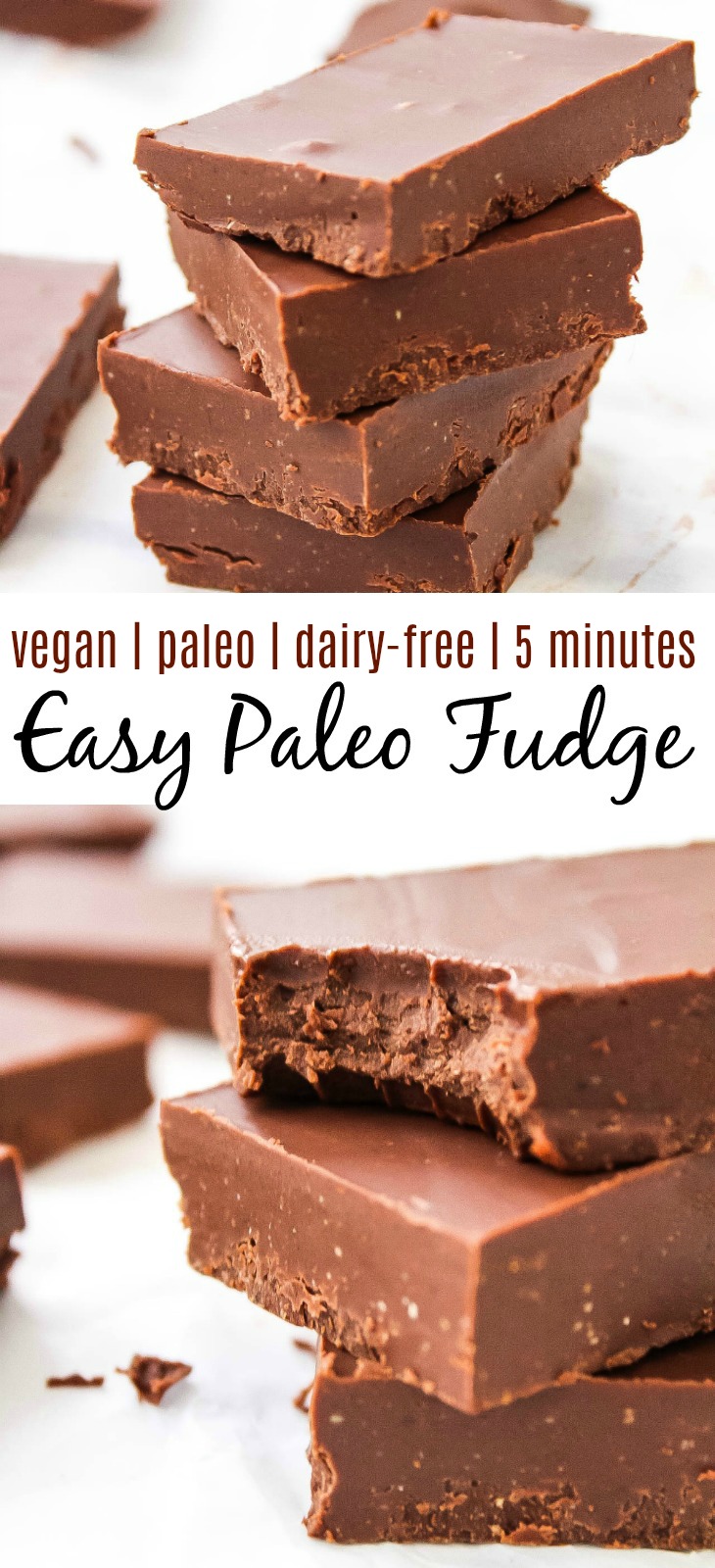 This Paleo chocolate fudge recipe is almost so easy that it's silly to share it. But here we are! I figured I'm not the only one out there looking for the easiest thing possible to bring to a potluck, or the only one who isn't into complicated baking.
I would probably like baking more if it wasn't so specific, ya know? Like the ingredients have to be exactly accurate to such precise amounts or the cake doesn't rise. Or the bread isn't edible. With cooking and my favorite one pan meals, I often encourage you to just throw what you have on hand, or what sounds good to you into the pan.
Love garlic? Cool, add an extra tablespoon to that stir fry and it'll be great. But you try adding an extra tablespoon of coconut oil to your muffins and you've got a problem. Anyway, I truly do wish I enjoyed baking more, but maybe someday.
Anyway, this day, we're doing the no bake sweet treat option. Like I said, this Paleo chocolate fudge is crazy easy. The one thing you can switch up here is by using a different nut butter. I've made these with cashew butter before and, let me tell you. The chocolate and cashew combo is pretty dang good.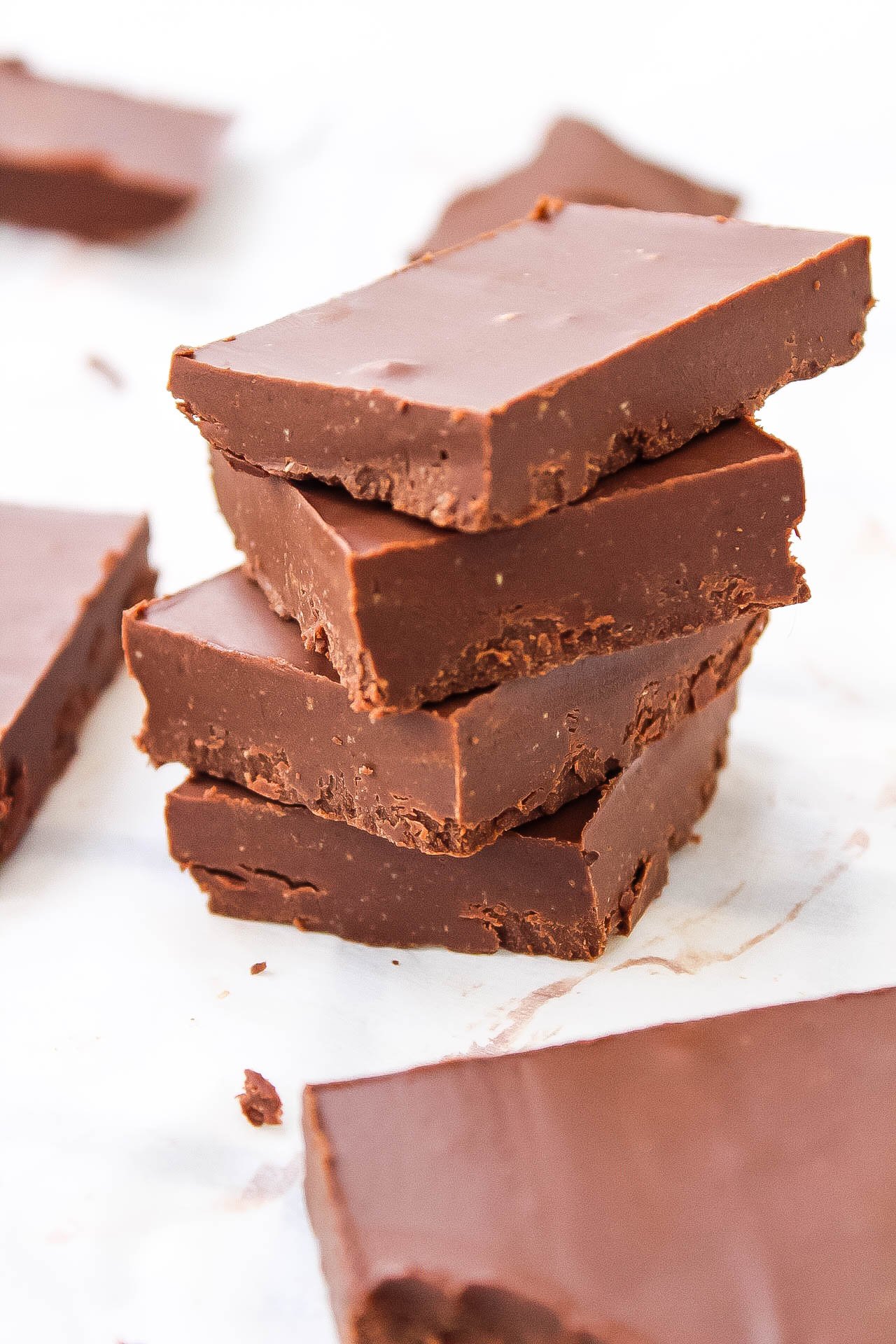 You could also mix it up and add a tiny bit of maple syrup to make it into Paleo maple chocolate fudge. Or add some salt on top for salted caramel. Do your thing!
The chocolate chips I always use are the dairy, nut and soy free Paleo option from Enjoy Life. You can find these at almost all grocery stores now, including Target and Whole Foods. I usually get 2 or 3 bags of the Paleo chocolate chips or chocolate chunks from Thrive Market when I place an order. It's cheaper, and I don't use them very often, so it's nice to have them on hand when do I need them!

Print
Hungry for more? Subscribe to my newsletter to get new recipes delivered straight to your inbox! And be sure to stay in touch on Facebook, Pinterest and Instagram for all of the latest updates.
Easy Paleo Chocolate Fudge
Prep Time: 5 minutes
Total Time: 5 minutes
Category: Dessert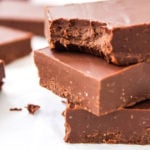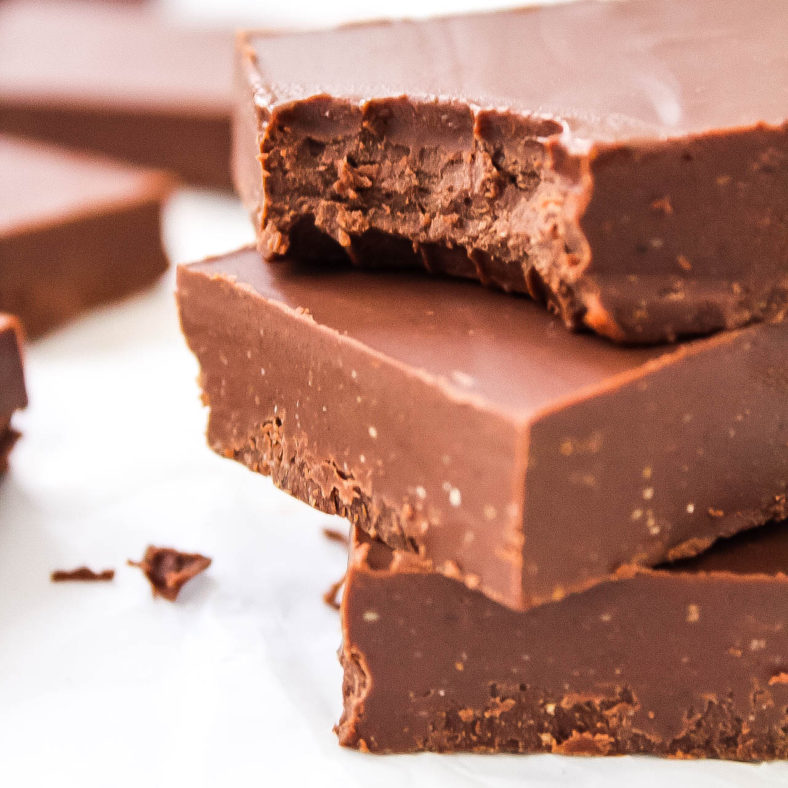 Ingredients
2 cups Enjoy Life chocolate chips, or other Paleo option
1 cup creamy almond butter, or cashew butter
Optional: 1/2 tablespoon maple syrup mixed in with nut butter or 1/2 teaspoon sea salt to sprinkle over top
Instructions
Line an 8 inch loaf/cake pan with wax paper and lightly spray with oil
Add both ingredients to a medium bowl and melt in the microwave in 30 second increments until completely smooth, or melt in a small pot on the stove over low heat
Once melted, pour into the pan and even out with a knife or spatula
Place in the freezer for 2 hours or fridge for 4-6
Fudge will easily side out of the pan once solid
Cut into squares, enjoy and return back to freezer in an airtight container for storage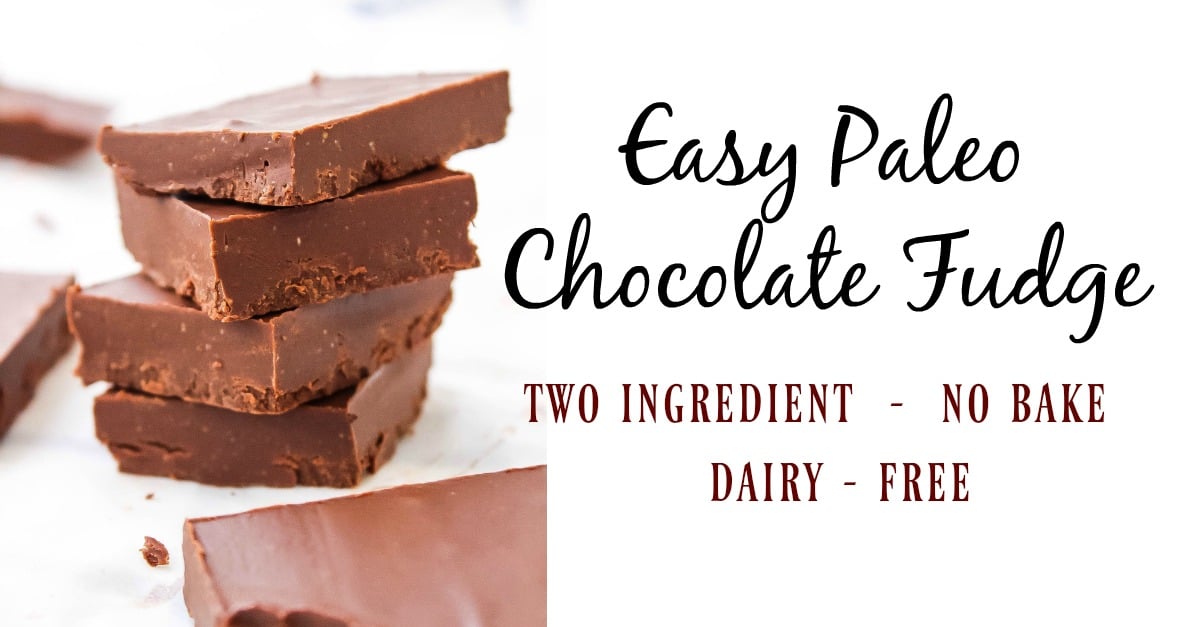 This post contains affiliate links, though all products are ones I use personally and recommend. When you purchase anything using my links, it costs you absolutely nothing extra, but it does give wholekitchensink.com a little financial support which helps to keep this blog running. Thank you for your continued support, both with your dollars and your interest.