I'm obsessed with this Paleo butter garlic cream sauce. Obsessed. It takes only a few minutes to whip up and it's pretty much great with anything you could need a cream sauce for. From pasta (zucchini noodle) dishes, chicken dishes, creating creamed veggie side dishes to accompany your meal.. the options are endless with this. It's just a good staple sauce recipe to have. Bonus! It only uses one pan and only about 5 ingredients. For the purpose of documenting this sauce recipe, I'm using it to make creamed Brussels sprouts.

If you've been following me for a while on my Instagram, you'll know how much I love Nutpods. Nutpods are a dairy free creamer, intended for coffee. They're a Whole30 approved partner with natural ingredients. I always keep 'em around for a lot more than just my morning cup o' Joe.
They have three flavors and while I prefer the French Vanilla in my coffee, I typically only keep a constant stock of the Original. I use that flavor the most – in soups and cream based recipes like this Paleo butter garlic cream sauce.
Back when I first found out about Whole30, coffee creamers or products to use as a cream replacement just didn't exist. When they first hit the market it opened up so many more options for types of meals I could create now. Yes, I could have made my own almond milk. In fact, I tried. I realized after 3 failed attempts that I just wasn't cut out for it. Props to those of you who do it! We all have different talents. 😉
Like I mentioned, this Paleo butter garlic cream sauce is incredibly versatile. I'm only going to post the instructions on how to make the sauce here. If you're using it to make creamed veggies, when it's done you'll want to immediately pour, stir and serve over the vegetable.
Remember, the sauce only takes a few minutes to make! Make sure the veggie is finished cooking slightly before your sauce is.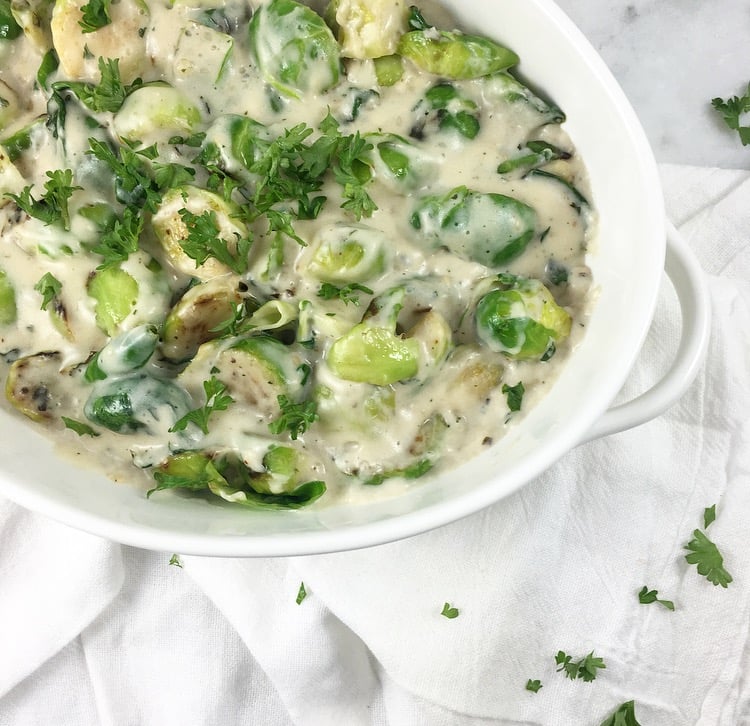 You'll also want to have a whisk handy before you add your ingredients into the sauce pan. You want to be ready to stir the sauce right away. You will do this until the sauce thickens to avoid the possibility of clumping or sticking to the bottom.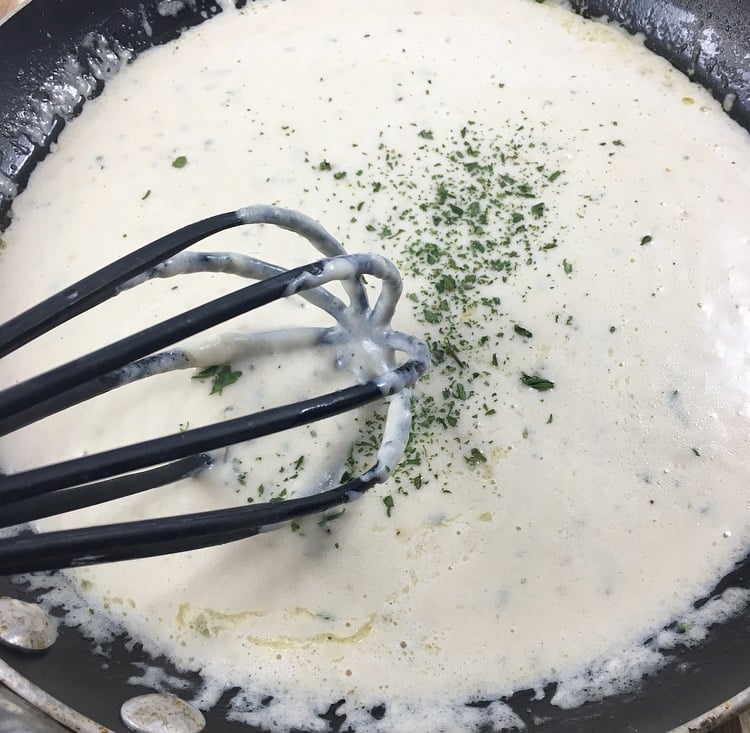 Print
Paleo Butter and Garlic Cream Sauce
Cook Time: 5 minutes
Total Time: 5 minutes
Yield: Serves 4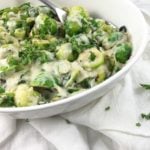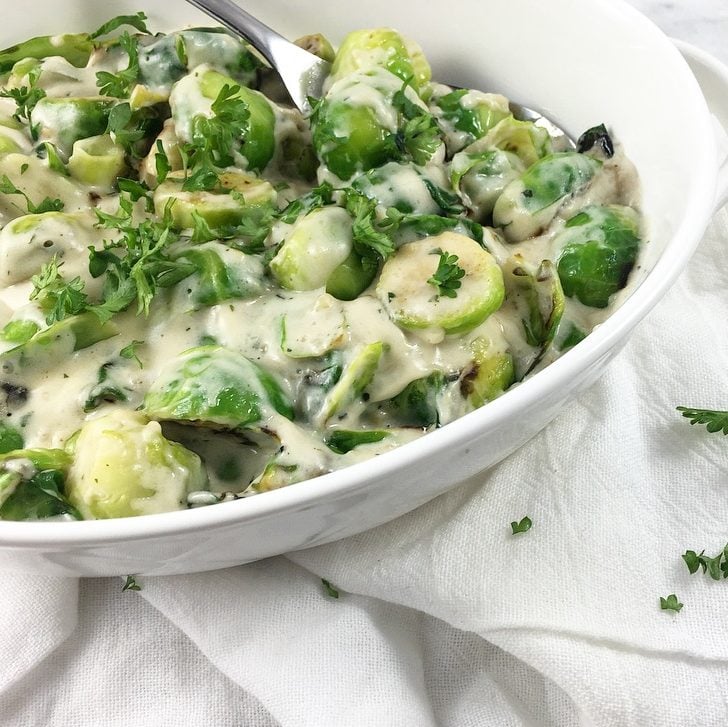 Ingredients
1/3 cup ghee or butter of choice
1 cup Original flavored Nutpods (or your favorite replacement for heavy cream)
2 teaspoons minced garlic
1 tablespoon tapioca flour
1/2 teaspoon dried parsley
1/2 teaspoon dried basil
Instructions
In a saucepan, melt ghee over medium heat
Add garlic and let cook for 1 minute
Add in the tapioca flour and whisk to combine
Pour 1/2 cup of Nutpods and whisk
When the sauce begins to get slightly thick, add in the other 1/2 cup of Nutpods, parsley and basil
Continue to whisk for a few minutes until sauce becomes thick
Serve over your favorite pasta, baked chicken or veggie!
This post contains affiliate links, though all products are ones I use personally and recommend. When you purchase anything using my links, it costs you absolutely nothing extra, but it does give wholekitchensink.com a little financial support which helps to keep this blog running. Thank you for your continued support, both with your dollars and your interest.