I had some extra butternut squash hanging around my kitchen and was craving something hearty. Enter: chorizo and butternut squash chili! Once it starts getting chili out (see what I did there), I'm always looking for new and easy ways to make filling, nutritious, cold-weather meals. Chili is one of the simplest and quickest dinners to make that usually leave me lots of leftovers for days to come.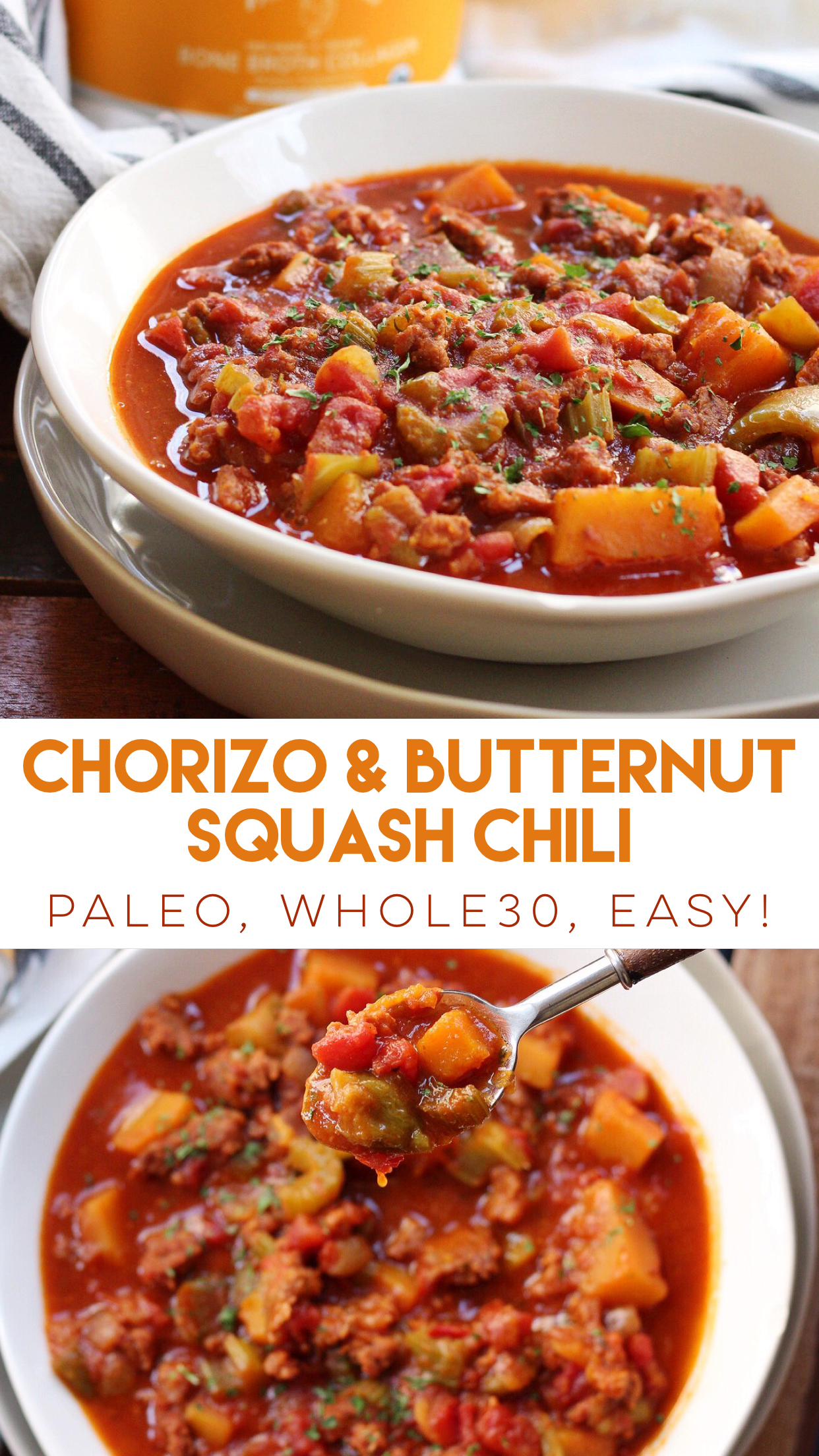 This post is sponsored by Vital Proteins. I'm happy to work with a company I love, use and believe in so much! Thanks for your support here on the blog and your support for Vital Proteins!
Since I've started eating Paleo, it's meant that I've had to find other ways to make chili without beans. At first I thought I was really going to miss it. My family has an amazing chili recipe that I always equate to comfort and the winter season.. Full of different types of beans of course.
It really wasn't a hard switch and I've found I enjoy chili full of veggies even more. It's just a bonus that bean-less chili is even healthier than the alternative. Butternut squash and sweet potatoes are a really good substitute for bulking up chili recipes and being it's butternut squash season, I opted for that one!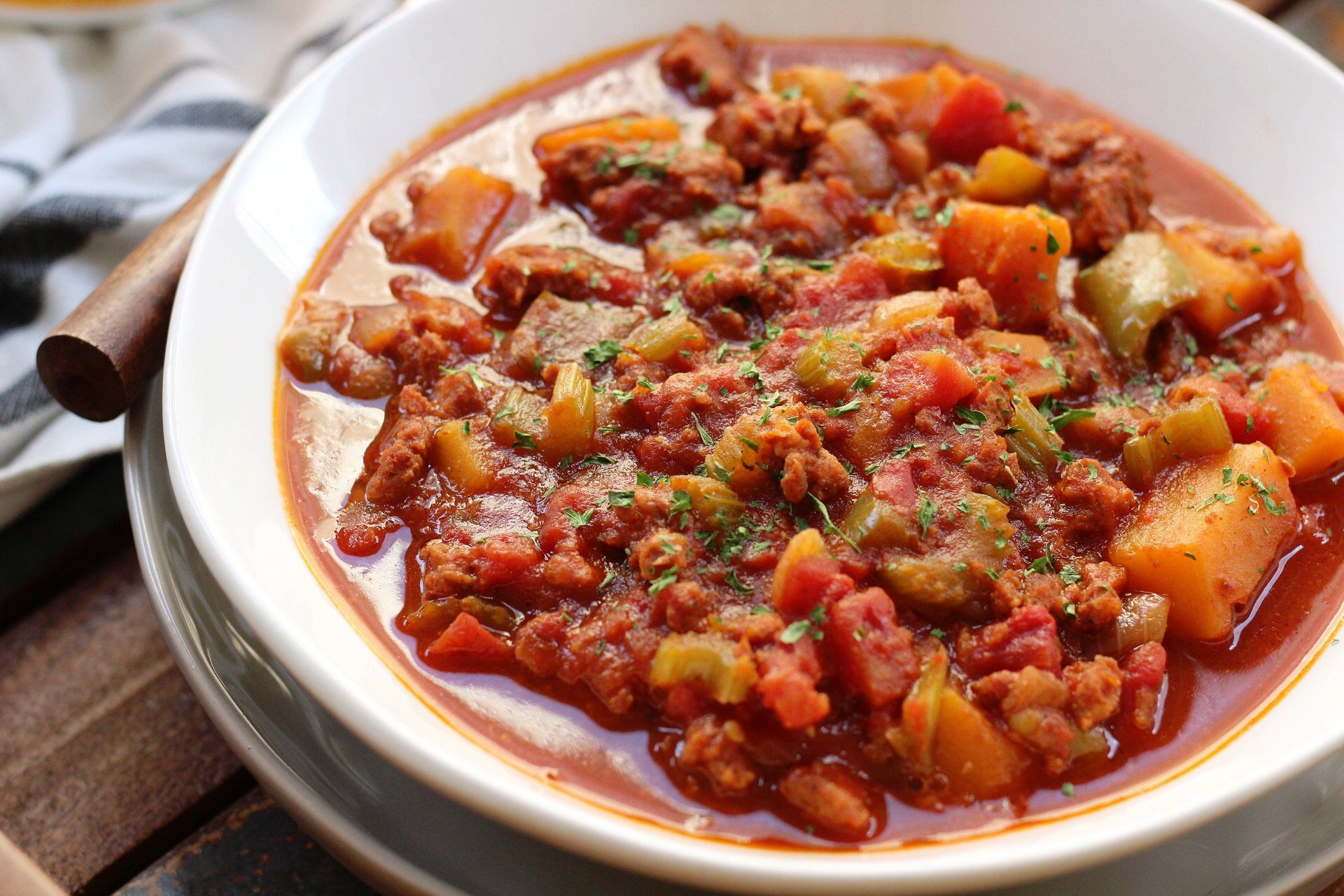 One of the best things about this chorizo and butternut squash chili is that it's loaded up with collagen. I used chicken bone broth collagen from Vital Proteins, which has quickly replaced all of my liquid broth over the last few months.
In the past, I would always open a container of liquid broth, only to use one or two cups in a recipe and then let the rest go bad after I had forgotten about it in the fridge. When it's only good once opened for 7 days, it ended up being a huge waste of money. None of my chicken bone broth ever goes to waste by using the powdered collagen bone broth from Vital Proteins.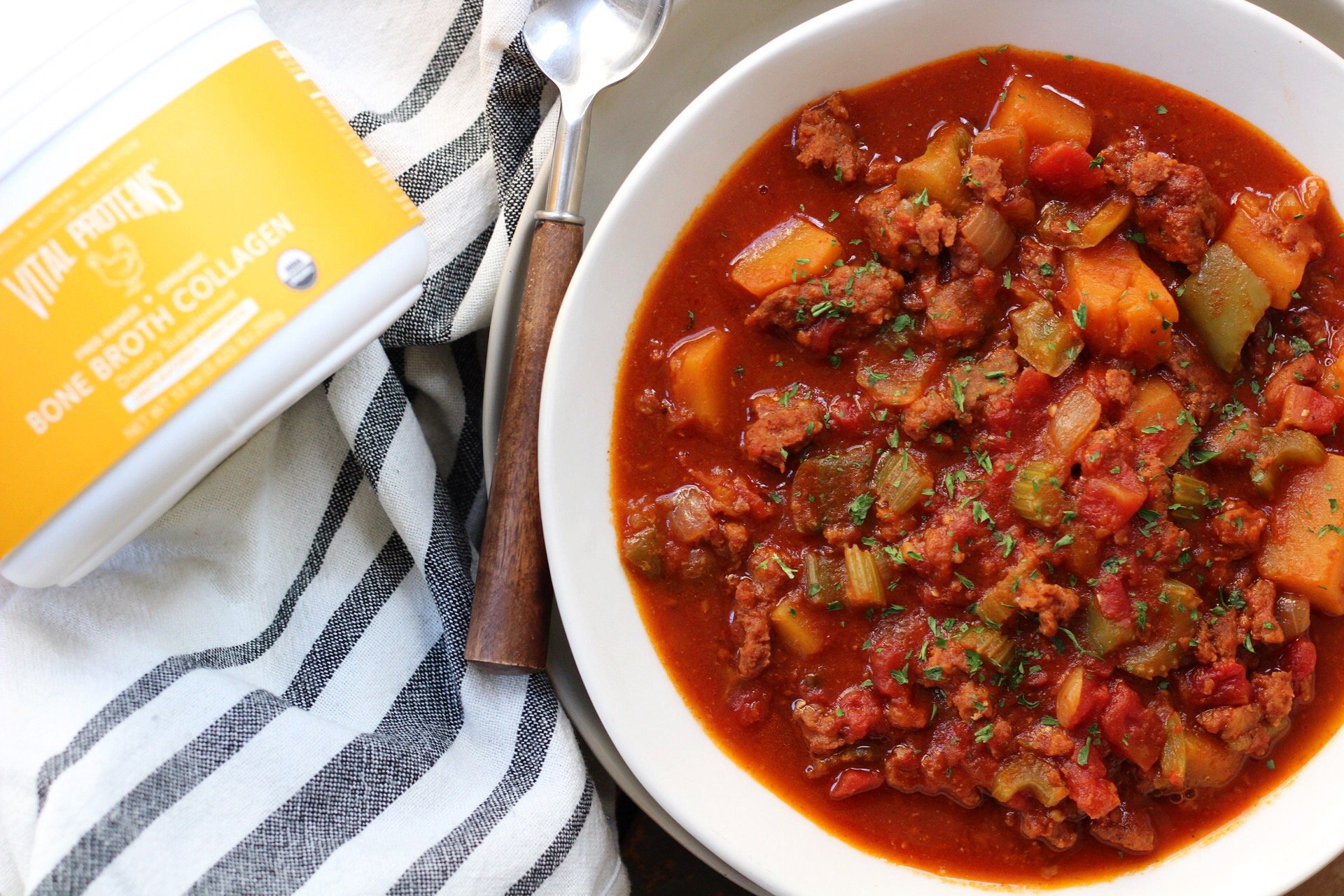 Not only am I not wasting money or valuable cabinet space on storing containers of broth, I'm getting tons of added health benefits from the collagen. Some of the many benefits of adding collagen to your diet are improved joint pain and degeneration, helps with leaky gut, digestion, improves skin, nails and hair, speeds up recovery time after illness and workouts and about a hundred other things. Plus this powdered broth can be used exactly the same way as the liquid stuff, making it a super easy and healthier switch.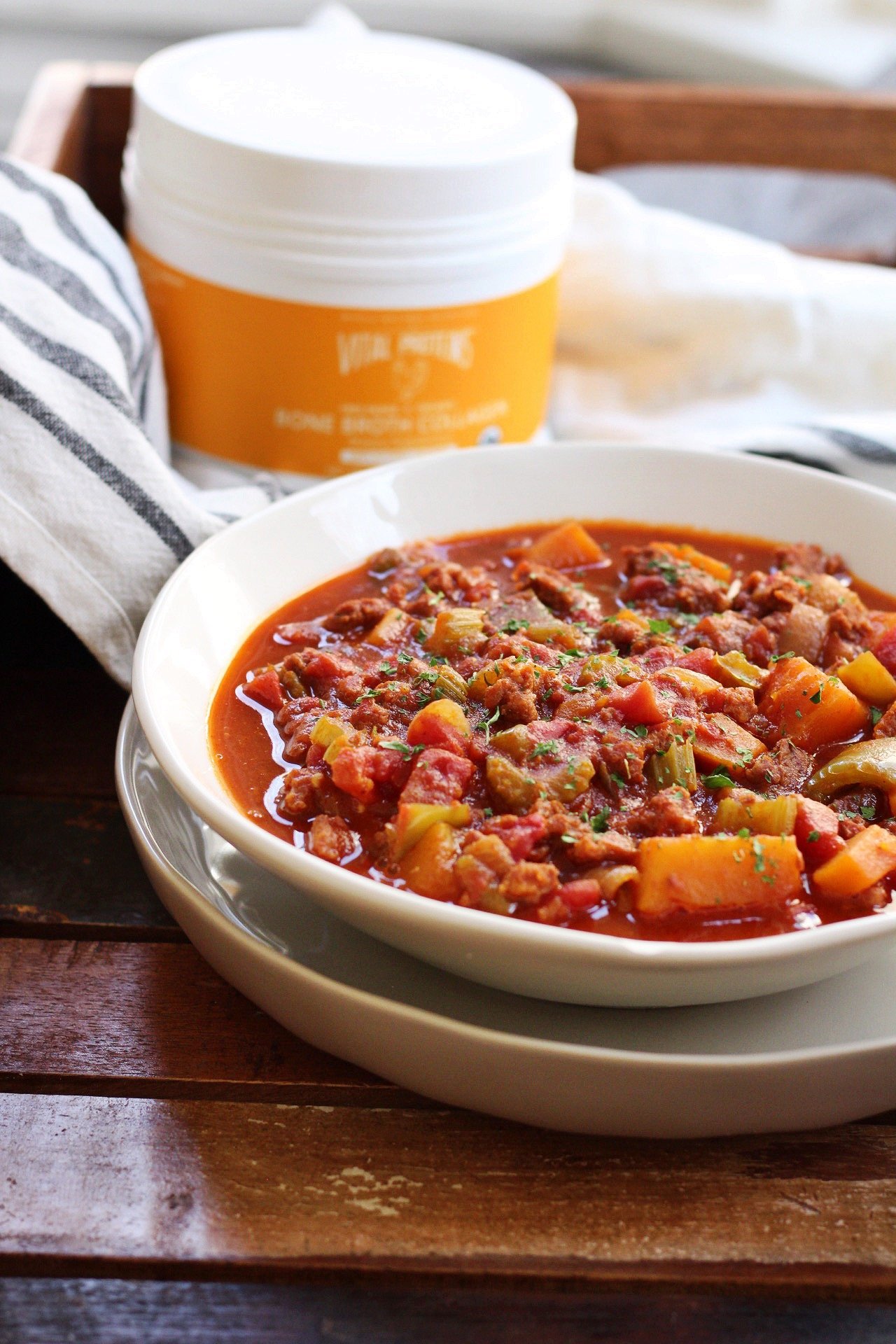 If you want to make this chorizo and butternut squash chili in the slow cooker, you totally can! Just brown the chorizo and onion prior to throwing it into the slow cooker with the other ingredients. Let it cook for 4-6 hours and you'll be all set! This is one of my boyfriends favorite recipes and he's already asking me to make it again even though we just had it last week. Next time I'll be doubling the batch and freezing some for him.
Get my favorite collagen chicken broth here!
Enjoy!
Print
Chorizo and Butternut Squash Chili
Prep Time: 15 minutes
Cook Time: 35 minutes
Total Time: 50 minutes
Yield: 6 1x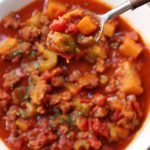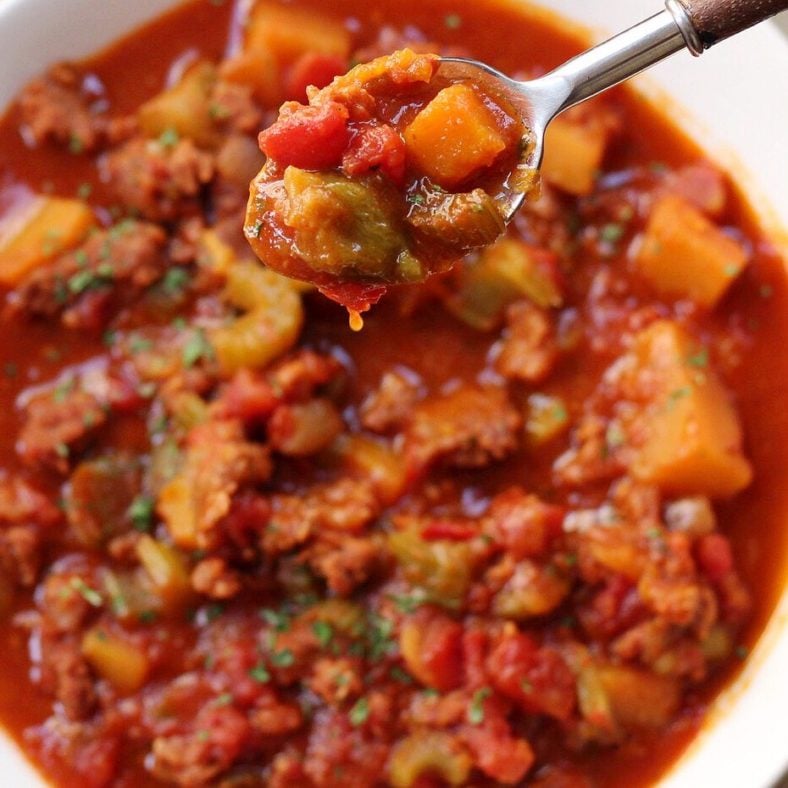 Ingredients
1 pound ground chorizo
2–3 cups cubed butternut squash (about 1 medium squash)
1 medium white onion, diced
1 green pepper, diced
3 stalks celery, diced
2 (14.5 ounce) cans diced tomatoes with liquid
2 cups chicken broth (or 2 cups water mixed with 4 scoops Vital Proteins Chicken Bone Broth Collagen)
2 tablespoons tomato paste
2 tablespoons minced garlic
2 tablespoons avocado oil
1 tablespoon chili powder
1/2 teaspoon salt
Instructions
In a large stock pot over medium heat, add oil, onion and minced garlic
Once onion becomes translucent and garlic is fragrant, add ground chorizo
Brown chorizo and then add in canned tomatoes with liquid, salt and diced green pepper
Stir and make sure to scrape bottom of the pan while stirring
Add in tomato paste, celery and chili powder and stir to combine
In a large measuring cup or bowl, combine water and bone broth collagen by stirring well
Add broth into the stock pot along with the butternut squash and stir to combine
Bring to a simmer, cover and let simmer for 25 minutes
Add additional salt and pepper to taste and serve!
Notes
Slow Cooker Instructions:
1. In a large skillet over medium heat, add oil, onion and minced garlic
2. Once onion becomes translucent and garlic is fragrant, add ground chorizo
3. Brown chorizo. While it's cooking, add all other ingredients to the slow cooker
4. Once browned, add chorizo and onion to the slow cooker
5. Stir to combine, cover and let cook for 4-6 hours on high
6. Add additional salt and pepper to taste and serve
Nutrition Facts:
Calories: 376
Sugar: 9
Fat: 24
Carbohydrates: 22
Protein: 20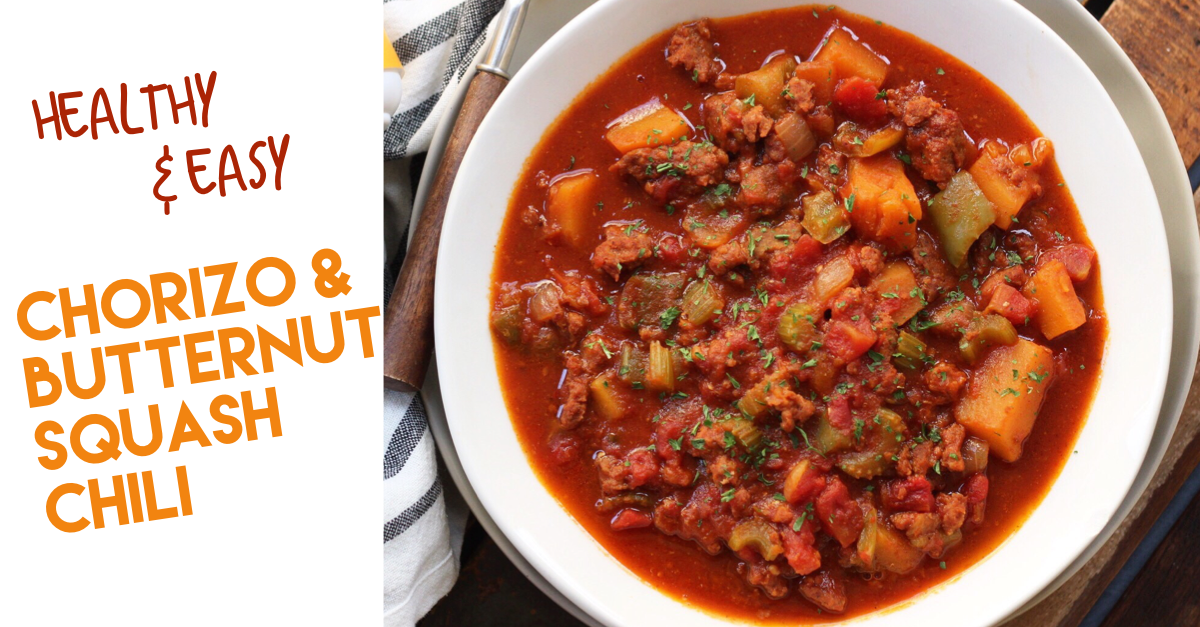 This post may contain some links that are affiliate links, though products are ones I use personally and recommend. When you purchase anything using my links, it costs you absolutely nothing extra, but it does give wholekitchensink.com a little financial support which helps to keep this blog running. Thank you for your continued support, both with your dollars and your interest.