This Paleo and Whole30 slow cooker pulled pork with pineapple coleslaw is perfect for an easy weeknight dinner or meal prep. Made with BBQ sauce, delicious pineapple salsa and a creamy coleslaw, it's a combo you'll want to make again and again. It makes great leftovers, and it's hard to believe something so good is also so good for you!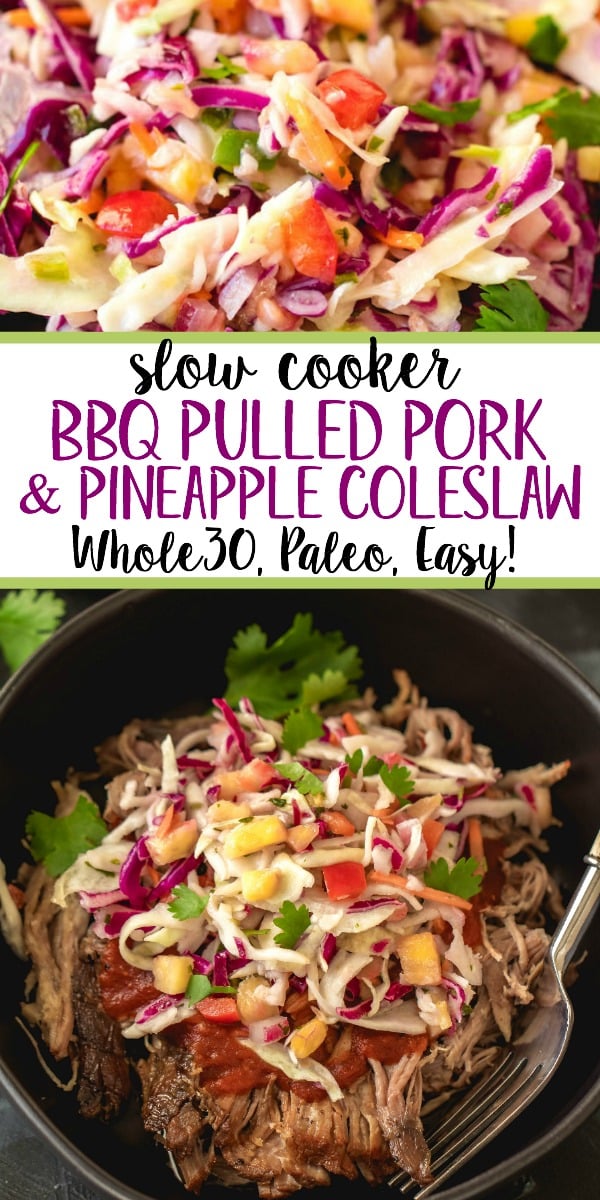 My best friend, the one who introduced me to Whole30, got me started on this slow cooker pulled pork with pineapple coleslaw and I haven't been able to stop making it since. It's one I make almost monthly because it's so simple, totally delicious and makes a ton of food. I put it into my meal prep rotation frequently being I can let the slow cooker do the work for me.
Fun fact: this was the first Paleo meal I made for my boyfriend when we started dating. We're still together, and while it's probably not completely due to how amazing the slow cooker pulled pork is, I'd be willing to bet it's a big part of it. (Just kidding)
There's two ways to make the pineapple coleslaw. One is the easy way, buying the ingredients already chopped and made for you. Or, you can do it by hand. I've compared costs of both ways. At first, I thought that buying the ingredients themselves and making it by hand would be cheaper. I was surprised to find out that it's really not by a whole lot.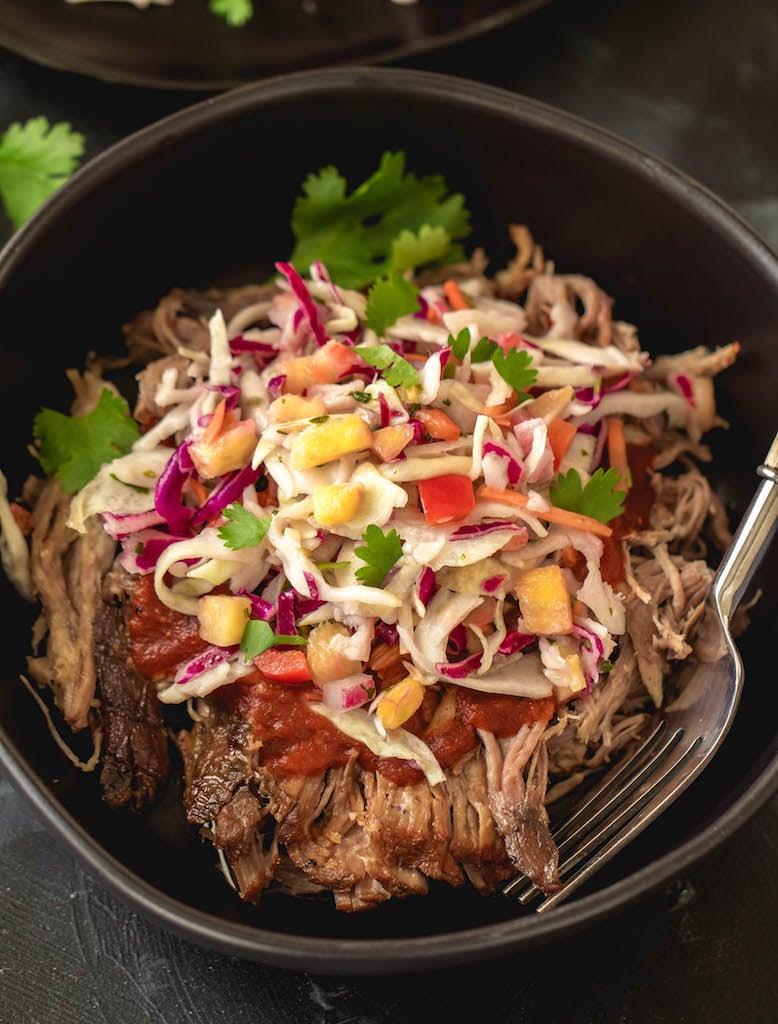 I've found that when I make this from ingredients that are chopped already, the bags of cabbage are inexpensive which makes up for the cost of the pre-made pineapple salsa you can find at Whole Foods. When I make this myself, I'm buying cheaper items, but more of them. The price ends up just about evening out. I also know not everyone has a Whole Foods near them so I'll include the recipe on how to make the coleslaw yourself.
You can also make your own mayo and barbecue sauce to make your condiments Paleo. I don't do this very often. It tends to go to waste in my household of 1 before I can eat it all. Usually (okay, always) I prefer to use Primal Kitchen Foods Mayo and have been for almost 2 years now. I can't eat a whole tub of mayo that quickly and, to be honest, making it sort of grosses me out so DIY mayo it isn't worth it to me.
This stuff can sit in my fridge without going bad before I get to it. Also, it's always there as opposed to my having to make it before every recipe. It's cheaper on the website than it is on Amazon, so that's generally where I buy it.
I always add BBQ sauce to this. Always. You don't need to but I highly recommend it! Similar to the mayo, BBQ sauce is just as easy to make but it's nice to just have it in the fridge when I'm ready for it. I use my favorite Whole30 Approved BBQ sauce from Primal Kitchen, which is available on Thrive Market, their website (use code PALEOBAILEY to save 15%), and Whole Foods. Sometimes convenience wins.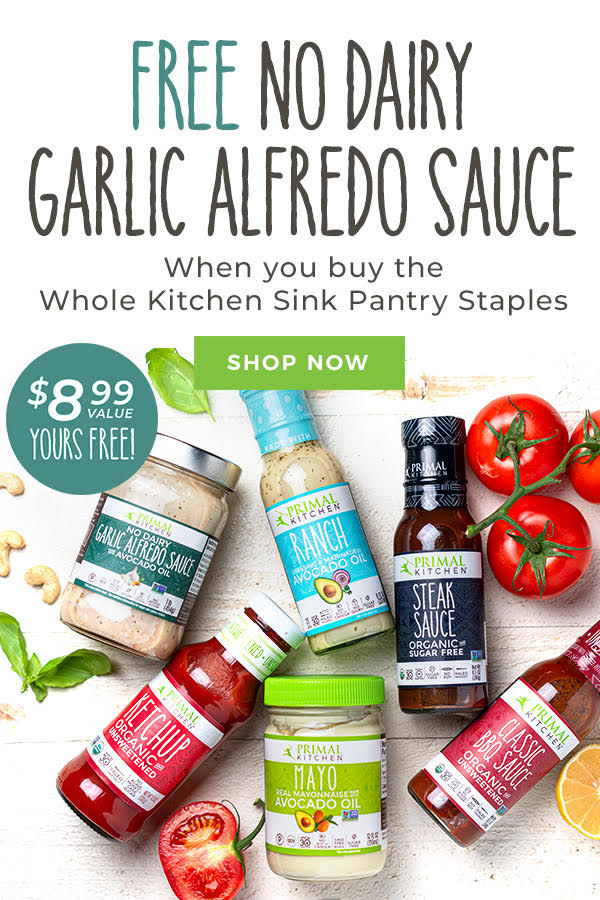 Grab both the mayo and BBQ sauce from Primal Kitchen as part of the Whole Kitchen Sink Bundle with a FREE no-dairy Garlic Alfredo + free shipping!
Recipe Tutorial Video
Print
Hungry for more? Subscribe to my newsletter to get new recipes delivered straight to your inbox! And be sure to stay in touch on Facebook, Pinterest and Instagram for all of the latest updates.
Slow Cooker Pulled Pork With Pineapple Coleslaw
Prep Time: 20 minutes
Cook Time: 6 hours
Total Time: 6 hours 20 minutes
Yield: Serves 4-6 1x
Category: Pork
Method: Slow Cooker
Cuisine: American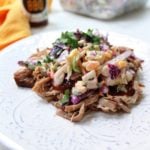 Ingredients
For the pulled pork:
3–4 pound pork shoulder (bone-in or boneless)
1/2 cup chicken broth
1/2 cup balsamic vinegar
1/8 teaspoon salt
1/8 teaspoon pepper
For the coleslaw:
1–2 bags of coleslaw cabbage (or 1 bag coleslaw and 1 bag shredded purple cabbage)
OR
1/2 head of green cabbage
1/2 head of purple cabbage
1 tablespoon apple cider vinegar
1 tablespoon avocado oil (or olive oil)
Enough mayo to make it the consistency of your preference (about 1/2 cup)
For the pineapple salsa:
1 large tub of pre-made pineapple salsa from Whole Foods
OR
2 cups fresh pineapple, diced
1/4 cup red onion, finely chopped
1/4 cup red pepper, finely chopped
1/2 cup fresh cilantro, chopped
1 Serrano pepper, seeded and finely chopped
Juice of 1 lime
1/8 teaspoon of salt
Optional: BBQ to top the pulled pork
Instructions
For the pulled pork:
Place pork in the slow cooker
Season meat with salt and pepper
Pour in chicken stock and balsamic
Cover and cook on low for 6-8 hours or until pork pulls apart easily
Remove from slow cooker and shred
For the pineapple coleslaw:
Add cabbage to a large bowl
Prepare the pineapple salsa if making it yourself
Add pineapple salsa to the bowl
Add oil, vinegar, mayo
Stir to combine so that coleslaw is evenly mixed
For best results, refrigerate an hour prior to serving to let the flavors combine
Top pulled pork with BBQ sauce and coleslaw and serve!
Notes
If you're using this for meal prep, you may want to double the coleslaw recipe depending on how large your pork shoulder is.
Nutrition Facts:
Calories: 335
Sugar: 21
Fat: 23
Carbohydrates: 18
Protein: 16
To make this is to love this! Try it out and tell me what you think!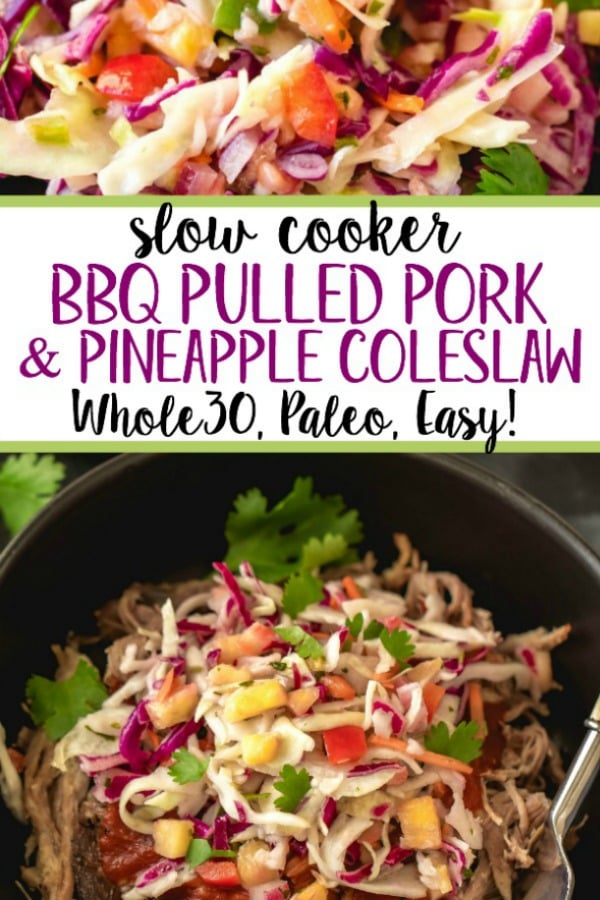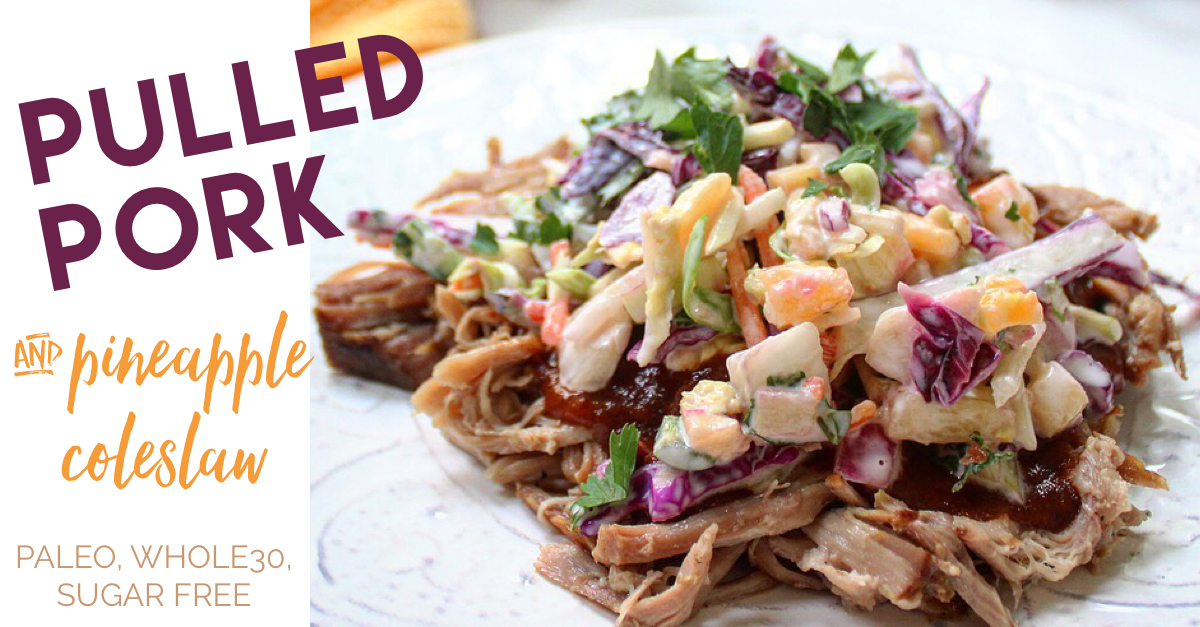 This Whole30 slow cooker pulled pork and pineapple coleslaw post contains affiliate links, though the products are ones I frequently use personally and recommend. When you purchase anything using my links, it costs you absolutely nothing extra, but it does give wholekitchensink.com a little financial support which helps to keep this blog running. Thank you for your continued support, both with your dollars and your interest.