When I think of coconut shrimp, I think of deep fried restaurant goodness. However, making Paleo coconut shrimp at home is a great alternative to the unhealthy restaurant version. It's way more simple than most people think. I make this recipe a lot with the little kiddos in my life because it's an easy and fun thing for them to help with.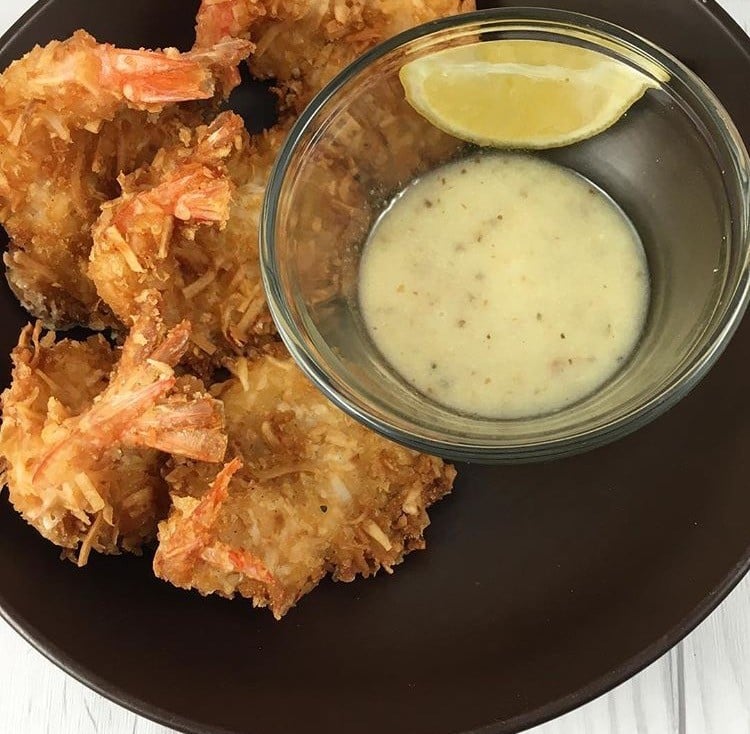 I prefer using jumbo shrimp and butterfly cutting it. It just feels a little bit more like a vacation somewhere beach-front. If you squint your eyes and think real hard you can almost imagine the tropical drink to go with it. Except then you open them to realize you're still standing in your own kitchen. Oh, that's just me? Okay, moving on. If you don't have jumbo shrimp, any size will work. You'll just want to peek in the oven to make sure they're not getting over done if you use smaller shrimp.
For the batter I usually use coconut flour, but I've done it with almond flour plenty of times too. I haven't personally tried it, but I'm sure tapioca flour would be a completely fine substitution as well. I usually pair these with a tropical, fruity dip like Whole30 approved Pineapple Thai by Saucy Lips or a fresh pineapple salsa.
Print
Paleo Coconut Shrimp: A Tropical Vacation in Your Kitchen
Prep Time: 10 minutes
Cook Time: 5 minutes
Total Time: 15 minutes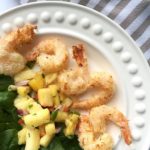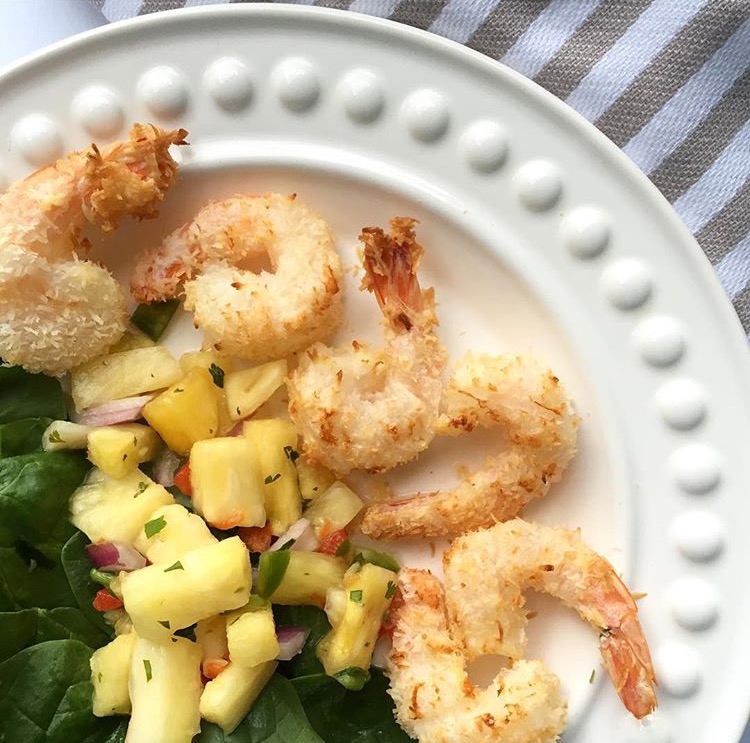 Ingredients
1 pound jumbo shrimp, butterfly cut shrimp beforehand if you'd like
2 eggs, beaten
1 and 1/2 cup shredded coconut
1 cup almond flour or coconut flour
1 cup coconut oil
1 teaspoon water
1 teaspoon garlic powder
1 teaspoon salt
1 teaspoon pepper
2 tablespoons honey *omit if doing a Whole30
Instructions
Mix in salt, pepper, water, honey and garlic powder into eggs
Dip each shrimp into egg wash and then immediately into coconut mixture to completely coat
Heat coconut oil in pan
Place coated shrimps into the pan and cook 3-4 minutes on each side (maybe less if your shrimp are smaller)
Remove from pan and serve!
This post may contain some links that are affiliate links, though products are ones I use personally and recommend. When you purchase anything using my links, it costs you absolutely nothing extra, but it does give wholekitchensink.com a little financial support which helps to keep this blog running. Thank you for your continued support, both with your dollars and your interest.