Sometimes eating Paleo can feel pretty limiting if you get into a rut with making the same meals over and over again. Especially when going out to eat and finding something that's Whole30/Paleo can seem like you're gearing up to head off to war. I have good news for you! Your food doesn't have to be boring and you can eat as well, and better, than you would at a restaurant.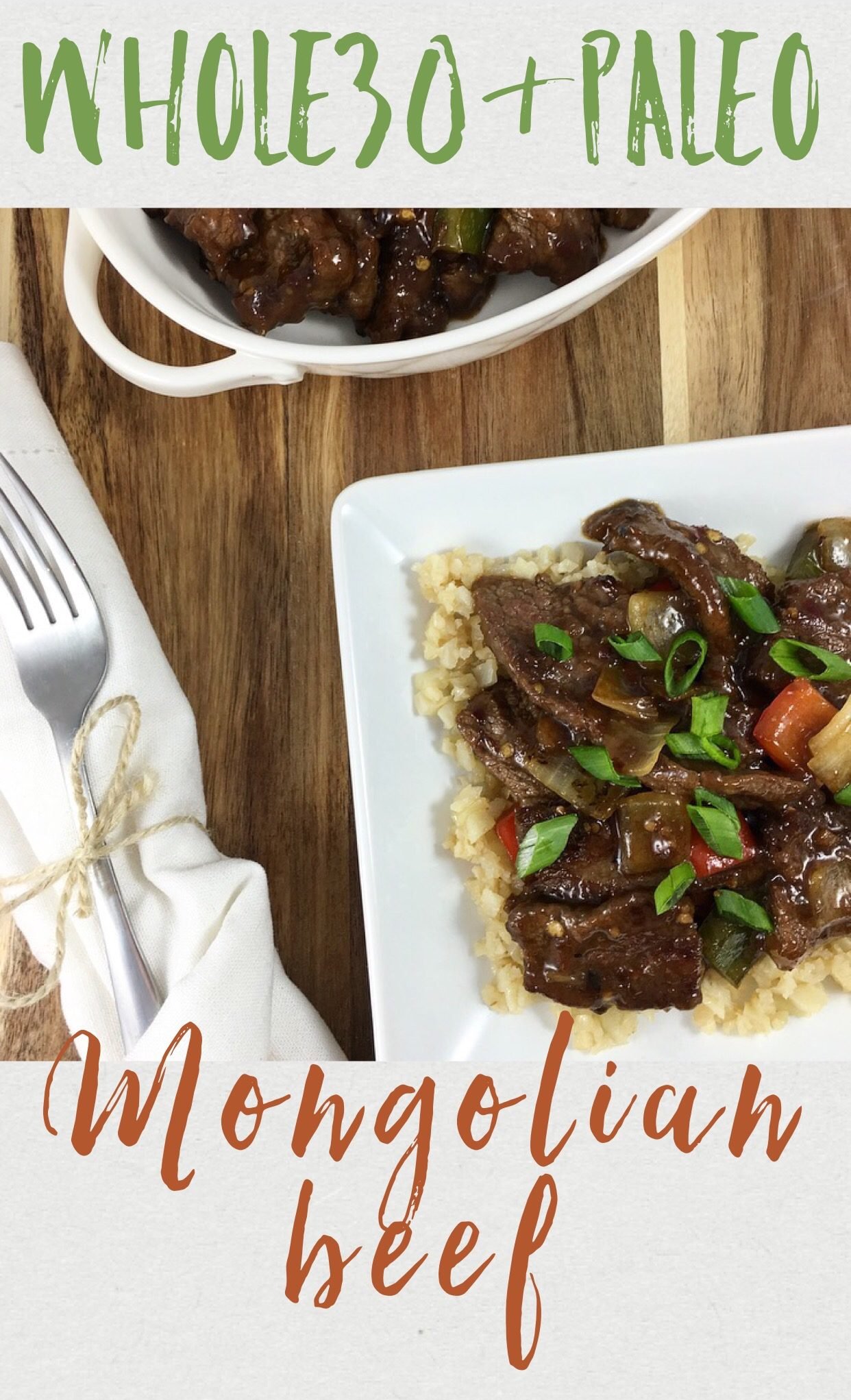 This pretend take-out or P.F. Chang's Mongolian beef is a fun dinner if you're feelin' bored or just looking for a healthy, whole foods alternative to Chinese food. I remember during my first round and probably first few months of Paleo after that, I never made anything out of my comfort zone in the kitchen so I would have never attempted this. Now that I've made it a ton, it makes me laugh because it's actually really simple!
I love thinking back to how I cooked and prepped when I first started out. It wasn't very long ago and yet I've learned so much in that short time by going through this process. Foods and ways of cooking them that I didn't even know existed before are now normal parts of my diet. The best part is that I'm still learning and discovering and I doubt I'll ever be done!
Anyway…
Another variation of this I make, depending on what I have on hand, is adding broccoli instead of the peppers and onion. Serve it over cauliflower rice, in lettuce wraps or Asian salads.
Recipe notes:
Once the Mongolian beef recipe is all combined together in the final step, if you think you want the sauce to be thinner, you can add 1/8 cup water or beef broth to thin it out a bit.
If you're doing this meal for a meal prep, remove the steak from heat just slightly before it's cooked to your steak preference. That way, when you microwave it later, it will finish cooking to how you want it instead of overcooking.
Leave out the red pepper flakes if you don't like a medium spice level. Add 1/2-1 teaspoon sriracha if you like it hotter!
FYI: Most of the ingredients this Mongolian beef recipe calls for (like the coconut aminos and tapioca flour) can be found much cheaper on Thrive Market than places like Amazon or Whole Foods!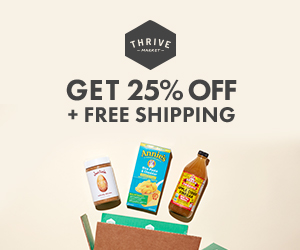 Print
Whole30 Mongolian Beef: Better Than Takeout
Prep Time: 10 minutes
Cook Time: 20 minutes
Total Time: 30 minutes
Yield: Serves 4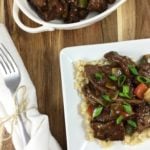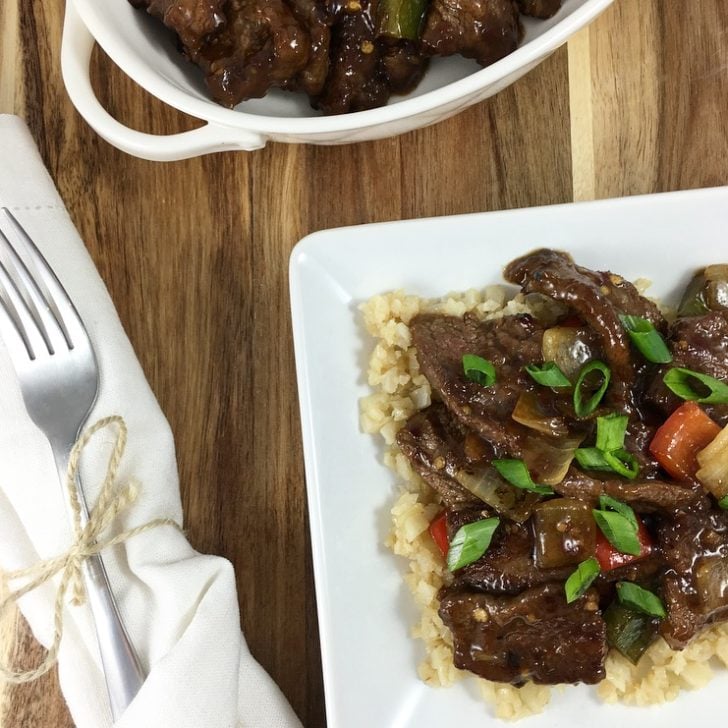 Ingredients
For the Sauce:
1/2 cup coconut aminos
1 cup water
2 teaspoons olive oil
2 teaspoons minced ginger
2 teaspoons minced garlic
1 teaspoon rice vinegar
1 teaspoon red pepper flakes
1 teaspoon tapioca flour
For the Meat and Veggies:
1 pound flank steak, thinly sliced across grain
1/4 cup tapioca flour or cassava flour
1/2 cup lard or olive oil
1 tablespoon olive oil
1 cup white onion, thickly diced
1/2 cup red pepper, thickly diced
1/2 cup green pepper, thickly diced
Green onion to garnish
Instructions
Coat steak in cassava or tapioca flour by either dipping both sides of steak into a bowl with flour in it, or add flour and steak to a gallon Ziploc and coat. Set aside
Add all sauce ingredients except tapioca flour to medium sized bowl and combine
Pour into medium sauce pan on low heat, bring to a simmer
While that's coming to a simmer, add 1 tablespoon olive oil to large skillet or large cast iron pan over medium heat
Add onions and peppers and saute until soft, about 4 minutes
Remove onions and peppers and place aside in a bowl or plate
At this time, add teaspoon of tapioca flour to sauce mix and whisk in until no clumps are seen, allow to continue simmering, whisking occasionally
Add 1/2 of the lard or olive oil to the large skillet or cast iron you used to cook the veggies
Once heated, carefully place 1/2 of the sliced steak into skillet
Cook until brown, about 3-4 minutes, flipping halfway through
Remove from heat and set aside on plate or paper towels
Add the last half of the lard or oil and steak
Cook until brown, about 3-4 minutes, flipping halfway through
Once done, add in first batch of steak, veggies and sauce
Stir and let combine for a few minutes
Remove from heat, garnish and serve!
This post may contain affiliate links, though products are ones I use personally and recommend. When you purchase anything using my links, it costs you absolutely nothing extra, but it does give wholekitchensink.com a little financial support which helps to keep this blog running. Thank you for your continued support, both with your dollars and your interest.