If you're looking for an easy meal to throw together that requires basically zero clean up, I got you covered with this One Pan Honey Mustard Chicken and Veggies recipe. If you're looking for a meal to meal prep, well, you can try with this one but I bet you there won't be any leftovers once you taste this.
That was my original plan. Eat it for dinner and save the rest for the following day. Didn't quite happen that way. Every time I make this for dinner for my boyfriend and I… It's gone. The honey mustard caramelizes the potatoes and green beans and it's just *too* delicious.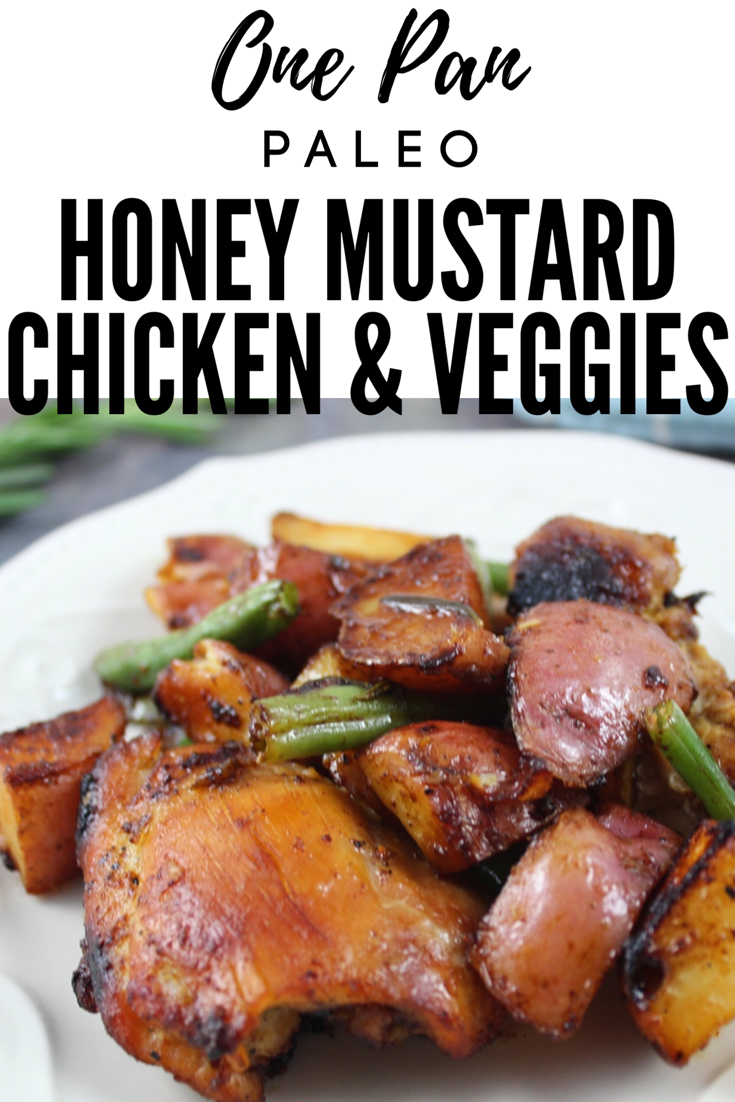 Like I said, my boyfriend loves this. It's his birthday today so we'll be going out to dinner tonight. BUT I made this for him last night as a pre-birthday dinner being it's one of his favorites. Besides tasting amazing, another reason I like it is because I usually have everything I need for it already or I'll just have to add green beans to my shopping list. It's a pretty inexpensive meal to make, all said and done.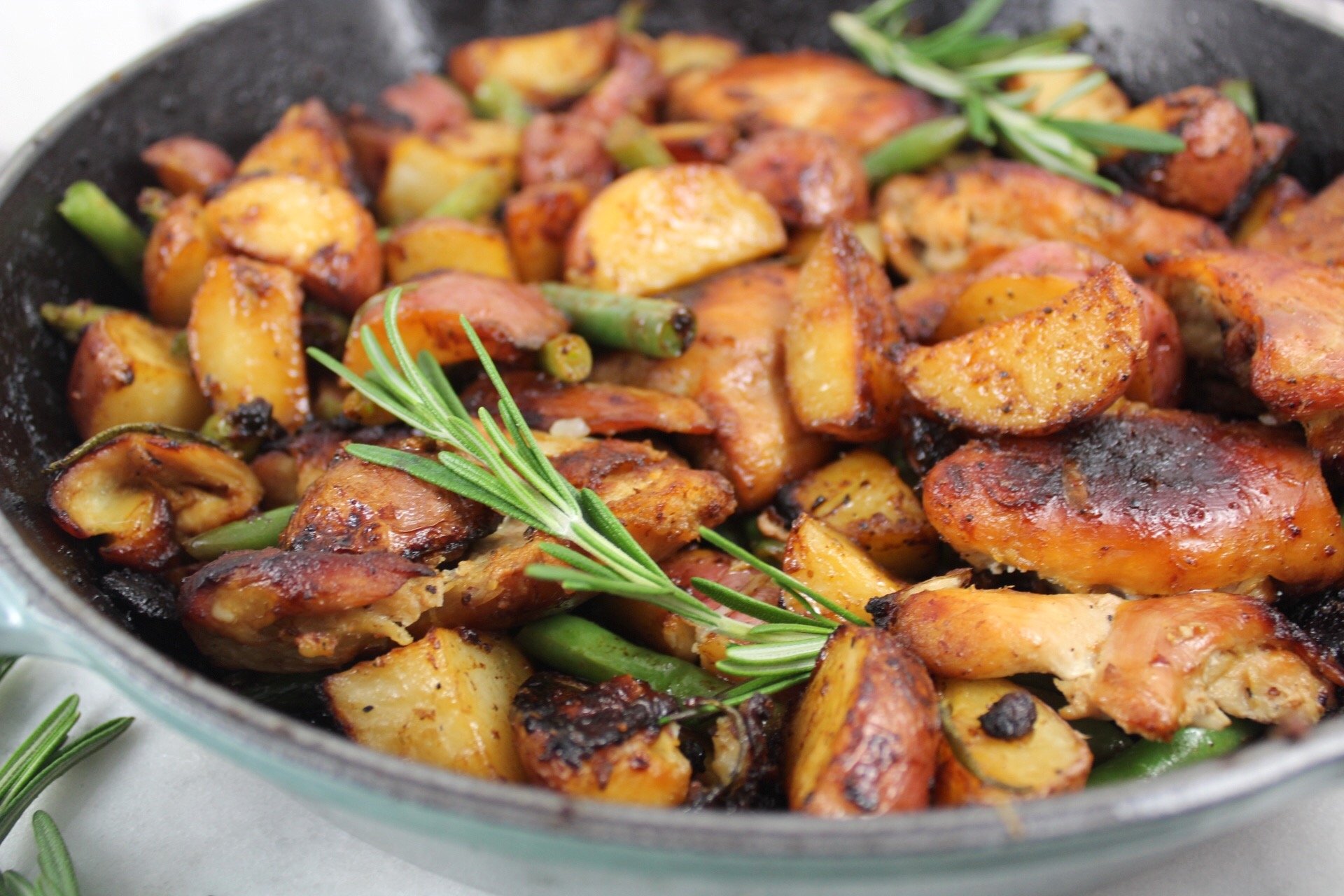 I usually use the honey mustard dressing from Primal Kitchen. It adds so much flavor and *I think* the avocado oil in the dressing helps to roast the veggies better while also caramelizing them – without adding extra oil. You can also make this without the dressing by adding Dijon mustard in it's place. I'll include that option in the recipe. I've made it both ways if I accidentally run out of our beloved honey mustard dressing.
Pro tip: If you have this dressing, try marinating chicken or shrimp in it in a Ziploc for a few hours before baking. It's one of my favorite ways to prepare protein for salads.
The rosemary isn't REQUIRED for this recipe, either. It does add a nice flavor though. If you don't have any fresh sprigs on hand, throw in a teaspoon of dried rosemary before putting it in the oven. Or skip it all together if you don't have the dried herb. 🙂
Print
Hungry for more? Subscribe to my newsletter to get new recipes delivered straight to your inbox! And be sure to stay in touch on Facebook, Pinterest and Instagram for all of the latest updates.
One Pan Honey Mustard Chicken and Veggies
Prep Time: 10 minutes
Cook Time: 45 minutes
Total Time: 55 minutes
Yield: Serves 4 1x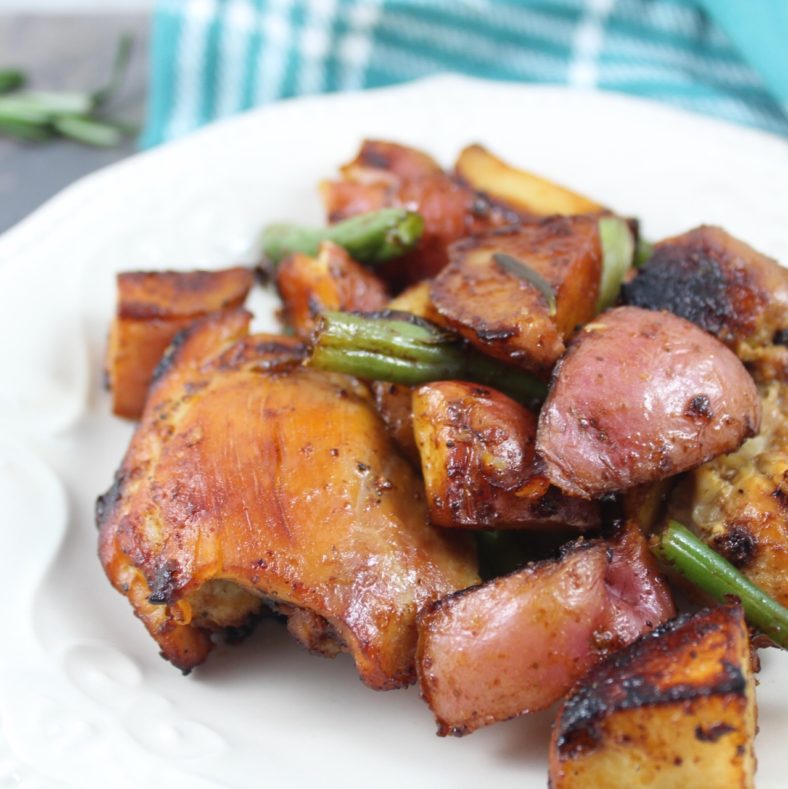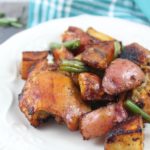 Ingredients
6 chicken thighs, skinless and boneless (about 1.5 pounds)
1 tablespoon pepper
1/2 tablespoon salt
1 tablespoon garlic powder
2 tablespoons olive oil
1 tablespoon minced garlic
1 tablespoon honey
1/2 cup honey mustard dressing
*If using mustard: 4 tablespoons Dijon mustard
1 pound largely diced baby red potatoes
1 cup largely diced green beans
2 tablespoons water
2–3 sprigs rosemary or 1 teaspoon dried
Instructions
Preheat oven to 350 degrees F.
Season chicken thighs with salt, pepper and garlic powder
Heat oil and minced garlic in a pan (that can go from stove top to oven, such as cast iron) over medium-high heat
Once garlic is fragrant, add in chicken thighs
Cook on each side for 3-4 minutes
Add in honey and honey mustard dressing or Dijon mustard and combine in the pan with chicken
Add in the potatoes and mix in with the sauce
Reduce heat slightly
Add rosemary and a bit more salt and pepper to taste
Allow to simmer for 5-10 minutes until sauce thickens a bit and potatoes start to soften
Transfer to the oven and bake for 30 minutes
Remove from oven and add in water and green beans
Mix to combine and place back into the oven
Bake for an additional 15 minutes until green beans are tender
Remove from oven, discard rosemary sprigs if used
Serve and enjoy!
Try out this Garlic and Butter Chicken with Tomato and Spinach Sauce one pan meal, too!
This post may contain affiliate links, though all products are ones I use personally and recommend. When you purchase anything using my links, it costs you absolutely nothing extra, but it does give wholekitchensink.com a little financial support which helps to keep this blog running. Thank you for your continued support, both with your dollars and your interest.