I have a tough time deciding which I like better between slow cooker meals or ones that only use one pan. I guess slow cooker meals fall into that category, but you know what I mean. Having dinner on the table without a mountain of dishes to do after makes it all the more enjoyable. This lime chicken with coconut, cilantro and onion is no exception.
The combination of flavors in this dish will be a far cry from the regular baked chicken that we sometimes fall into a rut with. I saw something similar to this a long time ago when I first started eating Paleo and now for the life of me cannot find the recipe this is based off of. I've been making this every once in a while over the last year when I want to switch up my normal chicken breast routine and it's just as good every time. It's awesome for meal prep purposes because the sauce reheats really well.
As far as the arrowroot starch/powder goes, it's not completely necessary if you don't care about thickening the sauce. I've made it both ways and neither version are more or less tasty. Also, if you don't have arrowroot starch, don't panic! You can use tapioca flour if you have that instead. They both basically do the same thing. And again, neither is more or less better for our purposes with this particular recipe.
Print
Hungry for more? Subscribe to my newsletter to get new recipes delivered straight to your inbox! And be sure to stay in touch on Facebook, Pinterest and Instagram for all of the latest updates.
One Pan Lime Chicken
Prep Time: 5 minutes
Cook Time: 25 minutes
Total Time: 30 minutes
Yield: Serves 4 1x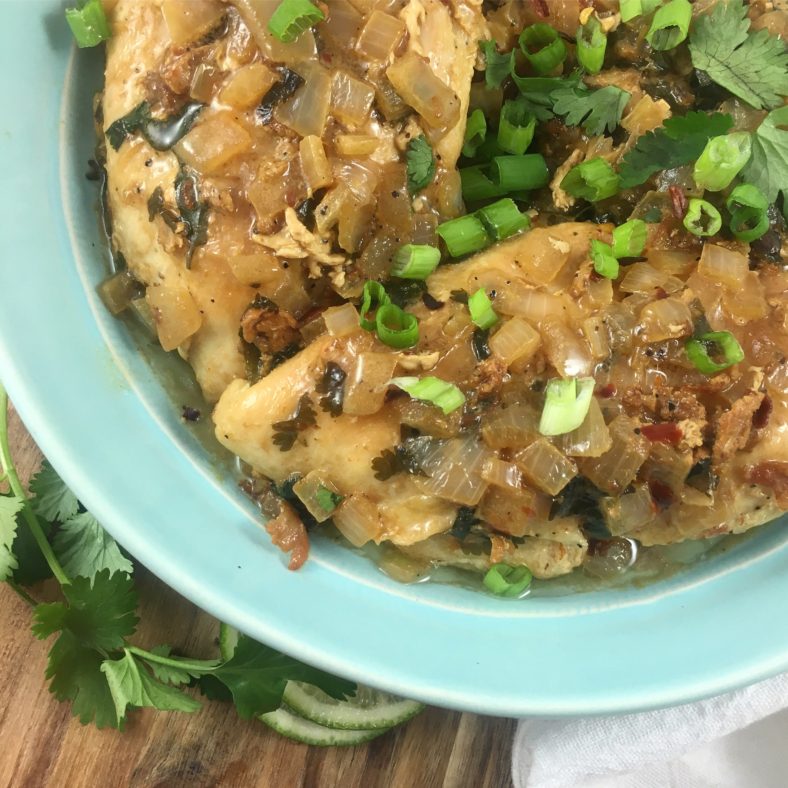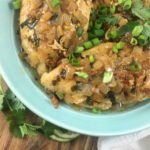 Ingredients
4 chicken breasts (1 1/2–2 pounds)
1/2 diced red onion
1/3 cup chopped cilantro
Juice of 1 large lime
Solid part skimmed from the top of 1 can full-fat coconut milk
1 tablespoon coconut oil
1 tablespoon ghee
1 cup chicken stock
1/4 teaspoon salt
1/4 teaspoon pepper
1/2 teaspoon red pepper/chili flakes
1 tablespoon arrowroot starch
Cilantro and green onion to garnish
Instructions
Add ghee and coconut oil to pan or cast iron skillet over medium heat
Add chicken, salt and pepper and cook 5-7 minutes on each side until browned
Remove from pan and set aside. Chicken doesn't need to be fully cooked at this point yet
Add onion, cilantro, chili flakes, chicken stock and juice of lime to the pan and bring to a simmer
Add in coconut milk (just the white solids from the top of the can) and stir in
When the coconut milk has completely mixed in, add in arrowroot powder/starch and 1 tablespoon water
Use a whisk to to stir, avoiding clumps while the sauce thickens
Continue to whisk until the sauce is thick (about 2 minutes) and add chicken back in
Cover and let cook for an additional 10 minutes, flipping chicken halfway through
Give more time if chicken isn't thoroughly cooked. This will depend on the thickness of the chicken breasts you're using
Remove from heat and serve!
Pair this with cilantro-lime cauliflower rice!
Have you made this lime chicken? Tell me in the comments! What are some of your other favorite one-pan meals?
This post contains affiliate links, though the products are ones I use personally and recommend. When you purchase anything using my links, it costs you absolutely nothing extra, but it does give wholekitchensink.com a little financial support which helps to keep this blog running. Thank you for your continued support, both with your dollars and your interest.