It's no secret that I love soup. All soup. I really think it's unfair to play favorites but, if I had to, I would tell you that chicken wild rice soup is my absolute favorite. I used to make it with a flour and heavy cream base back in the old days before I knew better. It was something I really and truly missed when I started eating Paleo. After trying Nutpods I had a lightbulb moment. I realized I didn't have to live without my beloved creamy chicken soup anymore. We'll be leaving the wild rice out, but this soup is so freakin' good that you won't even notice. This soup reminds me of Panera's creamy chicken wild rice soup and it's one of my most favorite recipes. It's hearty, filling and I look forward to coming home to it after a long day. It's a huge hit with everyone I've made it for (when I'm willing to share!). I've included some tips for freezing it for meal prep, but be forewarned, it rarely lasts very long in my freezer!
Paleo Alternatives and Replacements:
Nutpods are not only the best coffee creamers I've found, but they're also the best replacement for recipes that need cream. And trust me, I've tried a ton since cutting out dairy. I've found that the consistency works well for a thickening agent. It also doesn't leave a coconut or almond milk taste at all. It pretty much just absorbs the flavors of whatever you're cooking instead of being too overpowering.  I get asked where I get Nutpods all of the time, so I've linked them here. I order the variety pack on Amazon and you'll get free shipping with Amazon Prime. If you have your own favorite, let me know in the comments what you use!
I use arrowroot flour or tapioca flour in place of conventional flour. For this specific recipe, I generally opt for tapioca flour. It's a better option for dairy based soups and it freezes well. That being said, arrowroot flour really isn't that much different. If you only have arrowroot, don't feel like you can't use it. The recipe will still turn out just fine! The creamy chicken soup will be just as creamy either way, I promise ya! I've used both and there isn't enough of a difference for me to really have a preference.
Cooking Tips:
An option for the chicken that sometimes makes my life easier is to pick up a rotisserie chicken from the store and just shred the whole thing for the soup. I'm not sure if it really saves me any time, but it makes me feel like it does because it's one less thing I'm cooking. Another way to save time if you use a rotisserie chicken or even if you're using baked chicken breasts, you can buy it or cook it and then shred it beforehand and have that step already taken care of. I will often bake a few chicken breasts while I'm doing a meal prep. That way it's ready to go for a busy weeknight and all I have to do is plop it in the soup.
If you're going to freeze the soup, I suggest to freeze it in individual portions. It's best to then remove from the freezer and place in the fridge to thaw before reheating but it can also go straight from the freezer to the microwave if you're short on time. What I usually do is take it out of the freezer before I head off to work and then by the time I'm ready to eat, the creamy chicken soup is thawed and ready for me!
Slow Cooker Option:
If you want to make this in a slow cooker and are using uncooked chicken breast, add all ingredients to the slow cooker except for the Nutpods and flour replacement. Cook on low for 6-8 hours or high for 3-4. Remove the chicken breast, shred, and place back in. You'll do the last step of combining the cream and flour as per recipe and then mixing it into the slow cooker. If you use a rotisserie or pre-cooked and shredded chicken, add it in once soup is cooked an allow to heat up while you're making the cream sauce. Super simple and a perfect creamy chicken soup recipe for any amount of time in the kitchen your schedule allows!
Other Whole30 and Paleo Soups You'll Love:
Chicken Taco Soup: Instant Pot or Slow Cooker Instructions
Chorizo and Butternut Squash Chili
Mexican Albondigas Meatball Soup
Print
Creamy Chicken Soup
Cook Time: 30 minutes
Total Time: 30 minutes
Yield: Serves 4-6 1x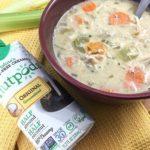 Ingredients
1.5–2 pounds of chicken, shredded
6 cups chicken stock or chicken bone broth
1 and 1/2 white onion, diced
3 large carrots, sliced
3 stalks celery, diced
2 cups Nutpods or substitution for heavy cream
4 tablespoons arrowroot powder or tapioca flour
2 and 1/2 tablespoons dried parsley
1/2 tablespoon salt
1/2 tablespoon pepper
2 bay leaves
Instructions
Preheat oven to 400 degrees and bake chicken breasts for about 30 minutes or until fully cooked
While the chicken is cooking, chop veggies and add to stock pot to begin cooking
Add broth, carrots, onion, celery and spices including bay leaves to a large stock pot
Bring to a simmer and cook until veggies are mostly soft (about 15-20 minutes)
If you're using a rotisserie chicken or baked chicken breasts, shred it now while veggies are cooking
Add chicken to stock pot when veggies are almost cooked thoroughly and turn to low heat
In a large sauce pan, add 1 cup Nutpods or cream over medium heat
Slowly whisk in 2 tablespoons arrowroot powder
Continue whisking until it begins to thicken and is combined well with no clumps
Add in 1 more cup Nutpods and 2 more tablespoons arrowroot powder
Whisk together until sauce is thick and there are no clumps
Pour sauce into the stock pot and mix in with the soup
Serve and enjoy!
This post contains affiliate links, though all products are ones I use personally and recommend. When you purchase anything using my links, it costs you absolutely nothing extra, but it does give wholekitchensink.com a little financial support which helps to keep this blog running. Thank you for your continued support, both with your dollars and your interest.