I'm seriously loving this whole new world of having a slow cooker AND an instant pot. During my meal prep I was able to make spaghetti sauce in the instant pot while getting these Swedish meatballs in the slow cooker. By the time they were cooking, the meat sauce was done. I'm not sure if it's all in my head, but it definitely makes me feel more productive. I'm probably making it up but I felt like that meal prep didn't consume my day and I had hours more time in my day.

I know I'm suppose to use the first paragraph in a blog post to talk about the actual recipe, according to the Google SEO optimization rules but it's my blog and I'll do as I please 😉 If you came here for the recipe for these slow cooker Swedish meatballs and not my rambling, you're in luck. Because that's next.
As a person of 1, this one recipe could feed me all week for dinner. But food boredom is real, so I froze half instead and will pull them out down in the line in my Whole30. The best way to freeze these is in individual portions. You could just freeze half and have them for a few nights though. However, freezing them in single servings (usually 4 meatballs) means that I can eat them for dinner one night in two weeks and another night in three weeks, adding more variation to my weekly meals.
The process is super simple, as always with my meals. You'll start off like you're making any ol' meatball recipe. Combine everything into a bowl and roll into your desired size meatball. My biggest tip/suggestion for adding awesome flavor is to grate the onion directly into the bowl so you get all of the juice from the onion. If you're in a hurry or just don't want to, you could dice it and throw it into the Swedish meatball mixture as well.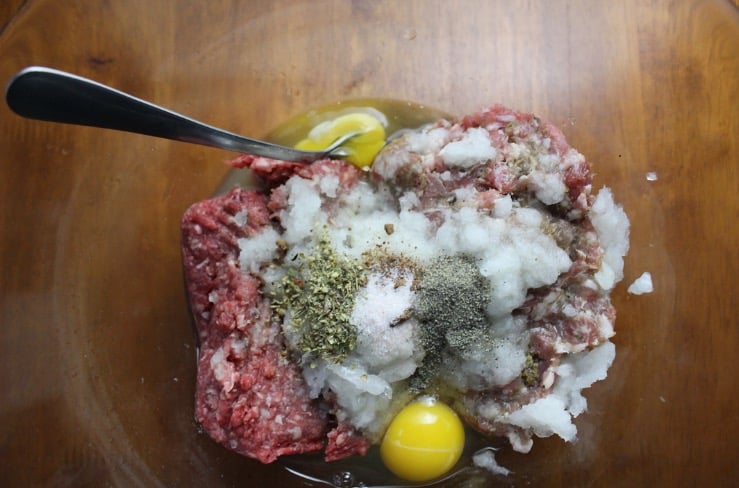 If you find that your mixture is too wet to form into balls, add a tablespoon or two more of almond meal. As you're making your meatballs, place them into the slow cooker, lining the bottom first and stacking them in the spaces between the first layer. It's okay that they're on top of each other.
If you don't futz with the slow cooker much and stir them before they're cooked, they'll still come out as meatballs.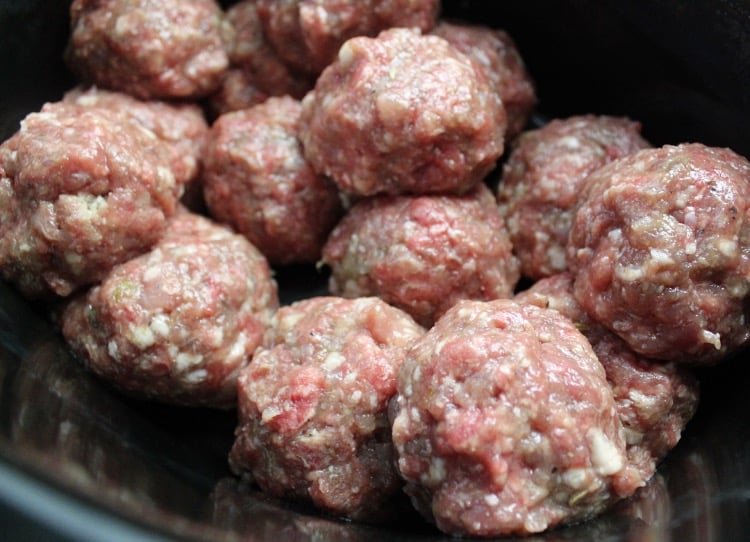 Next, you're going to add the Original flavor nutpods or coconut milk to a sauce pan along with the ghee, arrowroot flour and broth. You'll do this by adding all of the ingredients first and then slowly whisking the arrowroot flour in one tablespoon at a time. This is to avoid clumping and ensure that the sauce thickens well.
Once the flour is all mixed in, continue whisking for a few minutes and you'll see the sauce thicken and start to bubble a bit. At that point, simply pour into the slow cooker over the meatballs. Put the lid on and let cook for 2 hours on high or 3-4 hours on low.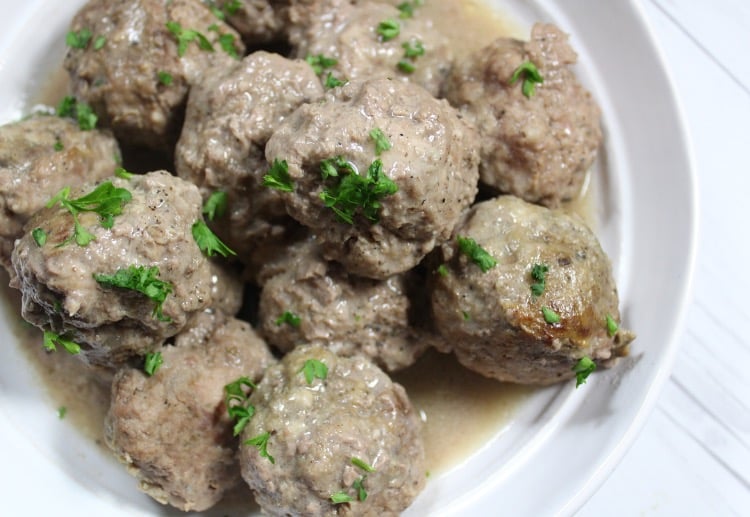 As I said, don't futz too much with them while they're cooking to avoid breaking the meatballs. You may need to gently separate a few of the Swedish meatballs once they're done but they'll be thoroughly cooked and won't break apart.
The gravy is delicious with some mashed cauliflower or roasted veggies so serve 'em up as a side with the Swedish meatballs and you're set to go!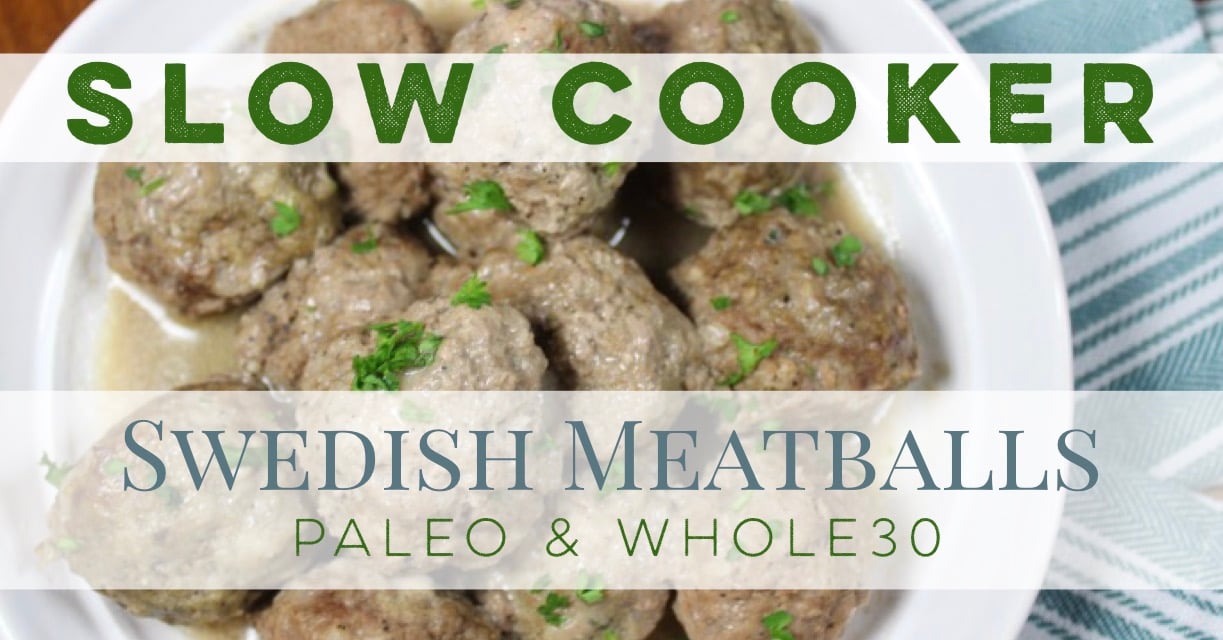 Print
Slow Cooker Swedish Meatballs: Paleo and Whole30
Prep Time: 10 minutes
Total Time: 10 minutes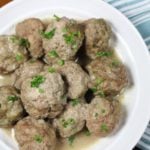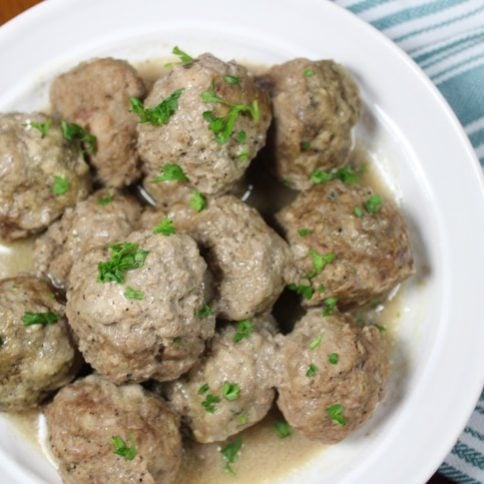 Ingredients
For the Meatballs:
1 pound ground pork
1 pound ground beef (I used Pederson's Farms!)
1 medium white onion, grated directly into mixing bowl
2 eggs
3 tablespoons almond meal
1 tablespoon dried parsley
1/2 teaspoon salt
1/2 teaspoon allspice
1/2 teaspoon garlic powder
1/2 teaspoon nutmeg
1/4 teaspoon pepper
For the Sauce:
Instructions
Combine all ingredients for the meatballs into a large mixing bowl, grating the onion directly into bowl
Mix with hands until combined
Form into 2″-3″ meatballs
Place directly into slow cooker
Add all sauce ingredients, excluding arrowroot flour, into a sauté pan over medium heat
Whisk arrowroot flour into sauce 1 tablespoon at a time
Continue whisking about 3-4 minutes until sauce thickens and begins to bubble
At that time, pour sauce mixture into the slow cooker over meatballs
Cover slow cooker and cook on high for 2 hours or low for 3-4
If you're a meatball fanatic like me, here's some other great Paleo and Whole30 meatball recipes:
Spicy Pork Meatballs and Sesame Noodles
This post may contain some links that are affiliate links, though products are ones I use personally and recommend. When you purchase anything using my links, it costs you absolutely nothing extra, but it does give wholekitchensink.com a little financial support which helps to keep this blog running. Thank you for your continued support, both with your dollars and your interest.