Paleo chicken bacon ranch flatbread. It's a mouthful but it tastes as amazing as it's name is lengthy. Flatbreads (grain-free, of course) have been my new favorite thing to play around with. I stayed far away from them for a loooong time, knowing that pizza was maybe one of my biggest food with no breaks (read about that here). Now that I know I usually have a handle on my self-control and willpower, it's been more fun to mess around with these ideas as opposed to totally terrifying to think of before.
Seriously. Even just the mention of the word pizza would make me super anxious and sweaty (just kidding) and I'd get really worked up about falling "off track". That's because my off track moments would snowball into off track weeks. So, yeah. Best to just stay away from pizza if you know that's a trigger for you. BUT if it's not…
Try this Paleo chicken bacon ranch flatbread. Right now.
It's a healthier version to our normal pizza and flatbread routines. It's grain-free, dairy-free, soy-free, sugar-free and totally guilt-free. Bacon, chicken and ranch is a winning combo, if you ask me. Then throw in the fact that I can feel good about eating it? Don't have to ask me twice.
As far as the crust goes, I've included the recipe to make it yourself. It includes pretty standard and easy to find ingredients, but you can buy prepackaged Paleo pizza crusts which make life easier and save you time. The two that I use and would recommend if you don't want to make it yourself are Julian Bakery (it's cheaper per crust on Amazon to buy a two pack) and Simple Mills.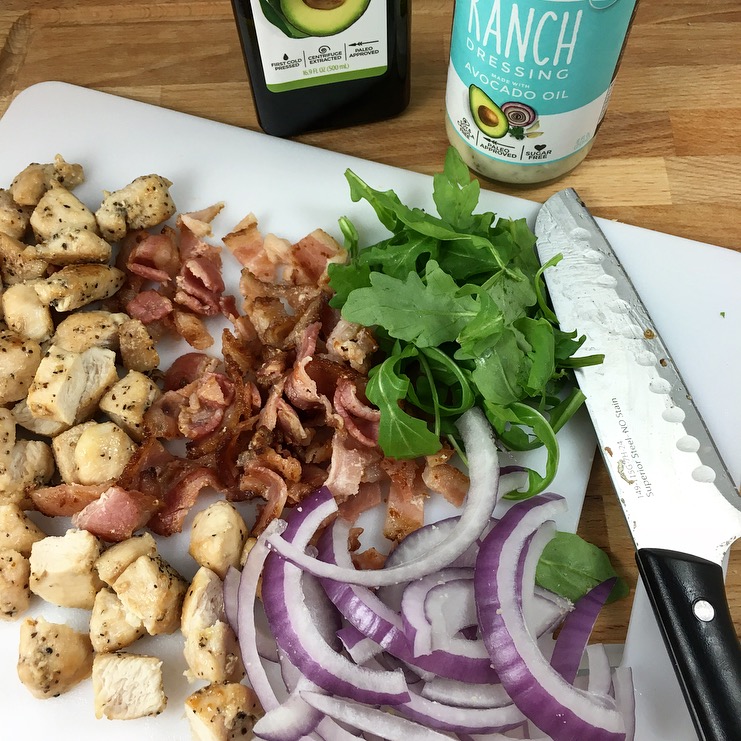 There's lots of ranch recipes out there to make yourself. But if you don't have time for that or are lazy (like me) it's easier to just keep a bottle on hand. I keep, like, 3 extras in my cupboard at all times. I love ranch. No shame. I use Primal Kitchen's ranch dressing (cheaper here than on Amazon) because frankly, it's the best Paleo ranch I've found. Plus it's got squeaky clean ingredients. Not only that, but I even like it better than it's unhealthy ranch cousins like Hidden Valley brand. Which used to be my favorite.. So that's saying a lot.
Then, add any veggies you've got hangin' out in the fridge or change up the meat if you want to! I just love these toppings with the creamy ranch. It's perfect for a pizza and movie night or a fun baking day this weekend with the kids!
Print
Paleo Chicken Bacon Ranch Flatbread
Prep Time: 10 minutes
Cook Time: 30 minutes
Total Time: 40 minutes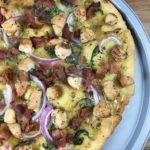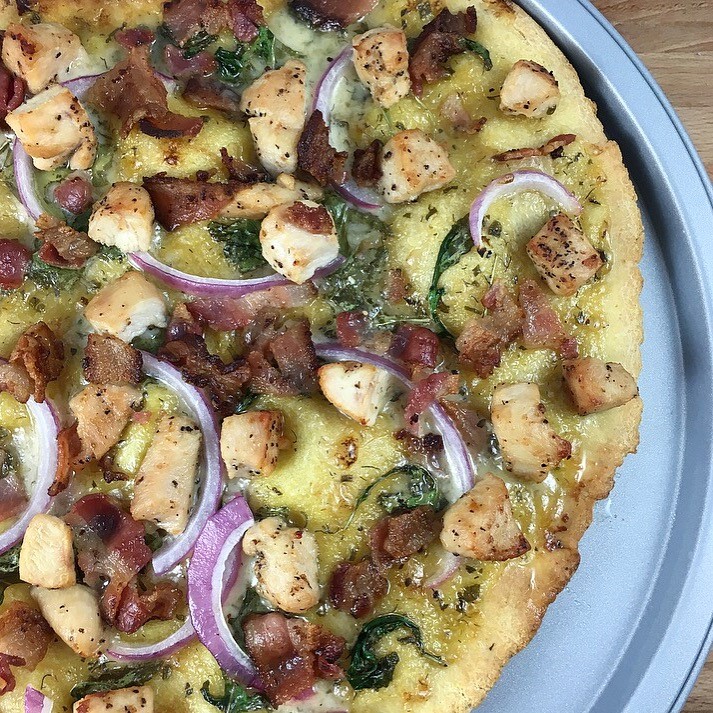 Ingredients
For the Crust:
1 teaspoon baking powder
1 cup almond flour
1/2 cup coconut flour
1/2 teaspoon salt
1 tablespoon garlic powder
4 eggs
3 tablespoons avocado oil
1/2 cup coconut milk
For the Toppings:
1 chicken breast
1 tablespoon avocado oil
1/2 tablespoon pepper
1/2 teaspoon onion powder
1 teaspoon salt
4 slices of bacon
1/4 large red onion, sliced
1 cup arutula
1/2 cup ranch dressing
Instructions
Preheat oven to 375-degrees.
Begin mixing dough. In a large bowl, combine all dry ingredients: baking powder, almond flour, coconut flour, salt and garlic powder.
Combine wet ingredients (eggs, avocado oil and coconut milk) with dry ingredient mixture. Continue to mix while adding wet ingredients to avoid clumps.
Kneed dough by hand when the mixture begins to form a dough.
Pour dough mixture over a well greased, rimmed pan or parchment paper.
Bake alone for 15 to 20 minutes.
While the crust is cooking, cut raw chicken breast into cubes. Cook on stovetop with avocado oil, salt, pepper and onion powder.
Remove from heat and set aside.
Cook bacon on stovetop, removing heat before crispy. Chop bacon into bits and place aside.
After crust is cooked to a light brown for 15 to 20 minutes, remove from oven. Spread ranch dressing over crust. Add chopped chicken, bacon bits, onion and other toppings.
Place back in oven and cook for 10 minutes or until toppings are fully cooked and bacon becomes crispy!
Enjoy!
What are your favorite toppings to add to your pizza? What are some other ways to get creative with cheese-free pizzas?!
This post contains affiliate links, though all products are ones I use personally and recommend. When you purchase anything using my links, it costs you absolutely nothing extra, but it does give wholekitchensink.com a little financial support which helps to keep this blog running. Thank you for your continued support, both with your dollars and your interest.