I love the combination of flavors in this dish. The mango shrimp and cilantro-lime cauliflower rice come together to create a different kind of dinner than I usually find myself throwing together. I also love that it's loaded with a few veggies that I don't eat enough of. Both cauliflower and radishes have tons of health benefits and are high in essential vitamins and minerals.
For the sauce, I use Saucy Lips Tangy Mango. If you have another tropical tasting sauce, try using that! Make sure you let me know in the comments what you used so I can try it, too! I always make it with this sauce though because I love the way it adds to the meal. It's got such a fresh flavor and is completely Paleo and Whole30 approved. I also use this sauce as a dressing for some salads, a marinade for chicken (Tangy Mango chicken wings!) or just as a dipping sauce.
Print
Mango Shrimp and Cilantro-Lime Cauliflower Rice
Cook Time: 20 minutes
Total Time: 20 minutes
Yield: Serves 4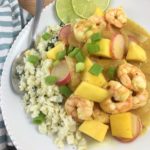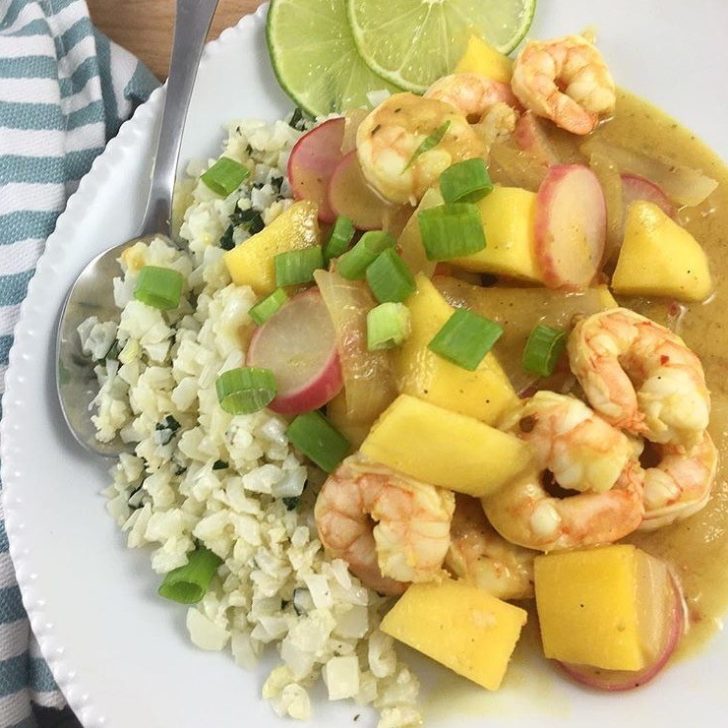 Ingredients
For the Shrimp
1 pound shrimp, peeled and tails removed
1/2 cup Saucy Lips Tangy Mango Sauce (or your favorite tropical sauce)
2 tablespoons coconut oil
1 white onion, thickly chopped
1 teaspoon red pepper flakes
1 cup radishes, sliced
1 cup mango, diced
1 tablespoon minced garlic
For the Cauliflower Rice
1/2 head cauliflower
1 tablespoon olive oil or coconut oil
1 lime, juiced
1/2 cup diced cilantro
*Garnish with lime, green onion or cilantro
Instructions
For the Shrimp
Marinade shrimp with 1/4 cup sauce in the refrigerator for 30 minutes or up to 2 hours prior to cooking
In a large skillet, heat coconut oil and garlic
Add in onion and cook until soft
Add in the shrimp and another 1/4 cup sauce
Stir in red pepper flakes
Allow to cook for 2 minutes and add in radishes and mango
Stir to combine and let simmer until shrimp is cooked thoroughly
Remove from heat
I usually take the time while the shrimp is marinating to prepare the cauliflower rice
For the Rice
Serve under shrimp and sauce!
This post contains affiliate links, though all products are ones I use personally and recommend. When you purchase anything using my links, it costs you absolutely nothing extra, but it does give wholekitchensink.com a little financial support which helps to keep this blog running. Thank you for your continued support, both with your dollars and your interest.