Okay, it's 2017. Please tell me why we haven't invented a way for you to taste something via the internet. You'd be all over this bowl full of spicy pork meatballs and sesame noodles right now.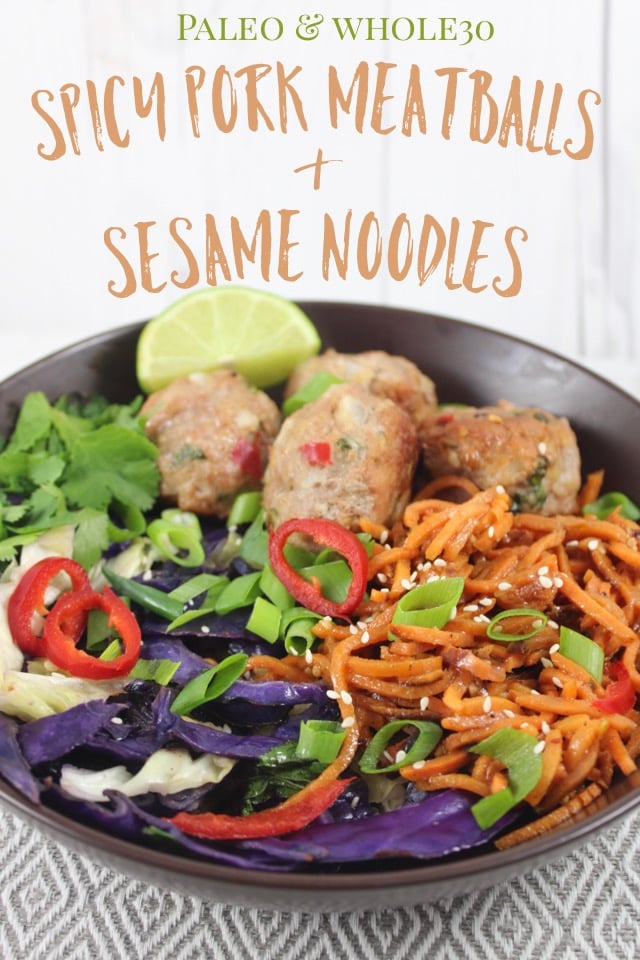 Working three 12 hour overnight shifts in a row requires some foresight before going into night numero one. For me, that means meal prepping enough food to get me through the work "week" because I know I won't have time (or want to spend what little time I do have) to cook or prepare food between sleeping and working. I know that not having food ready to go makes it incredibly easy for me to find excuses to make poor choices when I'm at work. 2am pizza delivery, anyone?
But, sometimes life happens and I just don't get to the meal prep part of my to-do list. I've really been working on taking responsibility and just sucking it up and making healthy meals happen anyway, instead of spending the next three days eating like crap. I've learned the hard way that I just end up spending the subsequent three days feeling like crap too.
When all of my meal prep hopes and dreams go out the window, I rely on meals I can make as quickly as possible with as little work as possible. I also try and make something that will yield enough leftovers so that I'll have enough to get me through my work nights without having to cook each day between shifts. These spicy pork meatballs met all of that criteria. (Of course they're Paleo and Whole30, too.)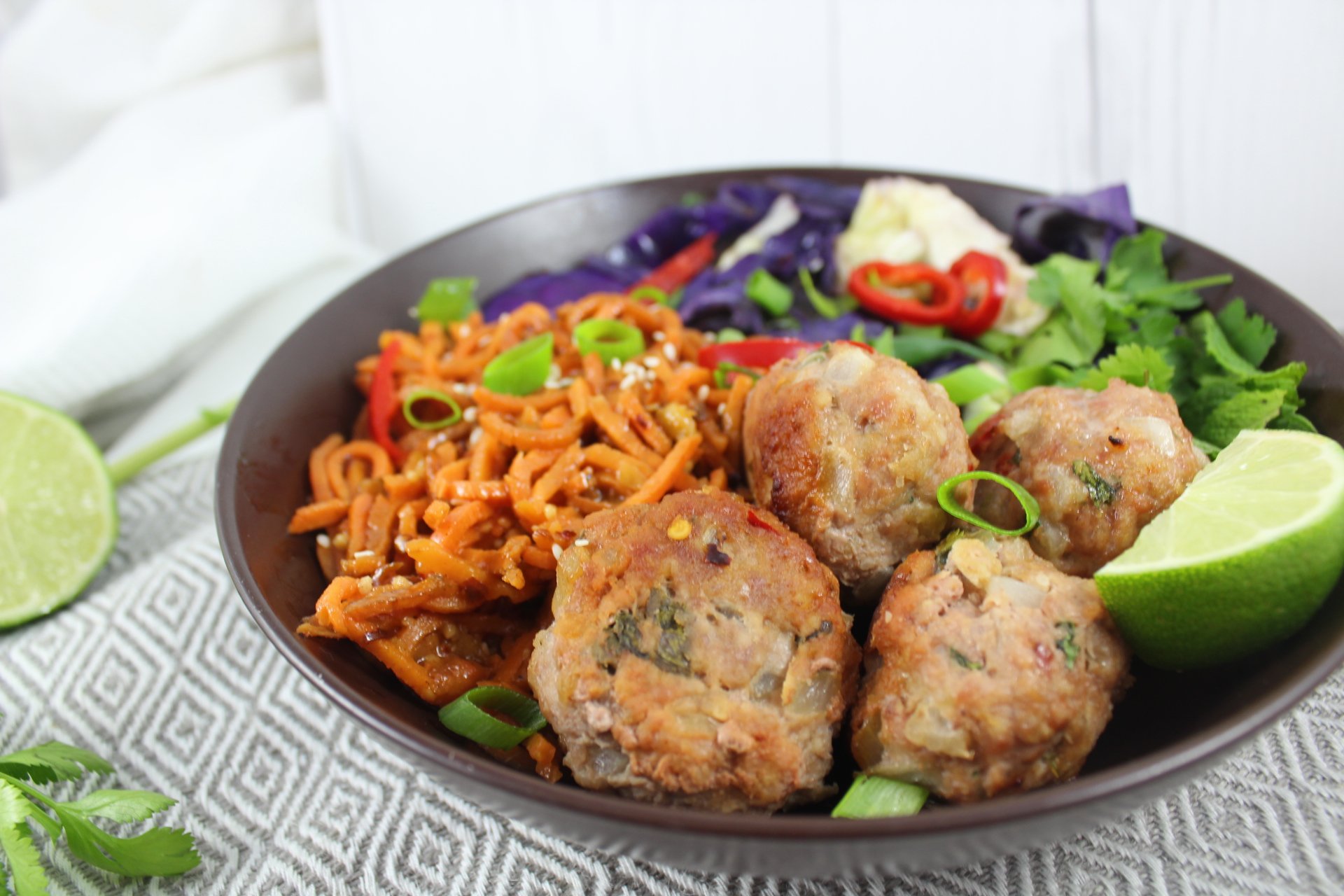 I wasn't ever a picky eater but I never tried new things either. I always thought I haven't really been one for spicy flavors. I must say, they're growing on me though. It's another example of the way my tastes and willingness to experiment with new foods and flavors have expanded since I've started eating real food. I mean, I used to think I didn't like avocados and now here I am eating something with a little kick.
However, if you 100% know you are not a fan of spicy food, simply leave out the crushed red pepper flakes from the sauce and use toasted sesame oil instead of spicy sesame oil. You could also make this spicy pork meatball bowl with zucchini noodles instead of sweet potato noodles. I think sweet potato noodles take on the texture of take-out type noodles better though. Not to mention they hold up better as leftovers.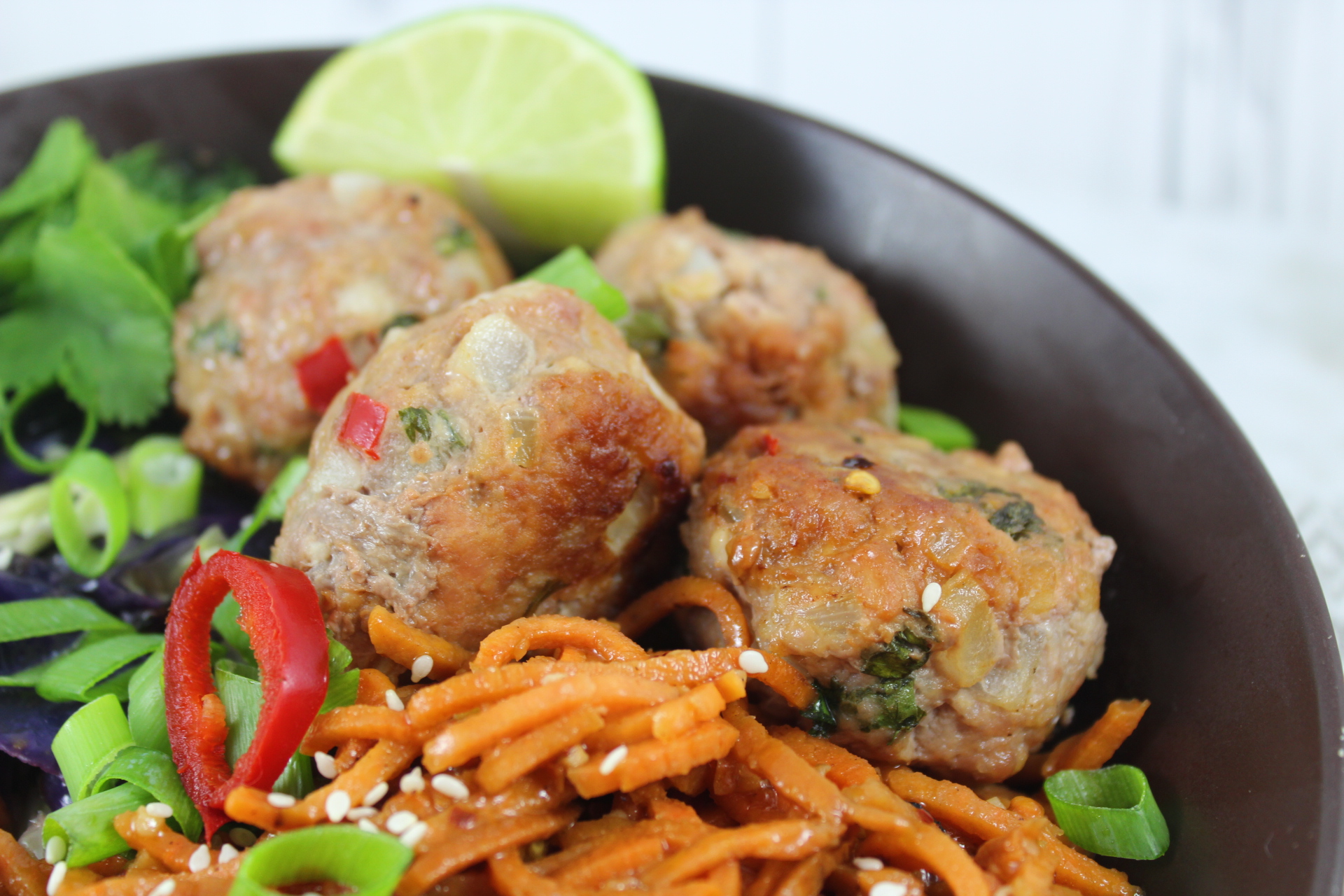 I happened to have a bunch of spiralized sweet potatoes in my fridge already from my breakfast the day prior. I spiralized a good amount of potatoes at the same time so I didn't have to pull out the handy-dandy spiralizer more than once. To store pre-made "spoodles", place a paper towel on top of the potatoes before putting the lid on. This will help to absorb some of the moisture and keep them fresh but make sure you use them within a few days!
If you have some more time on your hands you could brown the meatballs in a skillet instead of baking. Baking them just saves me time by allowing me to cook the rest of the meal while they're in the oven. Another option is to partially cook them on the stovetop before transferring them to the oven. I like to cook them for a few minutes on each side when I use this method. That'll give you a crispier outside but just remember to reduce the oven time!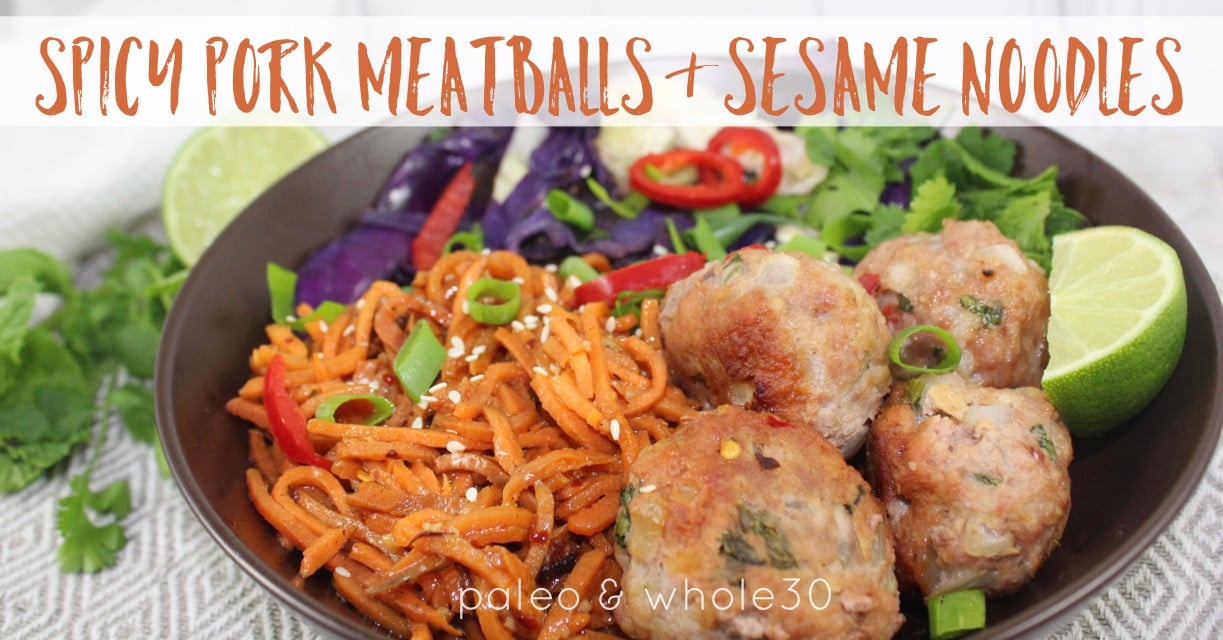 Print
Spicy Pork Meatballs and Sesame Noodles: Paleo and Whole30
Prep Time: 10 minutes
Cook Time: 15 minutes
Total Time: 25 minutes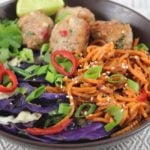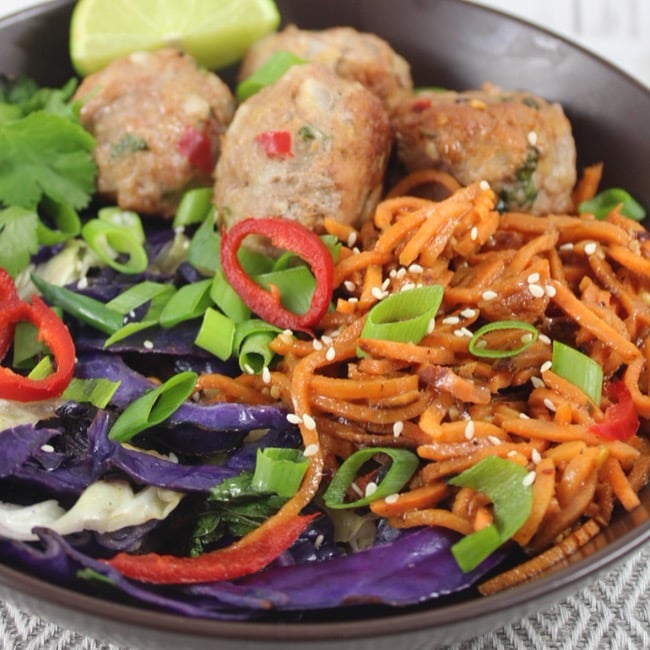 Ingredients
For the Meatballs:
1 pound ground pork (I used Pederson's no sugar added ground pork)
3/4 cup diced white or yellow onion (about 1/2 onion)
1/2 sweet chili pepper, diced, or a pinch of crushed red pepper flakes
2 tablespoons coconut aminos (or soy sauce if not strictly Paleo)
2 tablespoons almond meal
2 tablespoons chopped cilantro
1 tablespoon minced garlic
1 tablespoon minced ginger
For the sweet potato noodles and cabbage:
2–3 sweet potatoes, peeled and spiralized
1 cup thickly shredded purple cabbage
1 cup thickly shredded green cabbage
For the Sauce:
3 tablespoons spicy sesame oil or toasted sesame oil
1 and 1/2 tablespoons coconut aminos or soy sauce if not strictly Paleo
1/4 cup rice wine vinegar (could use coconut vinegar as a substitution)
1 tablespoon minced ginger
1/2 tablespoon minced garlic
1 teaspoon crushed red pepper flakes
To Garnish:
*Optional-
1/4 cup fresh cilantro
1/4 cup fresh mint
2 green onions, diced
The other 1/2 of the sweet chili pepper, sliced
A handful of sesame seeds
Chopped nuts (cashews or almonds work great)
Instructions
Preheat oven to 400 degrees F.
Lightly oil baking sheet
Combine all meatball ingredients into a large bowl
Mix well and roll into medium sized meatballs, roughly yielding 12 balls
Evenly space them on baking sheet and place into oven
Bake for 10-15 minutes or until no longer pink
While meatballs are in the oven, mix the sauce ingredients together in a small bowl and set aside
Place sweet potato noodles in a large skillet over medium-high heat and cook for 2 minutes
Add sauce and mix in with the noodles
Cook for 5 minutes or until softened, stirring occasionally
Remove noodles from pan, keeping the extra sauce left in the pan
Add cabbage and stir to coat with remaining sauce
Sauté cabbage until softened, about 5 minutes
By this time, your meatballs should be finished
Add everything to a bowl, along with the fresh herbs and toppings
If you have extra sauce remaining in the pan after noodles and cabbage is cooked, just pour that over your bowl!
(or bowls, if meal prepping!)
This post contains affiliate links, though the products are ones I frequently use personally and recommend. When you purchase anything using my links, it costs you absolutely nothing extra, but it does give wholekitchensink.com a little financial support which helps to keep this blog running. Thank you for your continued support, both with your dollars and your interest.