This Vital Proteins guide will walk you through each Vital Proteins collagen product along with how to use Vital Proteins collagen. Even how to use gelatin! It's no secret I'm a huge fan of Vital Proteins. After taking collagen peptides for over a year now, I feel fairly confident in saying I'm a self-proclaimed expert on all of their gut healing, protein packed products. But I also know that it's totally overwhelming when you don't know where to start, or are trying to pick out which product would be right for you.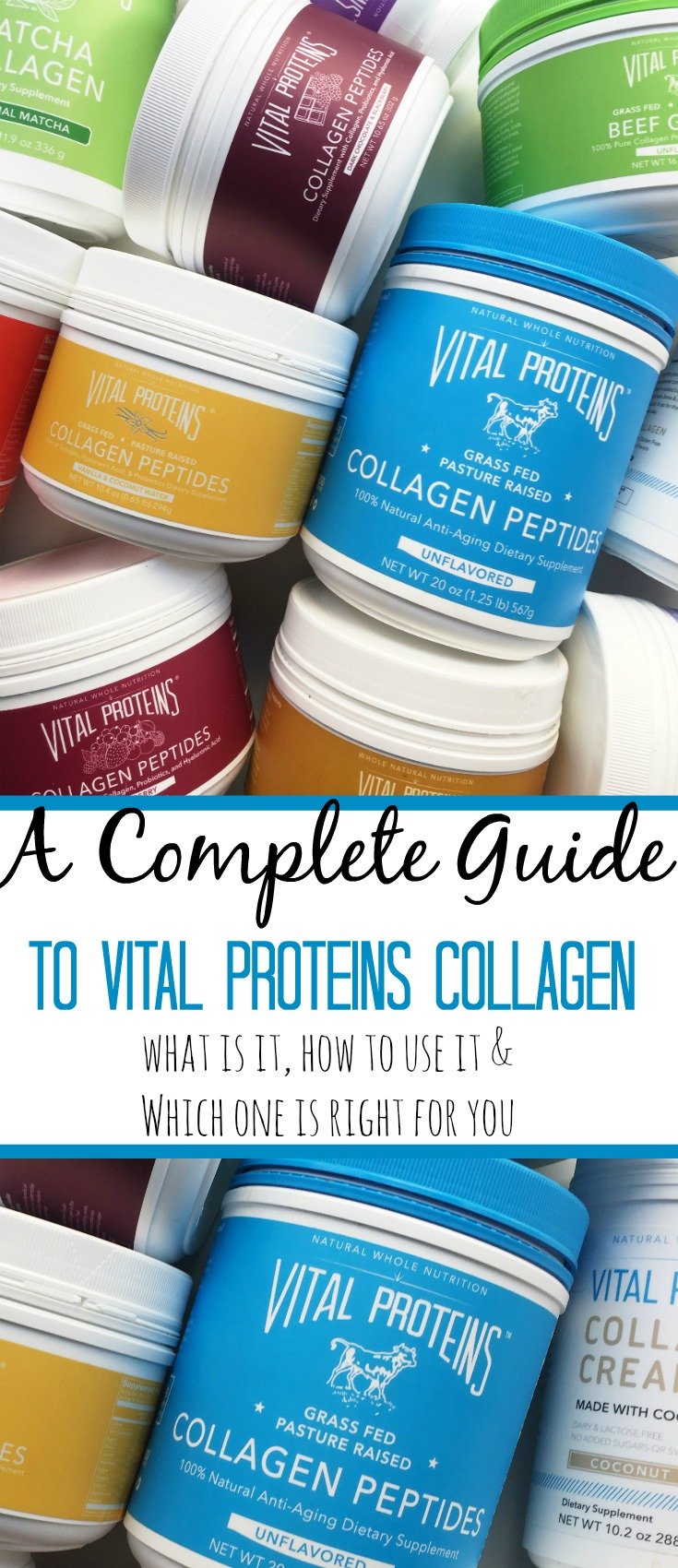 This post is sponsored by Vital Proteins. I'm happy to work with a company I love, use and believe in so much! Thanks for your support here on the blog and your support for Vital Proteins! *Supplements are not FDA approved in the United States, so like any dietary or health supplement, check with your doctor before beginning
Unless you've experimented with the different products, it can be confusing to know what collagen product to start with, how to use it, when to use it, why to use it. Here's my big ol' Vital Proteins guide to answer all of those questions about some of my favorite, most often used Vital Proteins collagen products!
The products here in this Vital Proteins guide are all ones I personally own and use. These Vital Proteins products are Paleo and Whole30 Approved! While Vital Proteins does offer products with whey protein, I choose not to include those into my diet, so they're not ones I can speak to the benefits and uses of, though I'm sure they're equally as high of quality as these ones. They have tons of awesome dairy free options that I love, which are the ones you'll see explained here!
If you already know WHY to use collagen, skip down to learn HOW to use each collagen product, and the benefits of each one!
That being said, all Vital Proteins products are:
Free from "flavorings", which is rare to find these days!
Free from artificial sweeteners and stevia, also rare to find these days
Free from thickeners, gums, fillers, emulsifiers such as soy lecithins
Contain real ingredients made from real food
What is collagen?
Collagen is more than a buzzword in the Paleo world, and it's beneficial for so many more people than just those doing a Whole30. Collagen is the most abundant protein in the body. It's found in muscles, bones, skin, the lining of organs, our digestive system, blood vessels, ligaments, tendons, hair, skin, and nails. So, yeah. Basically everything. Collagen makes up one-third of the total protein in the human body. It's made from amino acids, all of which give the aforementioned organ systems (skeletal, circulatory, digestive, endocrine (skin), muscular systems) structure, strength, and elasticity, among other things.
As we get older, our body's natural production of collagen decreases, which is linked to wrinkles, weakening of joint cartilage and decreased mobility and flexibility, and a whole host of other issues.
It's not only for people concerned with wrinkles though either. Collagen has a diverse range of uses and benefits, and because it's a naturally occurring protein, it's incredibly versatile and useful for various needs. Our hospitals are now even using collagen bandages to promote skin cell growth for trauma and burn victims. How freakin' cool is that?!
Why add a collagen supplement?
So we know WHAT collagen is now. But why would it be right for you? Let's discuss a few of the reasons you may want to add collagen into your daily routine. By taking Vital Proteins daily, the results you'll experience include better skin, healthier nails, more hair growth, increased joint mobility, better digestive health, just to name a few. This Vital Proteins guide will help you find the right one for you shortly!
The added protein is really helpful for those who may have a difficult time getting enough protein in, have an aversion to meat in the morning, or are looking to stay fuller a bit longer than they normally would from their breakfast smoothie or bulletproof coffee.
In terms of a protein powder, Vital Proteins is the cleanest, most natural one you can find. Why? Because the protein is one your body makes naturally. The ingredient label is JUST collagen and real food ingredients. Most protein powders out there are really scary when you read the label, full of ingredients and proteins made in a lab that your body has to work hard to process. Not the case with Vital Proteins collagen.
Collagen helps with muscle recovery from workouts, and is incredibly helpful for those with joint pain. People who have shoulder, knee, back, ankle issues due to age, injury or past surgery can see a reduction in pain and an increase in mobility after supplementing collagen daily. I've heard so many stories, and have my own about how Vital Proteins has dramatically reduced or done away with joint pain. After taking it for a year, this has been the first winter my ankle hasn't given me issues in the winter after I broke it (badly) a few years ago.
Those concerned with hair loss from aging, weight loss or after having a new lil' baby will also reap the benefits of collagen because it makes your hair grow like weeds. Along with your nails. Of course, check with your doctor before adding any supplements while pregnant.
Collagen (especially in the form of gelatin) is also beneficial for those with leaky gut, Crohn's, IBS, and digestive system issues, much like the benefits from bone broth- both are from gelatin. Again, speak with your doctor before beginning any new supplement. I've heard so many success stories about adding collagen from people with digestive issues. Especially gelatin, it helps to coat the lining of your digestive tract and makes digestion easier on your system.
There's numerous other benefits, like clearer, healthier looking skin, deeper sleep, improved athletic performance, stronger bones and connective tissue, improved circulation, I could go on, but let's get to the good stuff! What the collagen options are and how to use Vital Proteins!
Sources:
https://www.ncbi.nlm.nih.gov/pmc/articles/PMC6835901/
https://pubmed.ncbi.nlm.nih.gov/32017646/
https://pubmed.ncbi.nlm.nih.gov/29949889/
https://www.ncbi.nlm.nih.gov/pmc/articles/PMC8401832/
https://pubmed.ncbi.nlm.nih.gov/30681787/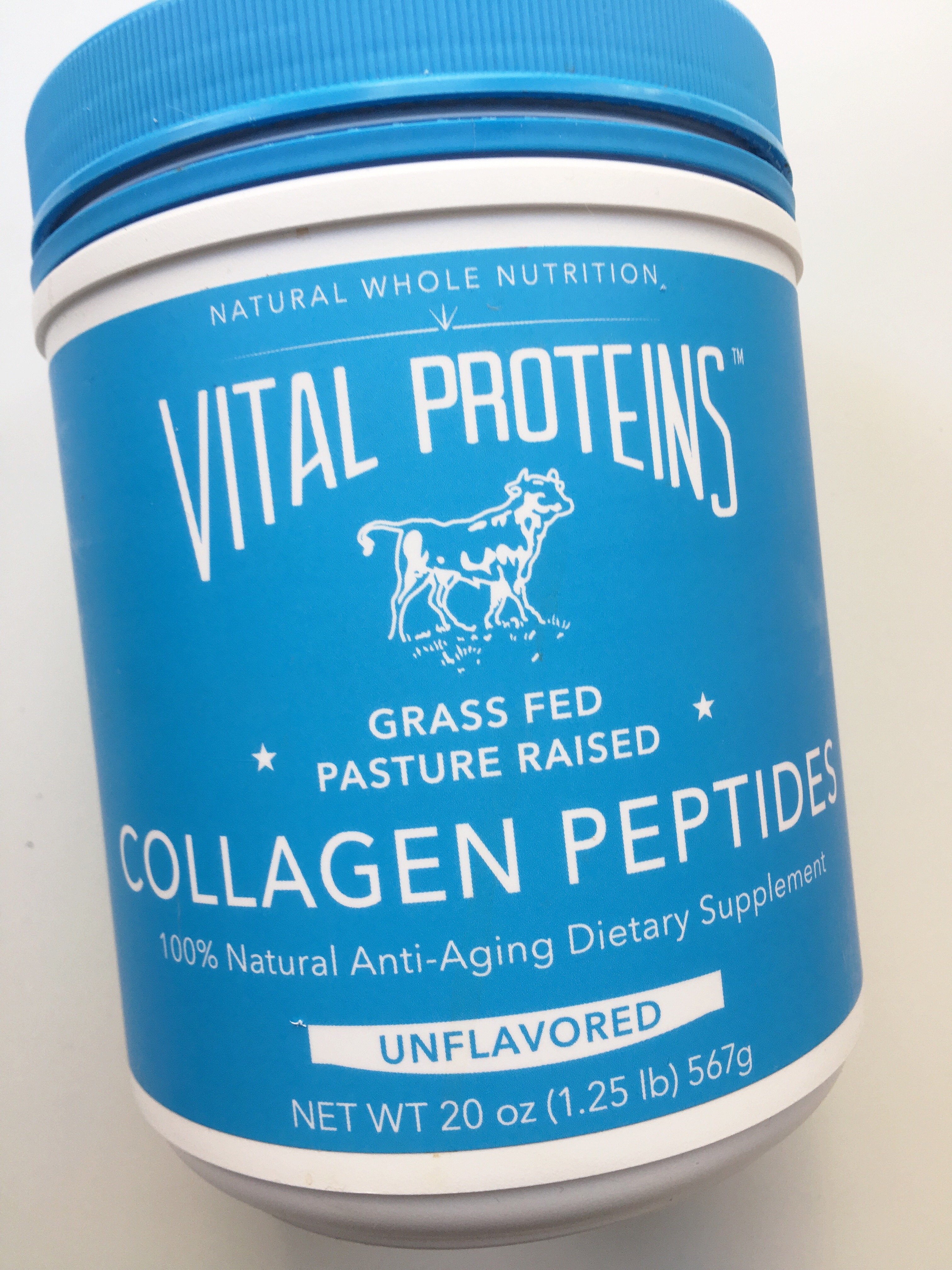 If you've seen collagen peptides before, this is the product from the Vital Proteins guide you'll be most likely to recognize. This is the one you want to start with if you are new to collagen peptides. This Unflavored Collagen Peptides REALLY is unflavored (really, no taste to it), and it's super versatile. I add it to my coffee every morning, and to my homemade salad dressings to add more protein to my salads. Don't worry though, they can be added to practically anything.
How to use Vital Proteins unflavored collagen peptides: It dissolves easily into hot and cold liquids such as smoothies, tea, coffee, juice, sauces, soups, scrambled eggs, casseroles, baked goods, salad dressings, chia seed pudding, slow cooker or Instant pot recipes you add liquid to. Add it to date energy balls, pancake or waffle mix, cauliflower rice, marinara sauce, desserts like cheesecake, muffins.. Seriously, anything.
This is the easiest product to use and Vital Proteins has done a great job (in my opinion) on making this a product for everyone to be able to get the health benefits they're looking for.
There's also a few ways Vital Proteins offers the unflavored collagen peptides that I love. Beyond the canister option they offer, they have to-go packets that I use often for traveling. They also have the collagen in capsule form. I think it's a good option for those who would have an easier time adding it to their daily routine if they already take other vitamins or medications in the morning. Budget tip! This form is also less expensive, if that's one of your concerns. But remember, investing in you is something you're not going to regret.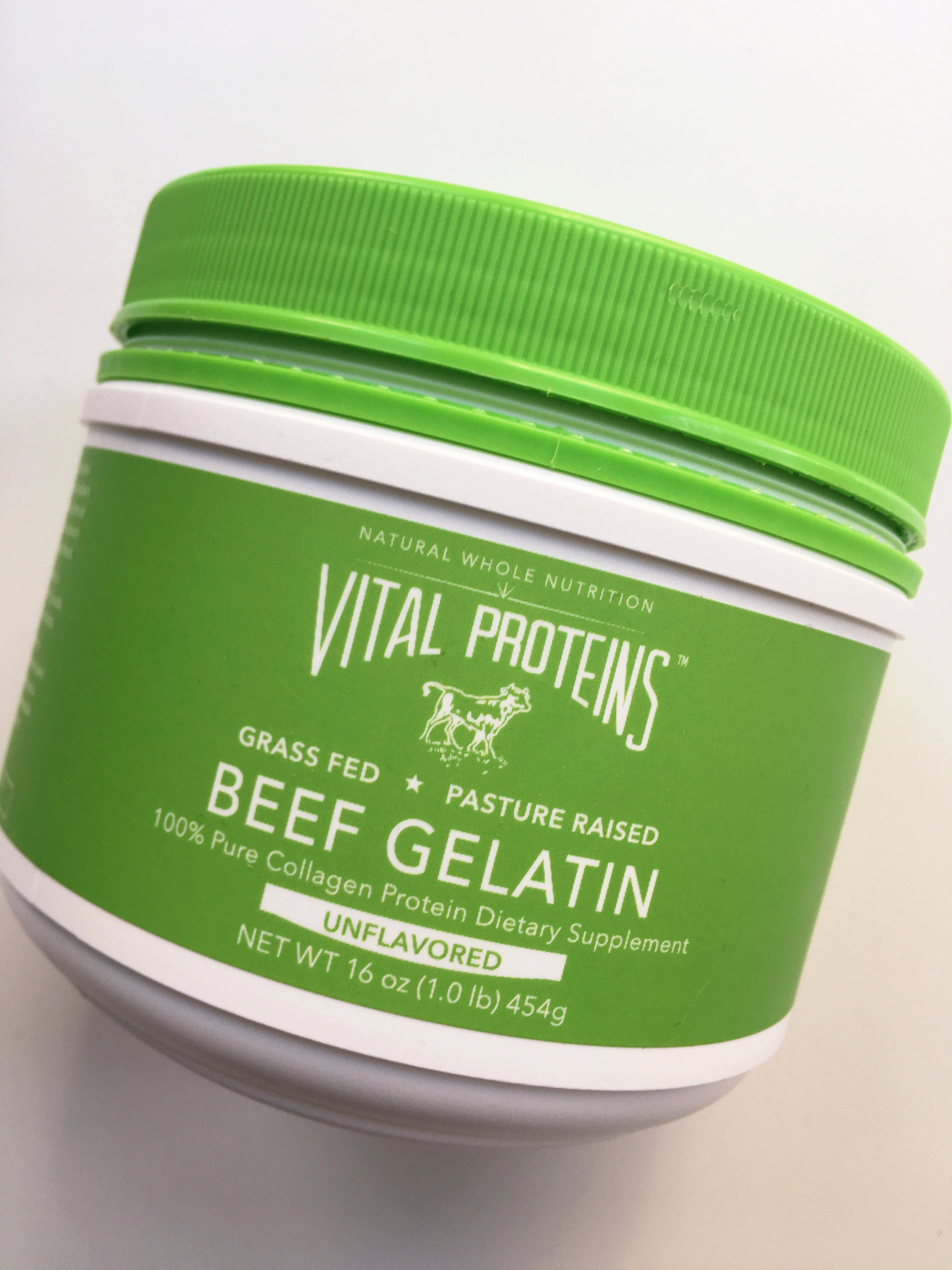 There's a long list of health benefits that come with using Vital Proteins Beef Gelatin. Gelatin IS collagen, but is processed differently than the Unflavored Peptides. The main difference is that unlike the unflavored peptides, gelatin dissolves into hot liquid but gels as it cools. This makes how to use gelatin different in terms of cooking than the unflavored peptides. Gelatin has been around for as long as people have been stewing meat, and is the same thing that you find on top of your homemade bone broth or in the bottom of a rotisserie chicken container after they've been in the refrigerator.
In other words, it's not weird. Gelatin is natural and incredibly good for us. I'd go as far as to argue that gelatin is the most nutrient dense product in this whole Vital Proteins guide.
It still has all the same benefits collagen peptides (hair growth, healthy skin, increased joint mobility) but may be better for those with digestive issues because it helps to coat and repair the lining in the digestive tract. Especially helpful for those with leaky gut, IBS and Crohn's.
Gelatin is actually the unsung hero of the culinary world. It's their secret to shiny glazes and the smooth emulsified consistency of a reduced pan sauce. Beef gelatin is even what restaurant chefs add to meatballs to give them the delicious and juicy texture we all love. It's also way easier to work with than the other Paleo or Whole30 substitutions for cornstarch, like arrowroot flour and tapioca flour.
Plus it's way healthier and more nutrient dense than a starchy thickener. It has 19 grams of protein per serving and it's one of the most easily digestible sources of protein. It's flavorless, which adds versatility to how to use gelatin and has made it a really easy addition to my routine.
If you add this into hot soups or sauces, remember it won't begin to thicken until it's removed from the heat source and begins cooling. The benefits between collagen peptides and gelatin are quite similar, making this a really great product for those who will use collagen in their coffee or cook a lot.
How to use Vital Proteins Gelatin:
Check out my tips for cooking with gelatin in this post
Stir into hot coffee or tea, desserts, jams, "nice" cream, gummy bears, soups, sauces, and meatballs.
Pork Tenderloin with Rosemary Mushroom Gravy
Classic Pot Roast and Veggies One Pan Meal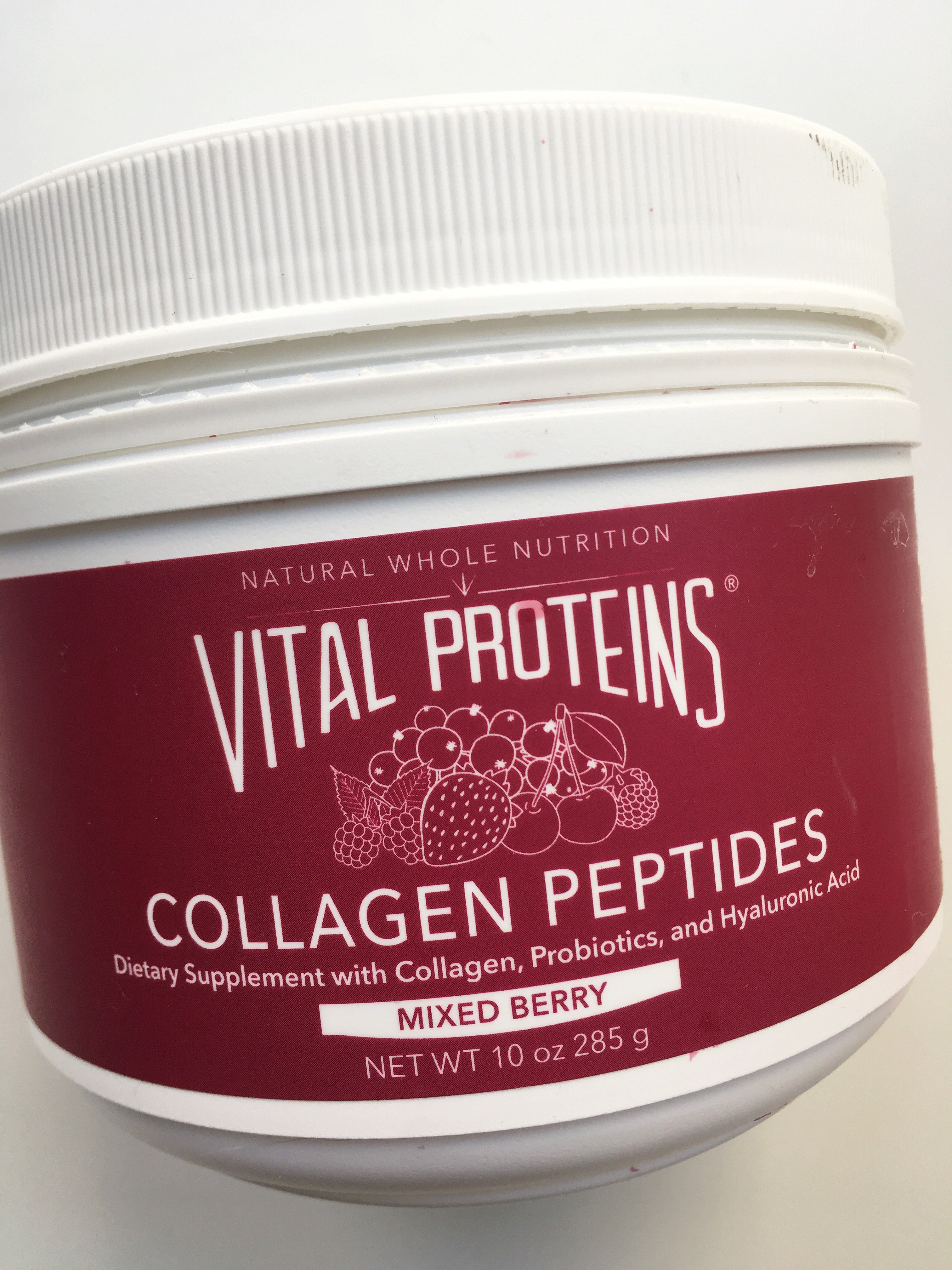 The Mixed Berry Collagen flavor from Vital Proteins has all of the benefits from collagen, plus a delicious natural berry flavor that adds probiotics and hyaluronic acid. Mixed berry collagen peptides has 20 grams of collagen and 18 grams of protein per serving, plus 100% of your daily vitamin C. It's made with organic strawberries, organic blueberries, organic raspberries, organic acreola cherries, organic blackberries and no added sweeteners or junk.
How to use Vital Proteins mixed berry collagen: add this in your coffee, in smoothies, in homemade jelly and jam and in baked goods. Add it to salad dressings, desserts, energy balls, frozen fruit popsicles, tea, the list is endless.
Paleo and Whole30 Vital Proteins Recipes: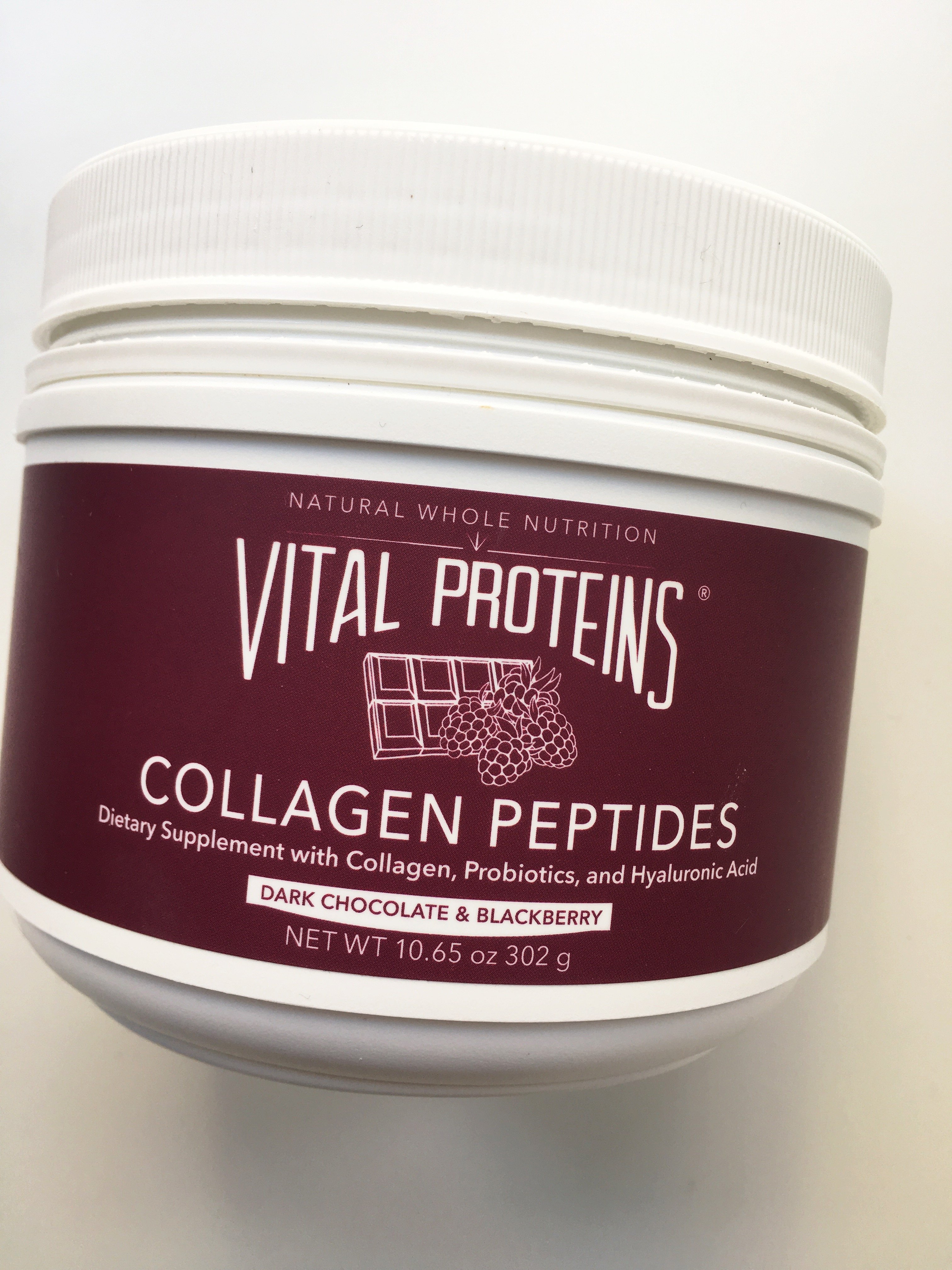 This is another one of my favorite Vital Proteins products. Maybe even the tastiest collagen product in this Vital Proteins Guide. Don't let the chocolate in the name fool you, it's chocolatey, but it's still Whole30 Approved, which means it's made with top notch ingredients and no added sugar. Just like with the previous flavor, you're still getting all of the collagen benefits with the Dark Chocolate and Blackberry Collagen, just a lot more flavor! This one also has probiotics and hyaluronic acid.
There's so many ways you can use it. There's a berry mocha coffee drink I used to love from the Minnesota coffee chain Caribou Coffee. Obviously, when I started caring what was going in my body, this 600 calorie drink was out. Adding 2 scoops of the Dark Chocolate and Blackberry Collagen Peptides recreates that drink almost perfectly!
How to use Vital Proteins dark chocolate and blackberry collagen: it's great in coffee, smoothies, baked goods and treats, and my non Paleo friends tell me it's awesome in overnight oats.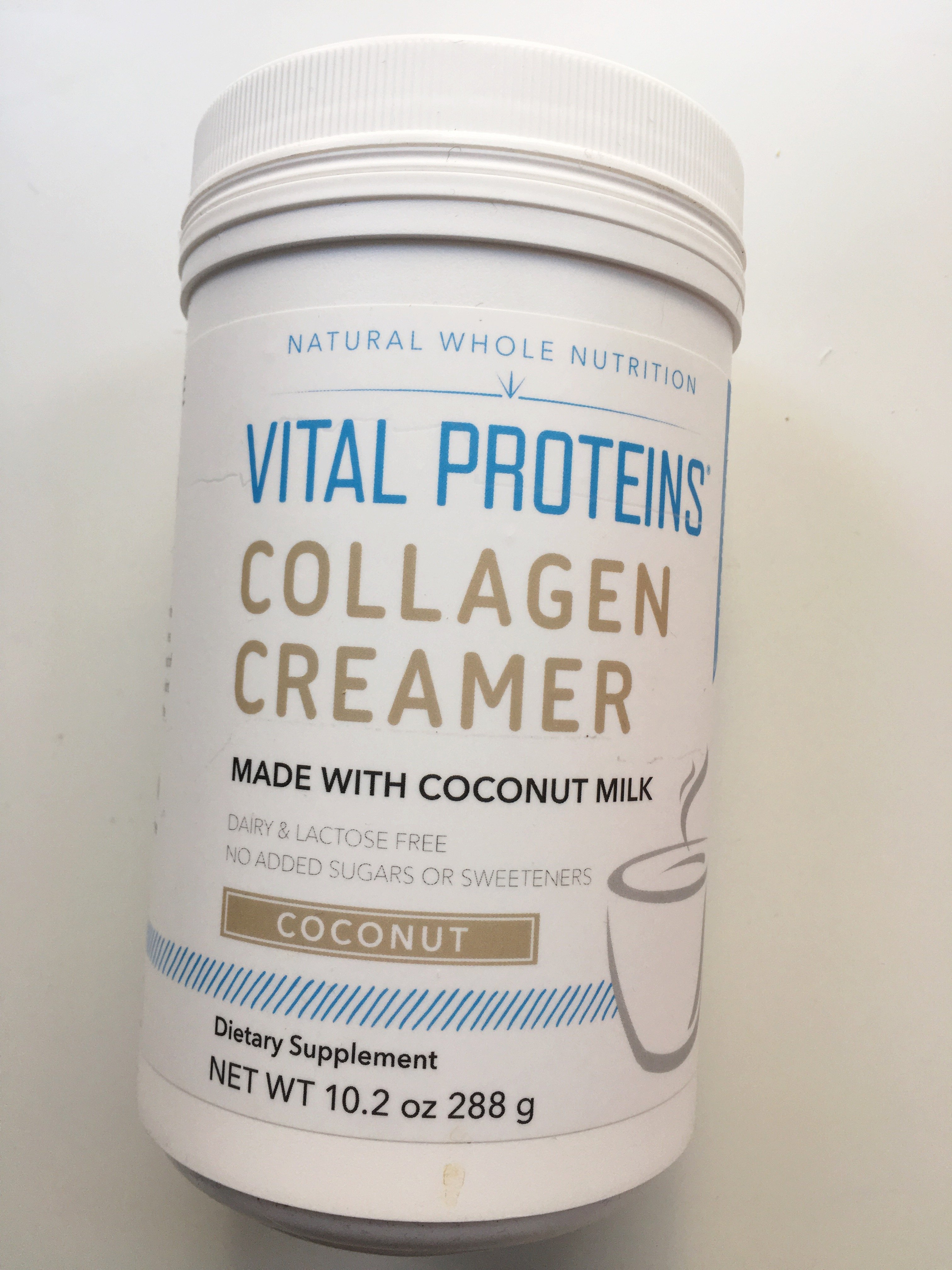 This is another great product offering that Vital Proteins has. The coffee creamers come in three different flavors: vanilla, coconut, and gingerbread. This is a perfect option if you're looking for a cleaner coffee creamer. There aren't tons of flavored creamer options that are Paleo and Whole30, so this one might be worth a try for you!
It adds convenience because it could replace your creamer, and the unflavored peptides (the first product listed in this Vital Proteins guide). It's both the collagen and the creamer in one simple container. The whole 2 birds 1 stone deal. I use these most often when I'm traveling because they have single serving packets!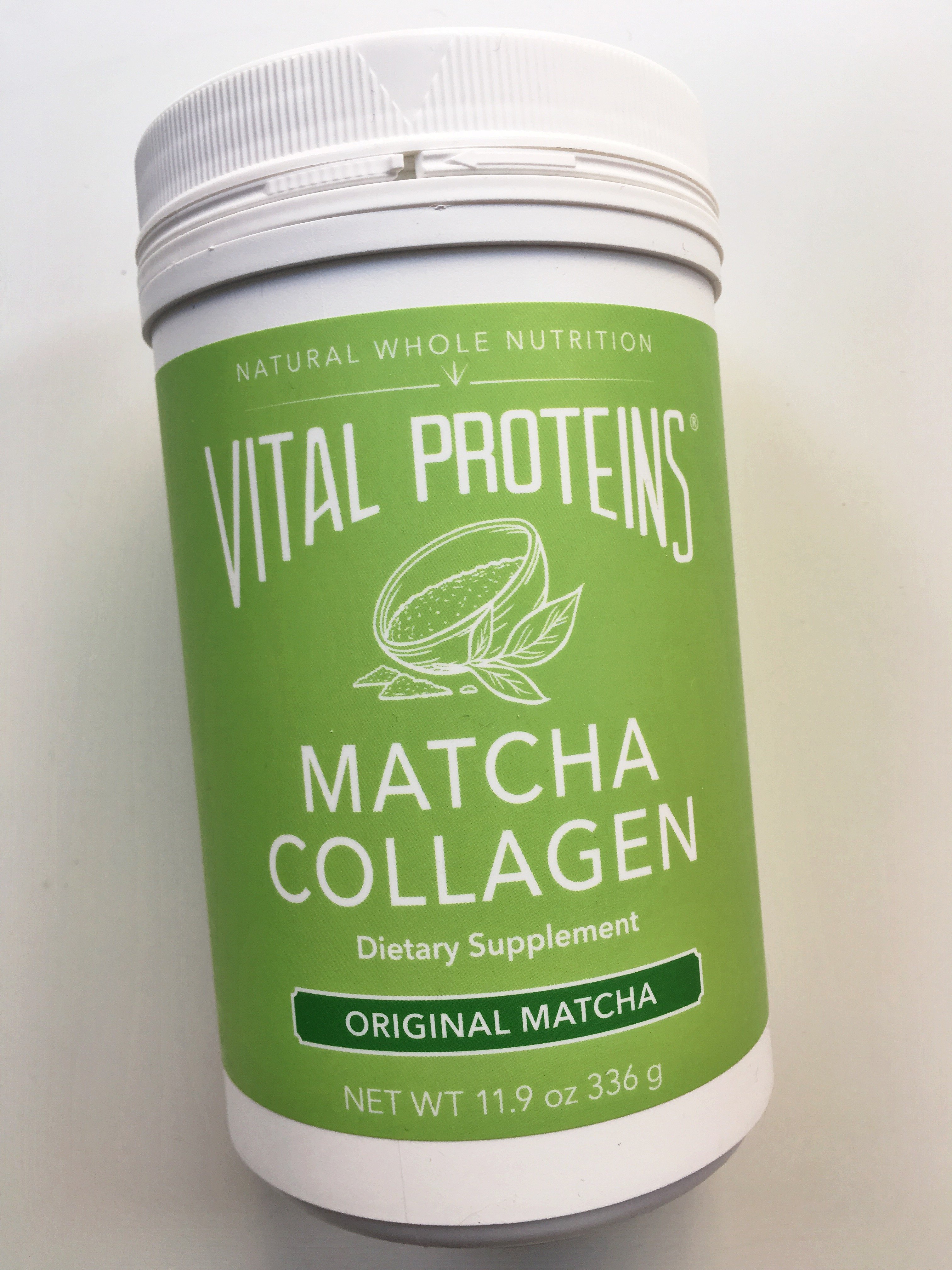 You won't see me using this product super often, because matcha isn't my favorite thing to drink. I'd take coffee and one of these other products over matcha. BUT I do make matcha energy balls every once in a while, and for those who do love matcha, I think this is an excellent option and deserved to be included in a Vital Proteins guide.
Matcha has 137 times the amount of antioxidants that other green teas have, and Vital Proteins has paired that with 10 grams of collagen per serving in the same product. It easily dissolves into water and is super simple to use. From all of my matcha obsessed friends, fellow Whole30 Certified Coaches, and family, this matcha is a great one!
They have the original matcha flavor, and a peach matcha flavor!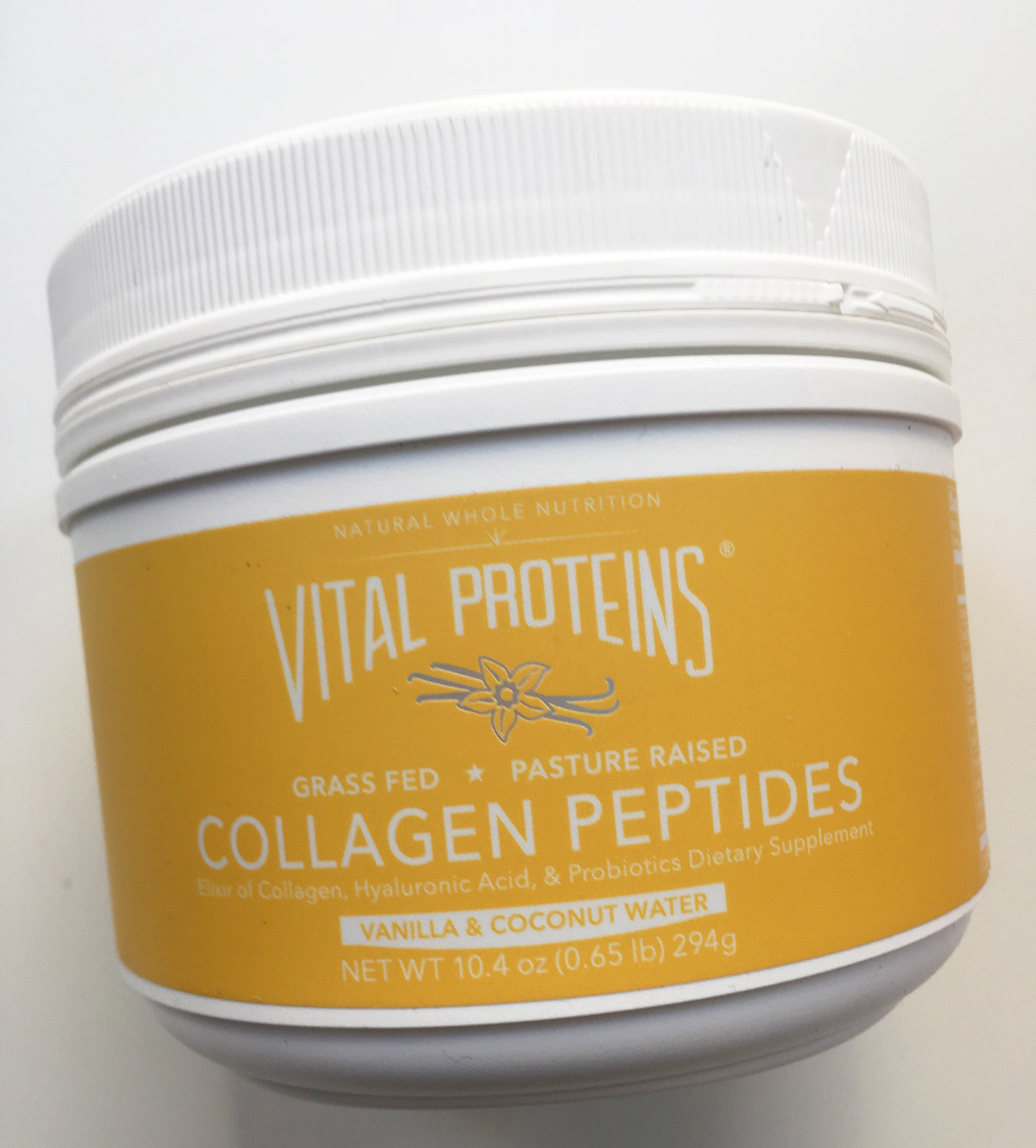 This Vanilla Collagen Peptides flavor gives you the collagen benefits, but with a vanilla flavor. It's awesome in smoothies, blended into coffee, added to "nice" cream, etc. It's made with REAL vanilla bean, and some people note that it leaves their coffee a bit gritty because of the vanilla bean. To that, I always think that I'd way rather have that and know my product is made with actual food instead of artificial flavors, but, to each their own!
How to use Vital Proteins vanilla collagen: This product is great in Paleo pancake mixes, coffee, smoothies, salad dressings and Paleo desserts like banana cream pie and cheesecake.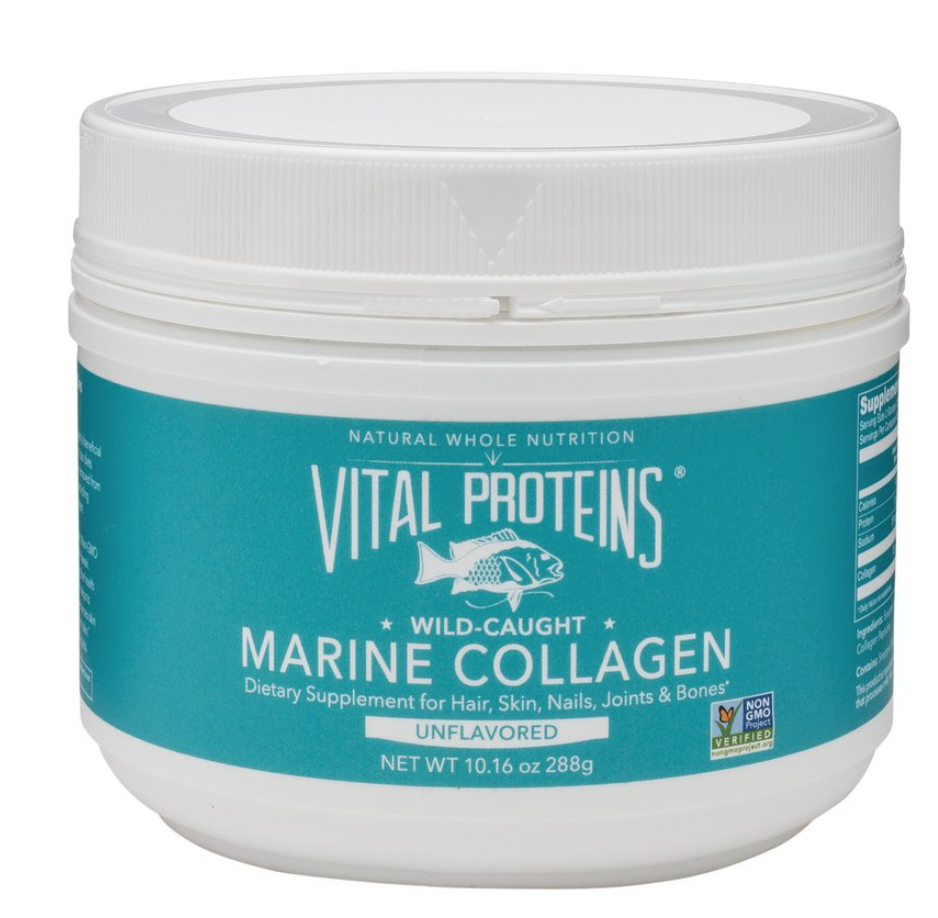 Vital Proteins Marine Collagen works exactly the same way the unflavored collagen peptides do. It's unflavored and dissolves seamlessly into both hot and cold liquids. You can use this product and the unflavored peptides interchangeably. The major difference is where the collagen is sourced from, and the major reason it's in the Vital Proteins guide.
The Marine Collagen is what I recommend to vegetarians that still consume fish products, because it's sourced from snapper fish, while the unflavored collagen peptides are sourced fro!m grass-fed bovine. I often get asked if there's an option for those who don't consume red meat, and this is the answer to their needs as well.
How to use Vital Proteins marine collagen: Use in the same ways unflavored collagen peptides can be used!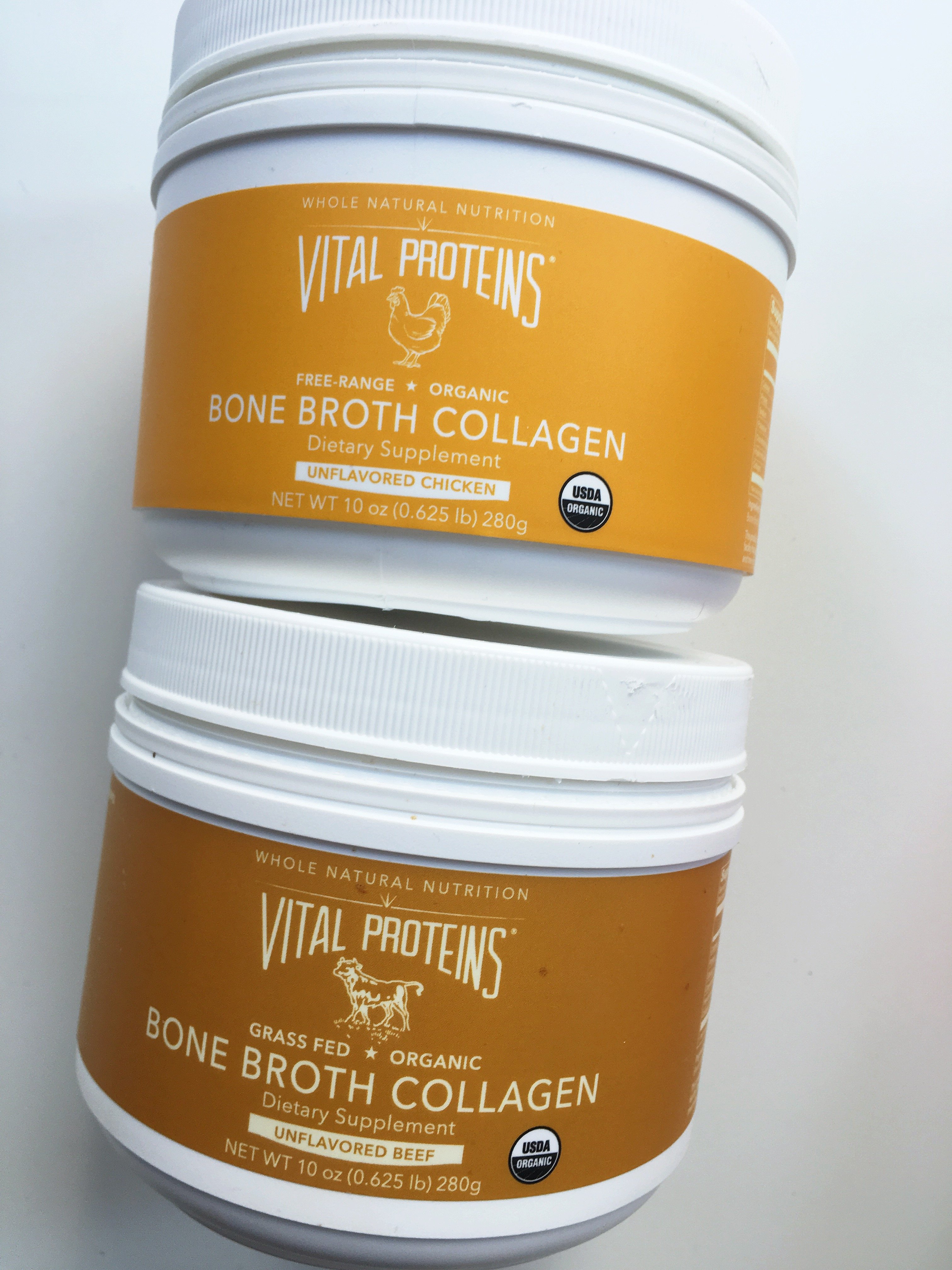 Next on the Vital Proteins guide: One of my most favorite Vital Proteins collagen products! If you do a lot of cooking, love soups, hate wasting broth in cartons, this product is for you. Vital Proteins offers bone broth collagen in both beef and chicken and it's completely replaced the liquid cartons I used to buy. It's in a powdered form, so you just add water. The ingredients are simply organic bone broth powder.
Whole30 Approved bone broth, or even just broth (especially beef broth) without crazy additives like soy and grain are HARD to find in the grocery store. That makes this Vital Proteins Whole30 product a staple for me. That, and after opening it, it goes bad in 7 days. Which means I end up wasting most of it after I use the 2 cups I need and it gets shoved to the back of my fridge. This powdered bone broth lasts me a few months and saves me money in the long run.
Vital Proteins Whole30 bone broth collagen is super gut healing and full of nutrients, but it also means I'm not wasting a ton of money by tossing out half used containers of expensive broth all of the time. And it cuts down on storage space, doesn't need to be refrigerated, and I know I always have some when I need it.
How to use Vital Proteins Bone Broth Collage:
ANY way you'd normally use broth in a recipe!
Chorizo and Butternut Squash Chili
Best Ever Instant Pot Mashed Potatoes
Pork Tenderloin with Rosemary Mushroom Gravy
Slow Cooker Sweet Balsamic Beef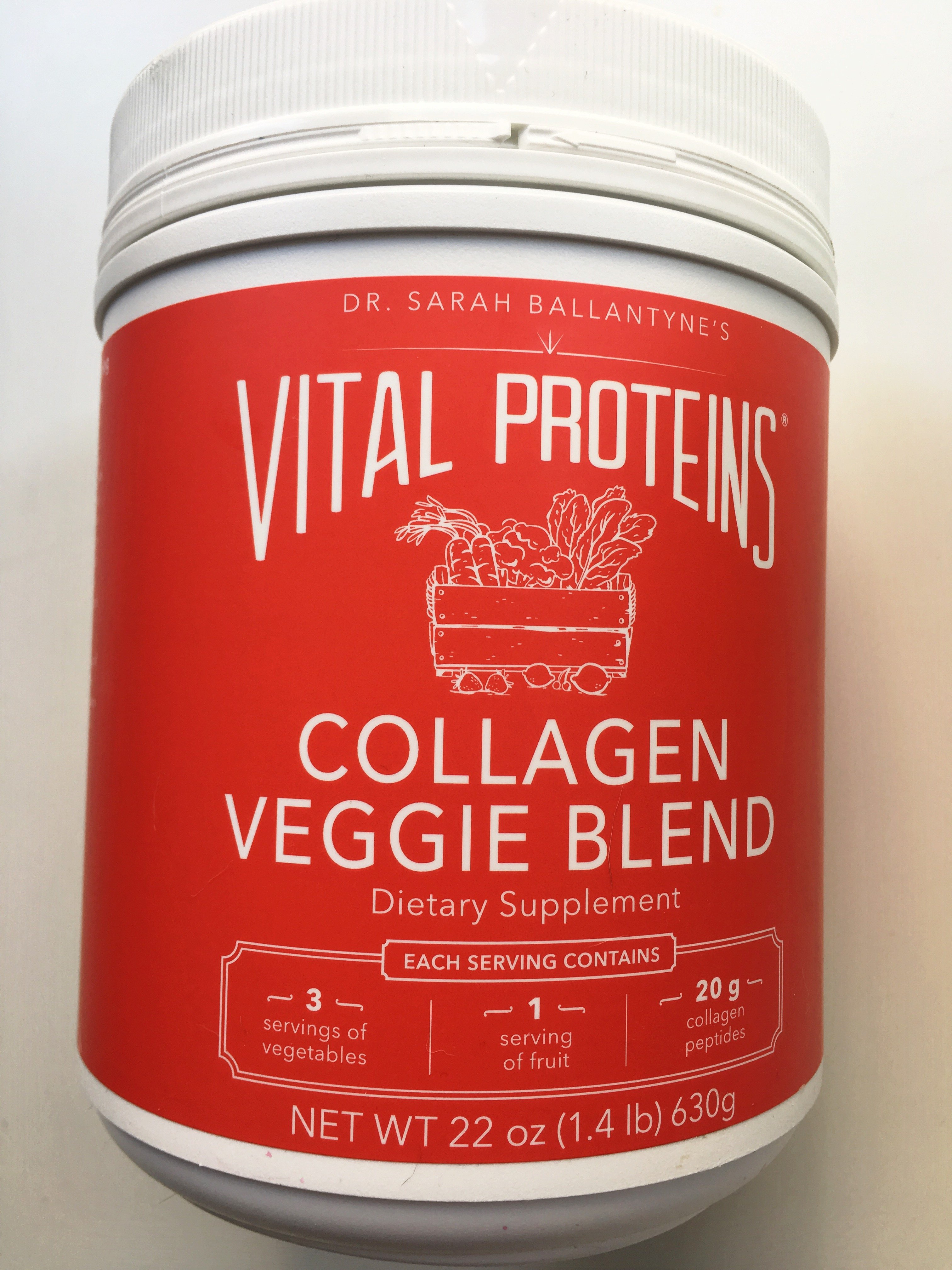 The Collagen Veggie Blend from Vital Proteins combines the benefits of collagen, with a super nutrient dense mix of organic veggies and fruits. It wouldn't be a Vital Proteins Guide if I didn't include this awesome option! It's a great veggie replacement option that's easy to digest for people with sensitive gut issues, picky eaters, and people who don't have time in the mornings to sit down for breakfast.
There's 3 servings of veggies and 1 serving of fruit in every serving, and it's made with 11 different types of organic fruits and veggies. So, that means it's an insanely healthy and easy way to add more nutrients, antioxidants AND collagen into your diet. Of course, it's Whole30 Approved, but it's even AIP friendly. Not enough of us sit down and go to town on mass amounts of veggies, and this product I really love for that purpose.
How to use Vital Proteins Veggie Blend: mix it into sauces, soups, smoothies, and hide it in recipes like applesauce, dips, energy balls, or just water!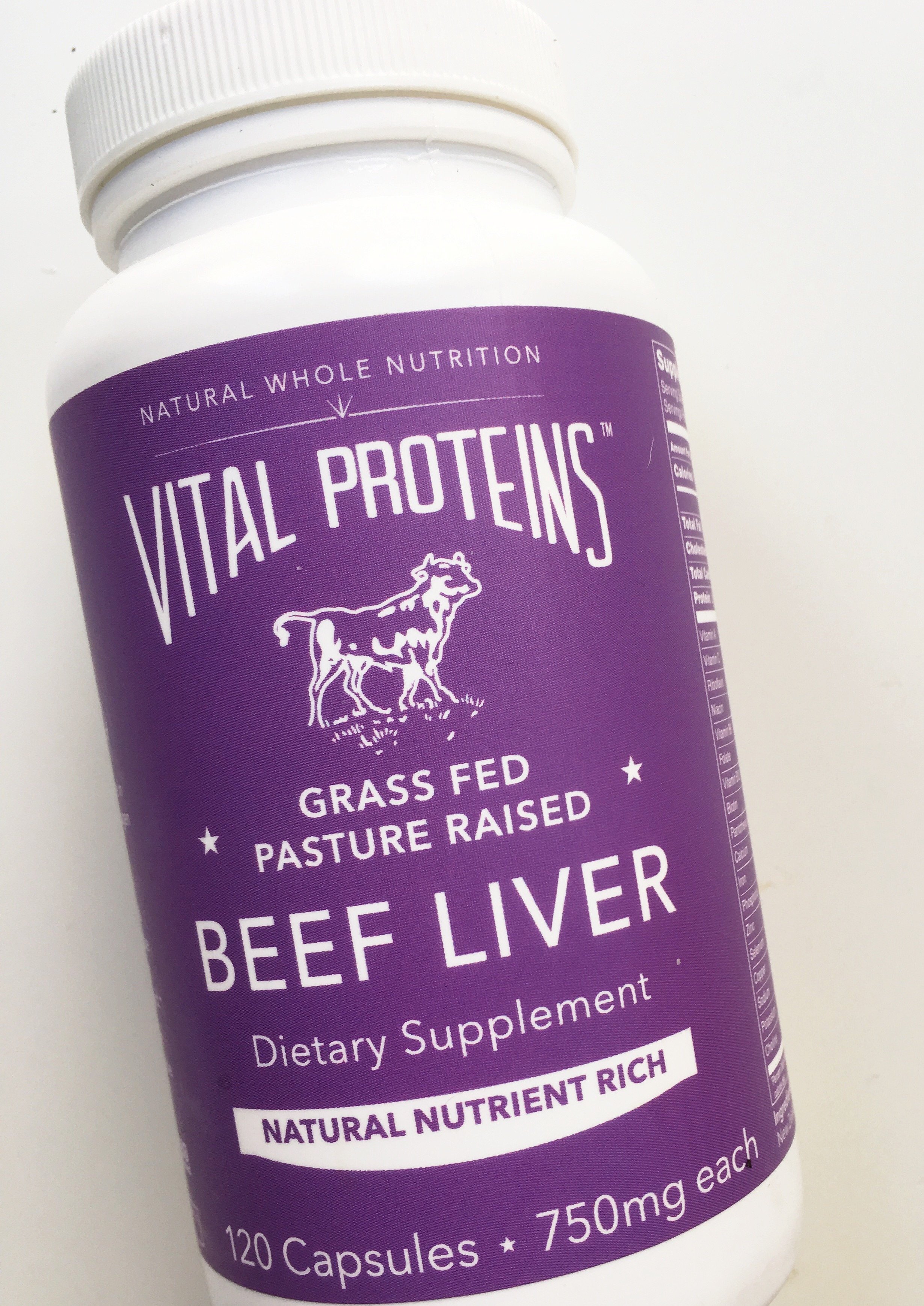 Beef liver capsules are off putting to some people, but we know organ meat is consumed all of the time, and is insanely nutrient dense. They needed a spot in this Vital Proteins guide because this product makes getting those nutrients WAY easier, and makes it so that you don't have to cook with a meat product that makes you squeamish. I promise you taking these capsules doesn't look, taste, or feel any different than taking a vitamin.
These capsules do amazing things for your energy levels because they're high in B12. They also help to support your immune system, metabolism and digestion. They're all natural, and just like all of Vital Proteins products, are made with the highest quality ingredients and none of the unnecessary ones.
How to use Vital Proteins Beef Liver: add these capsules to your morning routine like you would with taking any vitamin or probiotic.
I hoped this Vital Proteins guide helped you learn what benefits you stand to gain from adding collagen to your diet. I also hope it helped to clarify which products would be right for you and your lifestyle. By investing in Vital Proteins, you really are investing in your overall health. Out of the 4 collagen companies I've tried, Vital Proteins is the highest quality. It's a product I, and so many others, swear by and soon after taking it you'll start seeing results in so many different places of your life. From energy, sleep, your skin, your workouts, you name it- Vital Proteins is the most natural way and efficient way to positively benefit all of them.
*Supplements are not FDA approved in the United States, so like any dietary or health supplement, check with your doctor before beginning – this is not personal health advice*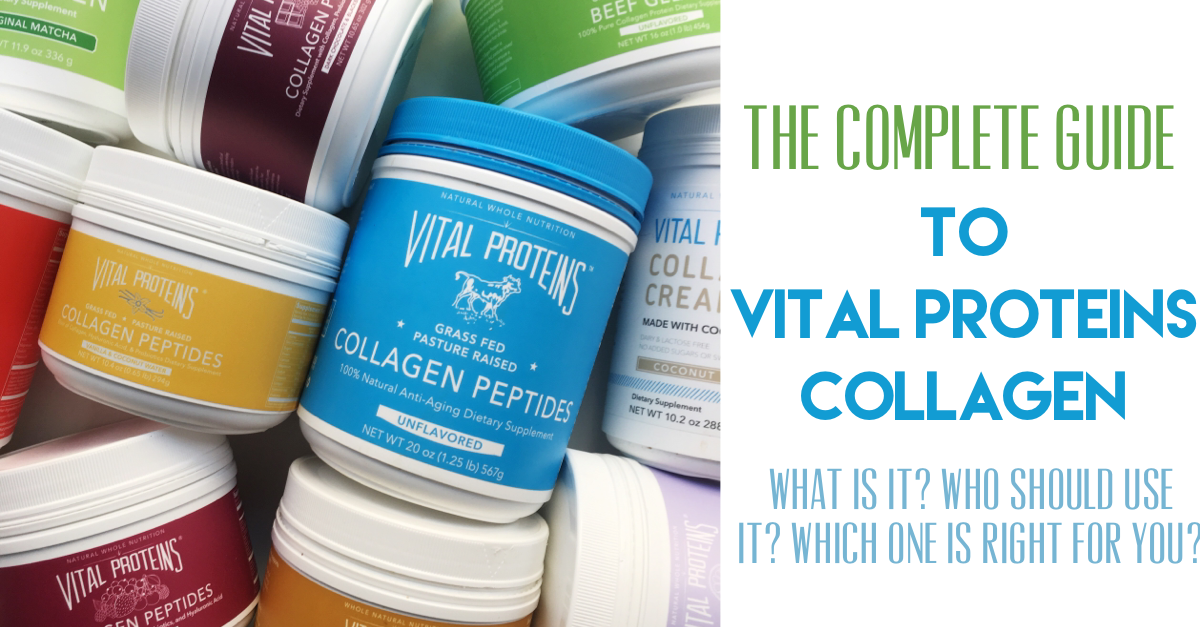 This Vital Proteins guide contains affiliate links, though all products are ones I use personally and recommend. When you purchase anything using my links, it costs you absolutely nothing extra, but it does give Paleobailey.com a little financial support which helps to keep this blog running. Thank you for your continued support, both with your dollars and your interest.