This easy Paleo banana cream pie is one you won't even have to turn your oven on for! It's so simple to put together, making it the perfect dessert for any occasion. It's also a vegan banana cream pie recipe, so everyone can enjoy knowing this is a healthy dessert no matter how they eat!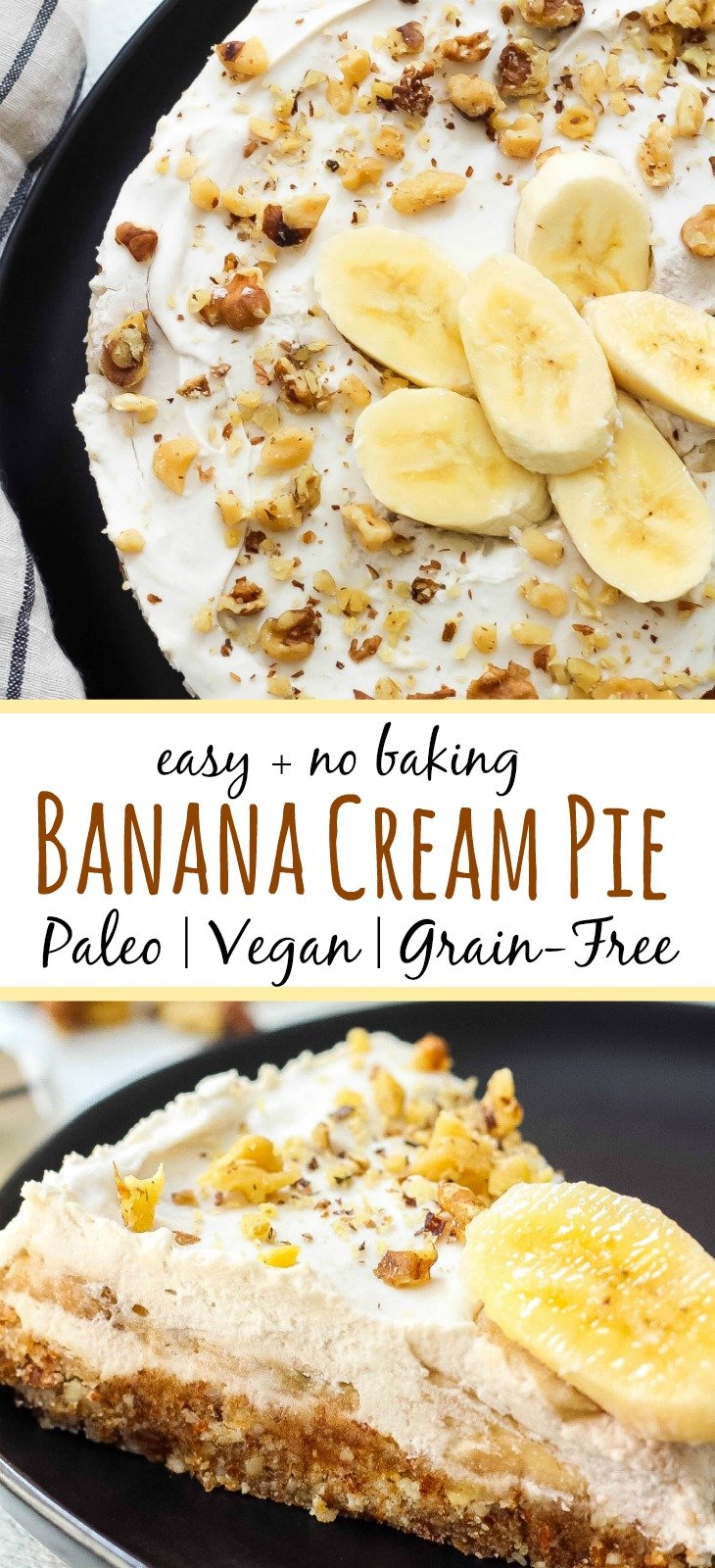 So many Paleo sweets recipes in a week! What is going on with me?! I know this is really unlike me, but I can't help it that my boyfriend requested a Paleo banana cream pie and Paleo fudge for his birthday last week. I also can't help it that when I posted a photo of the banana cream pie to my Instagram, everyone kind of flipped their lid! I aim to please, so I got this tasty sucker up as fast as I could!
I can't believe another birthday of his has come and gone again. It's so funny to think back to how we used to celebrate back when he was much closer to his 20th than the impending 30th. Everyone always says time flies by so fast, but as I get older the faster I truly realize it goes.
Anyway, it makes me chuckle that birthdays no longer look like chugging cheap beer in a crappy bar. Now it's Paleo treats because joint pain really does flair up with crappy food and debating if it's really worth it to even go out for a drink when we have bedtimes. I'm lucky to have gone through the evolution of birthday celebrations with him, though, and if the birthday boy wants a Paleo banana cream pie, he gets one.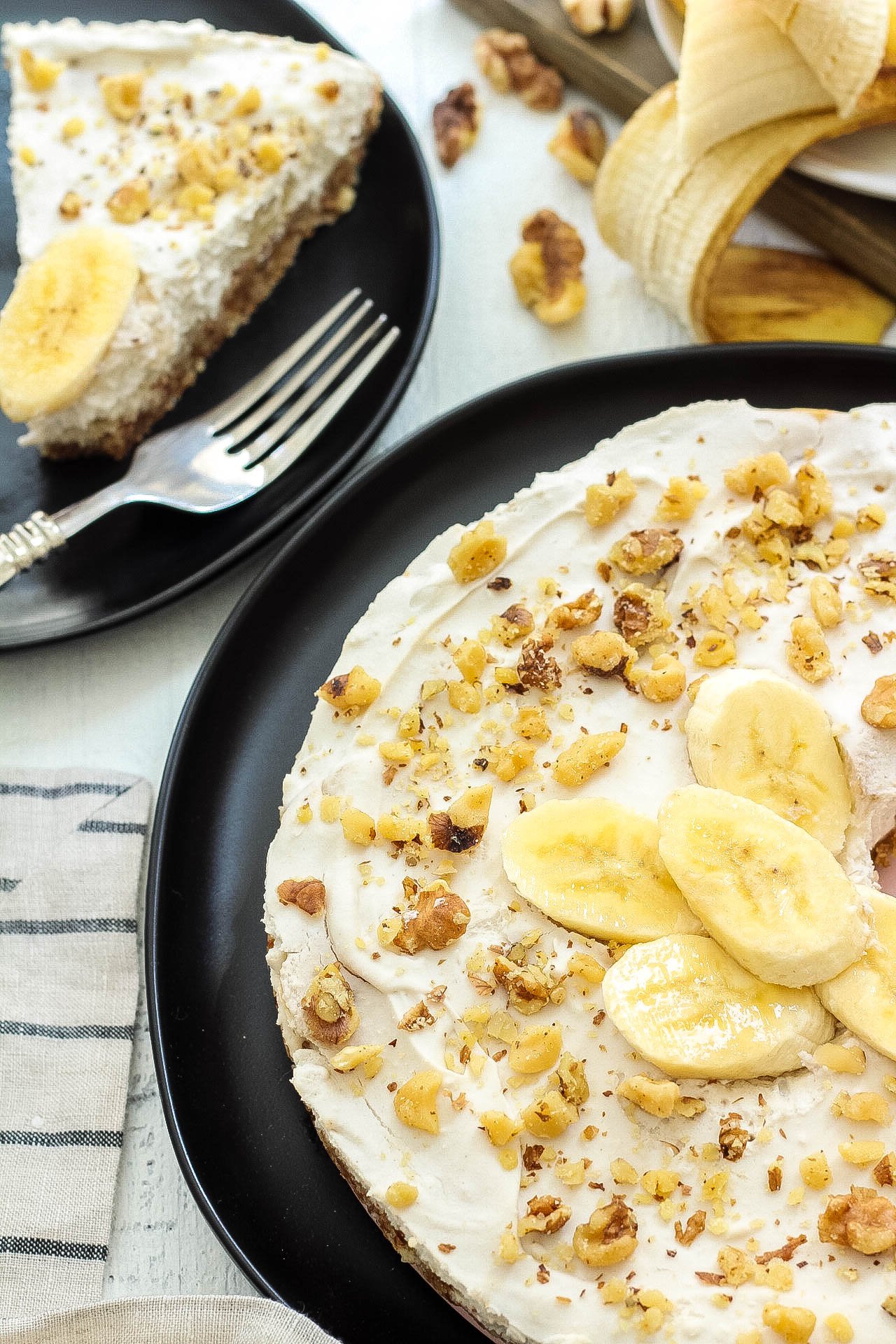 As mentioned already, this is also a vegan banana cream pie recipe, which makes it a good option to bring to gatherings as a dessert that anyone can enjoy, vegan, Paleo, or otherwise. If someone didn't know any better, it's doubtful they'd even know it was dairy-free. Because we're not using a traditional pie crust, or any crazy ingredients, the list of things you need is pretty basic. Double win.
You will need to plan ahead a tiny bit, however, and refrigerate the coconut cream for a few hours prior to using, or overnight. It's worth noting here that my boyfriend, and myself actually, aren't really huge fans of coconut flavored foods, treats, snacks, coffee creamers, you name it. The flavor I added, and using a mixer to whip it really well makes it so the coconut flavor isn't so pronounced. Coconut cream also has a more mild flavor than coconut milk, so give it a shot if you don't think you're a fan either!
Print
Paleo Banana Cream Pie: Easy, No Bake & Vegan Dessert
Prep Time: 30 minutes
Total Time: 30 minutes
Yield: 8 1x
Category: Dessert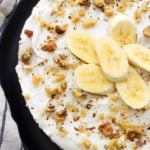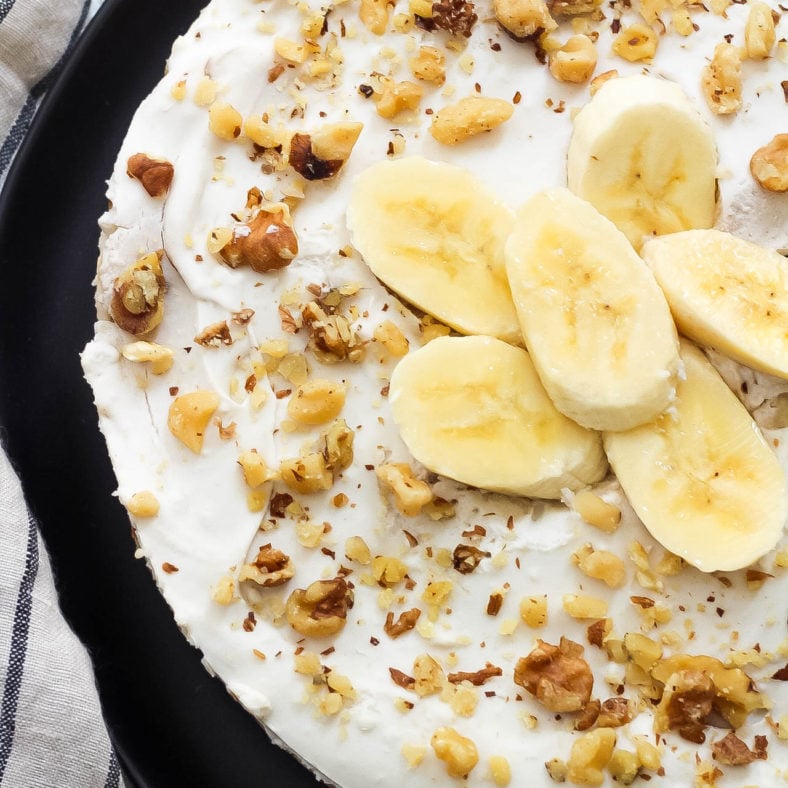 Ingredients
For the Crust:
1 and 1/2 cup almonds (can sub for pecans)
1/2 cup almond flour
6 Medjool dates, pitted
2 tablespoons soft or melted coconut oil
1/2 teaspoon cinnamon
1/2 teaspoon vanilla extract
Pinch of salt
For the Pie Filling:
2 cans full-fat coconut cream (14 ounce cans), refrigerated a few hours up to overnight prior to use
2–3 bananas, sliced
1/4 cup pure maple syrup
1/2 tablespoon vanilla extract
1/4 teaspoon cinnamon
For Topping:
1–2 sliced bananas (see note)
1/2 cup chopped pecans or chopped almonds
Instructions
Add all crust ingredients to a food processor or high powdered blender
Blend until almonds and dates are finely chopped and mixture is thick and sticky, about 3 minutes
Add 1 tablespoon of water to help combine the mixture if nuts aren't blending well
Line an 8 inch glass pie pan or 8 inch springform pan with wax paper or coat with thin layer of coconut oil
Evenly press the crust mixture into the bottom of the pan
Layer the sliced bananas* (see note) for the filling over the crust, it's okay if they overlap, or do not go to the edge of the crust
Add both cans of coconut cream into a mixing bowl, leaving any liquid in the can if there is any (only scoop out the thick white coconut cream)
Add maple syrup, vanilla extract and cinnamon to the bowl and use a hand mixer or stand mixer to whip the filling ingredients together until coconut cream is airy and thick
Pour filling over the crust and layer of bananas. Spread using a knife or spatula into an even layer
Place into the fridge for 2-3 hours until the pie sets, or into the freezer for 1 hour
Add toppings only once ready to eat to avoid banana slices from browning
If frozen, let thaw at room temperature prior to eating. Store leftovers in an airtight container in the freezer
Notes
The amount of bananas you use will depend on how large or small the bananas you have are. Use an additional banana for the filling layer, and for the topping if yours are on the smaller side, or if you like a thicker banana layer.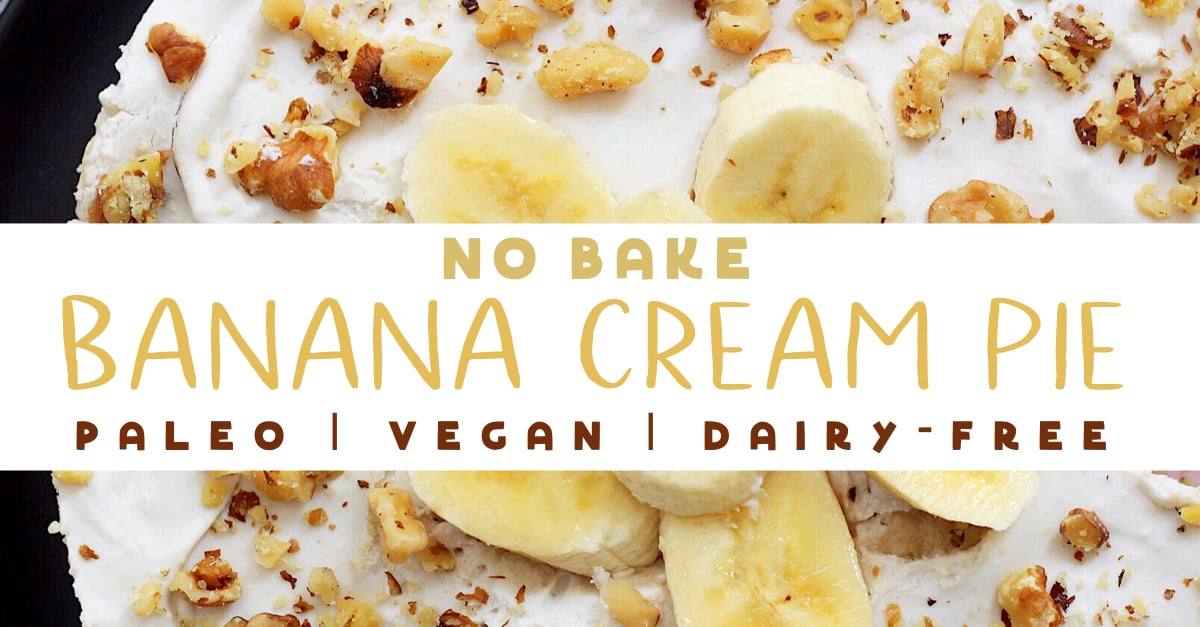 This post may contain some links that are affiliate links, though products are ones I use personally and recommend. When you purchase anything using my links, it costs you absolutely nothing extra, but it does give wholekitchensink.com a little financial support which helps to keep this blog running. Thank you for your continued support, both with your dollars and your interest. I promise I won't buy a pony.