Chorizo is one of my favorite meats to add to meals. It adds so much flavor just on it's own unlike, say, turkey does. So of course, this chorizo and veggie stew is packed full of flavor and filling veggies. Truth be told, I hadn't even tried chorizo until about a year ago when my friend Jen introduced me to it. It's been true love ever since.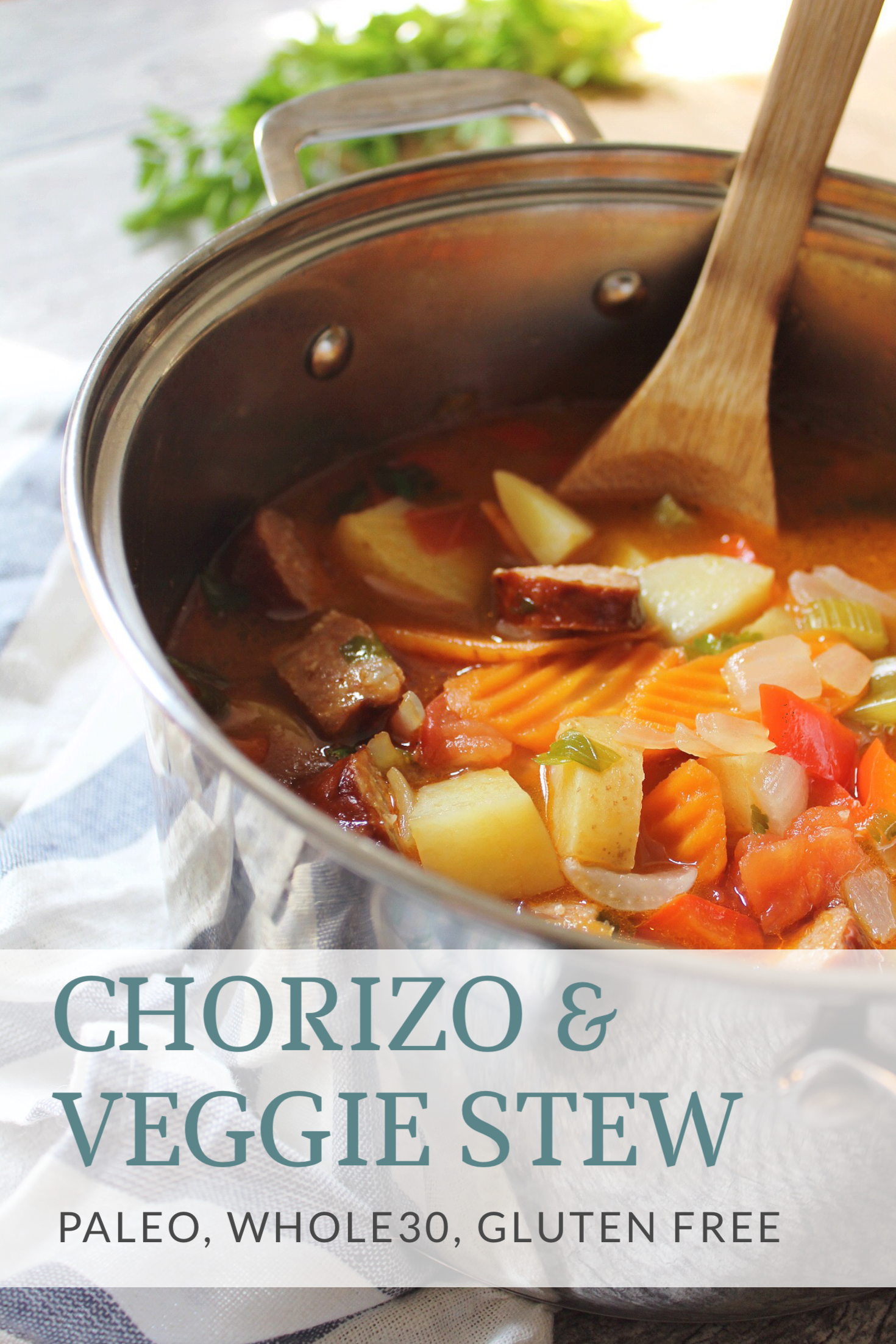 This post is in partnership with Vital Proteins. I'm happy to work with a company I love and believe in so much! Thanks for your support here on the blog and your support for Vital Proteins!
I used chorizo links but I've made it before using ground chorizo, too. I prefer the links because I feel like it makes it more "stew" like. That, and the links are easier to find without processed junk and sugar than ground chorizo is.
The awesome thing about stews is you can basically dump anything you've got in your fridge into them. I haven't met a veggie in a stew that I didn't like. So go crazy and deviate from the veggies in this recipe and add anything you're feelin' at the moment. I promise it'll be tasty.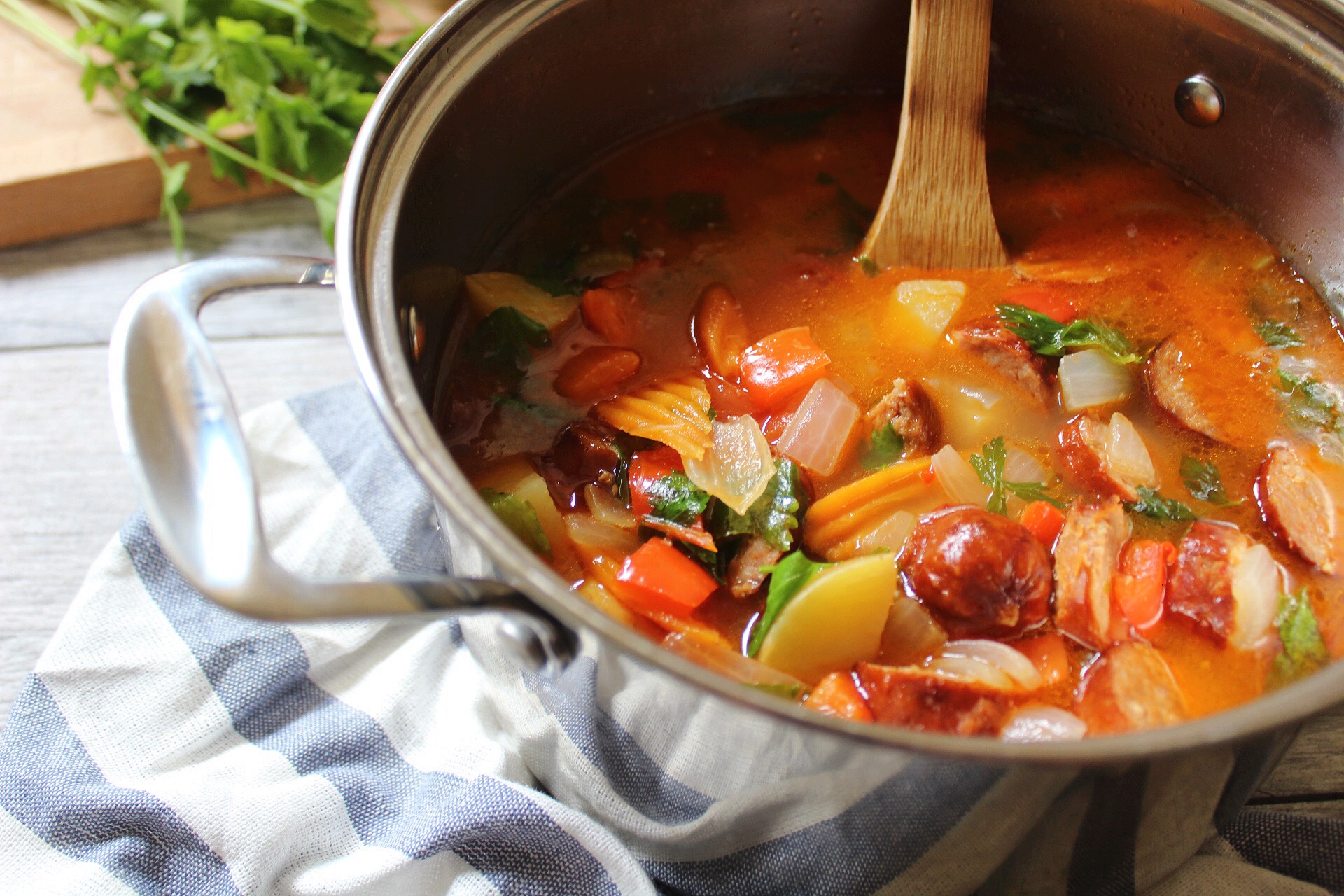 Another awesome thing about this chorizo and veggie stew is that it's loaded with collagen. I used chicken bone broth from Vital Proteins, my favorite collagen company. I've been dying to get my hands on this stuff since Vital Proteins came out with their new chicken and beef powdered bone broths. I tend to open up a container of broth to use one or two cups in a recipe only to let the rest go bad sitting in the fridge. Such a waste!
I've had one too many experiences of thinking, "oh, I have some broth in the fridge, I don't need to buy anymore". Only to have my meal cooking, go to the fridge to get the broth just to realize it's gone bad. That led me to having to keep a few containers on hand at any given time and taking up valuable cabinet space.
Having the canisters of powdered broth means that I have it whenever I need it and I don't waste ANYTHING! And again, I get to sneak extra collagen into my meals. (Like this chorizo and veggie stew.. wink, wink)
I've been using collagen peptides in my coffee every day since December and now my day doesn't feel the same without it. Now I get to easily add it to my meals! Some of the many benefits of adding collagen to your diet are improved joint pains and degeneration, helps with leaky gut, improves skin, nails and hair, speeds up recovery time after illness and workouts and about a hundred other things.
A little with this powdered collagen bone broth goes a long way. Another reason I was so excited to cook with it. I felt like I was getting my money's worth instead of buying container after container of broth and letting it go bad.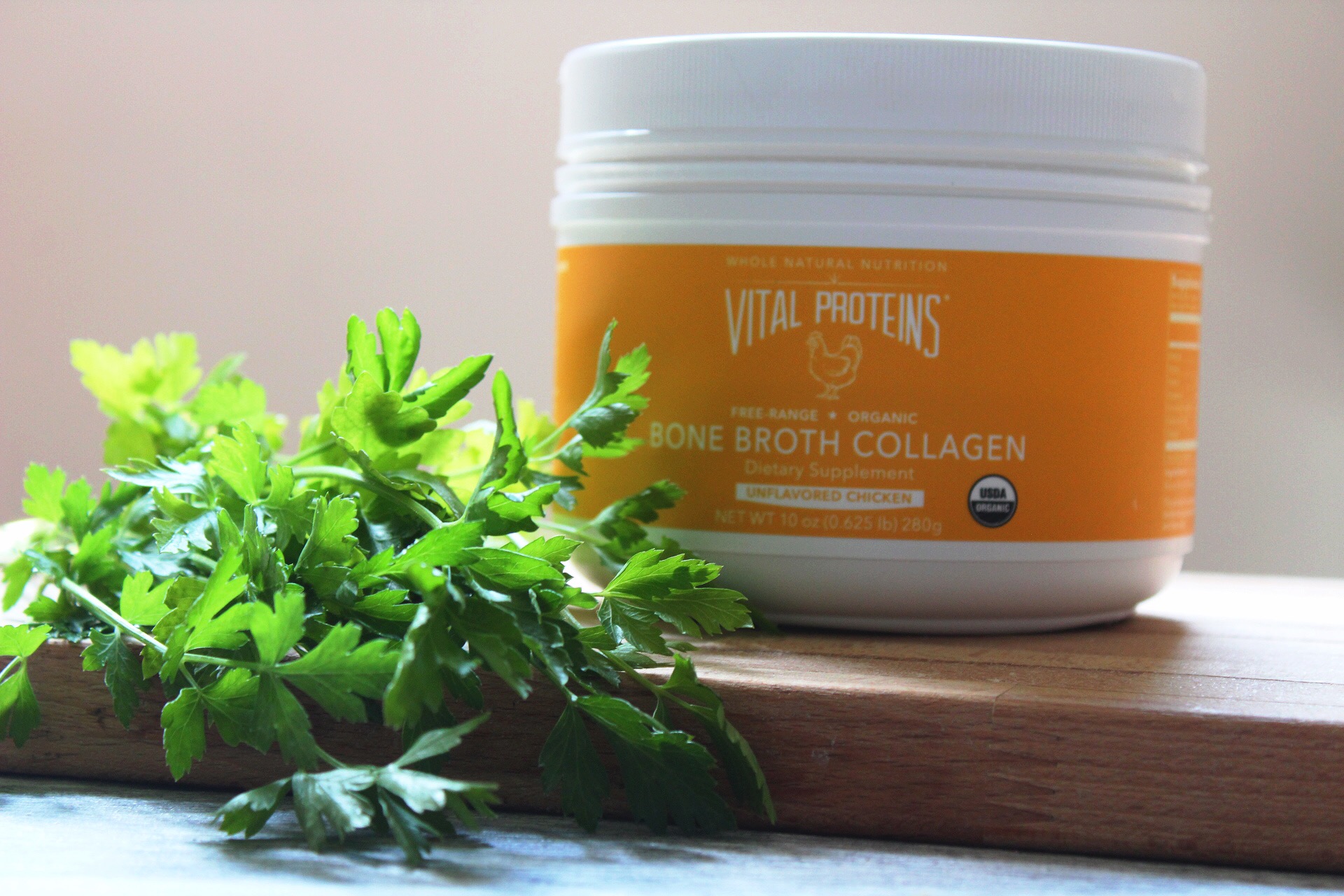 You can make this chorizo and veggie stew in the slow cooker too by just dumping everything in, setting it and forgetting it! I'll throw the instructions into the recipe but it really is as simple as that. 😉
Make sure you also have some extra fresh parsley on hand to throw in to the soup at the end! SO. GOOD.
Enjoy!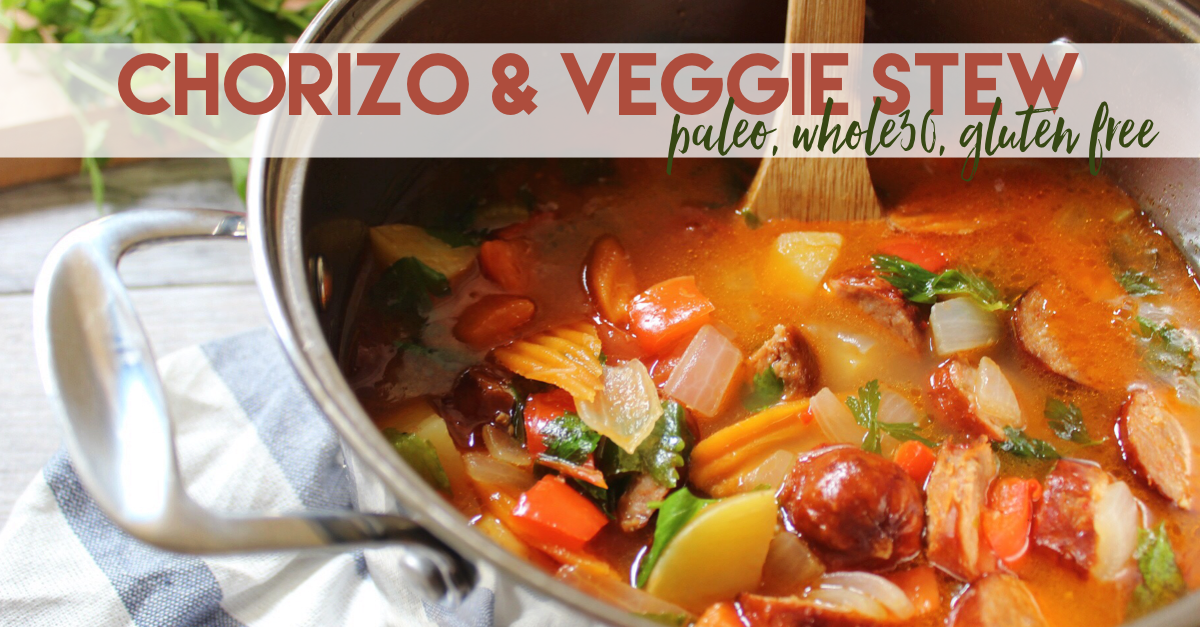 Print
Chorizo and Veggie Stew
Prep Time: 10 minutes
Cook Time: 20 minutes
Total Time: 30 minutes
Yield: Serves 4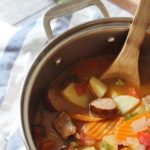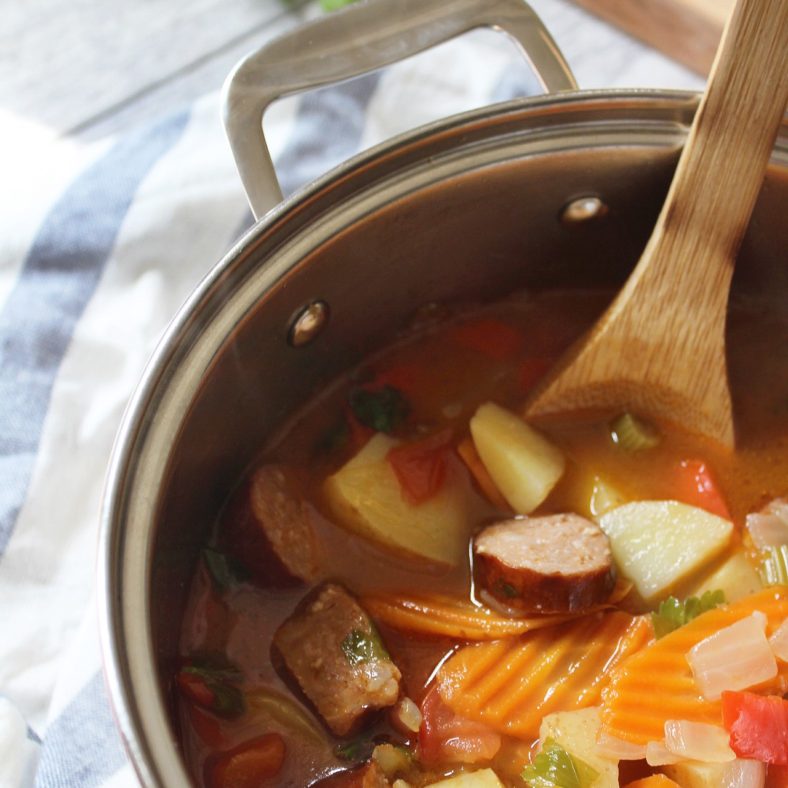 Ingredients
12 ounces chorizo sausage links sliced (4 three ounce sausages)
2 tablespoons olive oil
1 cup sliced carrots
1 diced red or green pepper
2–3 sliced stalks of celery
2 white potatoes, roughly diced
1 large diced tomato
Juice of 1/2 lime
1 tablespoon minced garlic
3 scoops of Collagen Chicken Bone Broth
3 cups water
1/2 cup loosely packed fresh parsley, chopped (or 1–2 tablespoons dried parsley)
Salt and pepper to taste
Instructions
Add oil and garlic to the bottom of a large stock pot over medium heat
Once hot, add in carrot, onion, pepper and chorizo and sauté for 3-4 minutes
Once veggies start to soften, add in potatoes, celery, tomato and lime juice
Stir and let sauté for 2-3 more minutes
Pour in the water and the Vital Proteins Collagen Bone Broth
Add in salt and pepper to taste
Stir and bring to a boil
Once boiling, reduce heat a bit and cover
Let simmer for 10-15 minutes or until all veggies are cooked throughly
Stir in fresh parsley
Remove from heat and serve!
For the Slow Cooker:
Add in all ingredients to a slow cooker except fresh parsley
Stir to combine
Set to low for 4-5 hours or high for 2-4.
This post may contain some links that are affiliate links, though products are ones I use personally and recommend. When you purchase anything using my links, it costs you absolutely nothing extra, but it does give wholekitchensink.com a little financial support which helps to keep this blog running. Thank you for your continued support, both with your dollars and your interest.