Salisbury steak reminds me of TV dinners and buffets. Not something that is typically correlated with health, now is it? My boyfriend told me this was his favorite TV dinner to eat when he was a kid. I'm not going to lie, it sort of grossed me out when he said that but I knew I could recreate it to be healthier and taste better than the 3 minute microwave version does. Not only is this healthier, it's Whole30 Approved too!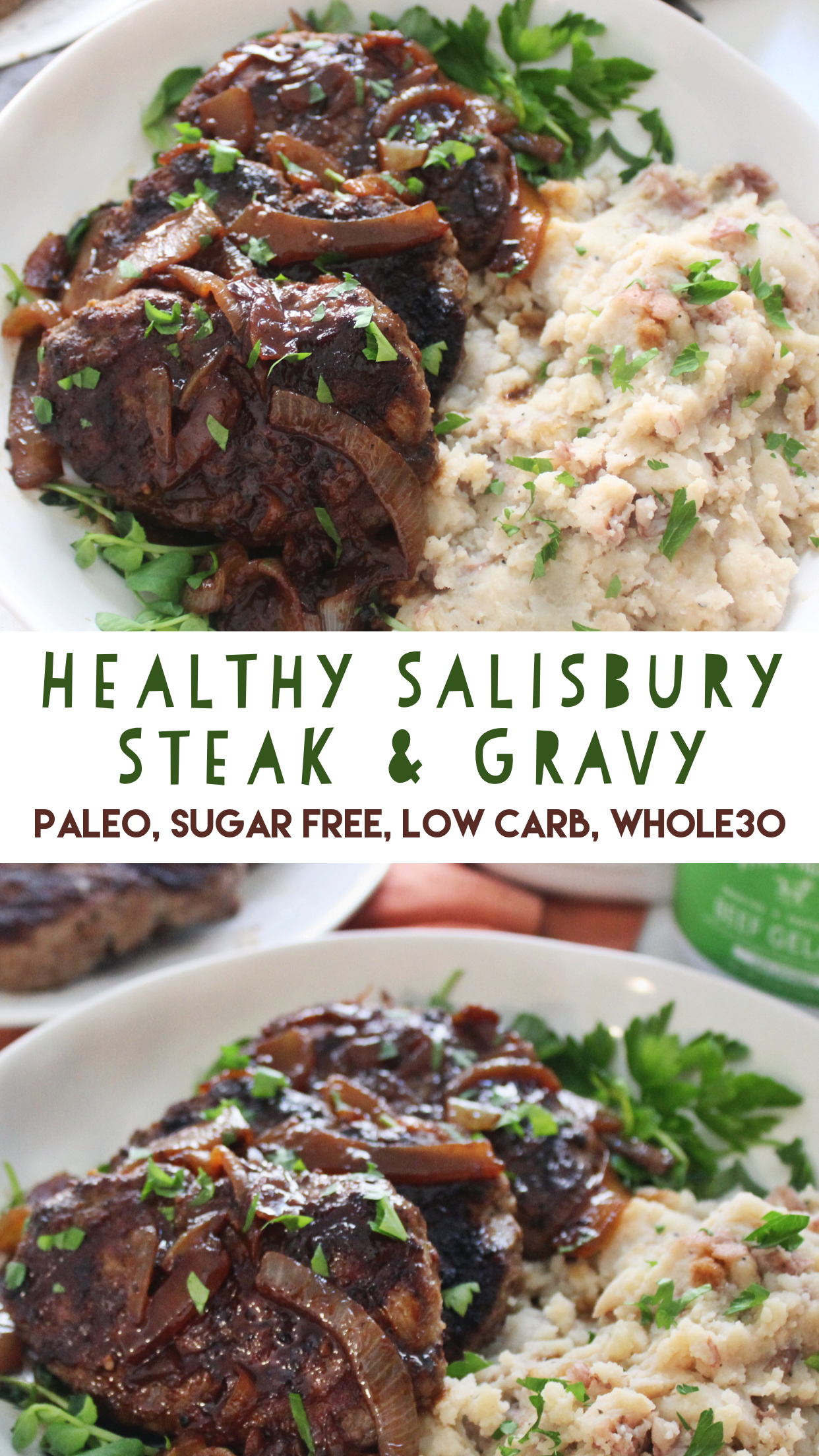 This post is sponsored by Vital Proteins. All opinions are my own. I'm happy to work with a company I love, use and believe in so much! Thanks for your support here on the blog and your support for Vital Proteins!
I got curious where the name "salisbury" came from. I just sort of assumed it was named after the city in England and this was an English dish… Don't ask me why. Come to find out, it's actually totally American, been around since 1897 and named after an American Physician, Dr. Salisbury. Ha! Who knew.
This recipe has been a huge hit at my house every time I make it. The list of ingredients looks a little bit longer than you might be used to with my recipes, but don't worry. It's actually super simple because you're really just dumping them into a bowl to mix in with the meat.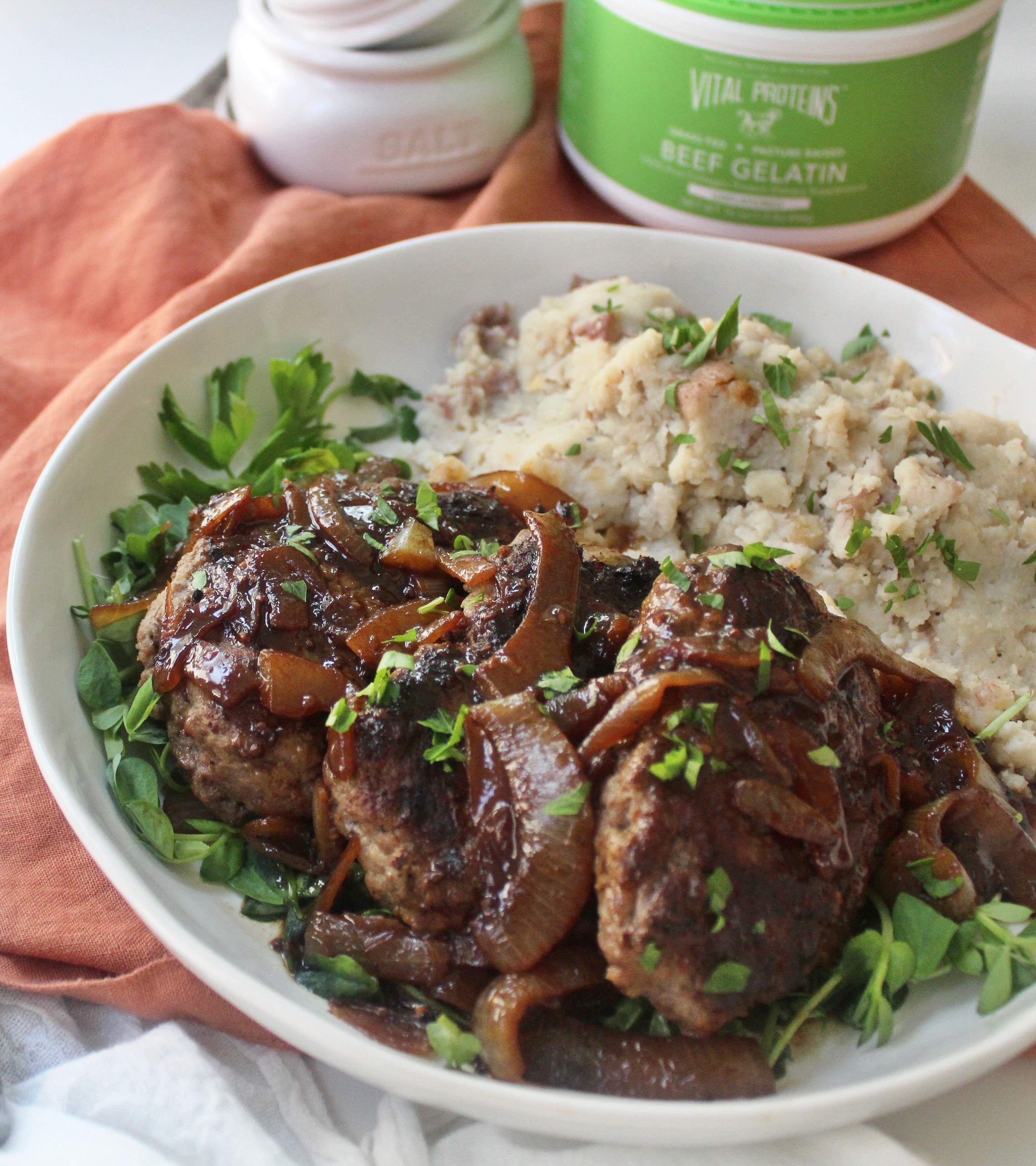 While we're on the subject of the meat you'll be mixing, once you've formed them into the traditional Salisbury steak patties, you can either pan cook, grill or bake them. I used my grill pan (put this on your Christmas list!) but I often just pan cook them and get the same results.
I also have been totally loving discovering how many benefits and uses that using beef gelatin has in my kitchen. I just assumed it was only for jello?? Like the Dr. Salisbury thing, I really had no idea. It's became so much easier to thicken up sauces, gravies and one pan meals with a liquid base. The Vital Proteins beef gelatin gives a much smoother and emulsified flavor and texture than using arrowroot or tapioca starch does (plus no clumps!). Even adding it to meatballs and egg bakes makes them bouncier and fluffier!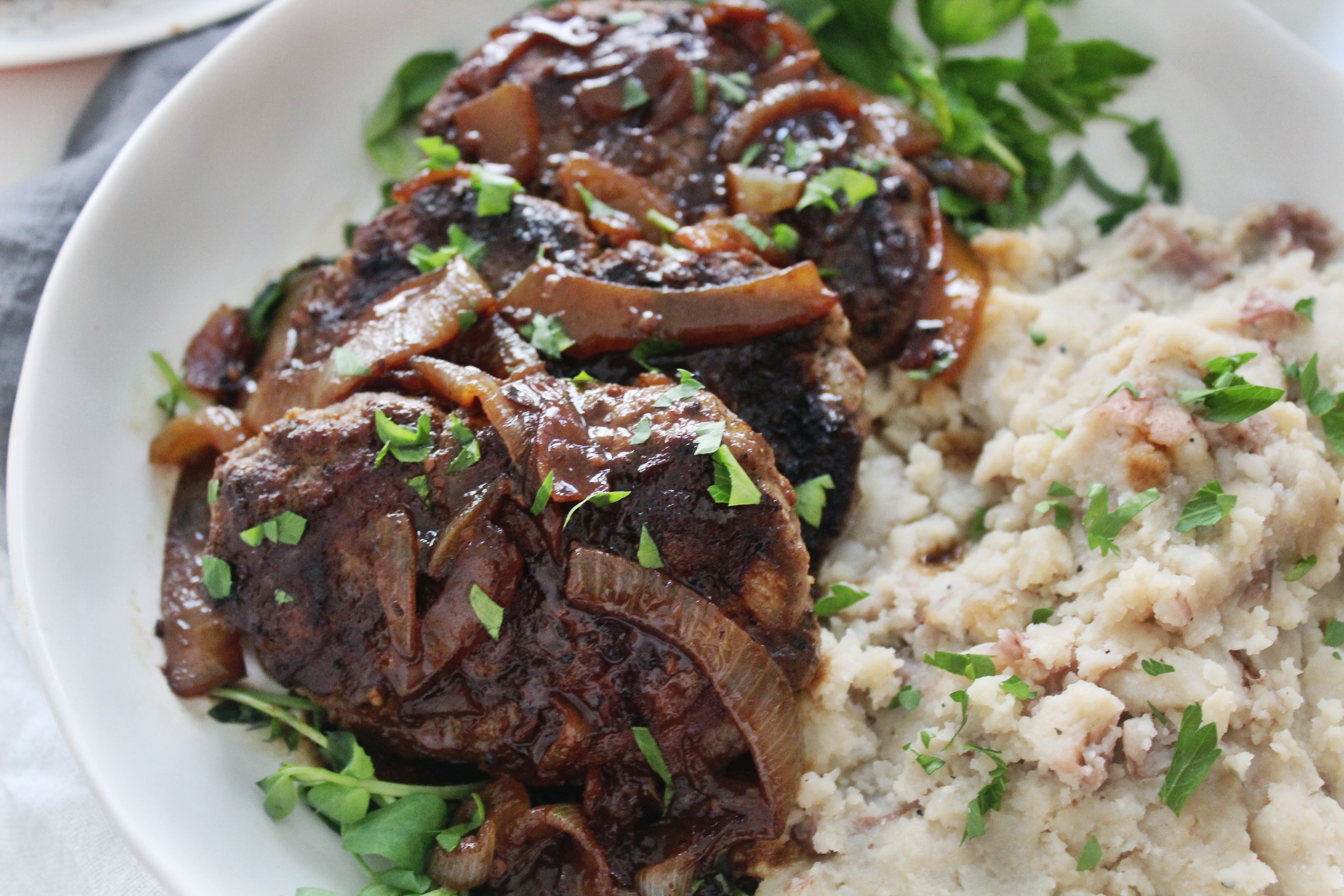 Vital Proteins collagen is one of my favorite Whole30 Approved products and within the product family that Vital Proteins offers, beef gelatin is one of my most often used. If you would have asked me a year ago if I'd cook with gelatin I would have told you I don't make jello enough, so no.
I truly had no idea I could use it so many ways besides jello with such awesome (and tasty!) results. BUT, times have changed and it's a product I really don't think I could go without anymore. Plus I get the added benefits of collagen and protein to my meals. A little goes a long way too, so it seems to last forever!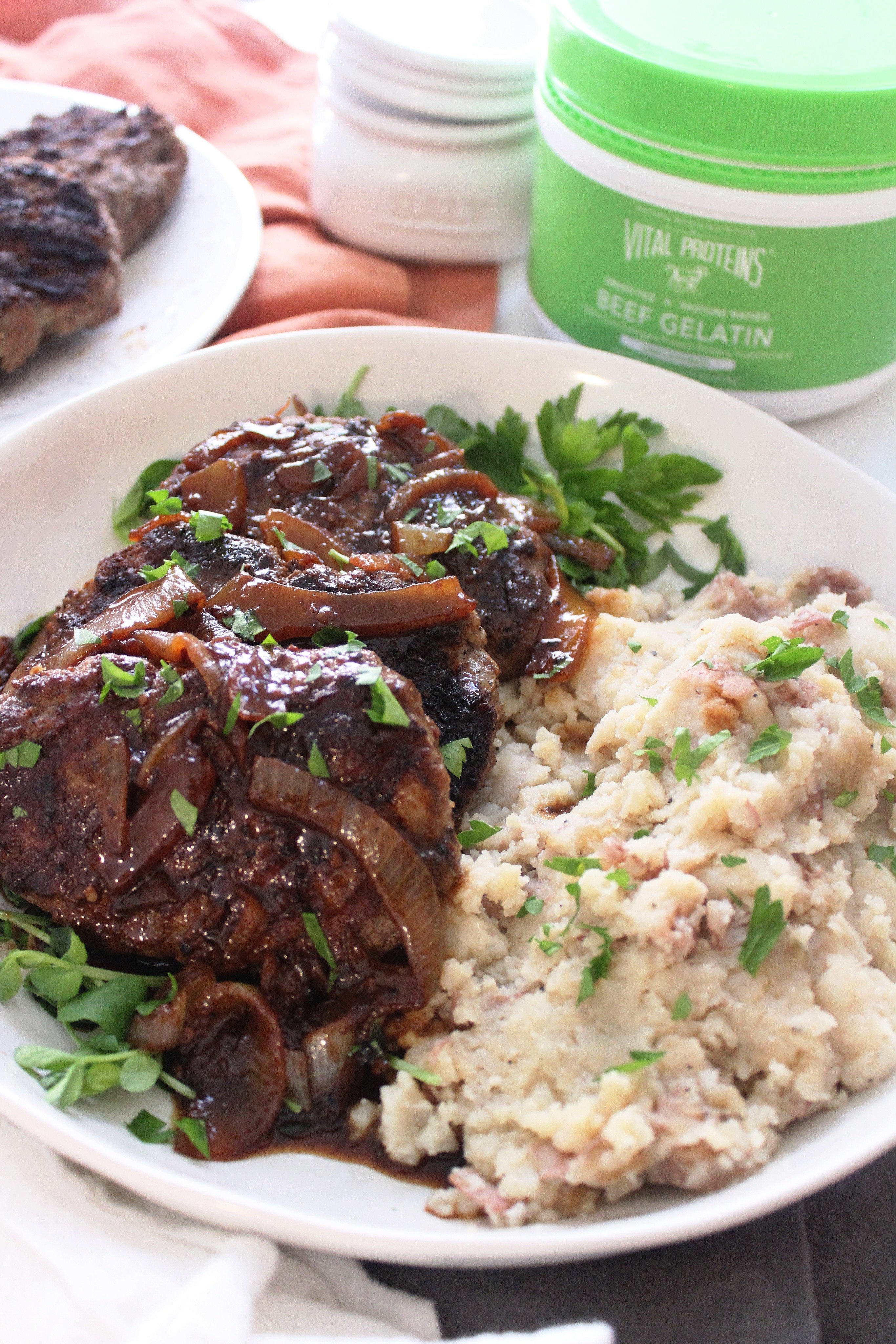 While you could use a different thicker for the gravy (although gelatin is recommended), you will need coconut aminos, a common soy sauce substitute, for both the Salisbury steak and the gravy. You can pick them up at almost any grocery store now a days, or from Thrive Market for over $2 cheaper per bottle.
I serve my Salisbury steak with mashed potatoes and my boyfriend just eats it out of the fridge with a fork. So many options! 😉 You can also totally add sliced mushrooms to the gravy. If you do that, just add them in with the onion to give them a quick sauté. This is a family friendly recipe that you'll feel good about. No TV dinners, here!
Enjoy!
Print
Easy Salisbury Steak: A Real Food Version Everyone Will Love
Prep Time: 10 minutes
Cook Time: 30 minutes
Total Time: 40 minutes
Yield: Serves 4-6 1x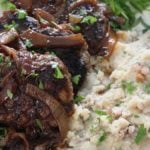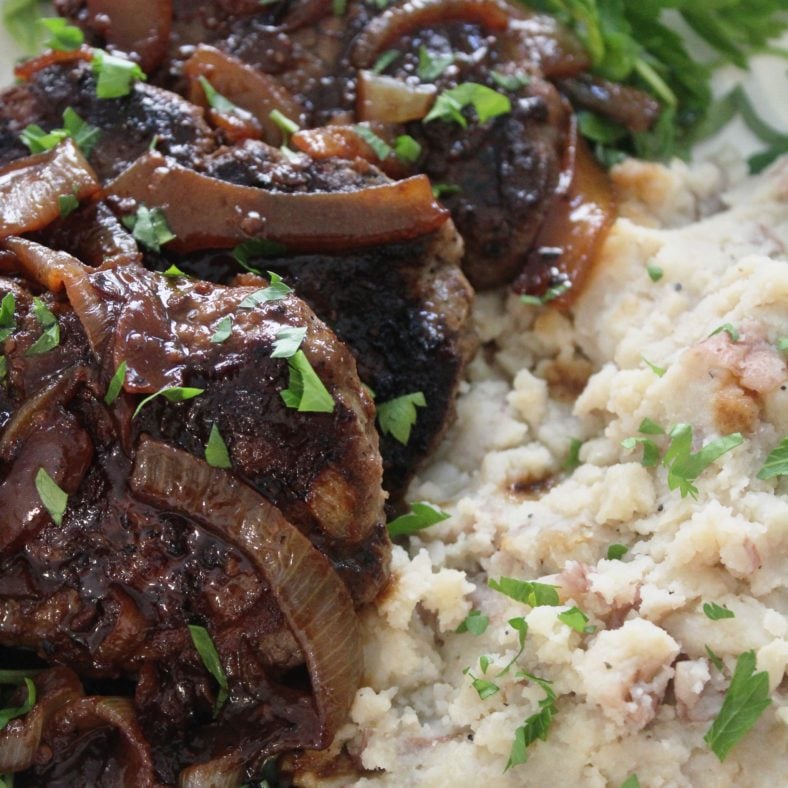 Ingredients
For the Steak:
1 and 1/2 pound ground beef
1 egg
1/3 cup white onion, finely diced (about 1/2 small-medium onion)
1/3 cup almond flour
2 and 1/2 tablespoons dijon mustard
2 tablespoons coconut aminos (soy sauce replacement)
1 and 1/2 tablespoons tomato sauce
2 teaspoons onion powder
2 teaspoons garlic powder
2 tablespoons cooking fat (I used tallow)
1 teaspoon salt
1 teaspoon dried thyme
1/2 teaspoon pepper
For the Brown Gravy:
3 cups beef broth, divided
1/2 onion sliced (use the other 1/2 onion leftover)
2 tablespoons ghee
2 tablespoons minced garlic
2 tablespoons coconut aminos
2 teaspoons Vital Proteins Beef Gelatin (or sauce thickener like arrowroot)
1 teaspoon mustard
1 teaspoon tomato sauce
A few good shakes of salt and pepper
Instructions
For the Steak:
Combine all ingredients except for the cooking fat into a large bowl
Mix together well using hands and form Salisbury steak patties, about 1/4 to 1/2 inch thick
Heat the cooking fat in your grill pan or frying pan over medium-high heat
Add in Salisbury steak patties, ensuring not to crowd the pan (you will have to do 2 rounds of three steaks each, usually)
Flip patties halfway through cooking, after about 4-5 minutes
Remove the cooked patties and cook the remaining patties – repeat until all are cooked
For the Gravy:
If using a grill pan, you'll now need a sauce pan to make the gravy
If you pan cooked the patties, continue using the same pan
Add ghee to the pan
Once hot, add in sliced onions and let cook for 2 minutes
Add in garlic
Once fragrant (about 1 minute), add in 2 cups beef stock and scrape up any of the ingredients stuck to the bottom of the pan
Bring to a light simmer
While it's coming to a simmer, mix gelatin in with the remaining 1 cup broth in a separate bowl or large mixing cup, mixing or whisking until dissolved
Pour mixture into pan
Stir and add coconut aminos, mustard, tomato sauce, salt and pepper
Let simmer for 5-10 minutes and remove from heat
Serve in it's own gravy dish or pour directly over Salisbury steaks!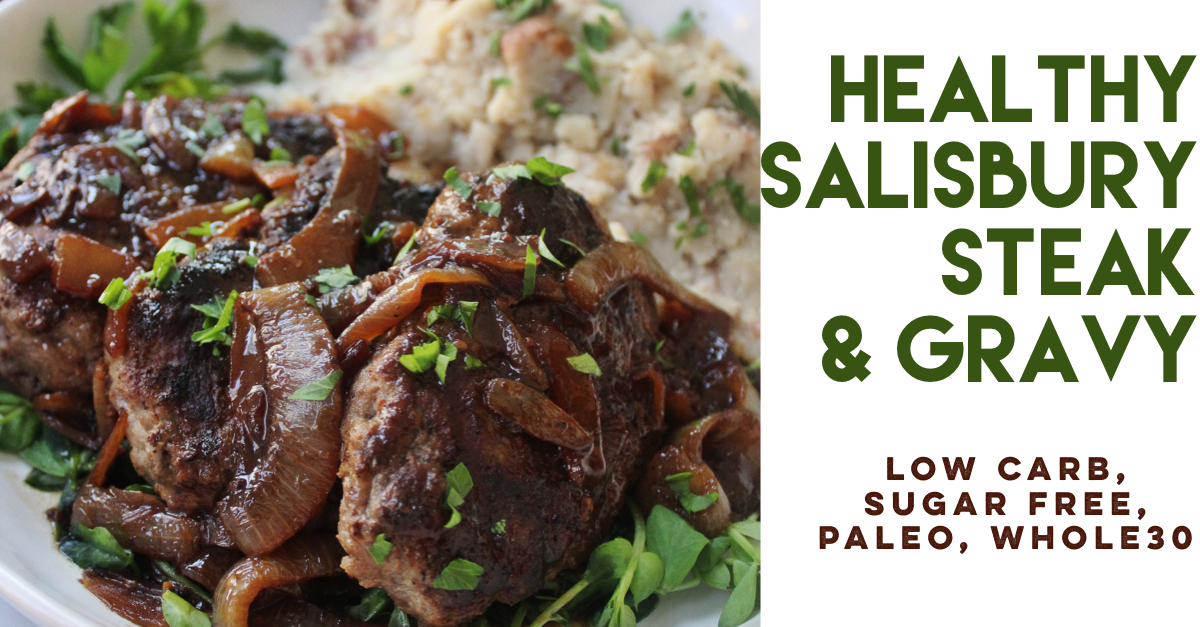 This post may contain some links that are affiliate links, though products are ones I use personally and recommend. When you purchase anything using my links, it costs you absolutely nothing extra, but it does give wholekitchensink.com a little financial support which helps to keep this blog running. Thank you for your continued support, both with your dollars and your interest.