The cold weather months are just around the corner and that always puts me in the mood for savory comfort foods. I love this juicy pork tenderloin with rosemary and mushroom gravy because it's the perfect meal for warming things up with it's chilly outside. Even better, it's an easy-to-make, ready in a half hour dinner that's good for family gatherings or a weeknight dinner.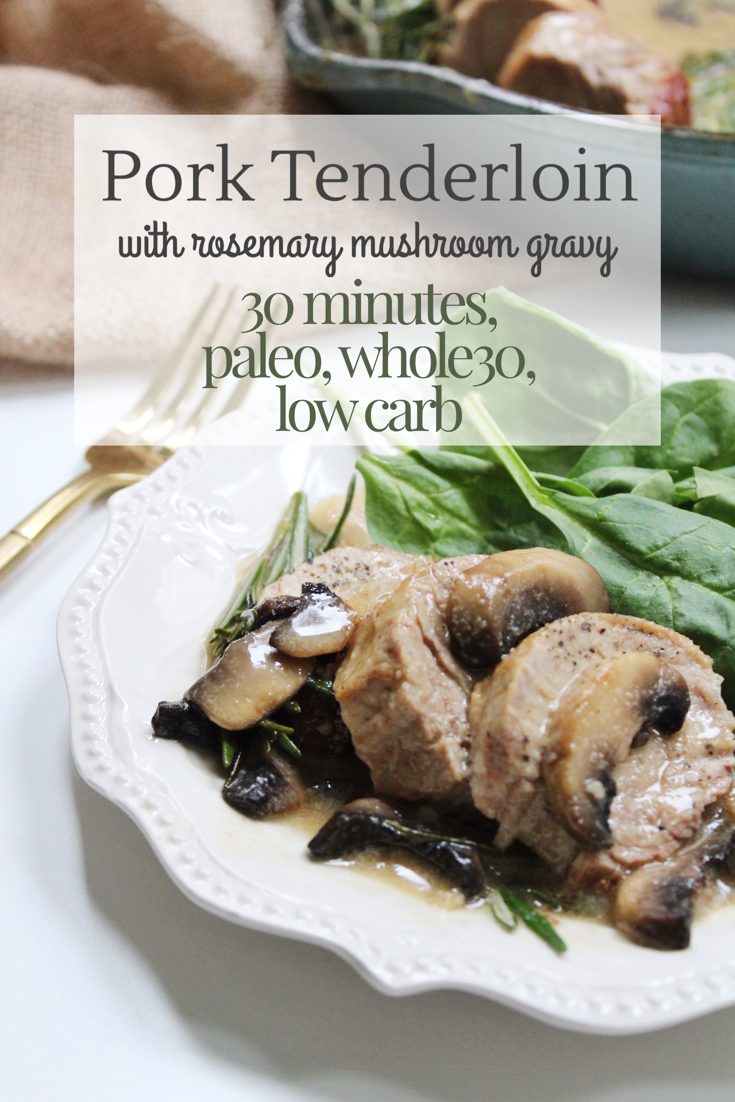 This post is sponsored by Vital Proteins. I'm happy to work with a company I love and believe in so much! Thanks for your support here on the blog and your support for Vital Proteins!
Is there anything better than a hearty, belly-filling meal as the weather cools and the leaves are changing? It's one of the things I look forward to all summer – the cozy sweaters, cozy blankets and cozy meals that fall brings with it.
This pork tenderloin with rosemary mushroom gravy is one I'll be making here frequently until spring. My family loves it, so it might just appear on the table for a holiday get together, too! As I mentioned, it doesn't take very long to make. Meaning, it's a perfect dish to make so you can spend more time with your loved ones instead.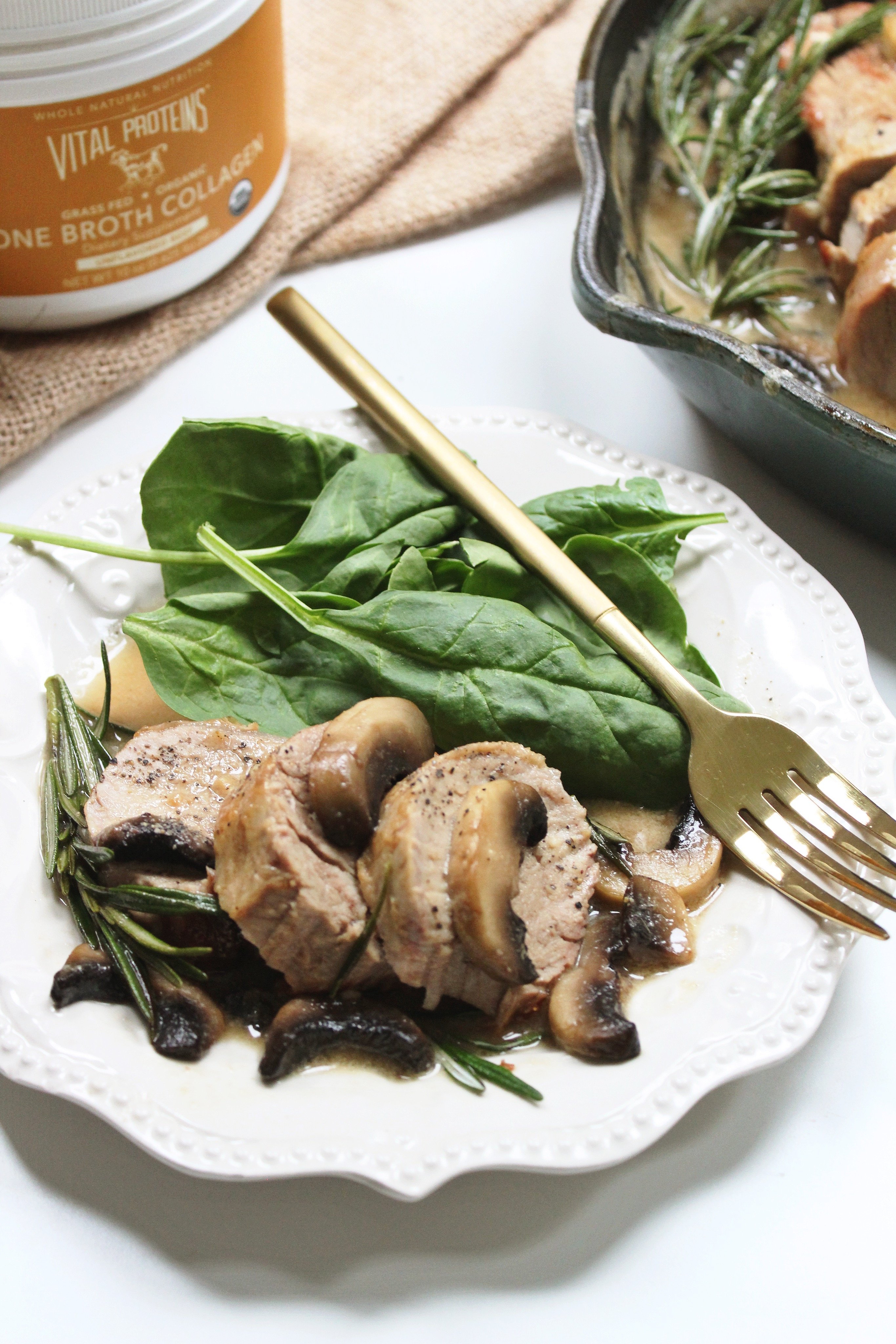 The rosemary and mushroom gravy is a bone broth and dairy-free milk based gravy. I used organic beef bone broth from Vital Proteins which I love because it's loaded with collagen and has 9 grams of protein per serving. It's the first certified organic bone broth powder and aids in digestion, gut health and sleep. It's important to supplement with collagen because as the body ages, we stop producing as much of it. Collagen also helps in joint, ligament, tendon and bone health and supports healthy hair, skin and nails. What's not to love about that, right?
All those health benefits aside, the real reason I love this bone broth is because of it's efficiency. Keeping this in my pantry eliminates the need to spend time making my own bone broth and saves me from wasting money on the expensive cartons of liquid bone broth.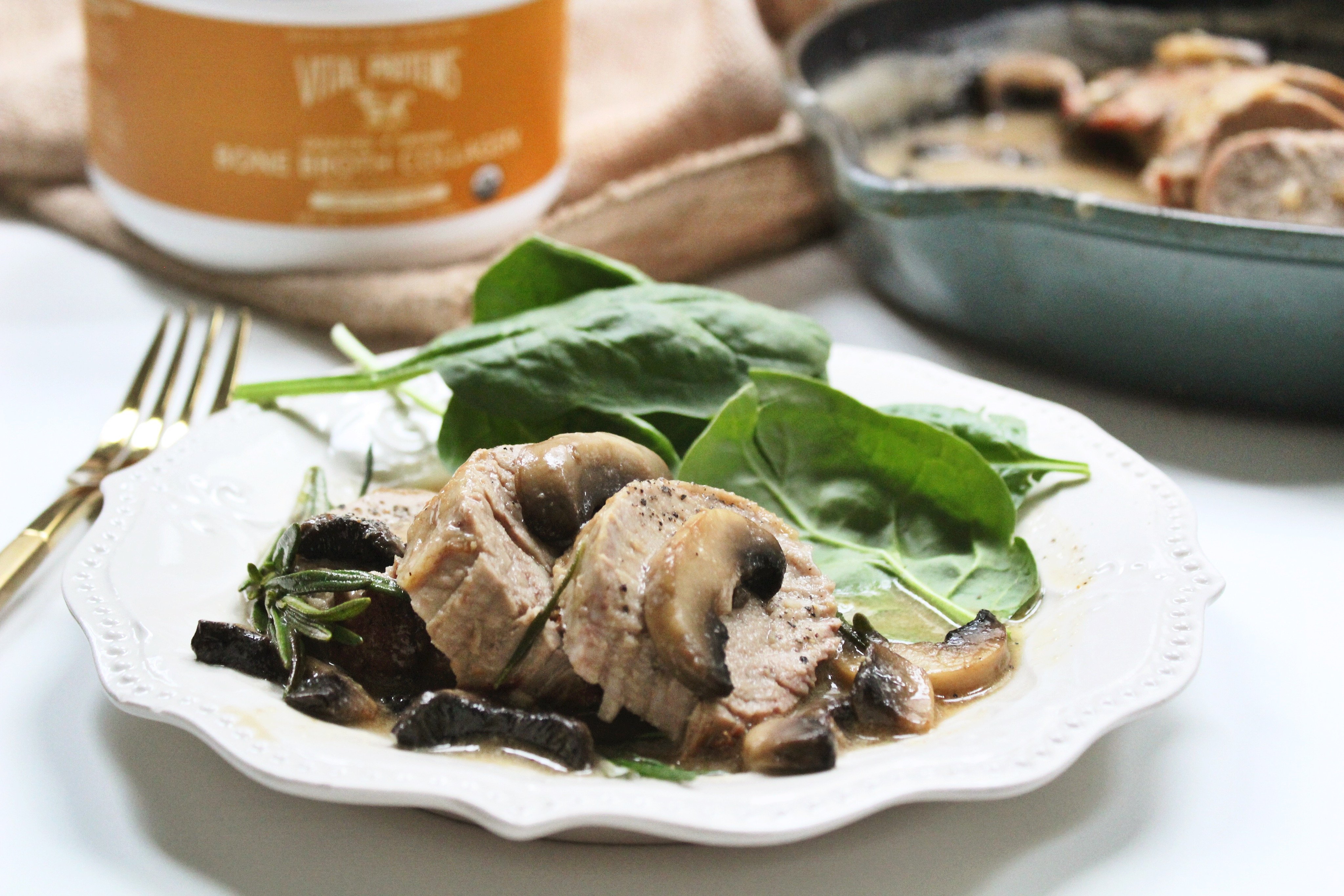 If you're like me, you only use 1 or 2 cups at a time and then throw the rest of the carton into the back of the fridge. They're only good for 7-10 days once they're opened and I can't tell you the amount of times I've needed some only to realize I forgot it was in there and it's gone bad. Having this bone broth on hand saves me so much money in the long run when I'm not having to open a new $6 carton each time I need 2 cups of broth. You can grab your own from their website or Amazon!
Check out this soup I made with the chicken collagen bone broth!
A quick note about the gravy: there's two main ways I make gravy. The first is to use arrowroot starch (or your favorite cornstarch replacement – tapioca flour also works!). My new preferred method is to use beef gelatin in place of the starch/flour if you have it on hand. You want to use 1 and 1/2 teaspoon for every 1 cup of liquid for a thin sauce and up to 4 teaspoons for a thick sauce.
There's tons of uses for beef gelatin (aside from jello!) and I love keeping that product around too. Either way you make the gravy is just fine, it just depends on what you have on hand! Both options are easily customizable and allow you to make the gravy thinner or thicker according to your preferences.
Print
Pork Tenderloin with Rosemary Mushroom Gravy: a 30 Minute Savory Paleo Dinner
Prep Time: 5 minutes
Cook Time: 30 minutes
Total Time: 35 minutes
Yield: Serves 3-4 1x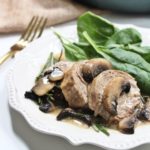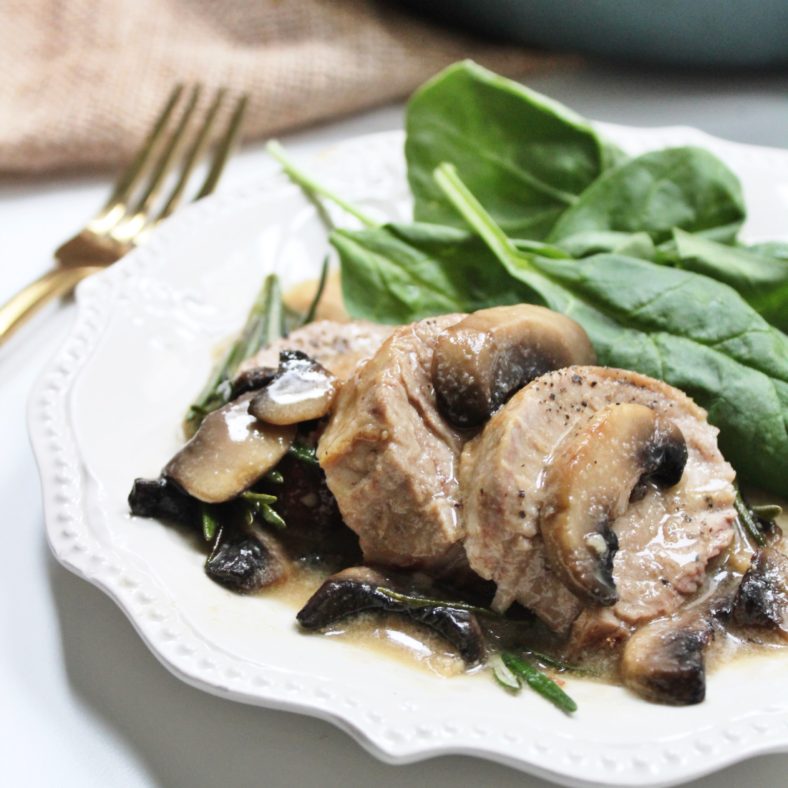 Ingredients
1 pound pork tenderloin
1 and 1/2 cups of water (or 1 and 1/2 cup beef bone broth)
1/2 cup almond or coconut milk
1 cup sliced mushrooms
2 tablespoons ghee
1 and 1/2 teaspoon beef gelatin (or 1 to 1 and 1/2 tablespoons arrowroot or tapioca starch)
1 tablespoon olive oil
1 tablespoon balsamic vinegar
1 tablespoon minced garlic
1 tablespoon onion powder
1/2 teaspoon salt
3 sprigs rosemary
Instructions
For the Pork:
Preheat oven to 400 degrees F.
Heat olive oil in a cast iron skillet (or other pan that is oven safe)
Season pork with salt and pepper
Sear the pork on all sides until browned
Move pan to the oven and cook for 15-20 minutes (15 minutes for a slight amount of pink, 20 minutes for no pink)
Remove from oven and place the pork on a plate
Cover with another plate or foil to keep warm
For the Gravy:
Melt the ghee in the same skillet over medium heat
Add mushrooms and garlic and cook until mushrooms are browned and remove
Premix the water and bone broth and pour into the skillet
Add salt, onion powder, balsamic, rosemary and coconut milk (or your choice of cream replacement)
Bring to a simmer and cook until the liquid starts to reduce (about 3-5 minutes)
Reduce heat and add in the gelatin/flour slowly and whisk into the sauce
Keep whisking as the sauce thickens
Once it's at your desired thickness, add mushrooms and pork back into the skillet
Bring to a simmer again for another 2-3 minutes – sauce will continue to thicken
Transfer to a serving plate and serve gravy on the side or poured over top of pork
Notes
Double the recipe (use 2 pounds of pork tenderloin) for a larger crowd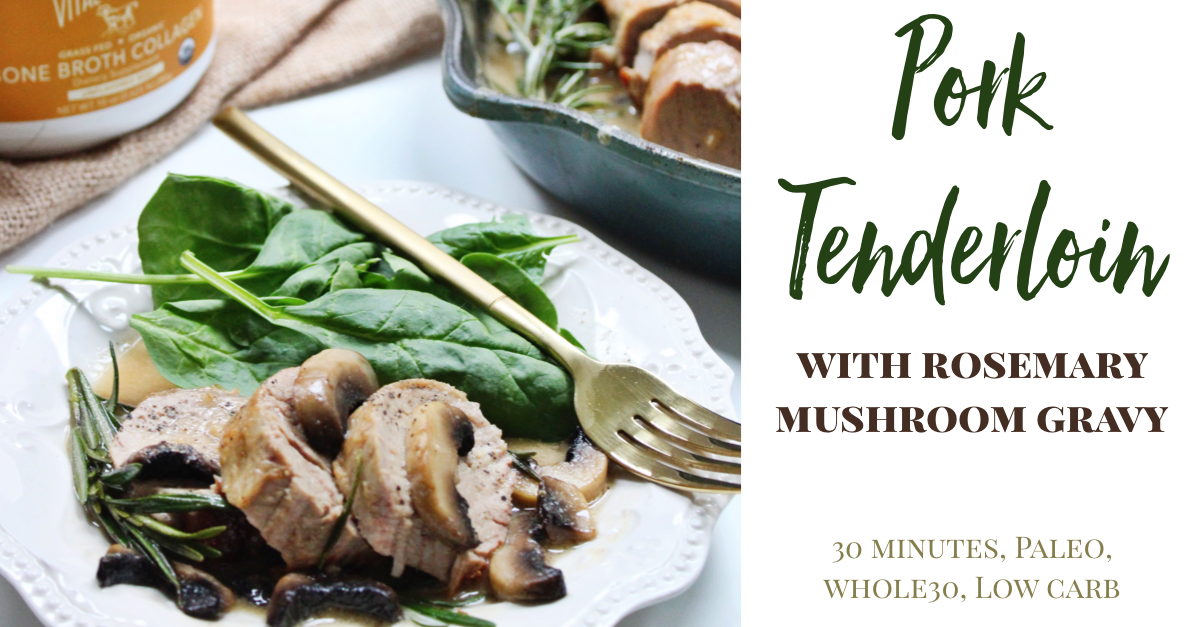 This post may contain some links that are affiliate links, though products are ones I use personally and recommend. When you purchase anything using my links, it costs you absolutely nothing extra, but it does give wholekitchensink.com a little financial support which helps to keep this blog running. Thank you for your continued support, both with your dollars and your interest.