Slow cookers are the best. Let's all just agree on that now. They're even better when there's a big ol' beef roast in there waiting for you when you come home from work. Especially when it's this sweet balsamic beef ready to be shredded and devoured by the family. 5 minutes of hands-on cooking time? Sign me up!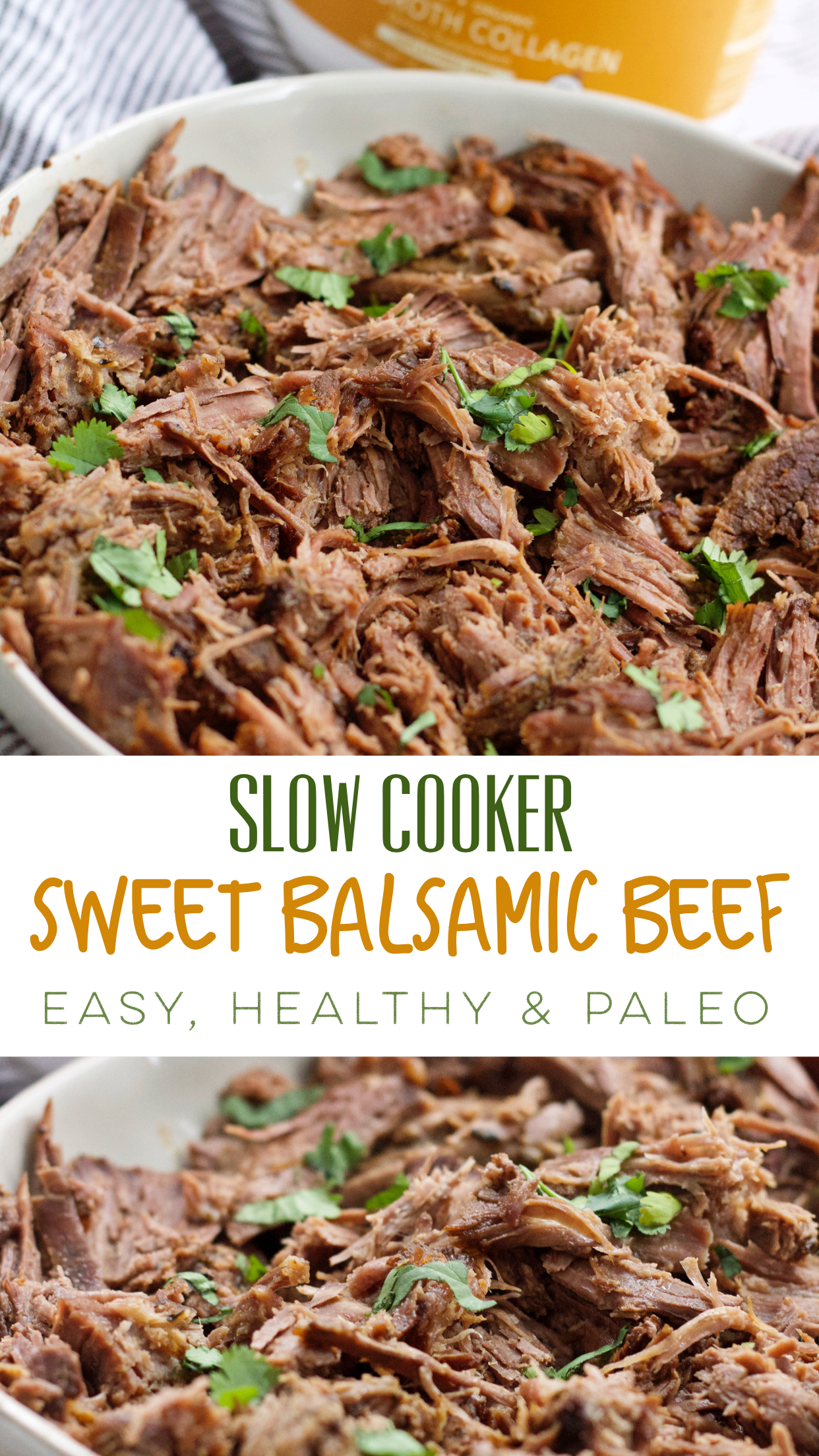 This post is sponsored by Vital Proteins. I'm happy to work with a company I love, use and believe in so much! Thanks for your support here on the blog and your support for Vital Proteins!
I know when it comes to shredded beef you have plenty of options to choose from. But this sweet balsamic beef is by far the best one. And I'm not even just sayin' that because it's mine. The flavor is smoky, tangy, sweet and seasoned perfectly. It all gets brought together by cooking it low and slow with the Beef Bone Broth Collagen from Vital Proteins.
One of my favorite things about using Vital Proteins Beef Bone Broth is that it's such an efficient product. It saves me hours of time making my own bone broth and tons of space storing it. This bone broth also saves me tons of money because I'm no longer opening a carton of broth to use 1 or 2 cups, just to let the rest go to waste in the fridge if I don't use it up by the 7 days it's good for once opened.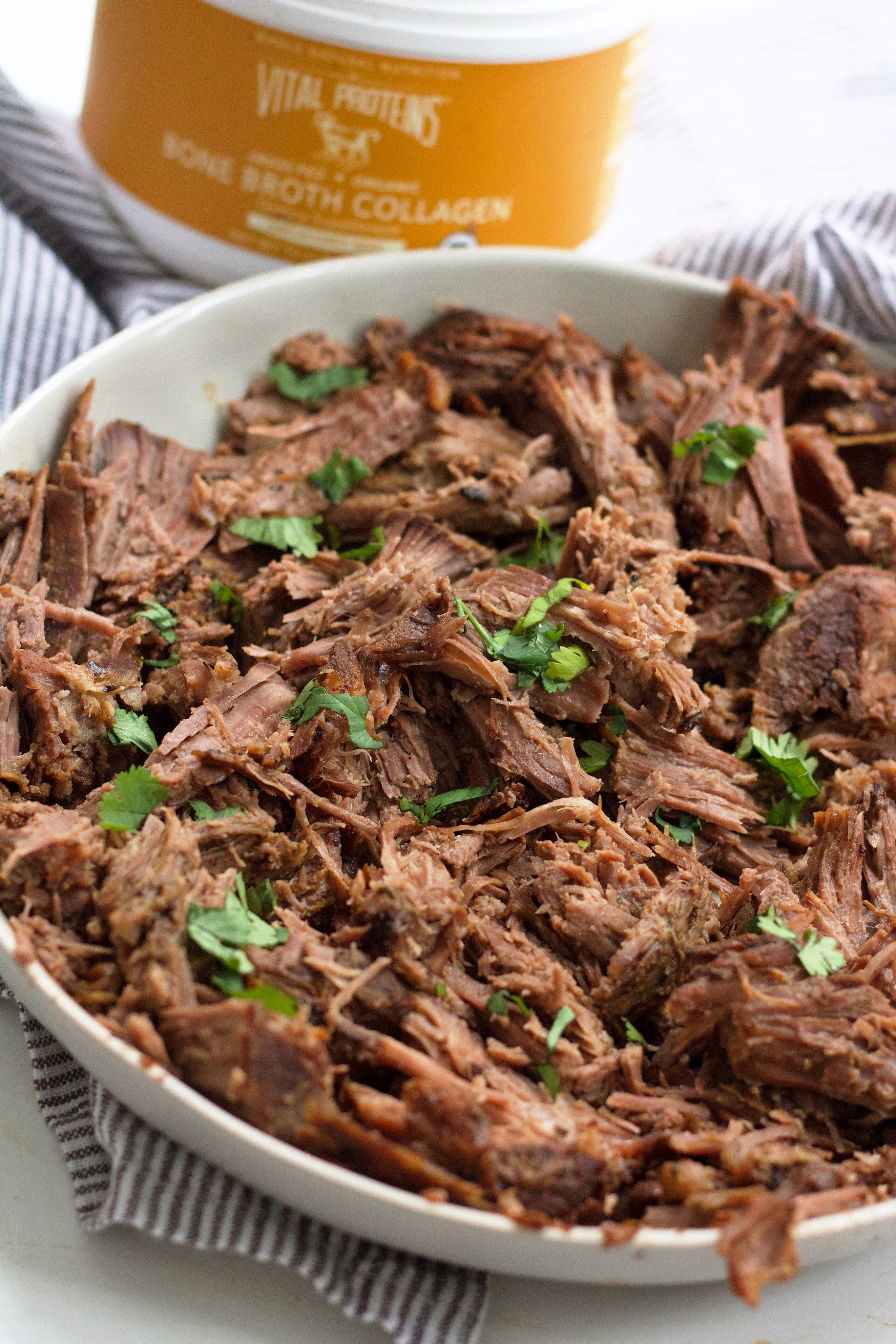 Bone broth collagen also is awesome for supporting a healthy immune system and digestion, along with helping with ligament and joint health. With the convenience plus health benefits, it's really became my favorite pantry staple.
In this sweet balsamic beef recipe the bone broth helps give the chuck roast a rich liquid base to cook in all day, helping to bring together the flavors and tenderize the meat. After it's done cooking, I highly recommend adding the leftover liquid from the slow cooker to a large skillet or braising pan. Let it simmer and reduce to create a yummy sweet and savory sauce to coat the shredded beef in before you dig in!
Add my favorite bone broth to your pantry necessities too! Get it HERE!
This sweet balsamic beef is an awesome way to batch cook some meat for the week for meal preps, easy lunches, or a quick dinner on a weeknight! Serve with potatoes, veggies, over greens, with cauliflower rice, in sweet potato buns, in lettuce cup tacos, the list is endless!
Chorizo and Butternut Squash Chili
Best Ever Chunky Mashed Potatoes
Or in any recipe that calls for broth!
Print
Slow Cooker Sweet Balsamic Beef + Recipe Video!
Prep Time: 5 minutes
Cook Time: 6 hours
Total Time: 6 hours 5 minutes
Yield: Serves 8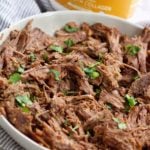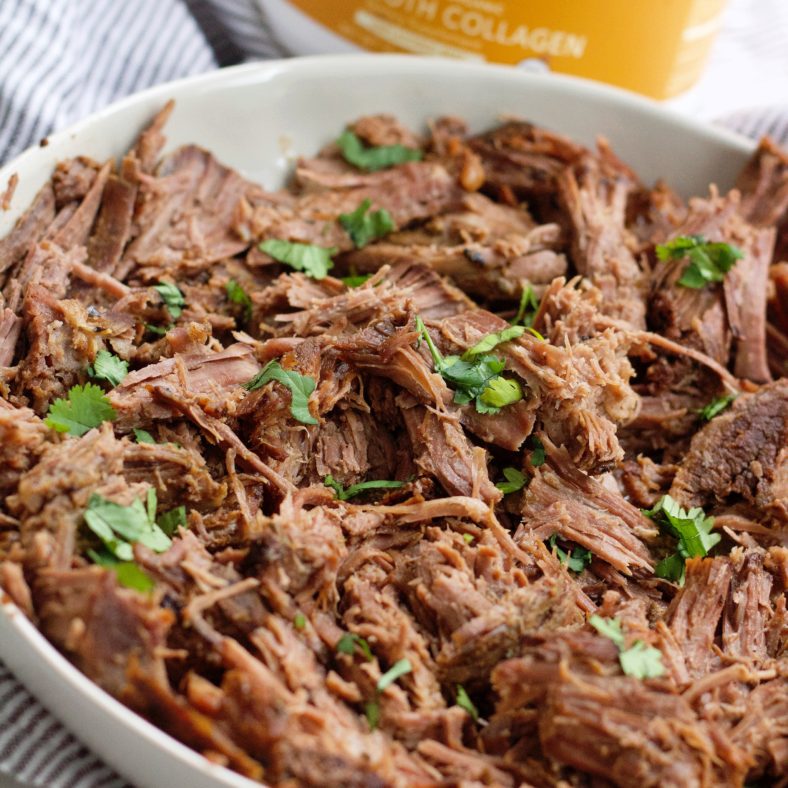 Ingredients
3 pound beef chuck roast
1 cup water
2 scoops Vital Proteins Beef Broth Collagen
1/2 cup balsamic vinegar
1/2 cup ketchup (no sugar added)
1/2 cup honey
1/3 cup maple syrup
1 tablespoon dijon mustard
1 tablespoon onion powder
1 teaspoon garlic powder
1 teaspoon dried parsley
1 teaspoon dried basil
1/2 teaspoon pepper
1/4 teaspoon salt
Instructions
Add all ingredients to slow cooker
Stir to combine liquid ingredients and spices
Cover and cook on low for 6-8 hours, or until roast is tender and falling apart
Remove from slow cooker and shred
Optional: add liquid from slow cooker to a large skillet or braising pan, bring to a simmer
Let simmer for 20 minutes or until sauce becomes thick
Add sauce over beef and stir to evenly coat
Serve and enjoy!