This orange vanilla vinaigrette is one of my winter favorite salad dressings. DIY vinaigrettes in general are something I like to keep around, and the hints of vanilla and orange in this one is perfect for this time of year. It's even delicious drizzled over roasted cauliflower!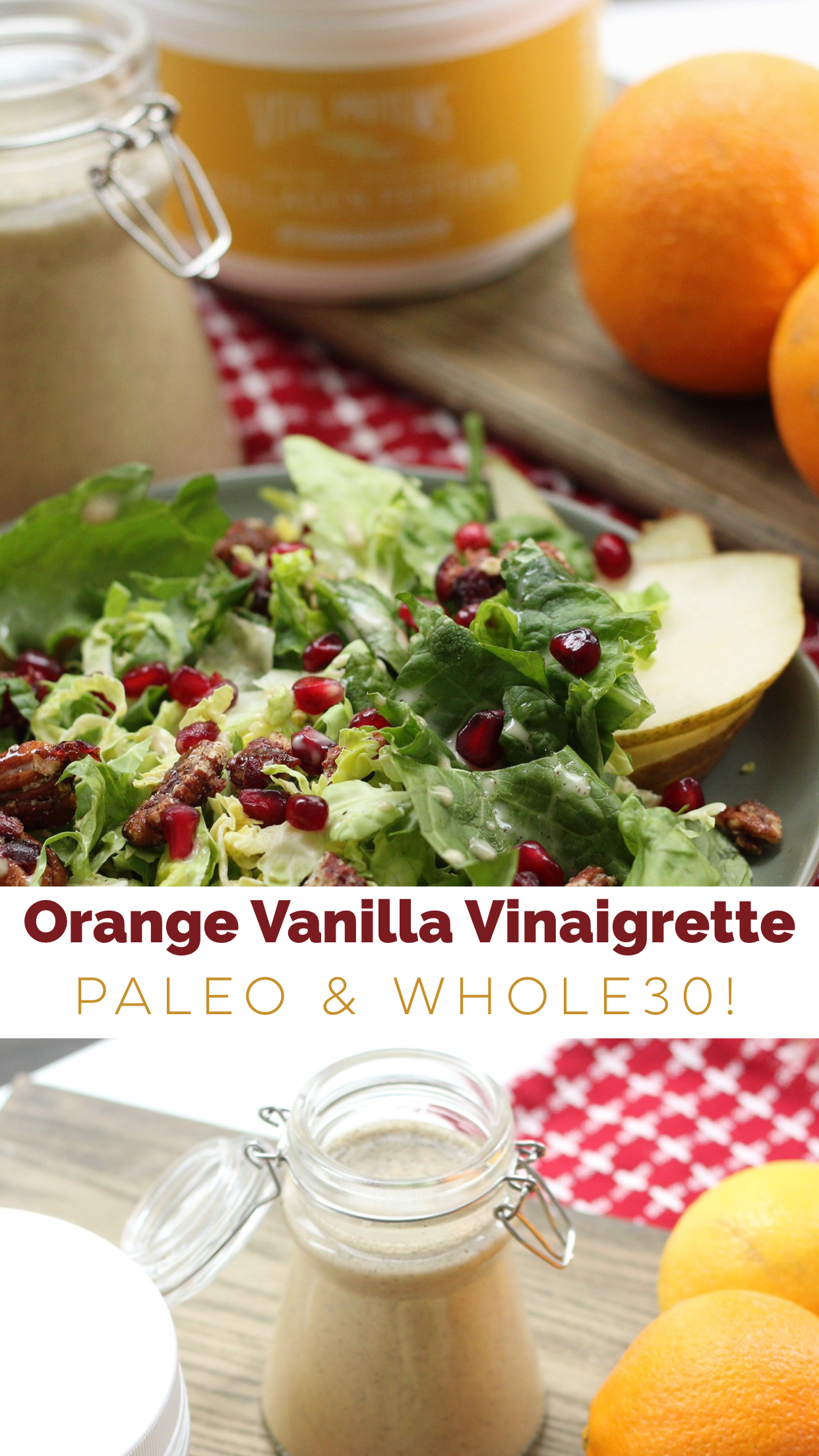 This post is sponsored by Vital Proteins. I'm happy to work with a company I love, use and believe in so much! Thanks for your support here on the blog and your support for Vital Proteins!
With only a handful of ingredients, my orange vanilla vinaigrette takes less than 5 minutes from start to finish. Lots of these are staple items you'll already have! Apple cider vinegar, oil, the usual vinaigrette stuff.
The ingredient that I really love putting in this vinaigrette both for flavor and added protein is Vanilla Collagen Peptides from Vital Proteins. It just makes sense to supplement my salad dressing (and have the warm notes of vanilla!) with added protein from collagen peptides because salads can sometimes be lacking in protein. Or, I'm just not feeling like adding meat to it! This winter salad is a perfect example.
It's got shaved Brussels, pomegranate, pecans, pears – all the good stuff. The Vital Proteins Vanilla Collagen Peptides add the protein I want and need!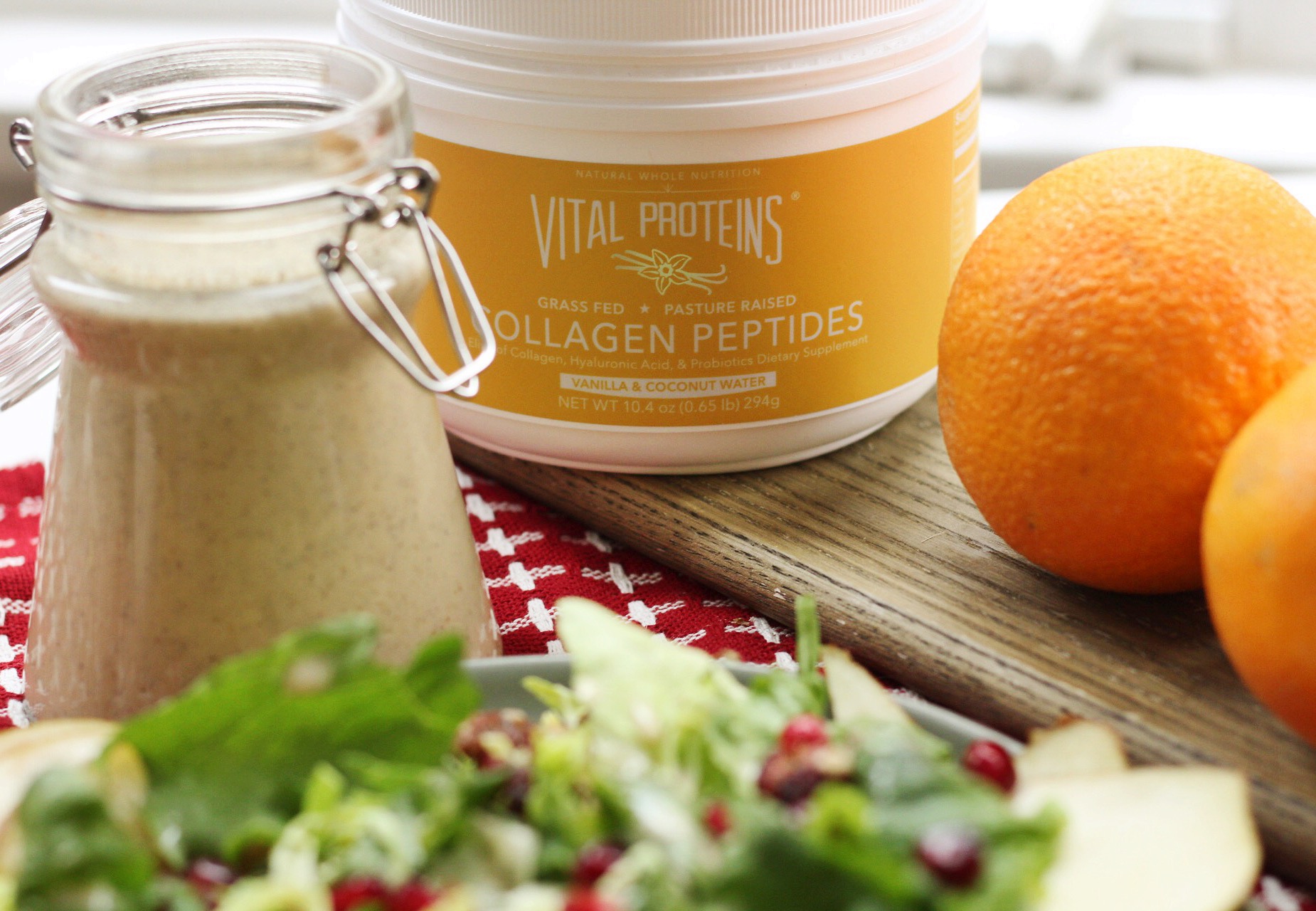 There's a ton of benefits to using collagen peptides every day. I've been doing it for over a year now, and swear by it. Collagen supports bone and joint health, aids in digestion and muscle recovery, and supports healthy hair, skin, and nails. The Vital Proteins Vanilla Collagen Peptides in particular is also packed with probiotics.
And don't worry, you don't have to use it only in salad dressings. It dissolves in both hot and cold liquid so you can add it to any food or beverage. Throw it into water, juice, coffee, your smoothie. Mix it into sauces, soups or in a dessert!
If you haven't tried making your homemade dressings yet, now's the time to start! It's a much healthier option than almost anything you can find in the store (hello, no added sugar!). It's also a budget friendly option compared to continually buying the healthy ones you can find in store!
Get Vital Proteins vanilla collagen peptides HERE
Print
Hungry for more? Subscribe to my newsletter to get new recipes delivered straight to your inbox! And be sure to stay in touch on Facebook, Pinterest and Instagram for all of the latest updates.
Orange Vanilla Vinaigrette (VIDEO): Paleo, Whole30 + Collagen!
Prep Time: 5 minutes
Total Time: 5 minutes
Yield: Yields 2 cups 1x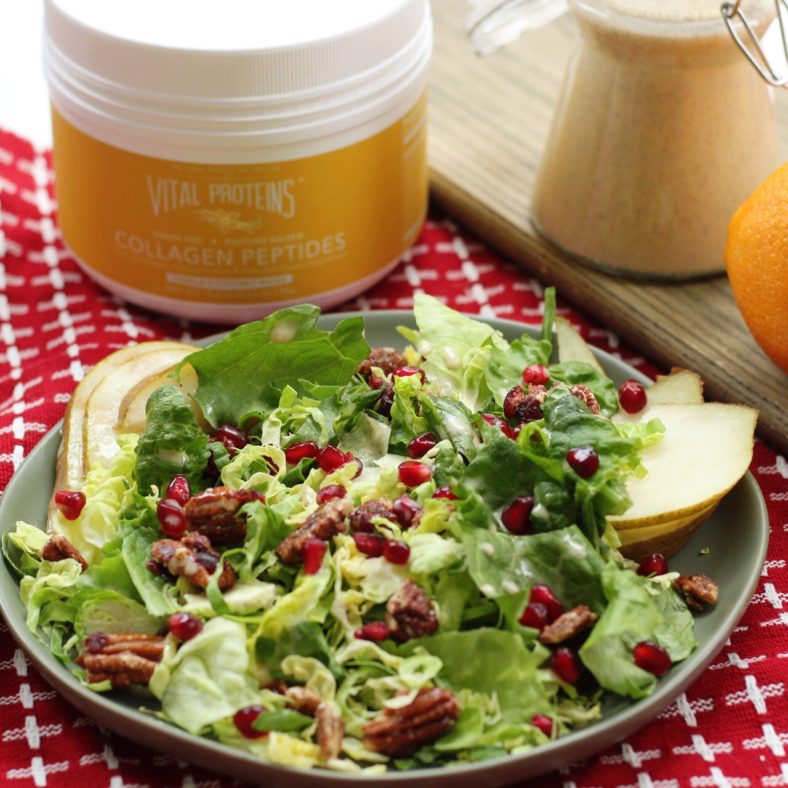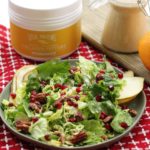 Ingredients
1 and 1/2 cup avocado oil (or sub for olive oil)
Juice of 2 large oranges or 3 medium oranges
Juice of 1 lemon
1 tablespoon apple cider vinegar
1 tablespoon honey (omit for Whole30)
1/8 teaspoon pepper
1/8 teaspoon salt
Instructions
Add all ingredients into a blender
Blend for 1 minute, or until combined
Pour into an airtight container
Store in the refrigerator for up to one week