This easy Paleo cheesecake is a fun recipe to make for any special occasion or just for dessert! With colorful dairy free cheesecake layers and a simple no bake crust, you'll feel like you're indulging when you're eating totally healthy!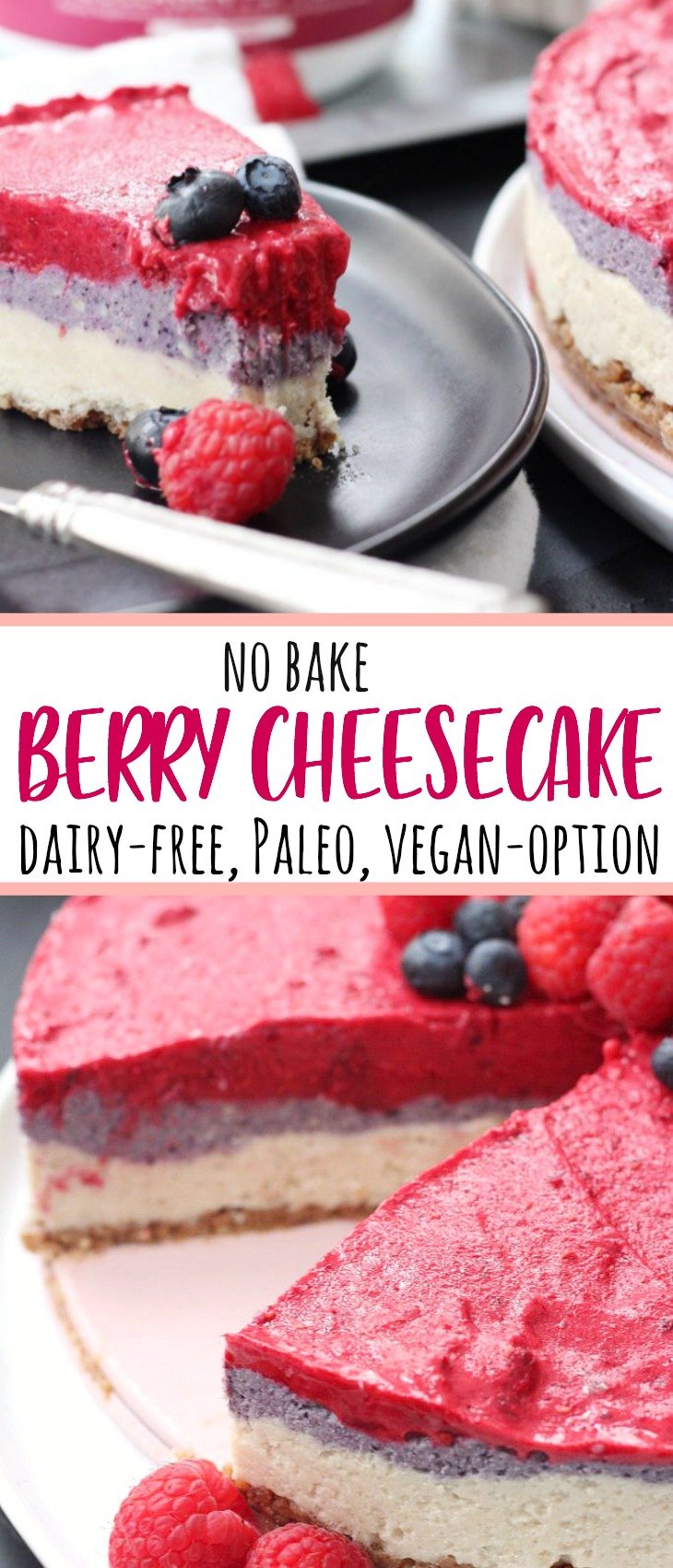 This post is sponsored by Vital Proteins. I'm happy to work with a company I love, use and believe in so much! Thanks for your support here on the blog and your support for Vital Proteins!
Making this berry cheesecake only required a blender and a freezer. Pretty standard stuff if you ask me. What you get out of it is an insanely tasty treat that is perfect for Valentine's.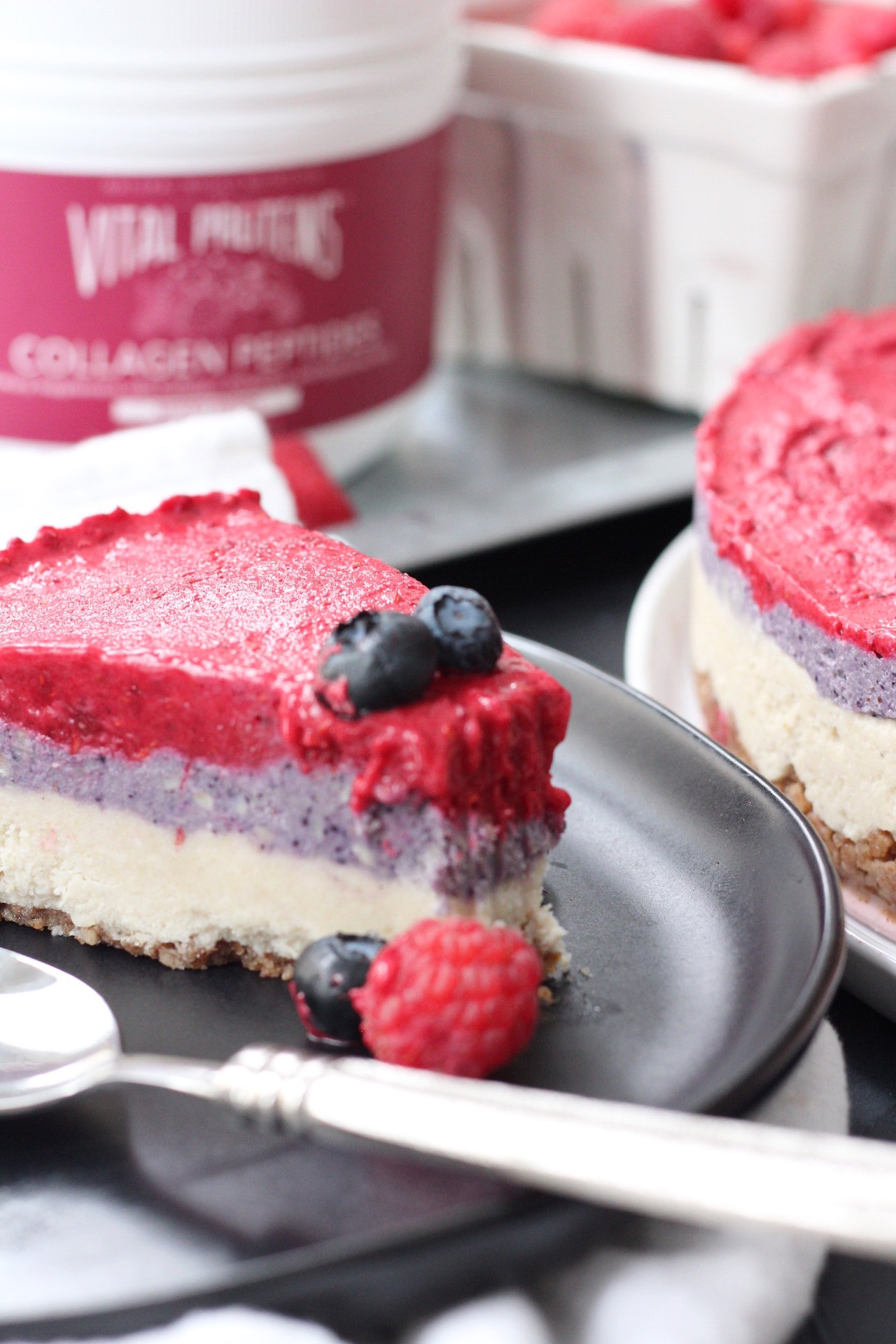 The ways that I use Vital Proteins Mixed Berry are in desserts like this layered Paleo berry cheesecake, in my coffee, in smoothies, in homemade jelly and jam and in baked goods. The options are endless, and once you see the benefits from collagen you won't go back to a life before it.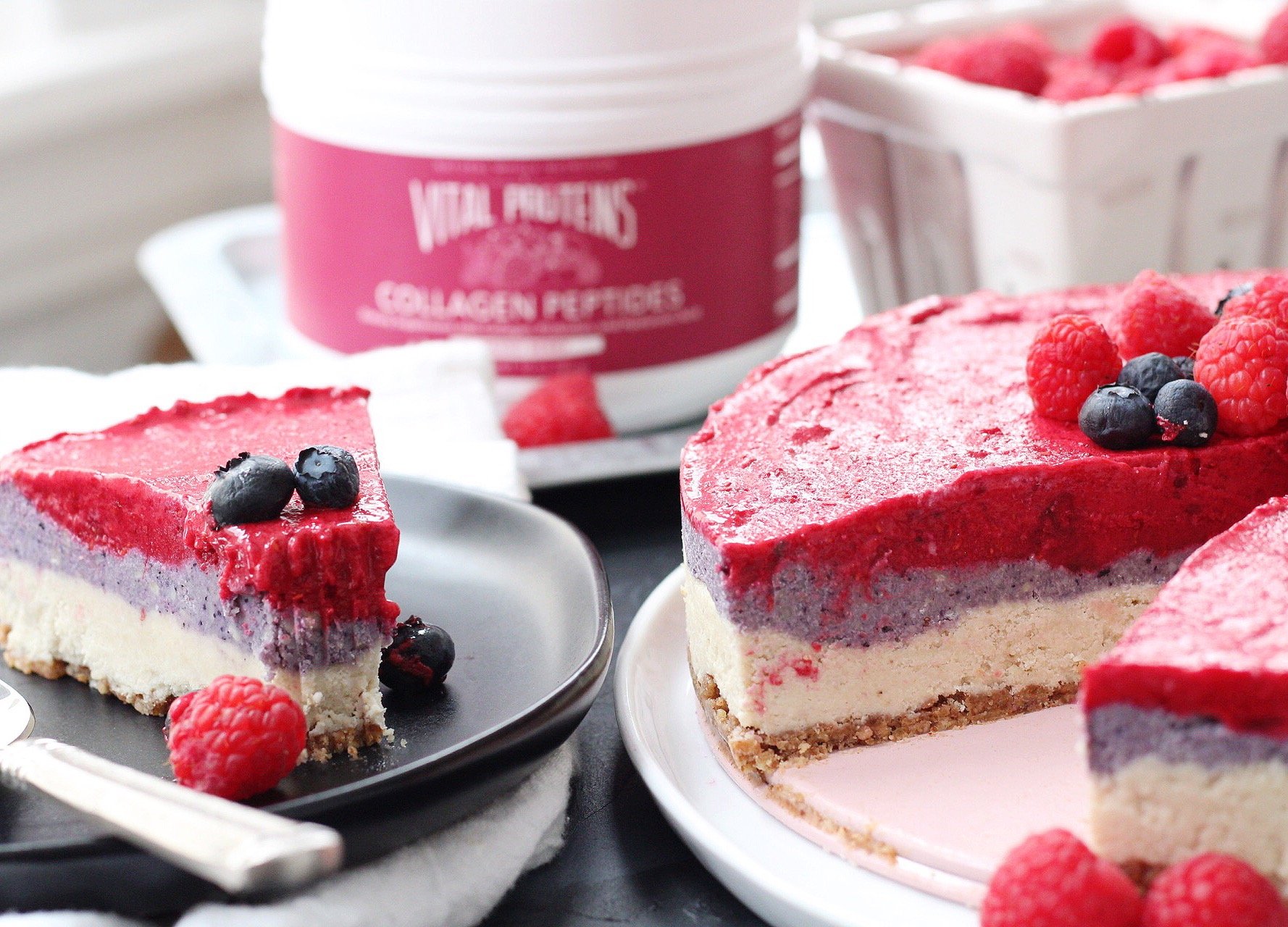 I love this Paleo berry cheesecake with the berry types I used, but I know it would be delicious with other kinds such as strawberries. Get creative if you want and mix things up!
Print
Layered Berry Cheesecake: No Baking, Dairy-Free & Paleo!
You can use a high powered blender instead of a food processor. Store in freezer for up to two weeks.
Prep Time: 30 minutes
Total Time: 30 minutes
Yield: Serves 8
Category: Dessert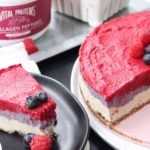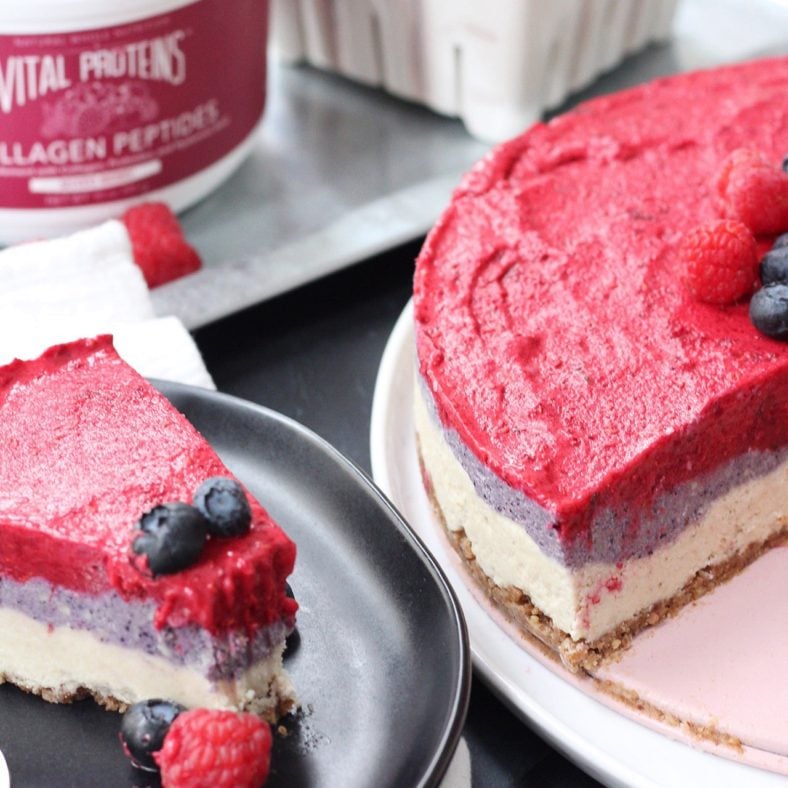 Ingredients
For the Crust:
1/2 cup almond flour
3/4 cup raw pecans
3 Medjool dates, pitted
2 tablespoons coconut oil (unmelted)
1 teaspoon cinnamon
For the Plain Cheesecake (first layer):
2 cups raw cashews (you will need 3 cups total), soaked in water for at least 3 hours, up to overnight
1/2 cup coconut milk
1/4 cup coconut oil
1/2 cup maple syrup
1 tablespoon vanilla extract
Squeeze of 1/2 lemon
For the Blueberry Cheesecake Layer (second layer):
1 cup raw cashews (soaked in water for 3 hours up to overnight)
1 cup frozen blueberries
1/4 cup coconut milk
1/8 cup maple syrup
1/8 cup coconut oil
1 tablespoon lemon juice
1/2 tablespoon vanilla extract
For the Raspberry Layer (top layer):
2 cups frozen raspberries
1/8 cup maple syrup
1 tablespoon lemon juice
Instructions
Grease an 8 inch pie pan, springform pan or cake pan with coconut or avocado oil
Add all ingredients for the crust to a food processor and pulse until it becomes dough-like, but not over processed
Place the crust into the pan and press down evenly to cover entire bottom of the pan, set aside
In the food processor, add all the plain cheesecake ingredients (first layer) and blend until creamy, about 2 minutes
Add a few tablespoons more coconut milk if not using a food processor that blends smoothly
Pour cheesecake mixture on top of the crust layer and smooth out to cover entire crust
In the same food processor, add the ingredients for the blueberry cheesecake (second layer)
Blend until smooth and creamy again and spread evenly over the plain cheesecake layer
Rinse food processor and add all remaining ingredients for the raspberry layer (top layer) to the food processor
Blend until smooth and pour onto berry cheesecake layer in the pan
Spread to evenly cover
Add any additional berry toppings and place in the freezer
Freeze until solid, about 4 hours
Serve and enjoy!
Notes
You can use a high powered blender instead of a food processor. Store in freezer for up to two weeks.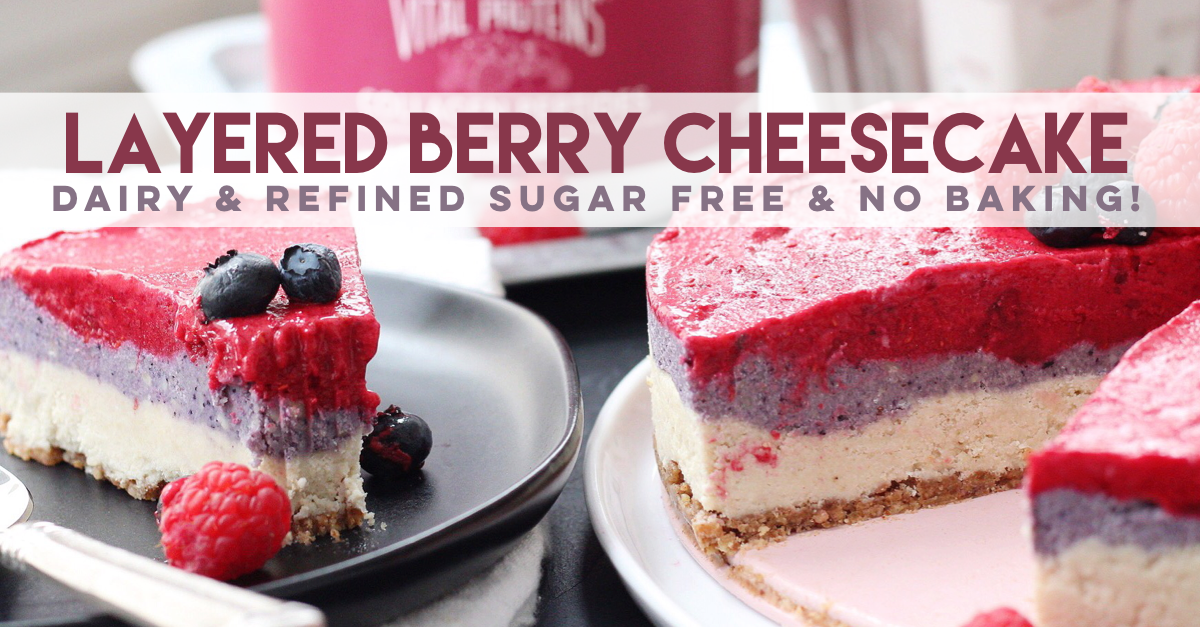 This post may contain some links that are affiliate links, though products are ones I use personally and recommend. When you purchase anything using my links, it costs you absolutely nothing extra, but it does give wholekitchensink.com a little financial support which helps to keep this blog running. Thank you for your continued support, both with your dollars and your interest.