Nothing says, "I love you" like creamy chicken gnocchi soup, right? Right. Especially when you're making this healthier, veggie packed version for your significant other. This chicken gnocchi soup is comparable to Olive Garden's menu offering, but without the ingredients that are going to cause you to feel less than your best the day after. Made in less than 30 minutes, staying home with your S/O just makes sense!

This post is sponsored by Vital Proteins. I'm happy to work with a company I love, use and believe in so much! Thanks for your support here on the blog and your support for Vital Proteins!
When you're planning your Valentine's menu and writing your grocery list, make it easier on yourself by picking up a few pre-made ingredients for this chicken gnocchi soup. More time enjoying your night > time in the kitchen. Grab a rotisserie chicken and Paleo potato gnocchi from the freezer section and this soup comes together in no time. It's a super quick and easy addition to your main course!
This chicken gnocchi soup gets it's thick and creamy texture from beef gelatin. It makes a HUGE difference when you're thickening the liquid you'll add in. Seriously. I'm convinced that it's the gelatin that makes this soup recipe restaurant quality. Fun fact: many restaurant chefs swear by using beef gelatin as their secret to perfect pan sauces and glazes, thick soups, and the juicy texture in meatballs.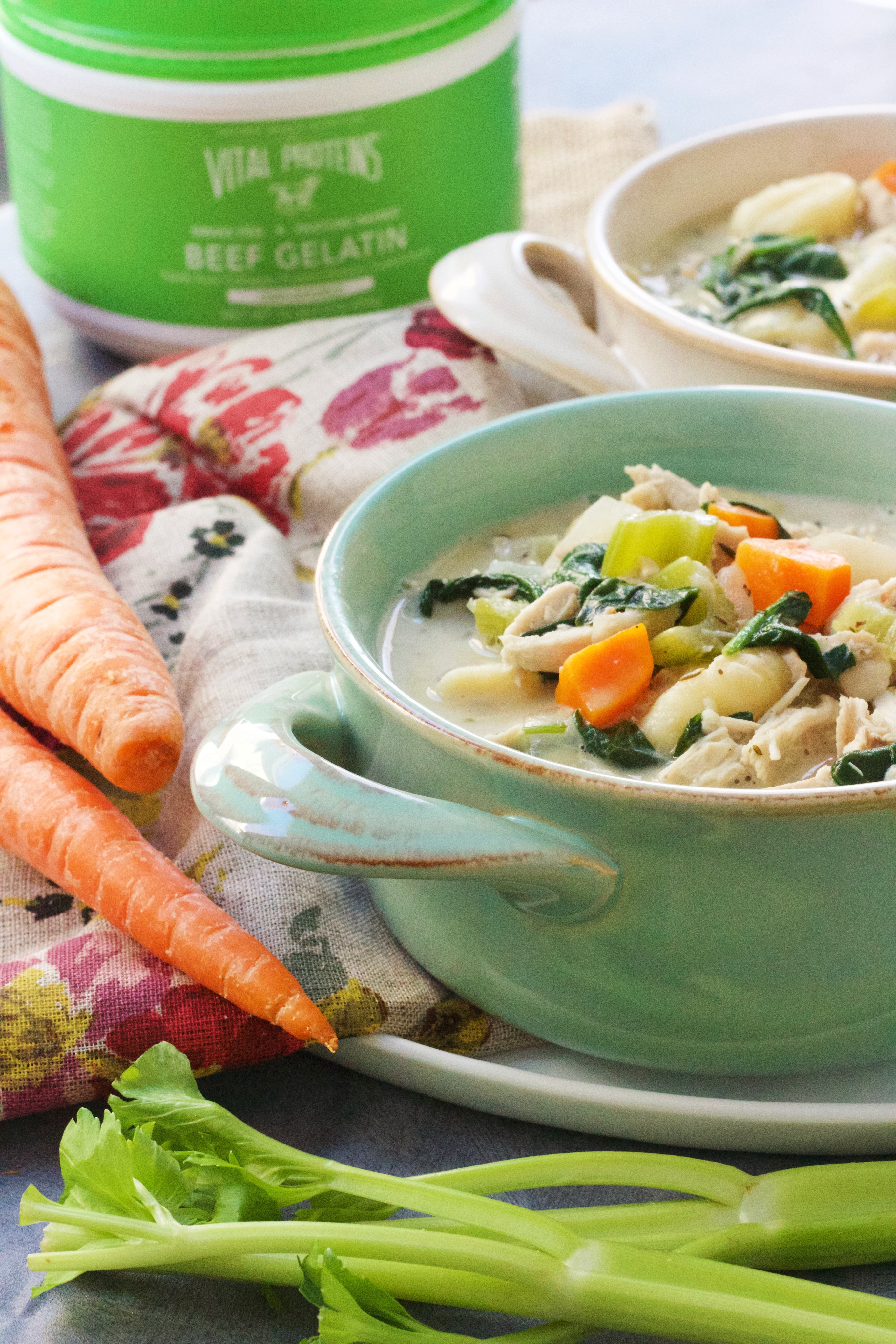 I used to totally be an arrowroot flour and tapioca starch kinda girl when I needed a thickener. Mostly because I didn't quite understand what gelatin was used for besides, well, jello. I've now completely converted and I'm telling you, gelatin is way easier to work with than the cornstarch replacements. It doesn't make your sauce or soup clumpy, and it freezes really well. Using gelatin in this chicken gnocchi soup makes it thick and creamy without the clumps like you sometimes get from arrowroot flour.
Beyond the functionality of it, beef gelatin from Vital Proteins has way more health benefits than just being a starch. Beef gelatin is a form of collagen, but the main difference is that it gels as it cools. It has all the same benefits of collagen peptides (hair growth, healthy skin, better muscle recovery and increased joint mobility), 19 grams of protein per serving, and it's one of the most easily digestible sources of protein. It's flavorless, which made it a really easy addition to my routine.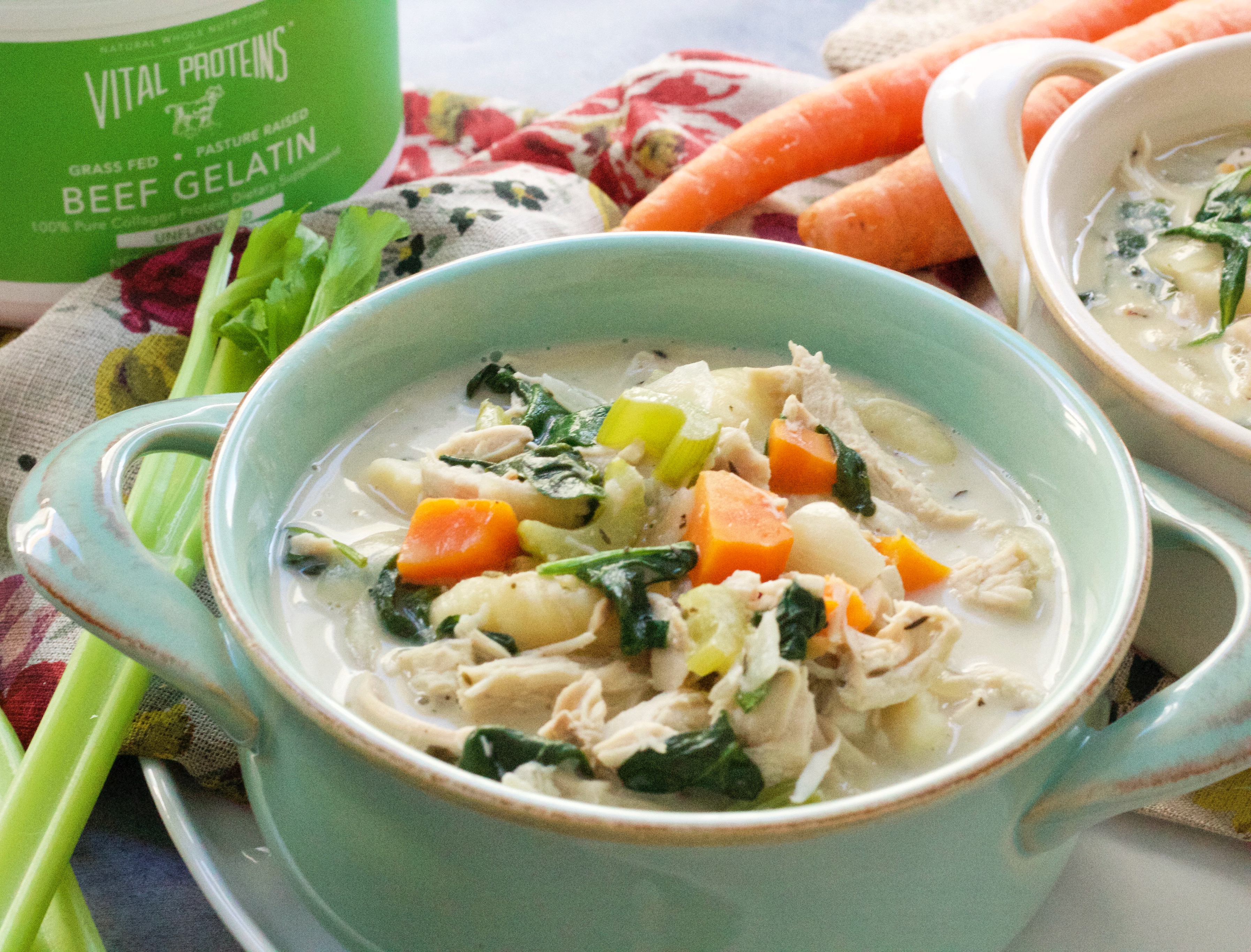 Some helpful tips I've learned for cooking with Vital Proteins Beef Gelatin:
One and a half teaspoons of beef gelatin per cup of liquid is all you need for a smooth, emulsified pan sauce.
If a recipe says "bloom" gelatin, that means mix it in a small amount of liquid, usually water or broth. This is generally always done prior to being added to a recipe because it activates the gelling properites.
High acidity foods (fruits like pineapple) contain enzymes that destroy protein, which causes the gelatin not to gel properly (because it's a protein!). If you're using to make jello, desserts or gummies, just boil the fruit for 5 minutes first, as that inactivates those enzymes in fruit/fruit juices.
Cool temperatures will make the gelatin stronger, so your gravy will thicken when removed from heat and the temperature starts to drop from boiling point. If you're worried it's not thickening while it's over the stove, you don't have to add more gelatin!
If your recipe sits out for a while, or you refrigerate leftovers or meal prepped meals, you can simply reheat to liquify again!
Get my favorite beef gelatin HERE!
Other ways to use gelatin that you'll love:
Pork Tenderloin with Rosemary Mushroom Gravy
Classic Pot Roast and Veggies One Pan Meal
Print
Chicken Gnocchi Soup
Prep Time: 15 minutes
Cook Time: 25 minutes
Total Time: 40 minutes
Yield: Serves 6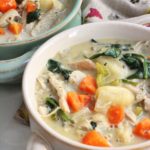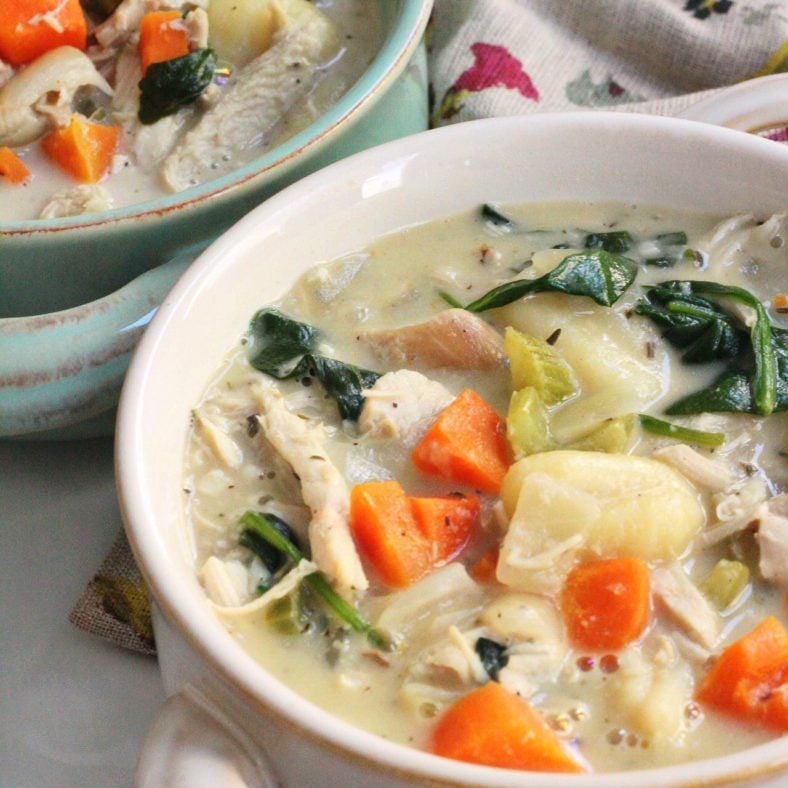 Ingredients
1 and 1/2 pounds chicken, cooked and shredded (I used a rotisserie chicken)
2 cups chicken broth
2 cups almond milk or dairy free creamer
14 ounces potato gnocchi (freezer section of most grocery stores)
2 cups loosely packed spinach
1 cup diced white onions
1 cup peeled and diced carrots
1 cup diced celery
2 tablespoons olive oil
2 tablespoons ghee
1 tablespoon minced garlic
2 teaspoons Vital Proteins Beef Gelatin
1 teaspoon rosemary
1 teaspoon thyme
1 teaspoon pepper
1/2 teaspoon nutmeg
1/2 teaspoon salt
1 tablespoon minced garlic
Instructions
In a large stock pot, heat oil and add onions, carrots and celery
Saute for 3 minutes
Add broth and spices
Bring to a simmer
Add chicken, dairy-free milk and ghee
Let simmer for 10 minutes
Add in gnocchi and simmer an additional 5 minutes
Stir in beef gelatin
Stir in spinach and let wilt
Remove from heat and enjoy!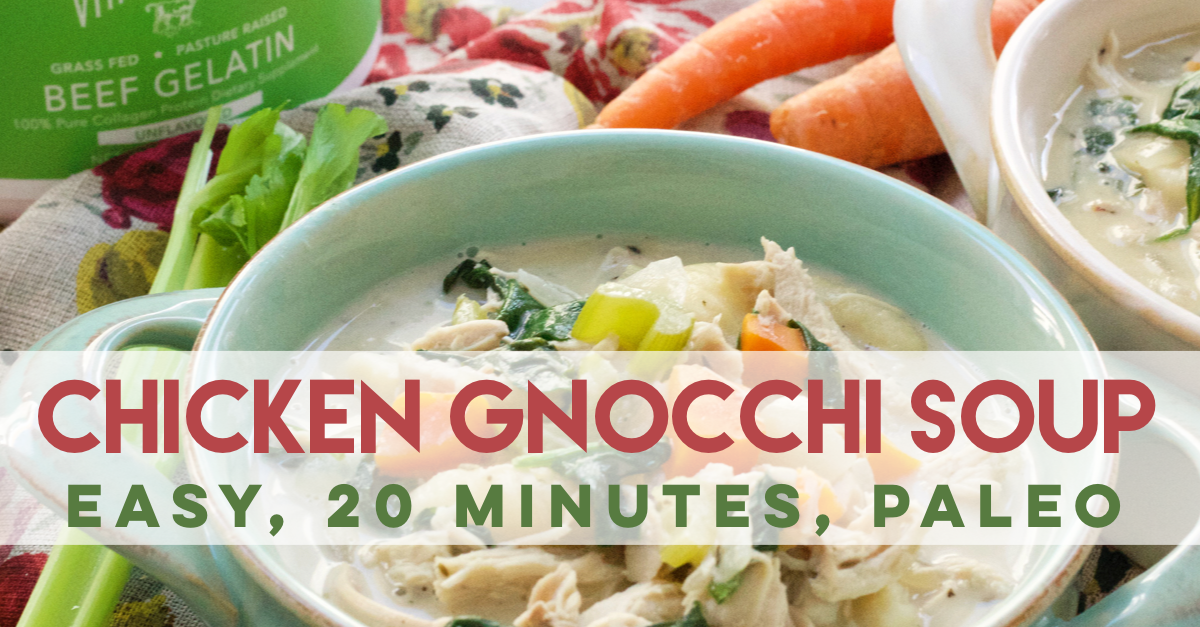 This post may contain some links that are affiliate links, though products are ones I use personally and recommend. When you purchase anything using my links, it costs you absolutely nothing extra, but it does give wholekitchensink.com a little financial support which helps to keep this blog running. Thank you for your continued support, both with your dollars and your interest.