I KNOW you like pot roast. Seriously, who doesn't? Is it just me or did everyone's mom or grandma make pot roast like once a week when you were younger? Mine sure did. And hey, I'm not complaining. I often make it in the slow cooker but I really love how it comes out when you cook it in the good ol' oven, too. This pot roast and veggies is the perfect lazy Sunday dinner (all in one pan!) or it's great for meal prepping and having lunches throughout the week.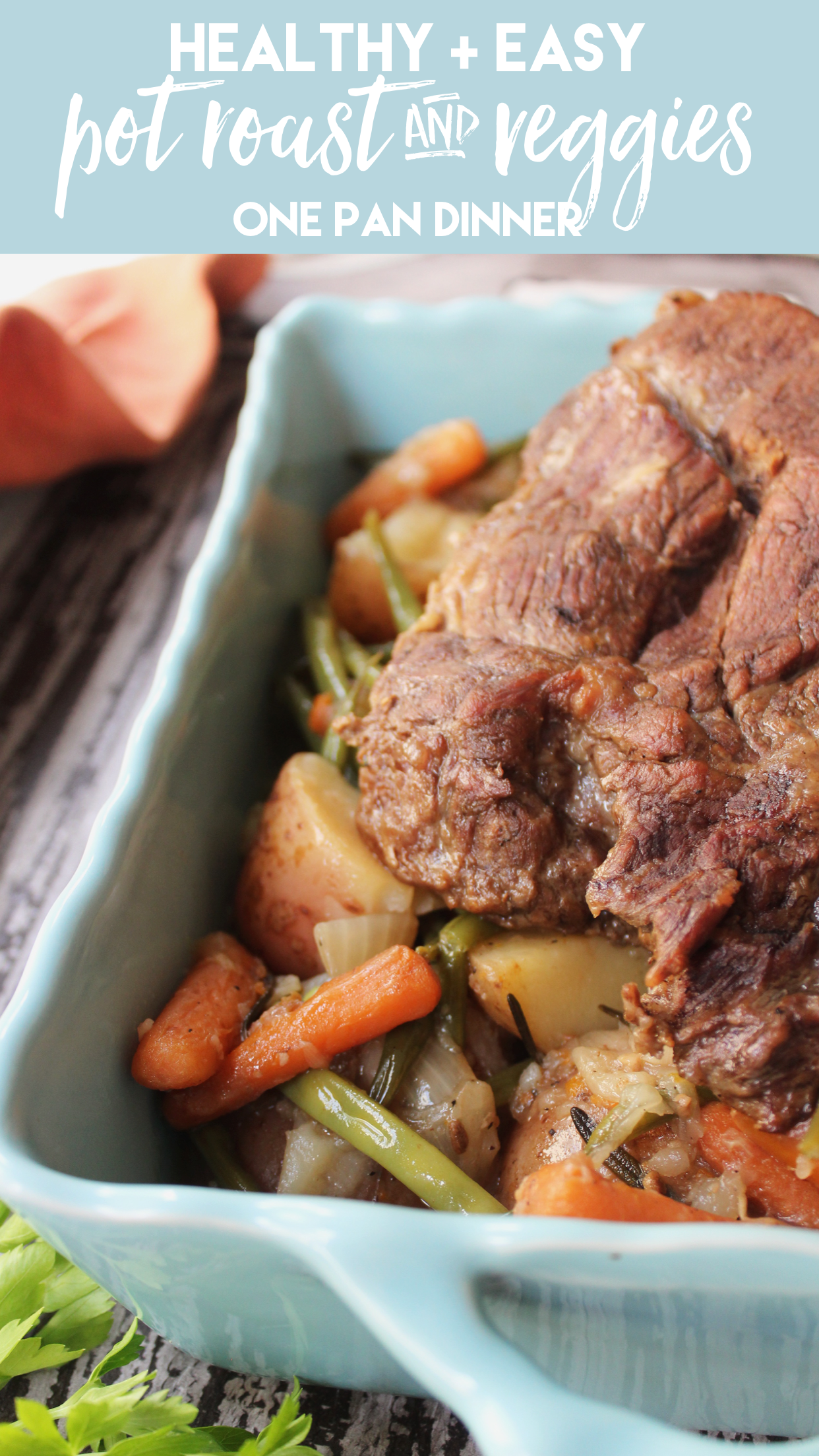 This pot roast is stupid simple to make. The majority of the flavor comes right from the roast, cooking fat and simple spices you'll already have in your cupboard. I used a dutch oven to make this meal from start to finish. It's the perfect choice for both searing the meat first on the stovetop and then placing it in the oven to let cook and lock in the flavor.
You'll start by heating the dutch oven over medium-high heat and letting the cooking fat and ghee get hot. Then you'll just quickly sear both sides of the chuck roast, about 2 minutes on each side for a 2-3 pound roast. Add a minute per pound for anything larger.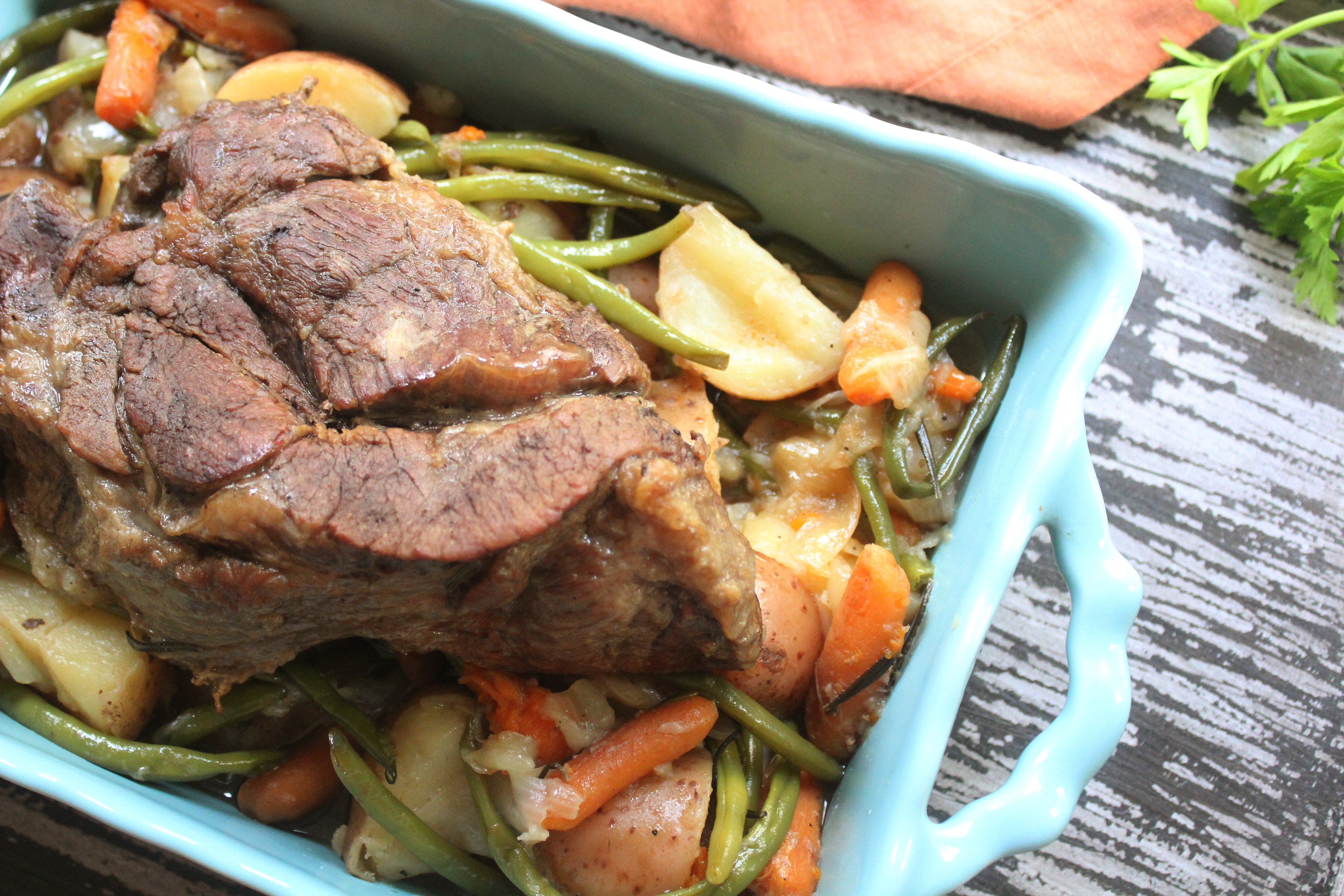 The veggies you'll want to use for this are going to be of the hearty variety. Veggies that don't take as long to cook will be added closer to the end. So keep that in mind if you change up the recipe and use different vegetables that you have on hand.
At the very end, you can make a gravy with the juices that are left in the bottom of the dutch oven. There's a few methods to doing this. Any healthy flour that's a typical replacement for corn starch will work. A tablespoon of tapioca starch or arrowroot flour are both good options (can be purchased cheaper from Thrive Market)! My favorite way to make gravy is using beef gelatin. It's the best way to make awesome sauces, in my opinion. I never knew this stuff worked better than flours until I tried it and now I'm hooked. I also recently learned that's how restaurants make their gravy and sauces so smooth and thick! The more ya know right?
Alright, back to the veggies. I used onion, carrots, potatoes and green beans but feel free to change it up if you want to. Other seasonal root veggies would be delicious too! Like I previously mentioned, if you're doing softer and smaller veggies (like the green beans), you'll want to add those halfway through the baking process. Otherwise you'll pull it out of the oven and find a big pot of mush. Delicious mush… but mush.
Don't let that scare you though. It's really hard to mess up a pot roast! Enjoy!!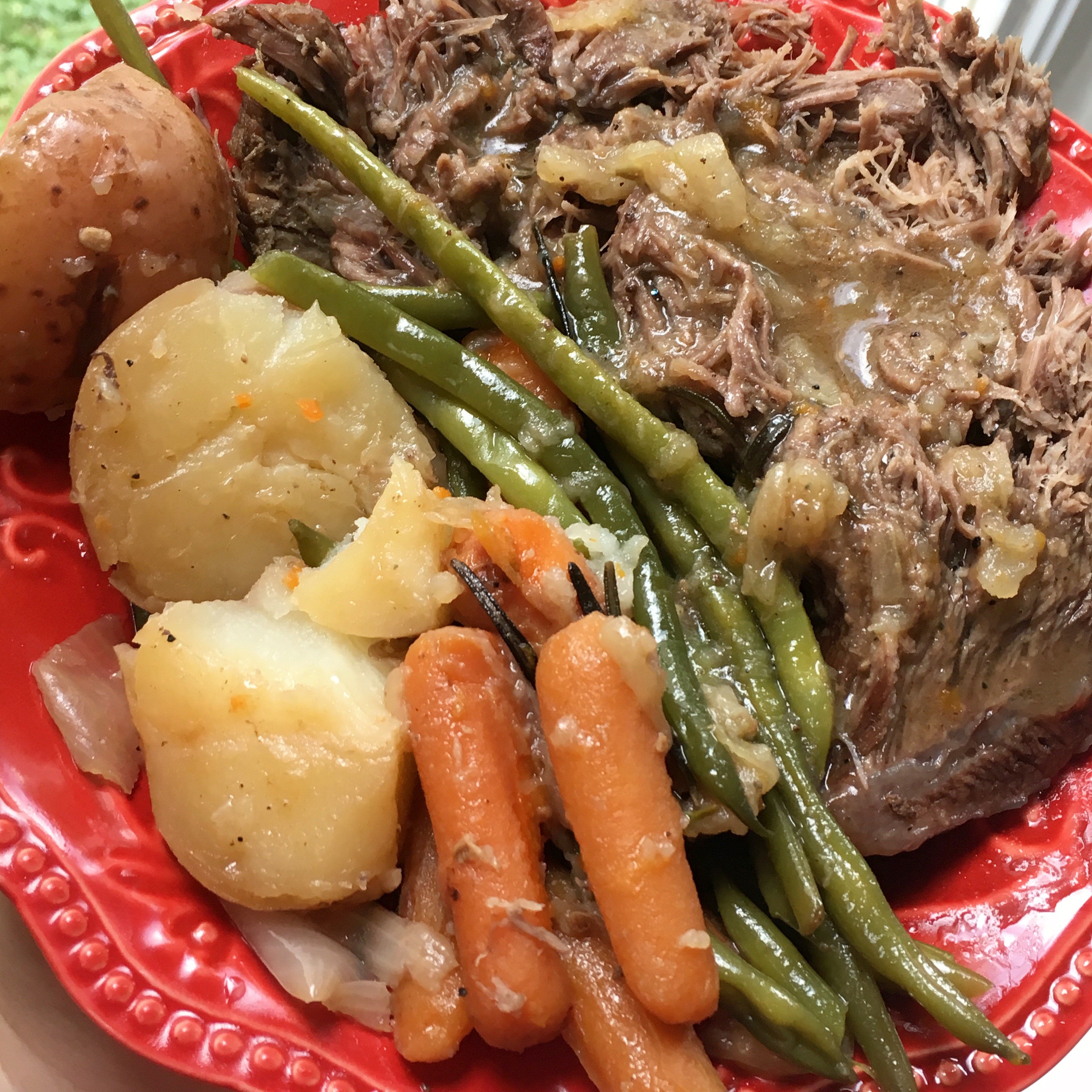 Print
Pot Roast and Veggies: A Classic One Pan Dish
Prep Time: 15 minutes
Cook Time: 1 hour 30 minutes
Total Time: 1 hour 45 minutes
Yield: Serves 4-6 1x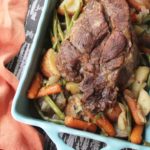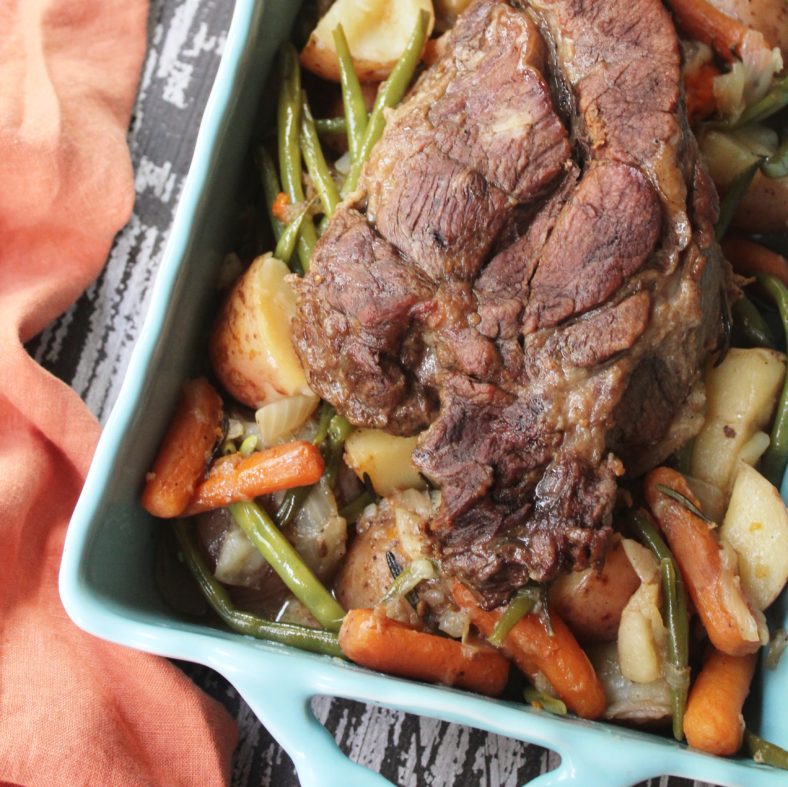 Ingredients
2–3 pound chuck roast
1 and 1/2 pound potatoes, diced in quarters (I used baby reds)
1/2 pound baby carrots (1/2 bag of a 16oz package, but whole carrots diced up work too)
2 cups French green beans, ends trimmed
1 onion, thickly diced
2 tablespoons cooking fat (I used beef tallow
2 tablespoons ghee
3 cups beef stock, divided
2 tablespoons minced garlic
4 teaspoons beef gelatin (or cornstarch substitute)
1 teaspoon salt
1/2 teaspoon pepper
2 sprigs rosemary or 1 teaspoon dried rosemary
Instructions
Preheat oven to 350 degrees F.
In a large dutch oven, melt cooking fat and ghee over medium-high heat
Once hot, sear chuck roast 1-2 minutes on each side
Remove and set aside
Add garlic and onion to the dutch oven and quickly sauté until garlic becomes fragrant
Turn stovetop off and add salt, pepper, potatoes and carrots to the dutch oven
Stir to mix in together with the onion and garlic
Place the seared chuck roast on top of the veggies and cover with lid
Place in the oven and cook for 40 minutes
When time is up, remove lid, flip the chuck roast and add in 1 cup beef broth
Place the green beans on top of the other veggies around the chuck roast
Put the dutch oven back into the oven and let cook for another 30-40 minutes, or until no longer pink to your preference
*Cook times may vary depending on the size of your roast
Remove from oven and remove the veggies and chuck roast, leaving the juices
For the Gravy:
Turn the stovetop on to medium heat
In a dish, whisk the remaining 2 cups broth with gelatin (or sub for arrowroot/tapioca flour)
Pour into the dutch oven and combine with the leftover juices
Whisk together until gravy is smooth
Remove from heat, gravy will continue to thicken
Serve and enjoy!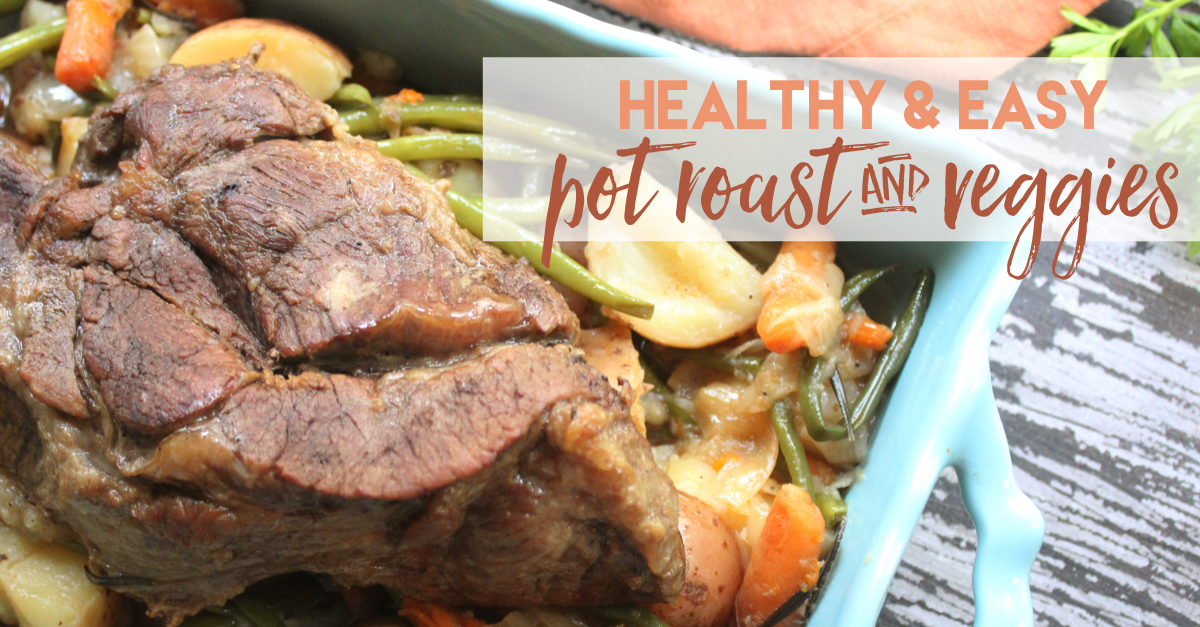 This post may contain some links that are affiliate links, though products are ones I use personally and recommend. When you purchase anything using my links, it costs you absolutely nothing extra, but it does give Paleobailey.com a little financial support which helps to keep this blog running. Thank you for your continued support, both with your dollars and your interest.