I don't say this is the best ever meatball recipe lightly. Not only are these meatballs healthy (it's a Whole30 and Paleo meatball recipe!), they're also easy and done cooking in 30 minutes. And look, I know you think your grandma makes the best meatballs, or that one restaurant you can never remember the name of does. But I would be willing to duke it out in the ultimate Meatball Battle Royale with your Nana. That's how sure I am on this one.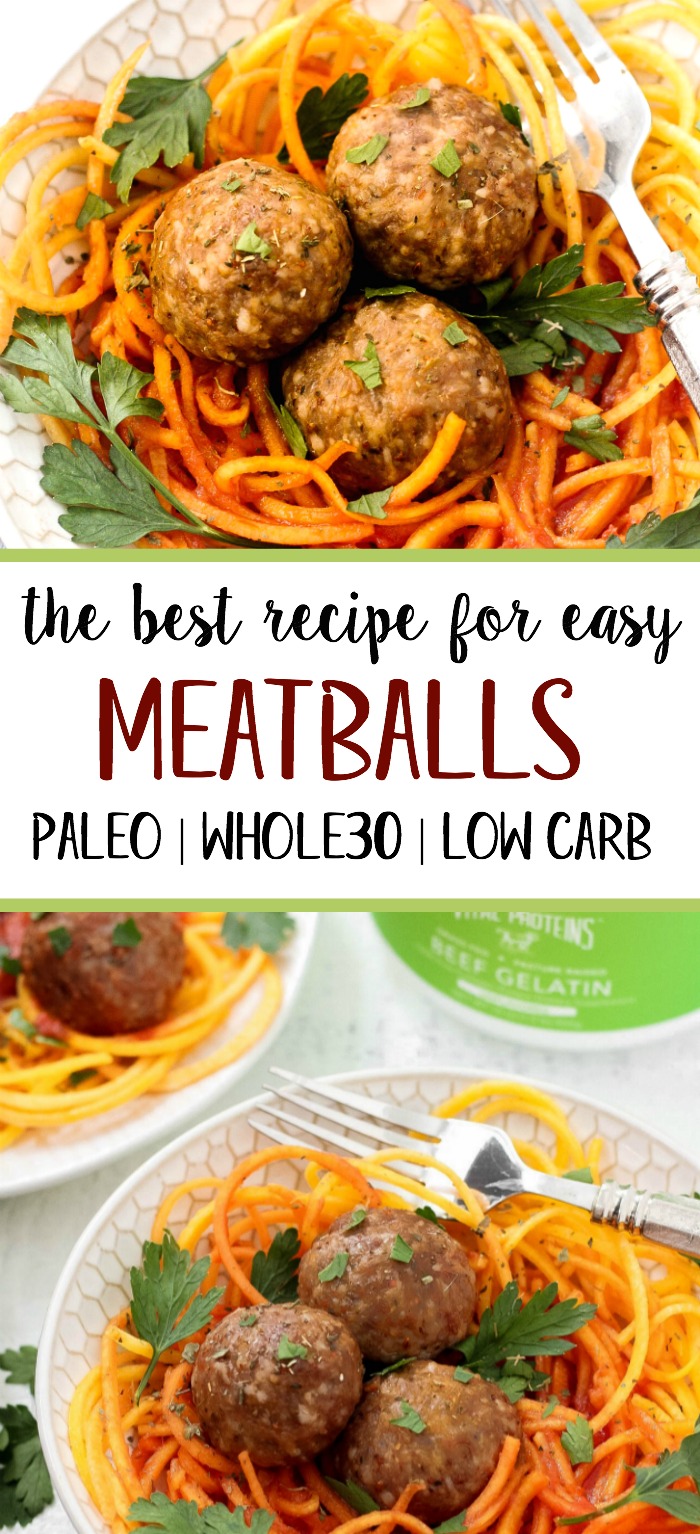 This post is sponsored by Vital Proteins. I'm excited to partner with a company I love, use every single day and believe in so much! Thanks for your support here on the blog and your support for Vital Proteins!
I've had someone ask, while they were chowing down on this recipe, why I picked up dinner from a restaurant instead of making it myself. This Whole30 and Paleo meatball recipe does rival that of a fancy dinner, but that's because I use the same ingredient many restaurant chefs use too.
You've probably seen me talk about this on my Instagram before, or in a blog post around here a time or two. If you guessed beef gelatin, you would be right! I have said, "gelatin is the unsung hero of the culinary world" more times than anyone ever should since I started using Vital Proteins gelatin in more than.. well, jello. But it's true!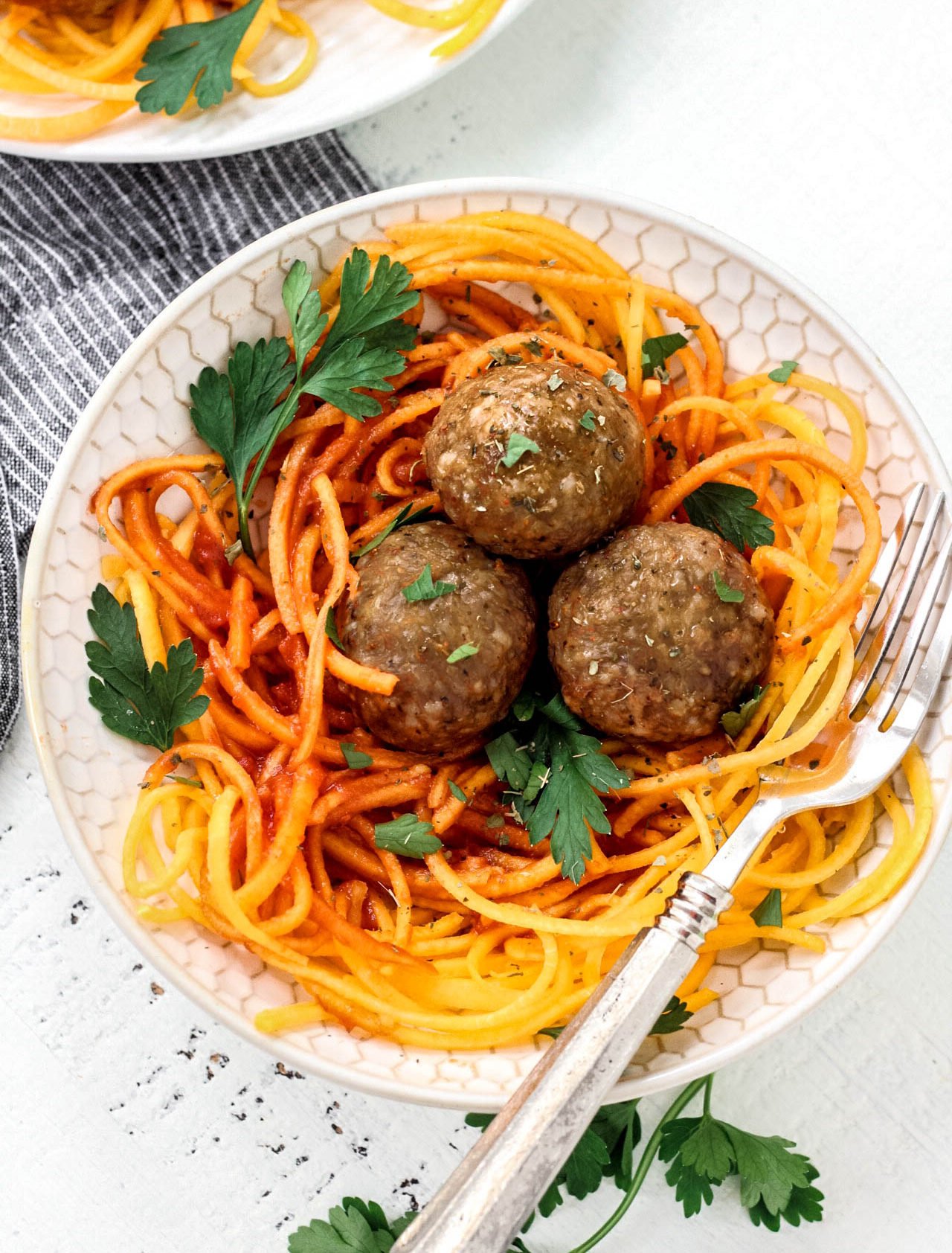 Beef gelatin the secret to the glossy, smooth glaze, to the perfect consistency of pan sauces and it's the bouncy, juicy texture of a really good meatball we all know and love. Of course that goes for this Paleo meatball recipe too! The best part of all that may be that it's actually insanely good for you!
Before you check out at the mention of gelatin in meatballs and think I'm a total weirdo, gelatin is the reason the oldest or most well known meatball recipes are made with veal! Veal was (and is for some people!) the meat of choice for delicious meatballs. Why? Because veal's texture resembles that of gelatin and, when in things like this Paleo meatball recipe, makes them juicy, smooth, and soft enough to easily run a butterknife right through it.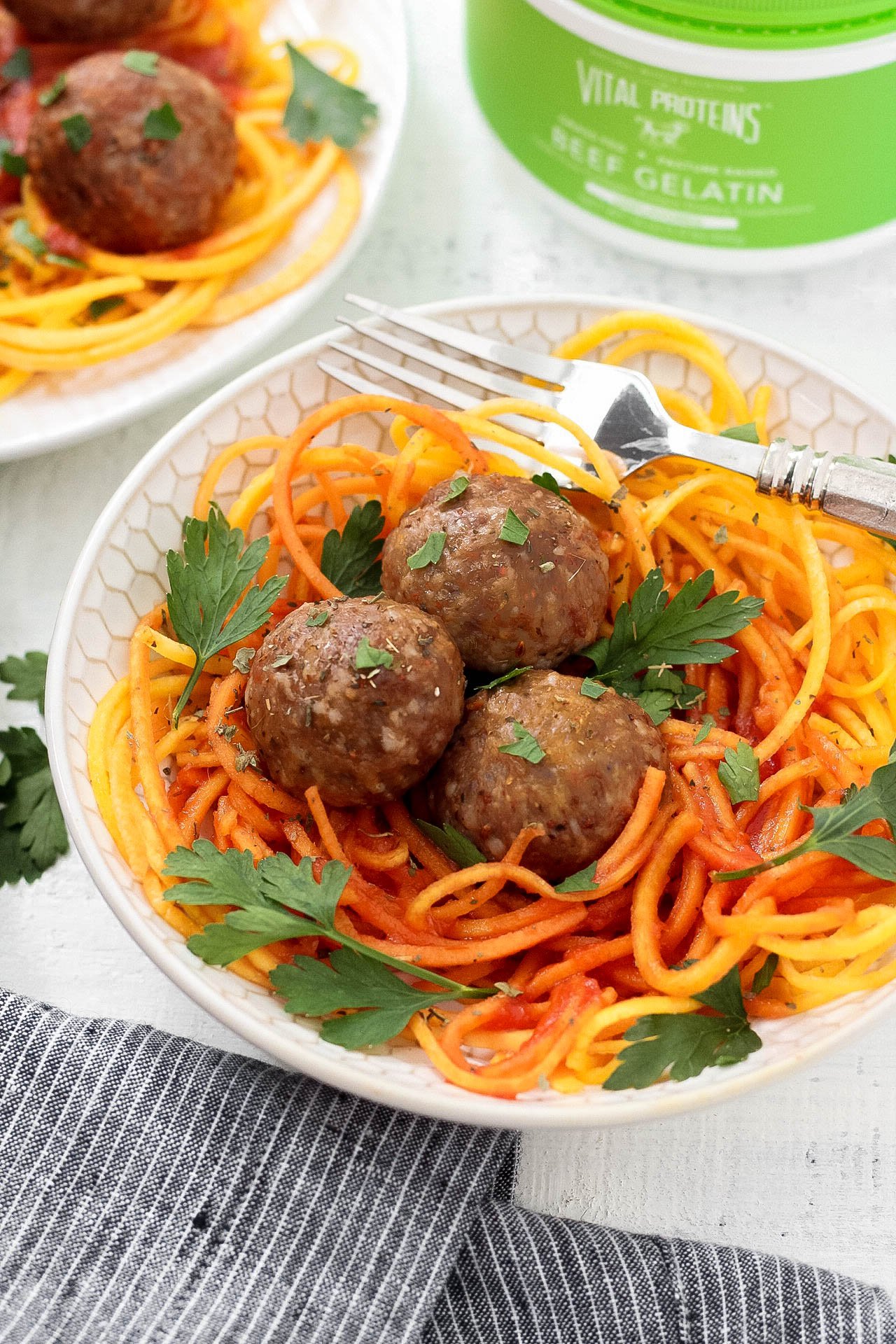 Aside from beef gelatin being as a staple in my cooking these days, it's also something I appreciate SO MUCH for it's wide range of nutritional benefits. Gelatin has been around since people first started stewing meat to make bone broth. (Which, heads up, you'll need for this Paleo meatball recipe! Making your own like our ancestors not required!) Thankfully our research has improved since then to show that they were onto something and now we know that gelatin super nutrient dense and is a form of collagen, the most abundant protein in our body!
Collagen is what repairs, protects or gives structure to basically every essential organ system in our body (like our muscles and bones!). Collagen production decreases as we age, making recovery harder, joint, muscle and tissue inflammation more common and long-lasting (hello, ankle, I'm talking to you), among other things.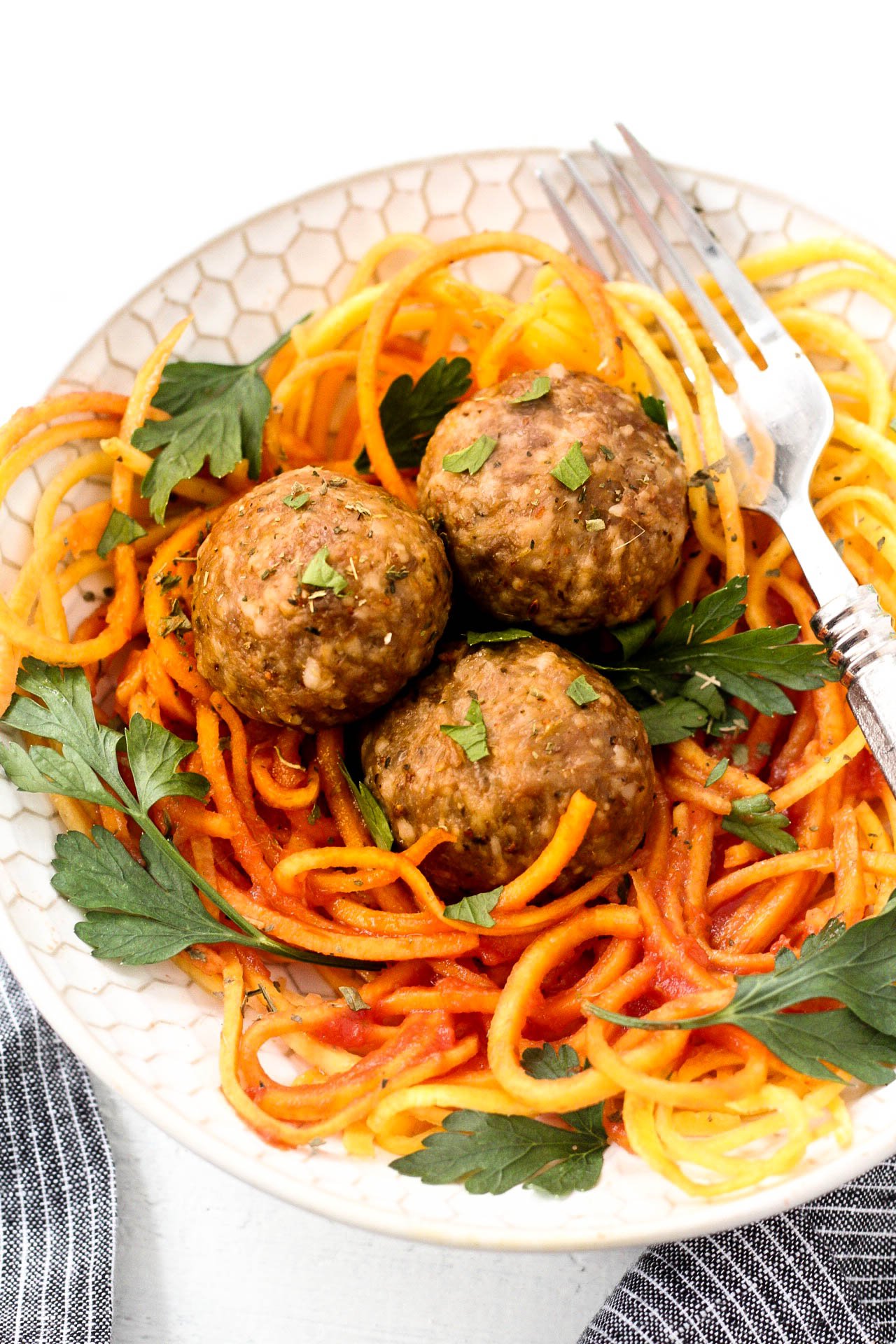 Adding Vital Protein's Gelatin in your daily diet helps to counteract those problem areas, along with hair growth, healthy skin, stronger bones, improved circulation.. I could talk all day about the benefits and history of gelatin.. really, I could. If you have questions on how to use gelatin more often, I'd love to hear them!
So, I'll just wrap it up by saying gelatin has all of the benefits that taking collagen peptides does, but is even better at improving digestive health. It helps to coat and repair the digestive tract lining, especially helpful for those with leaky gut, IBS or other GI concerns.
Still have gelatin questions?! Check out my Guide to Vital Proteins for a more in-depth look at the benefits and ways to use beef gelatin!
Alrighty onto this Paleo meatball recipe! The recipe calls for almond meal, which is generally a bit thicken than finely ground almond flour. However, no need to stress about that minor technicality. Use what you have! And remember the gelatin in this Paleo meatball recipe isn't just for the fun of it. It really does give them a more tender texture by helping the ground meat retain more moisture.
My Top Tips For Making Paleo or Whole30 Meatball Recipes:
Don't overmix! Overmixing your meatball ingredients causes the meat to get tough
Use gelatin to get that bouncy, smooth flavor and texture
You can always add a bit more liquid if you added too much almond meal or it's too thick – conversely, you can always add a bit more almond meal if the mixture is too thin
If you find a Paleo meatball recipe that doesn't hold it's shape (often due to the lack of breadcrumbs in our recipes), chill formed meatballs for 15-20 minutes prior to baking to let the fat in the meat solidify and the gelatin to bind with the meat
You can use the gelatin trick with ground turkey or ground chicken as well, but because they're really lean meats, I'd opt for a fattier percentage, or do one pound beef and one pound turkey! The gelatin will still help keep them juicy, but those proteins already have an extremely low moisture content to begin with.
GET MY FAVORITE GELATIN FROM VITAL PROTEINS HERE!
Print
The Best Paleo Classic Meatball Recipe (and the Secret Ingredient You Need to be Using)
Prep Time: 10 minutes
Cook Time: 30 minutes
Total Time: 40 hours
Yield: 4-6 1x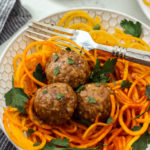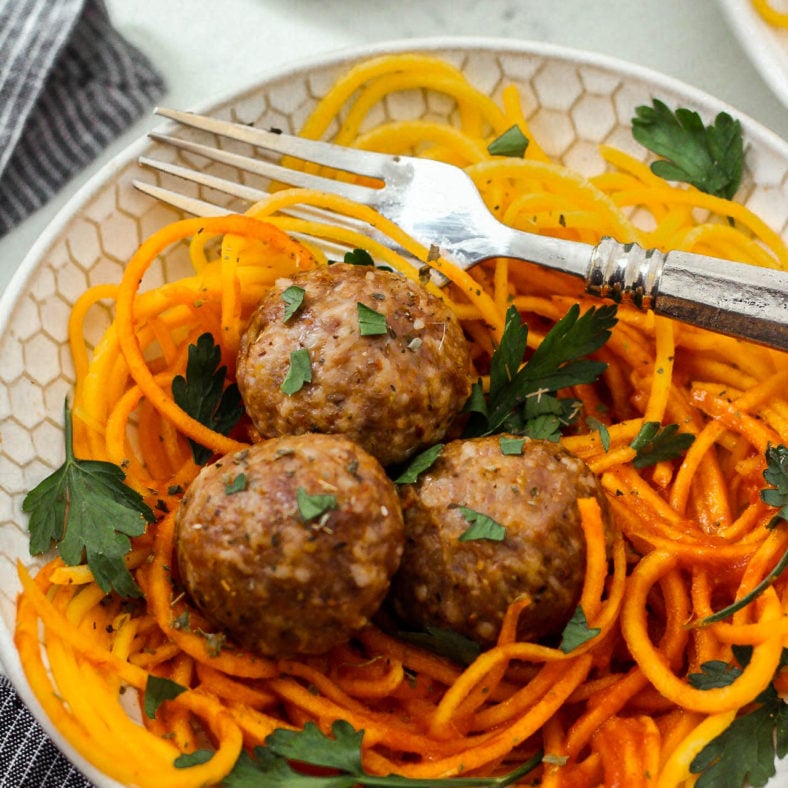 Ingredients
1 pound ground beef
1 pound ground pork
2 eggs
1 cup almond meal (almond flour can be a substitute)
1/2 cup loosely packed fresh flat leaf parsley, finely minced
1/4 cup beef broth
2 tablespoons minced garlic
2 teaspoons salt
2 teaspoons onion powder
1 and 1/2 teaspoon Vital Proteins Gelatin
1 teaspoon dried oregano
1/2 teaspoon black pepper
Instructions
Preheat the oven to 400 degrees F.
In a large mixing bowl, add ground meats, eggs and broth. Prior to mixing, add gelatin to the bowl directly into the liquid from the egg and/or broth
Let gelatin bloom (leave it alone) for 3-5 minutes
Line a large baking sheet with tin foil and set aside
Add in all of the remaining ingredients and spices to the bowl
Stir gently with your hands just until the mixture is combined, ensuring not to over-mix
Roll into 1 and 1/2 inch meatballs (about two finger's width)
Line them on the baking sheet with a bit of room between them
Place the baking sheet in the oven and bake for 30 minutes, or until meat is thoroughly cooked (time can slightly vary from oven to oven)
Remove from oven, and enjoy!
Optional: place under the broiler for 1-2 minutes to get a crispier outer layer!
This post may contain some links that are affiliate links, though products are ones I use personally and recommend. When you purchase anything using my links, it costs you absolutely nothing extra, but it does give wholekitchensink.com a little financial support which helps to keep this blog running. Thank you for your continued support, both with your dollars and your interest.