This Paleo shrimp stir fry has all the flavors you love in stir fry but without all of the carbs and crazy additives. Made with shrimp and a ton of veggies, it's a delicious whole foods option when you're craving a good stir fry. And because it's just the way we do things around here, it's easy to make and won't take you all night in the kitchen.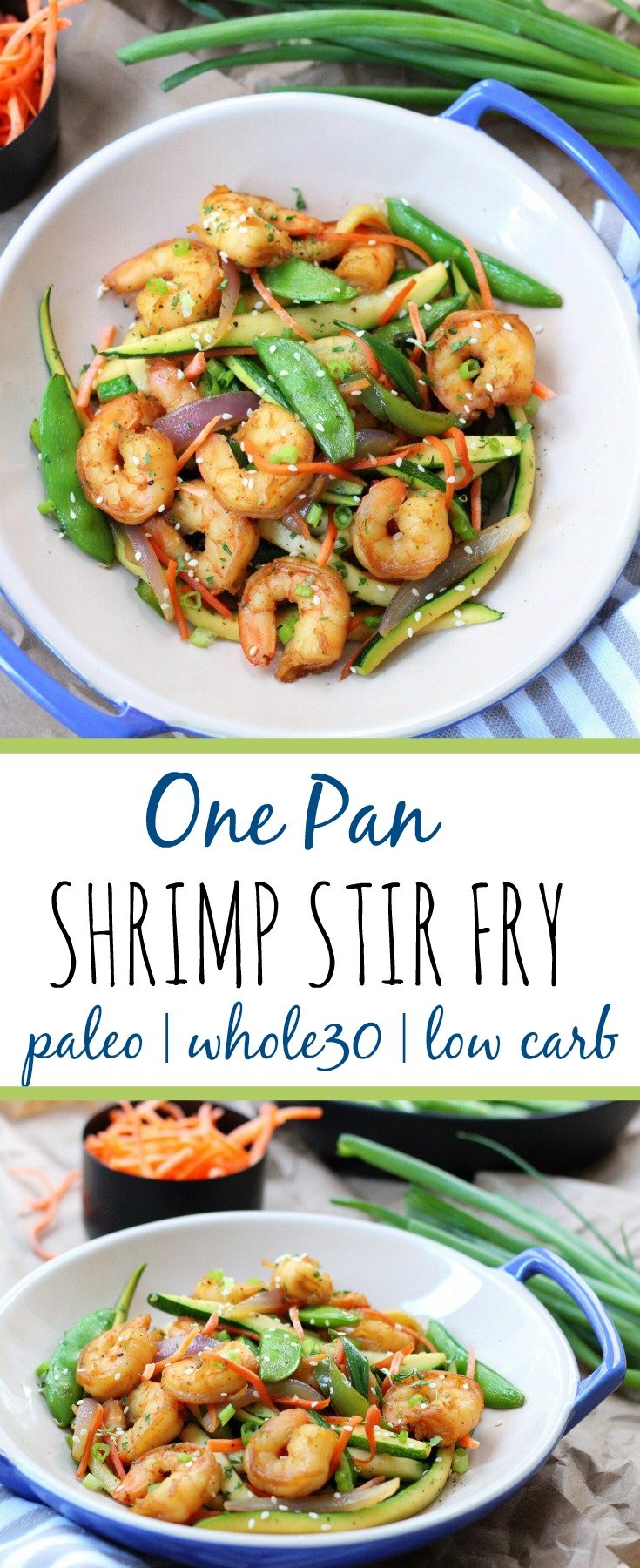 This post is sponsored by Vital Proteins. I'm happy to work with a company I love, use and believe in so much! Thanks for your support here on the blog and your support for Vital Proteins!
I seriously love everything about this Paleo shrimp stir fry. The crunch from the sugar snap peas, the flavor of the shrimp and even the consistency of the stir fry sauce make it just so good. The "noodles", AKA zoodles (zucchini + noodles) can be made by using a spiralizer, a mandoline or just a good ol' knife.
Because zucchini releases so much water when it's cooked, it's really important that you drain or squeeze the water out of the noodles prior to adding to the Paleo shrimp stir fry veggies and sauce. You can do that easily by squeezing them in a paper towel or using a nut milk bag.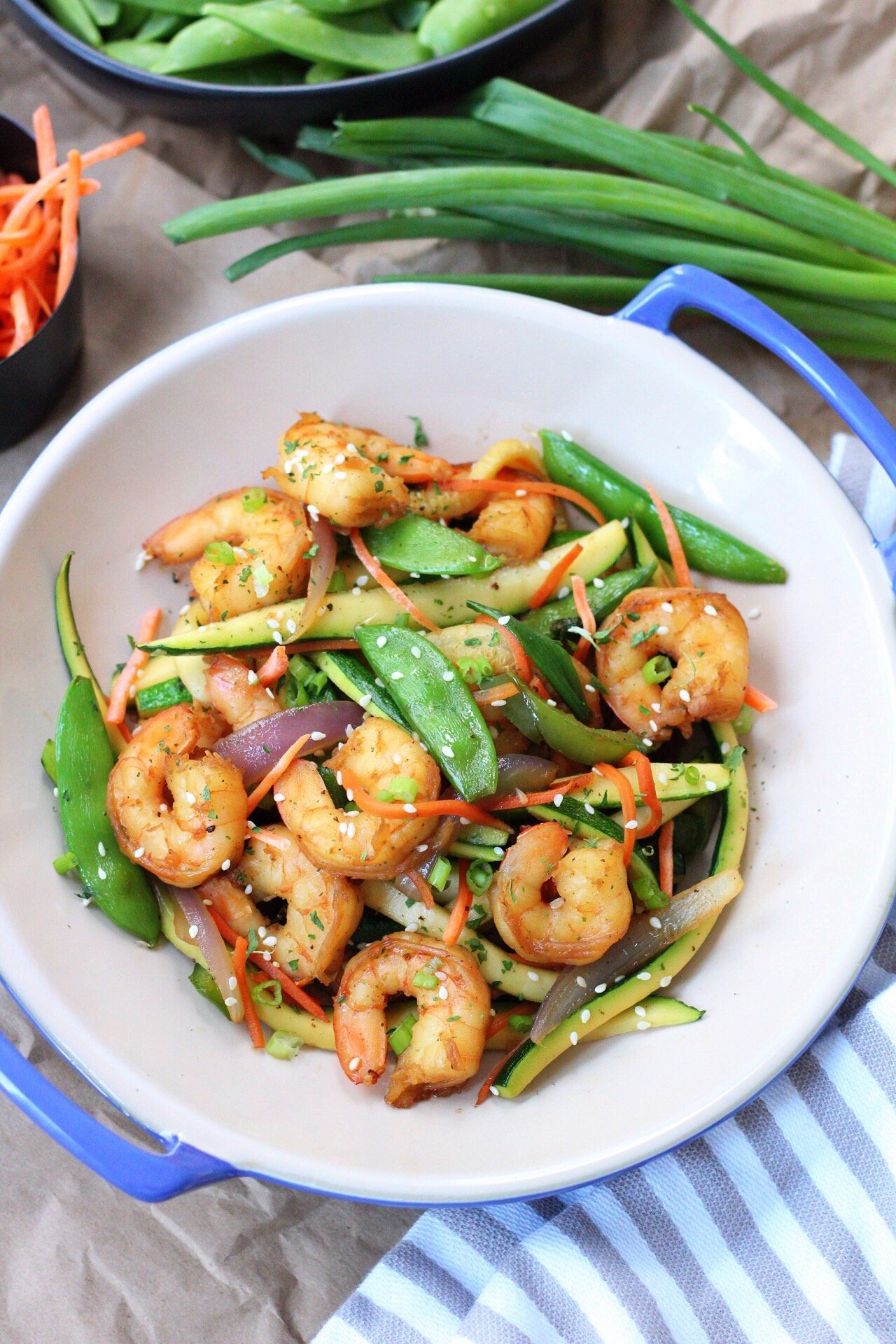 Now, back to the awesome consistency of the sauce I was talking about! Since I've started cooking with gelatin, my meals have 100% leveled up in the taste and look department. Beef gelatin is one of my most often used collagen products from Vital Proteins' Whole30 Approved product line.
If you would have asked me a year ago if I'd cook with gelatin, and even use it more often than arrowroot or tapioca flours for a thickening agent, I would have laughed. Up until a few months ago I had no idea what to do with the stuff but now I love it.
Gelatin is actually the unsung hero of the culinary world. It's their secret to shiny glazes and the smooth emulsified consistency of a reduced pan sauce. Beef gelatin is even what restaurant chefs add to meatballs to give them the delicious and juicy texture we all love. It's also way easier to work with than the other Paleo or Whole30 substitutions for cornstarch, like arrowroot flour and tapioca flour.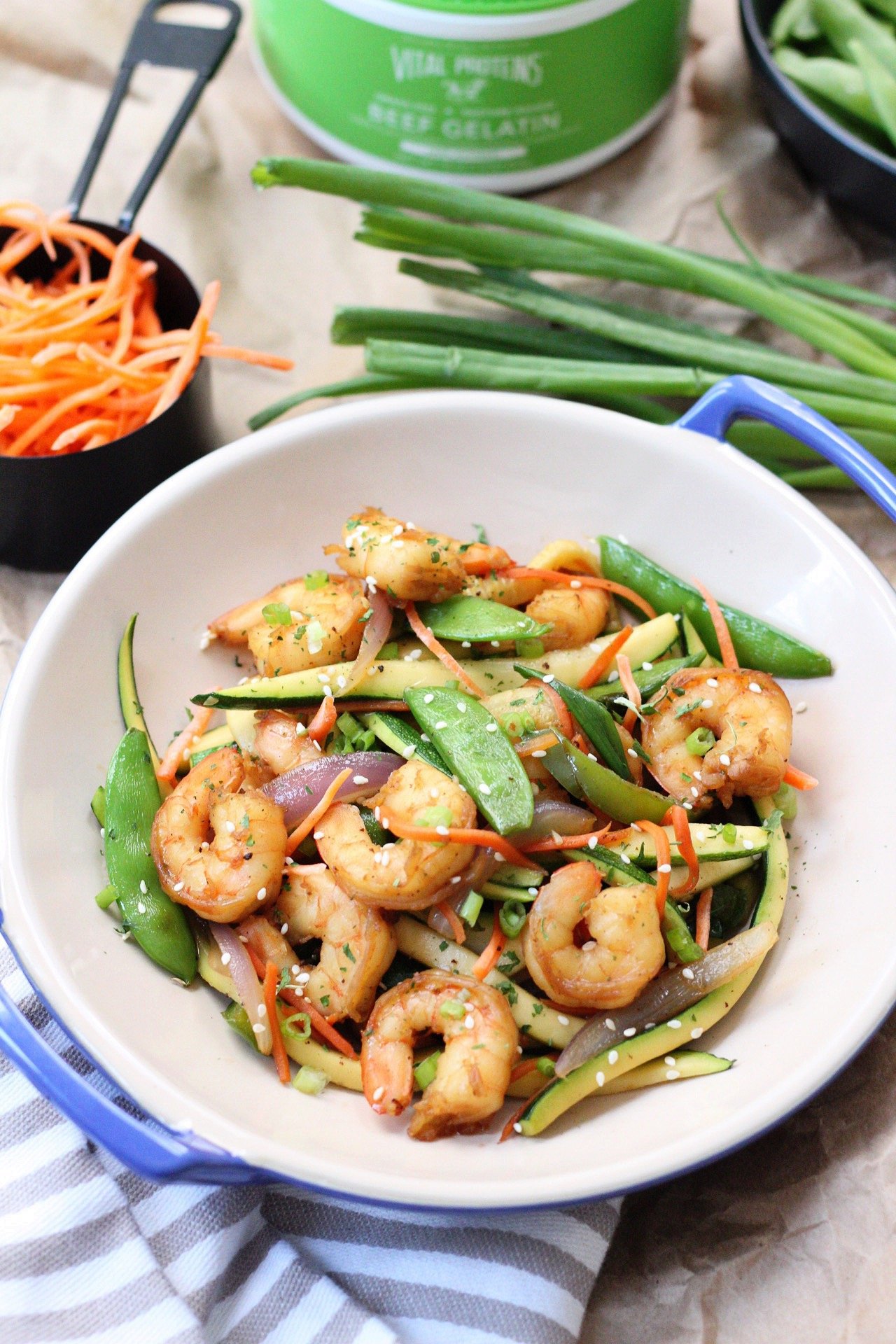 Beyond Vital Protein's beef gelatin being awesome for cooking with, it's a really good addition to meals because of the health benefits. It's great for your digestive system and gut health. It's a 100% pure collagen protein, which means it's also good for healthier nails, hair, skin and joints. A lot of people love mixing it in with their hot coffee (it doesn't gel until it starts cooling), and report that it helps them feel full and satiated longer in the mornings.
So long story short, don't be afraid to use it and cook with it like I was for so long. There's so much more you can do with it besides jello and desserts! This Paleo shrimp stir fry is the perfect recipe to get comfortable with using it!
GET THE BEEF GELATIN I COOK WITH HERE!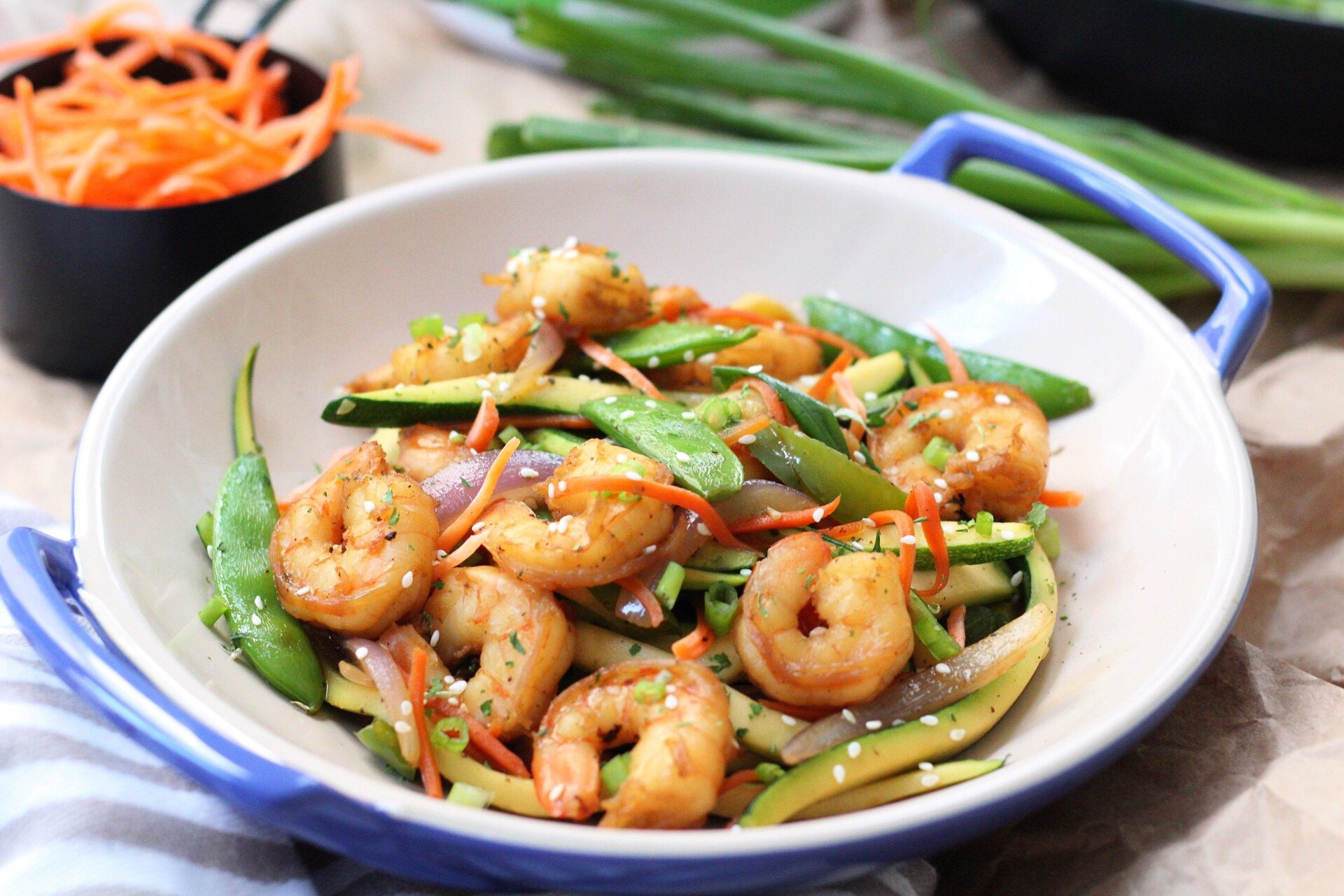 Some helpful tips I've learned for cooking with Vital Protein's beef gelatin:
One and a half teaspoons of beef gelatin per cup of liquid is all you need for a smooth, emulsified pan sauce.
If a recipe says "bloom" gelatin, that means mix it in a small amount of liquid, usually water or broth. This is generally always done prior to being added to a recipe because it activates the gelling properites.
High acidity foods (fruits like pineapple) contain enzymes that destroy protein, which causes the gelatin not to gel properly (because it's a protein!). If you're using to make jello, desserts or gummies, just boil the fruit for 5 minutes first, as that inactivates those enzymes in fruit/fruit juices.
Cool temperatures will make the gelatin stronger, so your gravy will thicken when removed from heat and the temperature starts to drop from boiling point. If you're worried it's not thickening while it's over the stove, you don't have to add more gelatin!
If your recipe sits out for a while, or you refrigerate leftovers or meal prepped meals, you can simply reheat to liquify again!
Other Recipes Using Gelatin You'll Love:
Classic Pot Roast and Veggies One Pan Meal
Pork Tenderloin with Rosemary Mushroom Gravy
Print
Shrimp Stir Fry: Paleo, Whole30 & Low Carb + Tips for Cooking With Gelatin
Prep Time: 15 minutes
Cook Time: 25 minutes
Total Time: 40 minutes
Yield: 3-4 1x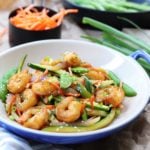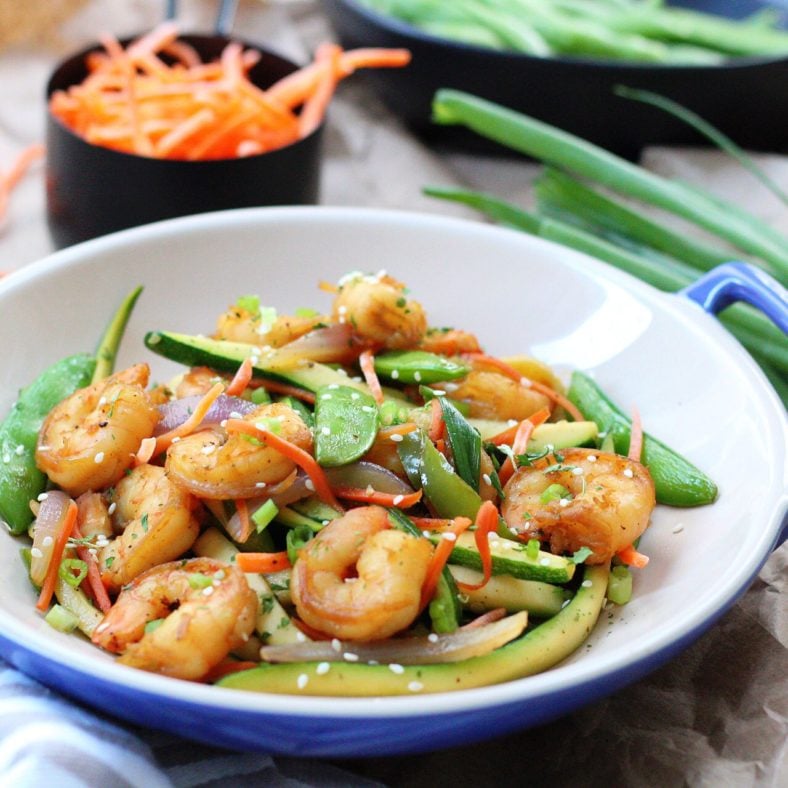 Ingredients
1 pound shrimp, deveined and tails removed
2 zucchini, sliced into thin strips or spiralized
1 green pepper, sliced
1 cup sugar snap peas
1 cup shredded carrots
1/2 red onion, sliced (about 1 cup)
1/2 cup green onion, roughly chopped (about 4 green onions)
1/3 cup chicken or vegetable stock
1/3 cup coconut aminos (soy sauce replacement)
3 tablespoons olive oil, divided
1 tablespoon minced garlic
1/2 tablespoon minced ginger
1 and 1/2 teaspoon Vital Proteins Beef Gelatin
1 teaspoon dried parsley
1/8 teaspoon salt (or to taste)
1/8 teaspoon pepper (or to taste)
*Optional: Sesame seeds, parsley and diced green onion to garnish
Instructions
In a large skillet over medium heat, add 1 tablespoon olive oil, ginger and garlic
Once fragrant, add shrimp, salt, pepper and parsley and cook 4 minutes on each side, or until cooked completely
While shrimp is cooking, combine broth, coconut aminos and beef gelatin in a small bowl and set aside
Remove shrimp from pan and set aside
Add 1 tablespoon of oil to the pan and add zucchini noodles
Allow to cook, stirring frequently, until fork tender/soft
Remove from the pan and set aside for straining out the excess water
Discard all of the excess water from the pan and place back on stovetop over medium heat
Add remaining 1 tablespoon of oil to the pan and add in the red and green onion, pepper, carrots and sugar snap peas, stirring occasionally
Cook for 6-8 minutes, or until veggies are fork tender and crisp
While the veggies are cooking, wrap zucchini noodles in a paper towel to wring out or use a nut milk bag to remove any excess water
Add sauce into pan with the veggies, stirring to combine
Then add shrimp and zucchini noodles back in and cook for 2 minutes, stirring frequently to coat shrimp and zucchini
Remove from heat, sauce will thicken as it cools
Top with sesame seeds, parsley and additional green onion
Serve and enjoy!
Nutrition Facts:
Calories: 183
Sugar: 9
Fat: 0.6
Carbohydrates: 15
Protein: 24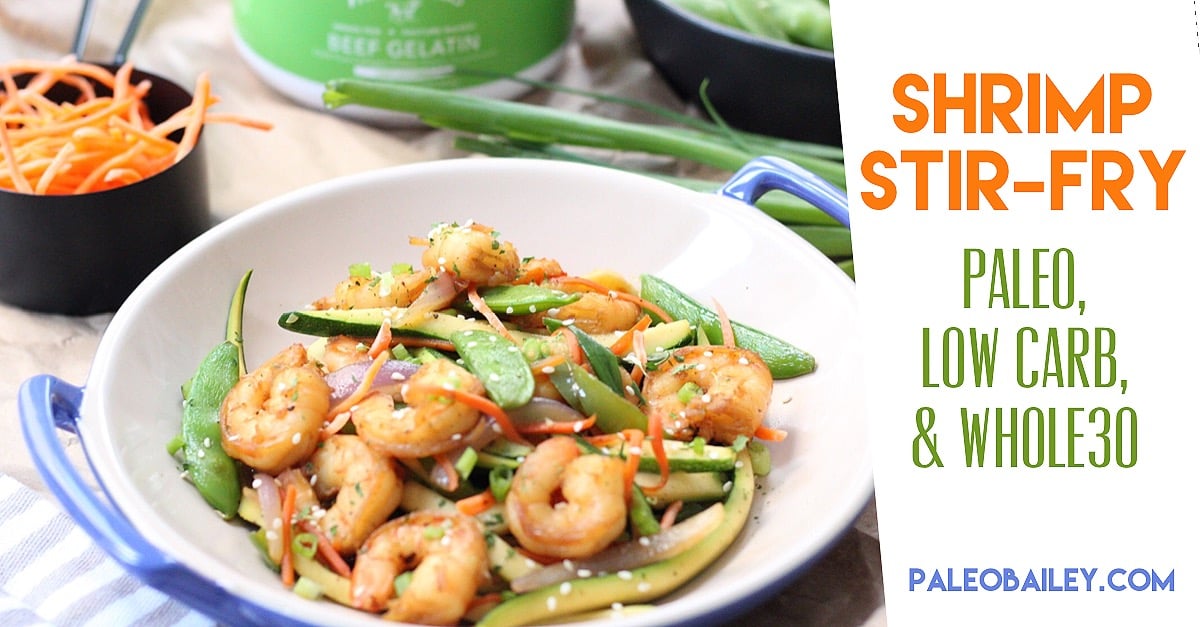 This post may contain some links that are affiliate links, though products are ones I use personally and recommend. When you purchase anything using my links, it costs you absolutely nothing extra, but it does give wholekitchensink.com a little financial support which helps to keep this blog running. Thank you for your continued support, both with your dollars and your interest.