Scalloped potatoes are a classic side dish, and one of my absolute favorites at any and every holiday. Who am I kidding? Scalloped potatoes are my favorite side dish for any meal. As you're planning your menu for this upcoming holiday though, these should definitely be making an appearance!

This post is sponsored by Vital Proteins. I'm happy to work with a company I love, use and believe in so much! Thanks for your support here on the blog and your support for Vital Proteins!
This recipe for scalloped potatoes is beautiful and delicious, but it lacks one teeny thing – all of the dairy. Don't worry though, it's still every bit as creamy as your Grandma's recipe, and I promise it's a side dish you'll want to make over and over again.
I used chicken bone broth collagen from Vital Proteins. It's a powdered form of bone broth which has replaced all of my liquid boxed bone broth. I realized how much money I was wasting by opening a container of the liquid broth, using one or two cups for a recipe, and letting the rest go bad.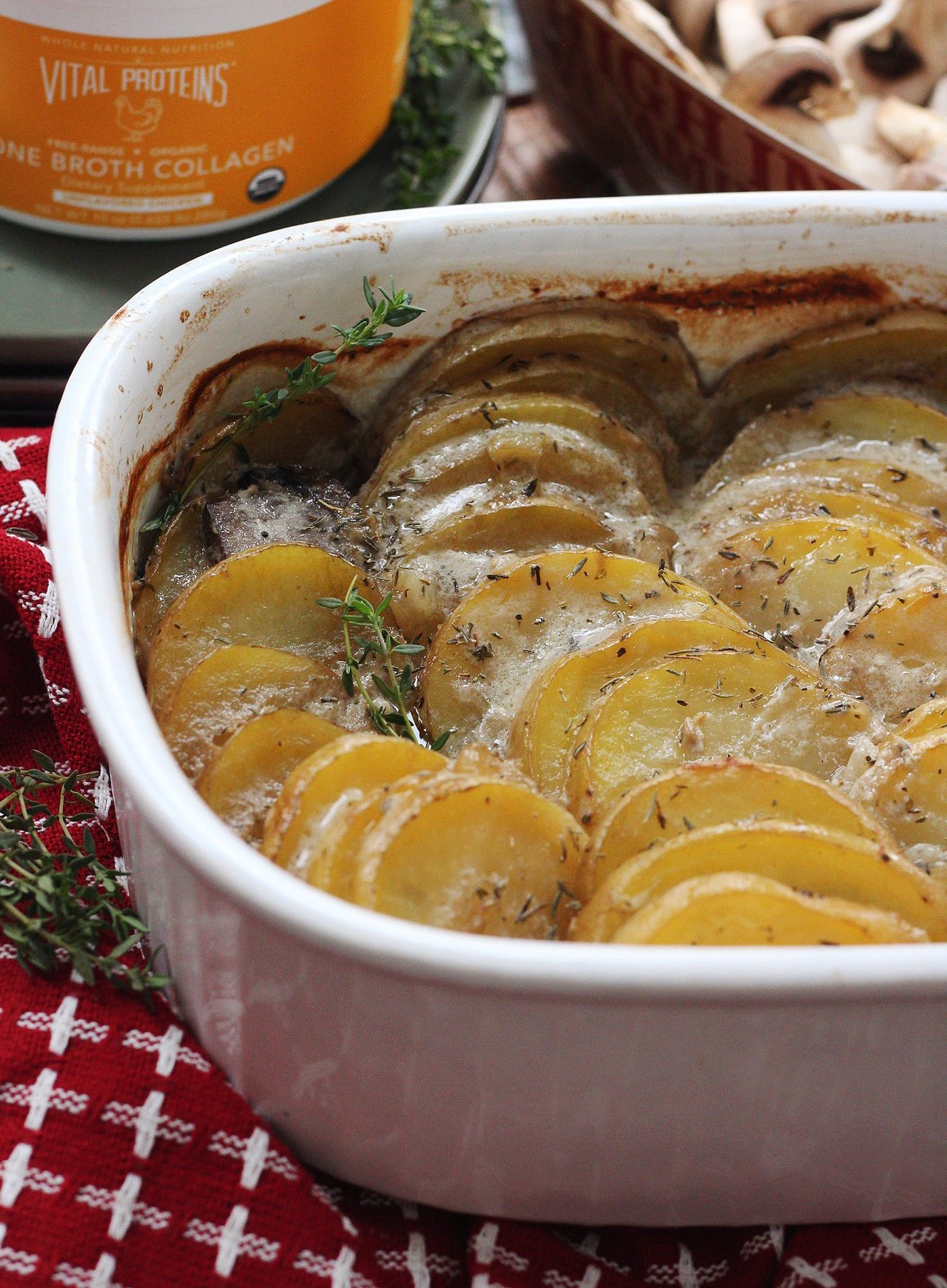 Boxed broth is only good for 7 days once it's opened, and somehow it always ended up in the back of my fridge, lost and forgotten about. This was a huge waste of money, especially because bone broth isn't cheap. I also ended up stock piling it in my cupboard, wasting tons of space. Vital Proteins bone broth solves both those issues and I'm just happy to invest in a product that means I'm not wasting money not using up all of my bone broth.
Not only am I not wasting money or valuable cabinet space on storing containers of broth, I'm getting tons of added health benefits from the collagen. Some of the many benefits of adding collagen to your diet are improved joint pain and degeneration, helps with leaky gut, digestion, improves skin, nails and hair, speeds up recovery time after illness and workouts and about a hundred other things. Plus this powdered broth can be used exactly the same way as the liquid stuff, making it a super easy and healthier switch.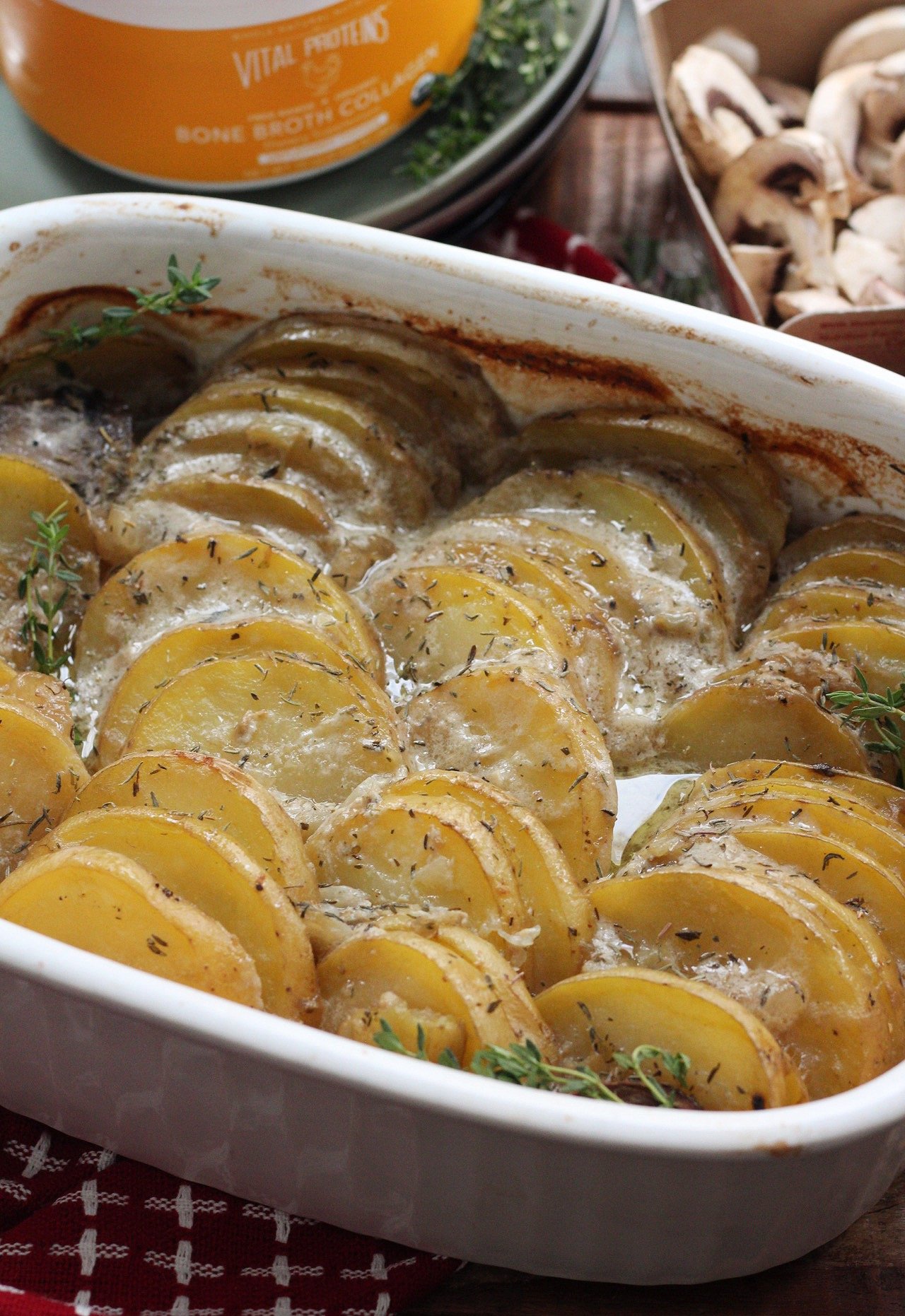 It works perfectly in these scalloped potatoes to make a rich and creamy sauce the potatoes will cook in. I added some mushrooms and onions prior to cooking, and didn't forget the garlic! This side dish really is one of the best tasting scalloped potatoes I've had in a while. And I'm not just sayin' that because I made them!
Enjoy!
Get my favorite bone both HERE!
Print
Hungry for more? Subscribe to my newsletter to get new recipes delivered straight to your inbox! And be sure to stay in touch on Facebook, Pinterest and Instagram for all of the latest updates.
Scalloped Potatoes with Mushroom & Rosemary
Easily divide this recipe in half for a smaller portion!
Prep Time: 10 minutes
Cook Time: 1 hour
Total Time: 1 hour 10 minutes
Yield: Serves 6-8
Category: Side Dish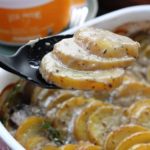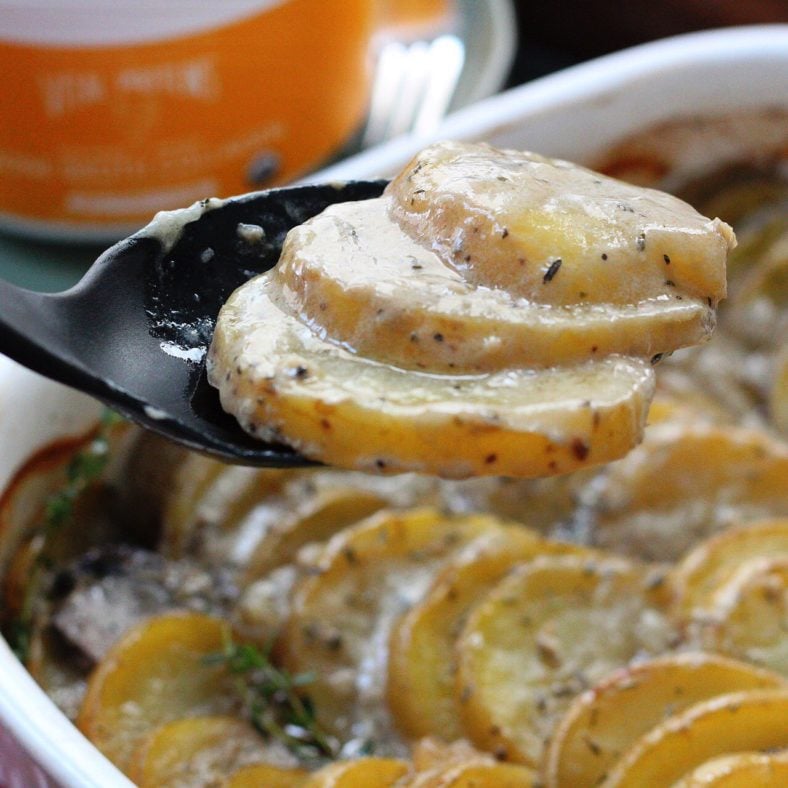 Ingredients
3 pounds potatoes (I used Yukon gold), sliced thinly
1/2 cup sliced mushrooms
1/2 cup diced onions
1 13.5 ounce can coconut cream
1/2 cup water (or bone broth)
1/2 cup almond milk
2 tablespoons arrowroot or tapioca flour
1 tablespoon olive oil
1 tablespoon ghee
1 tablespoon minced garlic
1/2 tablespoon dried rosemary
1/2 teaspoon thyme
1/2 teaspoon salt
1/2 teaspoon pepper
1/4 teaspoon nutmeg
Instructions
Preheat oven to 375 degrees F. and grease a large baking dish well
Arrange sliced potatoes in rows in the dish (you could also layer them flat)
Place sliced mushrooms in between some of the potatoes and between the rows until entire 1/2 cup of mushrooms are in the baking dish
Set aside
Heat olive oil in a large sauce pan over medium heat and add diced onion and garlic
Once garlic becomes fragrant, about two minutes, add coconut cream and almond milk, and all spices
Bring to a simmer and add bone broth powder and water
Slowly whisk in tapioca or arrowroot flour
Continue whisking until clumps are dissolved and sauce begins to thicken
Pour sauce evenly into into the baking dish
Tip the baking dish to each side a few times to evenly distribute the sauce
Cover with tin foil
Place into the oven on center rack and bake for 45 minutes to 1 hour
Enjoy!