I'm a sucker for a good side salad. Especially wedge salads. However, the restaurant versions made with iceberg lettuce not only use the type of lettuce that's the least nutritious, but the dressing is usually a type of ranch filled with dairy and sugar. My favorite way to make a wedge salad now that I'm making healthier choices is to make a romaine wedge salad and quickly doctor it up with an easy, healthy dressing.

This post is sponsored by Vital Proteins. I'm happy to work with a company I love, use and believe in so much! Thanks for your support here on the blog and your support for Vital Proteins!
This Paleo romaine wedge salad is the perfect addition to your date night main course, and a great way to get some added veggies in. The dressing is made with Vital Proteins Collagen Peptides so you can still get your collagen in even when you're busy celebrating with your significant other.
One reason I love to add collagen peptides to homemade salad dressings is that often times eating a salad on its own just isn't filling enough. Adding extra collagen to it helps me get the health benefits form collagen, and stay fuller longer. Win win if you ask me.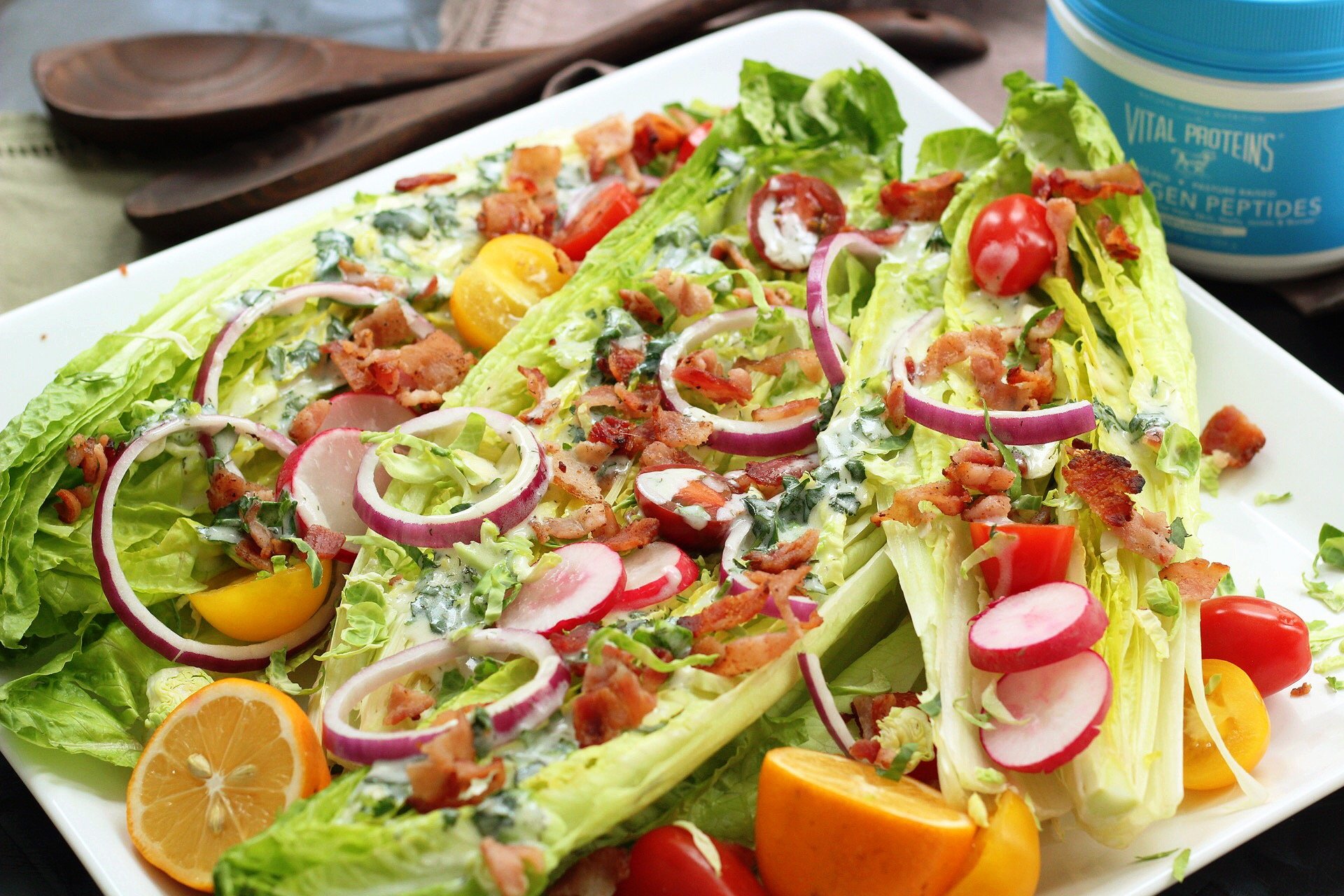 So, you're wondering about the health benefits from collagen peptides I just mentioned? I don't blame you. I had questions too. But I can now say after a year of daily use, I have zero questions on the benefits of this magical stuff.
Collagen is the most abundant protein in our body. However, as we age, we stop producing as much of it. Collagen is essential for healthy skin, hair and nails, along with bone and gut health and digestion. It aids in muscle recovery and helps promote joint mobility. Many people who have hair loss due to weight loss, pregnancy, or aging swear by it, as do people who have shoulder/knee/ankle pain due to injury or past surgery. It's miracle stuff, I'm telling you.
I made this dressing with added collagen like I mentioned, because part of what's awesome about Vital Proteins Collagen Peptides is that it can be added to practically anything. Hot and cold liquids like coffees or smoothies, sauces, soups, casseroles, scrambled eggs. Seriously, anything. Vital Proteins makes it really easy for you to get the health benefits you're looking for.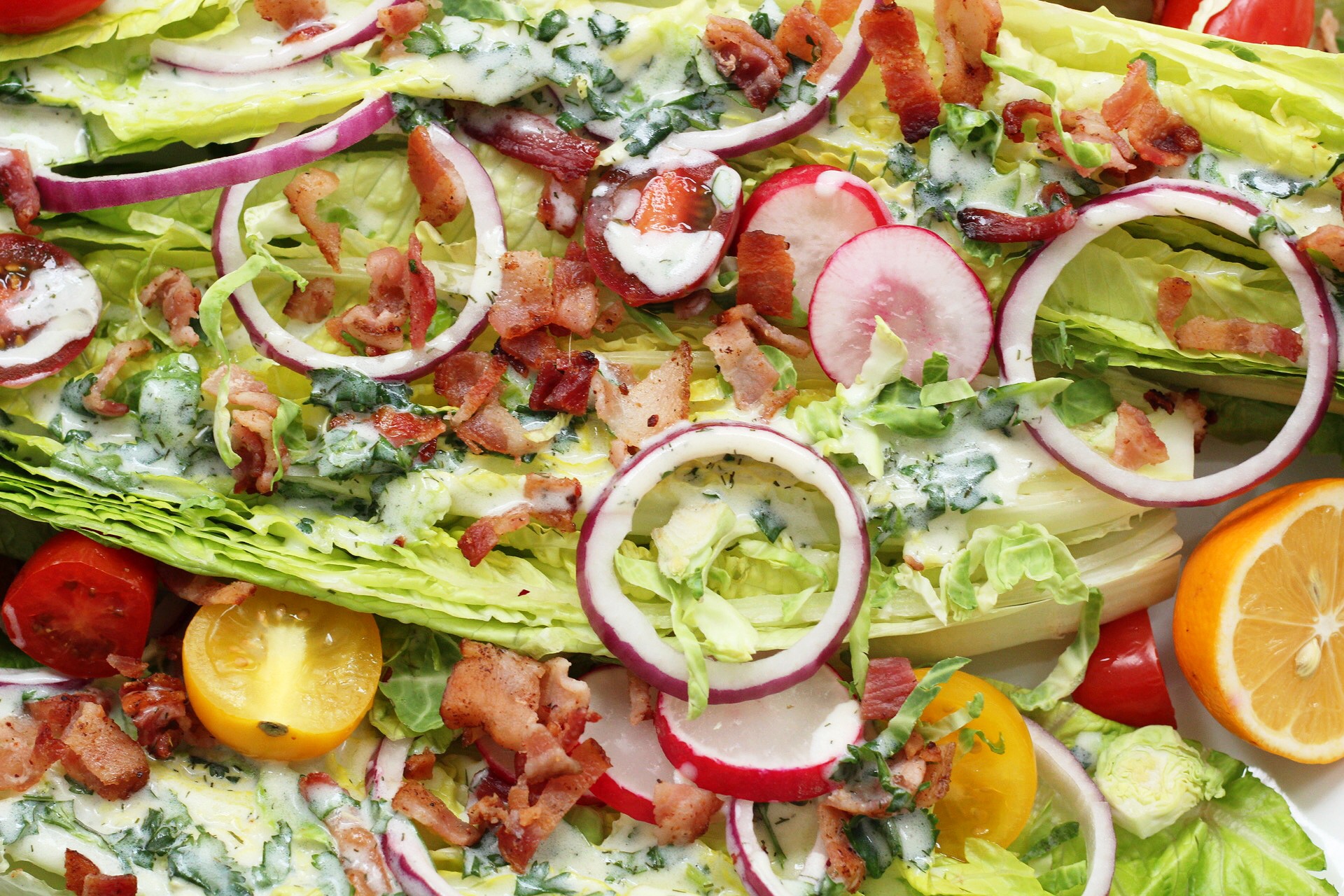 This Paleo romaine wedge salad is topped with the creamy herb dressing, cherry tomatoes, red onions, radishes and, of course, bacon. Make sure if you're making this salad Whole30 Approved, you're grabbing a sugar free bacon!
Get my favorite Collagen Peptides HERE!
Enjoy!
Print
Romaine Wedge Salad with Creamy Herb Dressing
Prep Time: 15 minutes
Total Time: 15 minutes
Yield: Serves 2-4 1x
Category: Salad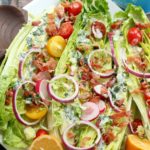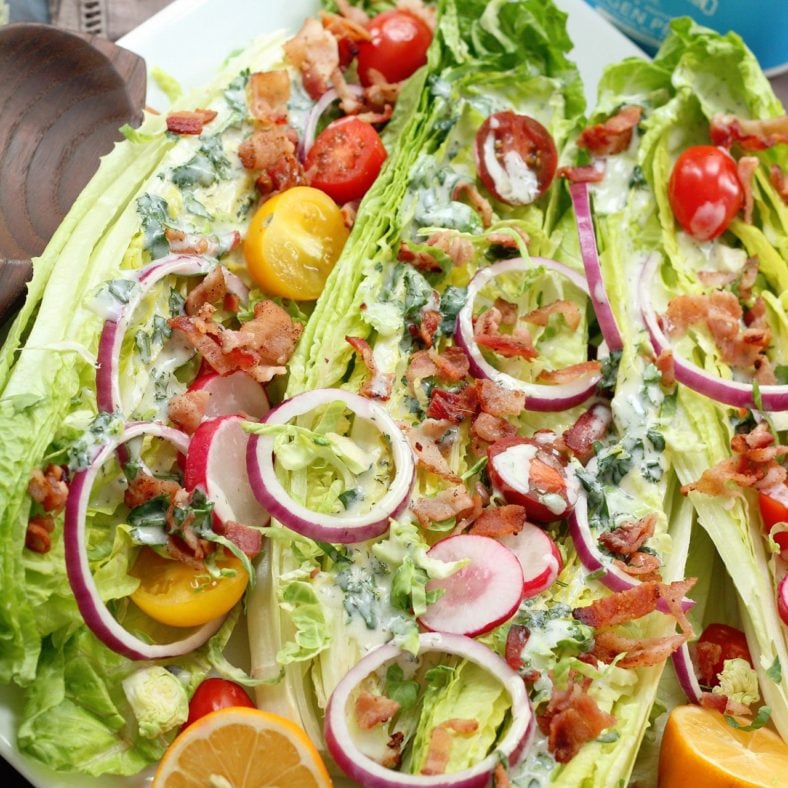 Ingredients
For the Salad:
2 heads romaine, sliced lengthwise
1/2 red onion, thinly sliced
4 slices of bacon, cooked and chopped
1 handful cherry tomatoes, halved
4 radishes, sliced
Optional toppings: pecans, pomegranate, pears, mandrain oranges
For the Dressing:
1/2 cup mayo
1 and 1/2 teaspoon dijon mustard
1 teaspoon white wine vinegar (apple cider works too)
1/4 cup finely chopped parsley
1/4 cup finely chopped green onions
1 scoop Vital Proteins Collagen Peptides
1/8 teaspoon garlic powder
1/8 teaspoon salt, or to taste
1/8 teaspoon pepper, or to taste
Water to thin, if needed
Instructions
Plate the salad ingredients
Either by hand or with a food processor, combine all dressing ingredients and mix until smooth
Add a teaspoon or so of water if needed to thin dressing, or to preference
Drizzle over salad and serve!
*If using a food processor, you do not need to finely chop herbs!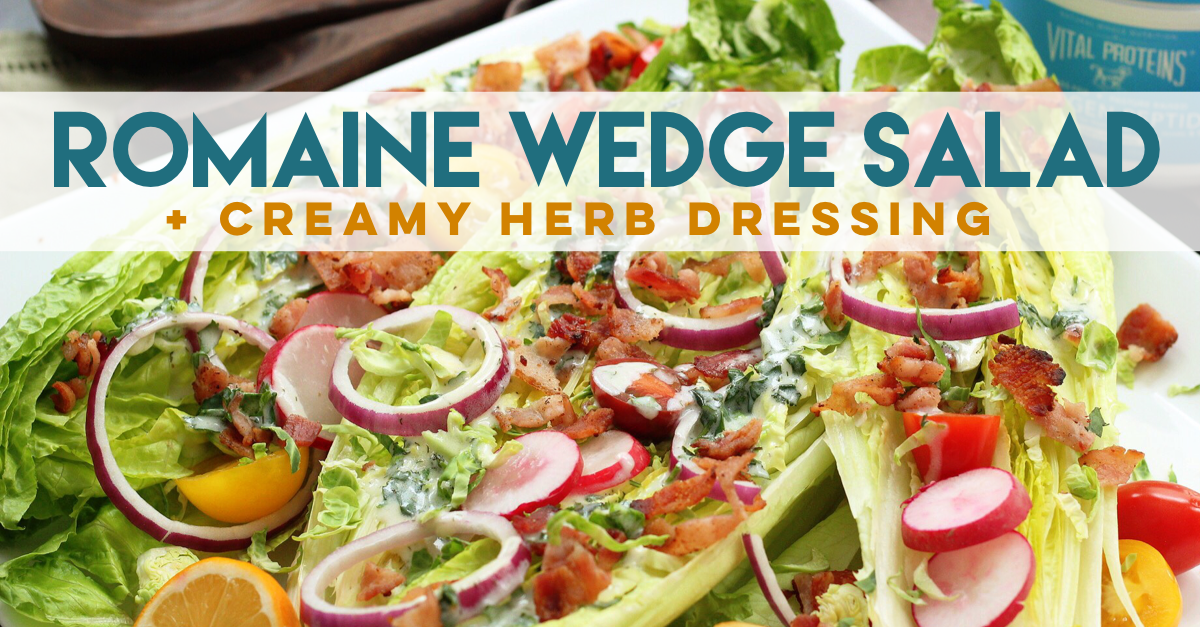 This post may contain some links that are affiliate links, though products are ones I use personally and recommend. When you purchase anything using my links, it costs you absolutely nothing extra, but it does give wholekitchensink.com a little financial support which helps to keep this blog running. Thank you for your continued support, both with your dollars and your interest.