When I make whole chickens, these days I'm typically doing it in my instant pot, or my slow cooker. Every once in a while it's nice to have a whole roasted chicken done in the oven, with some flavors that go beyond my staple lemon and rosemary. This roasted orange chicken recipe will help you break out of a chicken boredom we can get into after one too many days of having the same old chicken on the menu.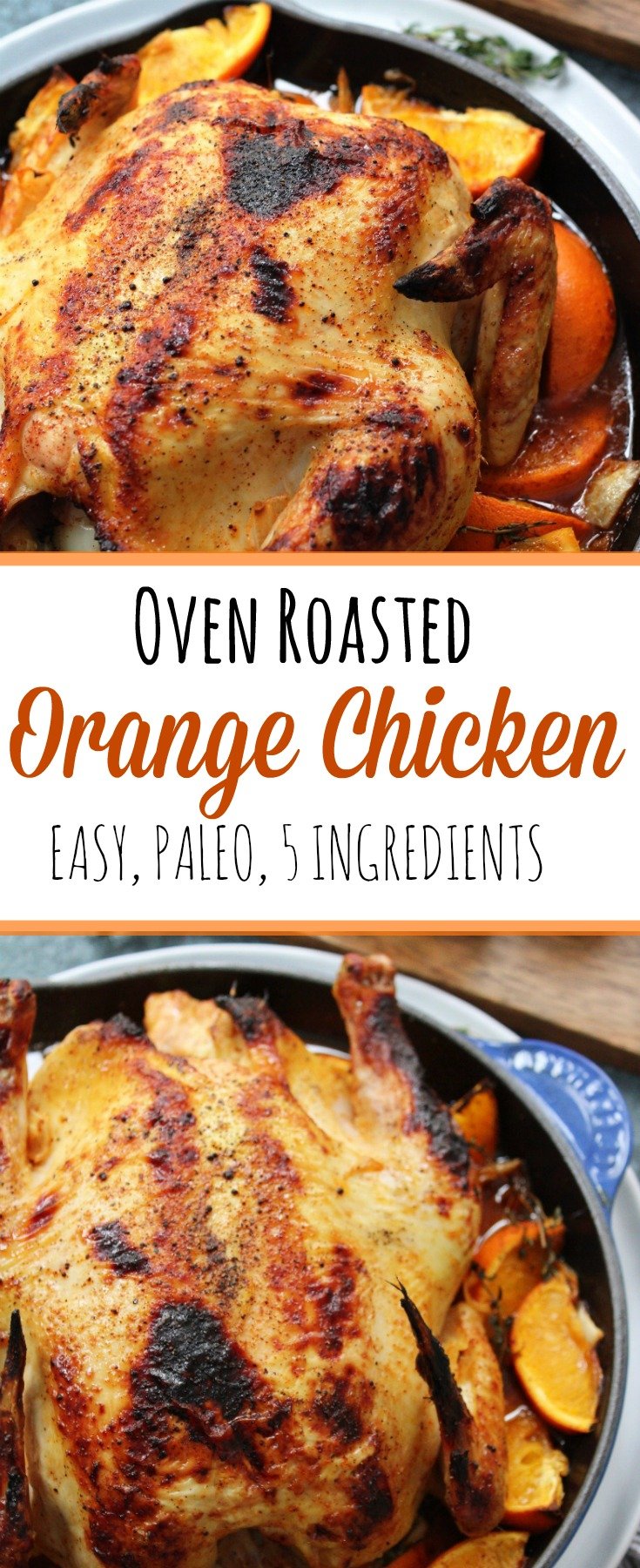 This roasted orange chicken is so full of flavor. It comes out juicy yet crispy on the outside. I love to stuff some onion and herbs into the chicken to let those flavors cook in with the chicken while it's in the oven.
If you have cooking twine on hand, feel free to go ahead and tie up the legs. It's not really necessary, but some people prefer it to be baked that way! It also helps to keep the bottom of the chicken closed that you're going stuff with a few ingredients to enhance the flavor.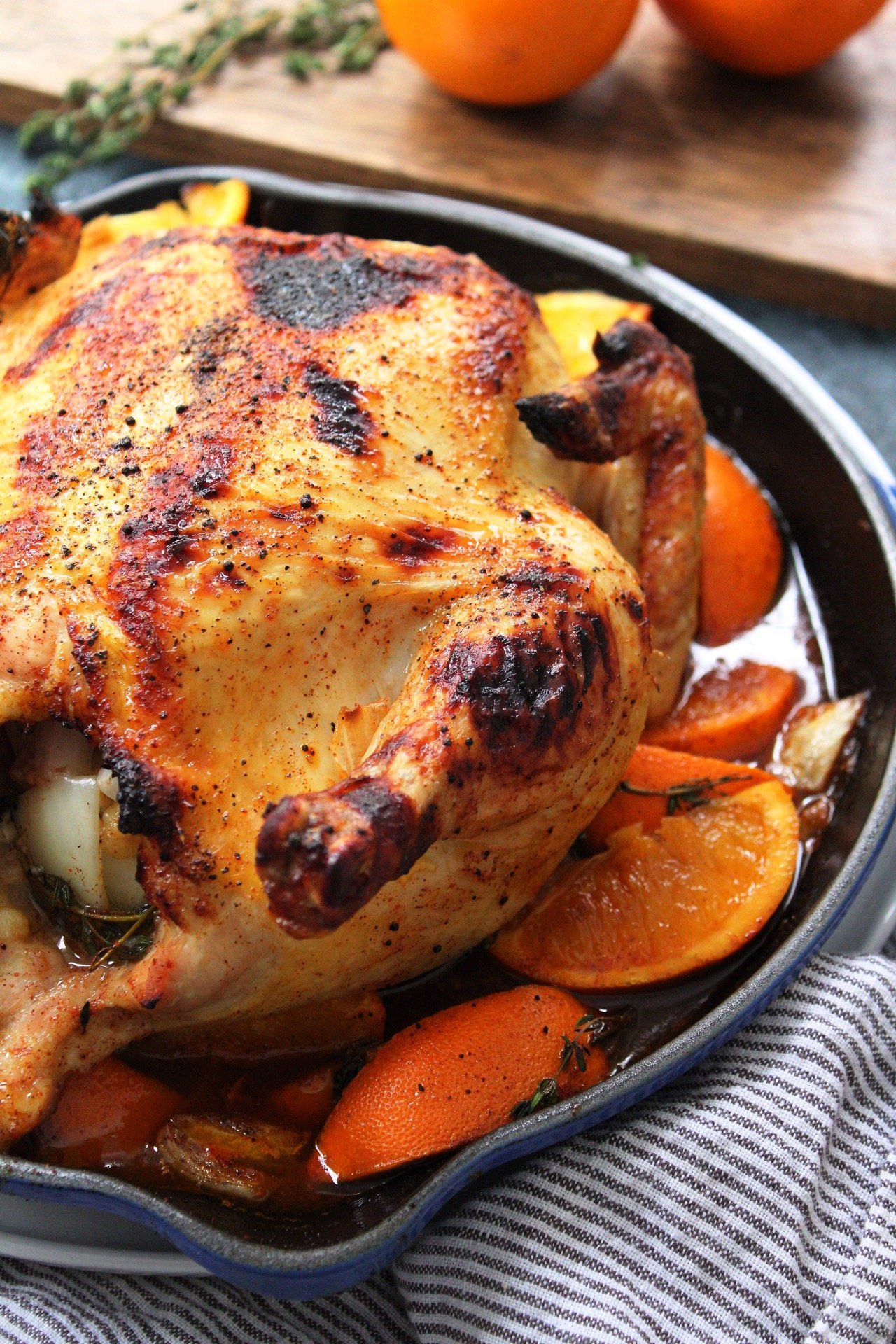 If you don't have any, don't run out and buy any just for this recipe. It will come out delicious either way! Scouts honor.
To make this Whole30 compliant, you could leave out the honey. Be warned, I haven't made it that way though, so that's up to you on how it turns out! I'm willing to bet it would still be good. After the January Whole30 I did, I had been itching to start cooking a bit with honey again, and I knew this was the chicken I wanted to make with it! It doesn't call for much, but of course, even a little is still considered a sweetener!
Enjoy!
Print
Roasted Orange Chicken
Prep Time: 15 minutes
Cook Time: 1 hour 30 minutes
Total Time: 1 hour 45 minutes
Yield: Serves 4-6 1x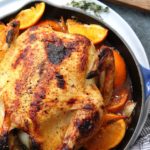 Ingredients
3–4 pound whole chicken
4 oranges, sliced in 8ths
1 white or yellow onion, cut into 4ths
3/4 cup orange juice (fresh, or no sugar added)
4 tablespoons honey
2 tablespoons olive oil
1 tablespoon minced garlic
2 teaspoons chili powder
2 teaspoons dried thyme
1 teaspoon paprika
1 teaspoon salt
1 teaspoon pepper
Instructions
Preheat oven to 375 degrees F.
In a bowl, stir together honey, orange juice, chili powder and paprika
Stuff the onion and minced garlic into the empty cavity of the chicken
Lay the orange slices on the bottom of the baking dish and around the sides
Place the chicken on top and rub with olive oil
Rub the thyme, salt and pepper into the skin of the chicken
Pour the orange juice and honey mixture over the chicken in the baking dish
Bake for 15 minutes, and use a baster or a large spoon to collect the orange juice mixture and pour it back over the top of the chicken and between the chicken legs
Do this 3 more times, every 15 minutes until it's been in the oven for 60 minutes
Bake for an additional 30 minutes, OR until internal temperature of the chicken reaches 160 degrees, as oven times may vary
Wait 15 minutes prior to cutting into it to let the roasted chicken rest and seal in the juices
Serve and enjoy!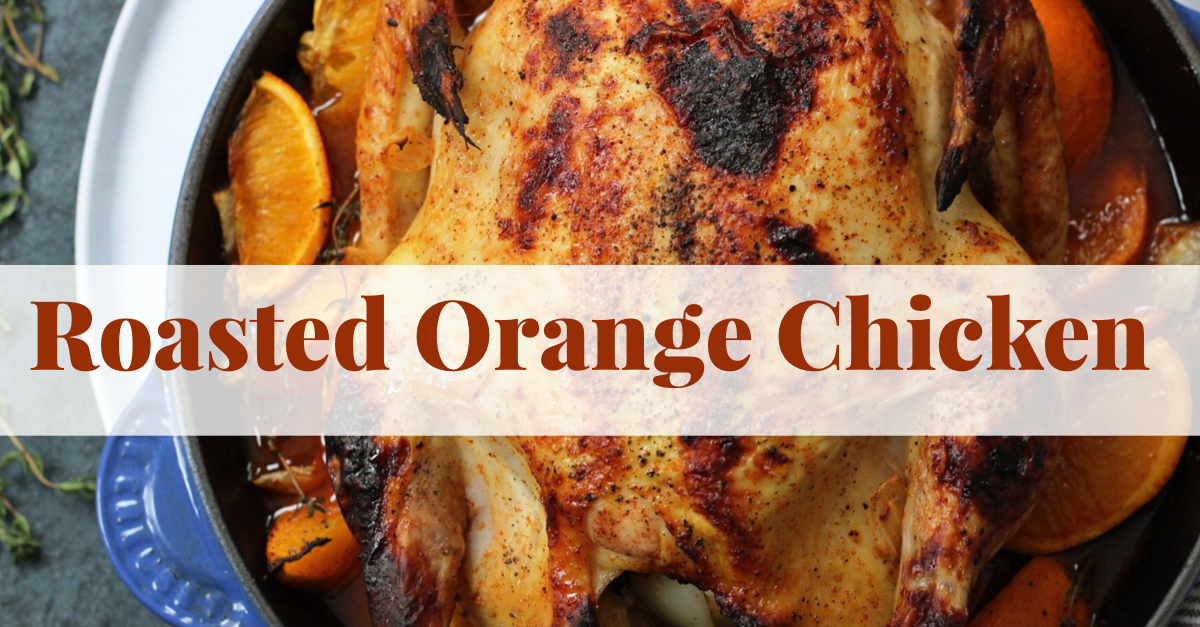 This post may contain some links that are affiliate links, though products are ones I use personally and recommend. When you purchase anything using my links, it costs you absolutely nothing extra, but it does give wholekitchensink.com a little financial support which helps to keep this blog running. Thank you for your continued support, both with your dollars and your interest.