Sheet pan dinners, like this butter herb Whole30 steak and veggies sheet pan meal, and one pot meals are usually my go-to options on most nights. Not only are they incredibly easy, but this Paleo steak recipe is done in 30 minutes! I've served this to guests (not still on the sheet pan of course) and they didn't have any idea I didn't spend way more time preparing it for them. Shhhh. Don't tell them.
If there's one thing to know about my style of cooking, it's that by "style", I mean "how quickly can I get this done with?". While I love cooking and the act of preparing healthy meals for myself and loved ones, I also don't want to spend an hour each time I need to eat doing it. Ya know?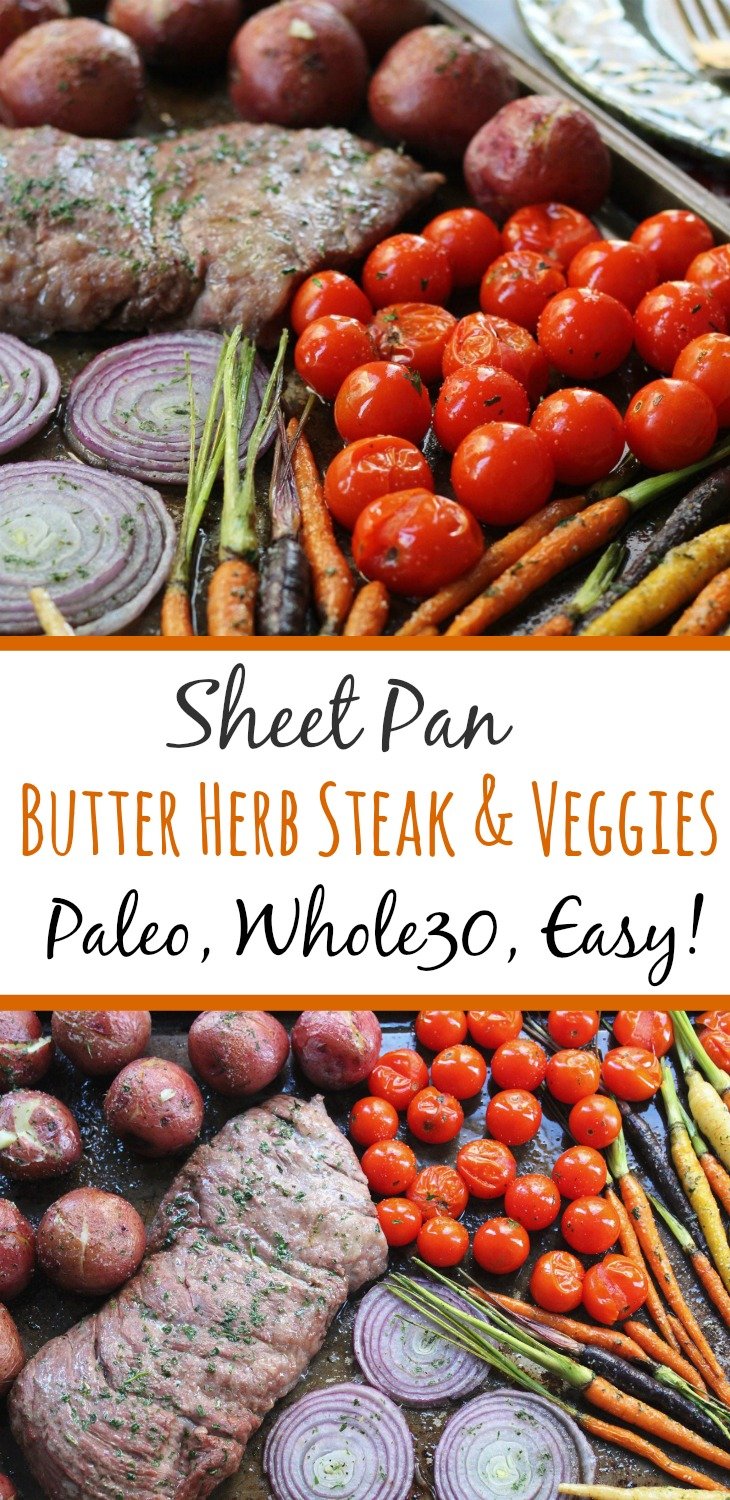 Steak and veggies, and steak in particular, cook really well if you use your oven on a broil setting. Most people I've found don't do this with their steaks, but in the winter when I don't want to grill, it's one of the easiest cooking methods to use. You'll just want to make sure your steak is at least 1 to 2 inches thick, and has already come to room temperature.
Another great thing about this Whole30 sheet pan recipe is that you can substitute the veggies for what you like or what you have already in the fridge. I hate wasting food, and hate even more when I see a recipe I want to make but am missing one or two things from it. Well, I've learned that you can pretty much swap out almost any veggie. Especially for things that are just roasted additions, like for this Whole30 steak and veggies sheet pan meal. This is also useful for being able to incorporate seasonal veggies that are on sale so you can save a little money here and there too.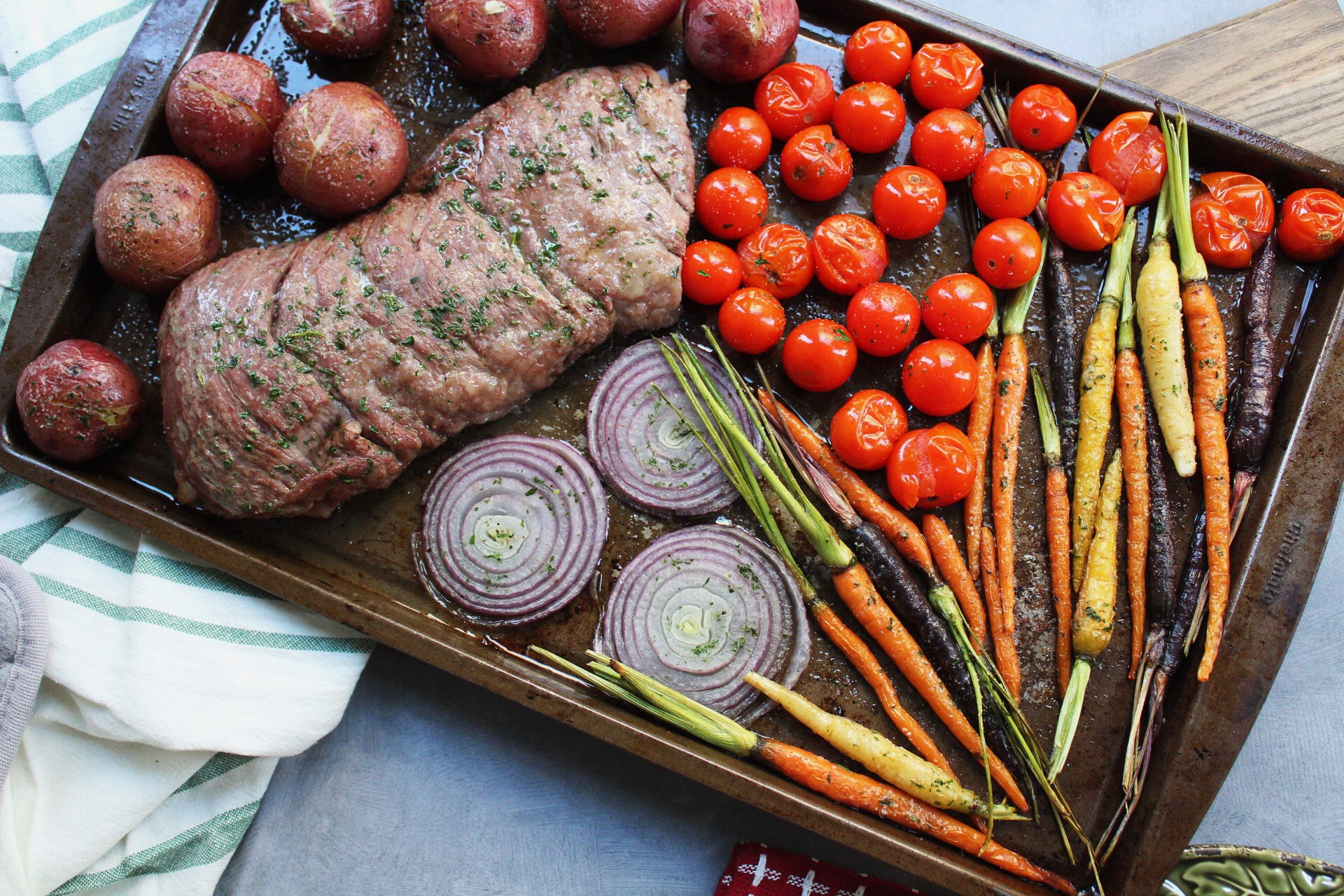 I use ghee to make the buttery mix you'll brush over the vegetables and put over the steak before cooking. Ghee is one of my most frequently used products when I'm cooking (and it's Whole30 compliant!). If you haven't heard of it before, it's clarified butter – which means it's been produced in a way that removes the milk solids from the butter.
It's so versatile and tastes delicious in so many dishes, like this Whole30 steak and veggies sheet pan meal. From frying or scrambling eggs, roasting veggies, getting perfectly buttery mashed potatoes, sautéing onions, cooking fish, making the best buffalo sauce, you name it – I'm probably using ghee for it. It's one of my top 5 easy swaps to make you healthier, too.
In the recipe below, I've linked to the ghee that I most commonly use so you can see for reference, although it's much more expensive there. I've been purchasing it from Thrive Market, which saves me a few dollars on each jar compared to the cost at Whole Foods, Target or online. Thrive Market also has their own brand of ghee that I've been loving lately too, which is even a few dollars cheaper than the other one. Wooo!
More Whole30 Sheet Pan Meals or One Pot Meals You'll Love:
Sheet Pan Lemon Garlic Salmon and Veggies
One Pan Honey Mustard Chicken and Veggies
Mediterranean Sausage Breakfast Skillet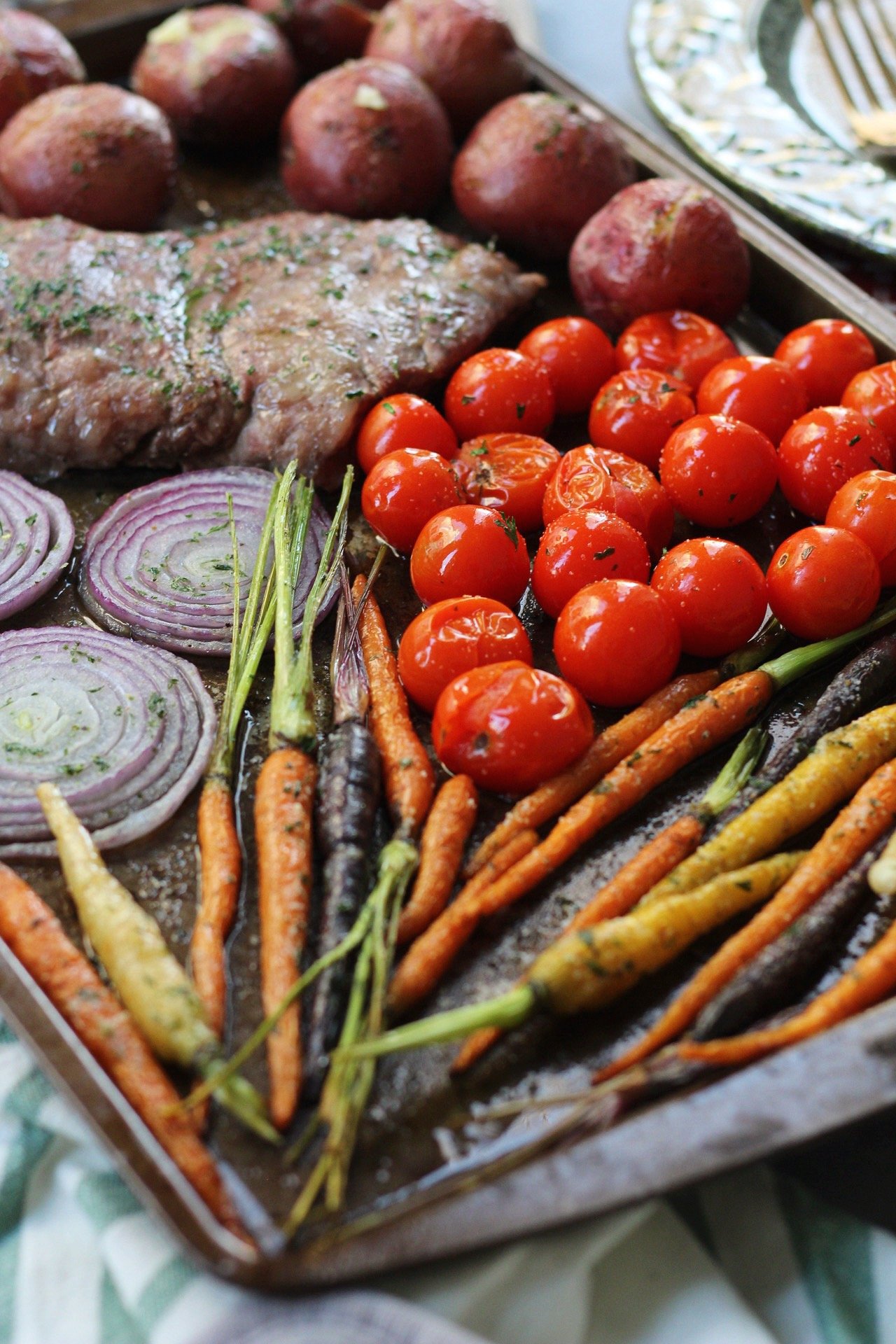 Print
Butter Herb Steak and Veggies Sheet Pan Meal: Paleo, Whole30 & 30 Minutes!
Prep Time: 5 minutes
Cook Time: 35 minutes
Total Time: 40 minutes
Yield: Serves 4-6 1x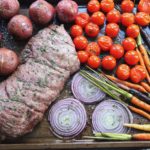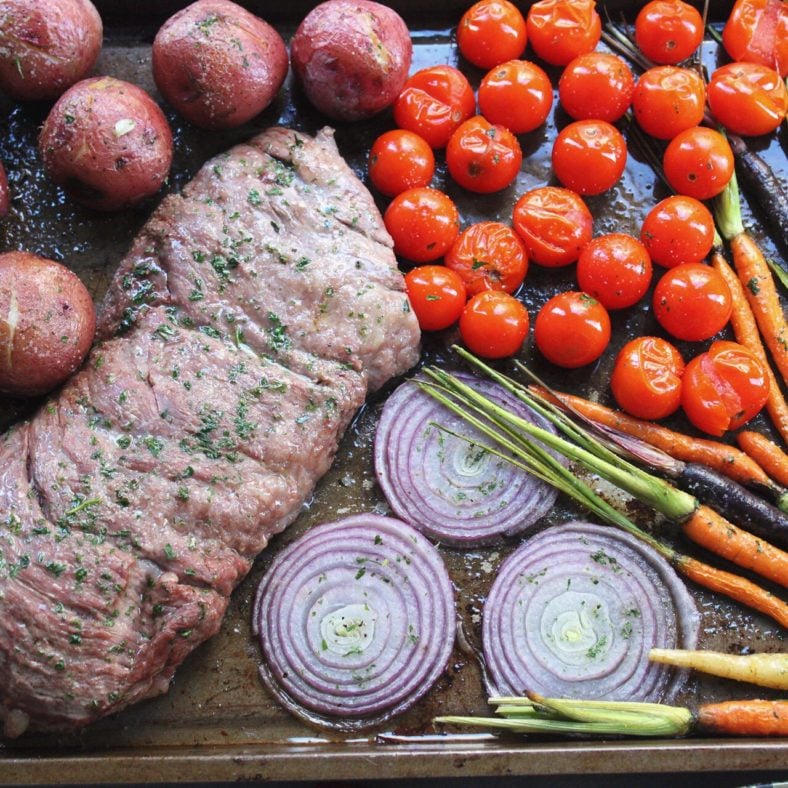 Ingredients
1 and 1/2 pound flank steak (or cut of your choice)
1 and 1/2 pounds baby red potatoes
2 cups cherry tomatoes
1/2 pound carrots (baby carrots work!)
1/2 red onion, sliced
3 tablespoons ghee
1 tablespoon avocado oil (or preferred oil for roasting)
1/2 tablespoon dried parsley
1 teaspoon salt, divided
1 teaspoon garlic powder
A few shakes of pepper
Instructions
Preheat your oven by setting it to the broil setting
In a medium-large stock pot, boil potatoes for 15 minutes with 1/2 of the salt
While the potatoes are boiling, lightly oil a large sheet pan and arrange your veggies on it
Remove potatoes from pot and place on the sheet pan
In a small dish, melt ghee and then mix in the spices
Brush or spoon over veggies and massage into the meat on both sides
*I like to make a small slit in the potatoes or gently "smoosh" them to get the ghee into the potatoes
Place the meat onto the sheet pan and place into oven
Cook on broil for 15 minutes, checking after 10 and flipping veggies if needed
*Broil for up to 20 minutes if you like a more well done steak
Nutrition Facts:
Calories: 377
Sugar: 4
Fat: 22
Carbohydrates: 24
Protein: 20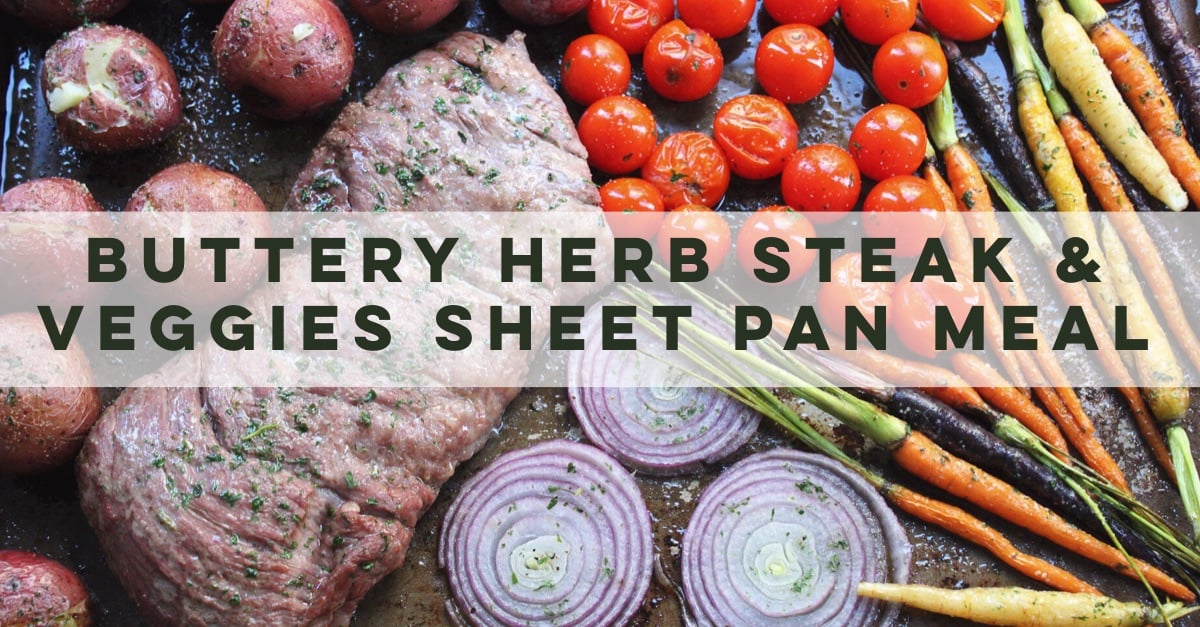 This post may contain some links that are affiliate links, though products are ones I use personally and recommend. When you purchase anything using my links, it costs you absolutely nothing extra, but it does give wholekitchensink.com a little financial support which helps to keep this blog running. Thank you for your continued support, both with your dollars and your interest.