This is the easiest Whole30 egg free breakfast hash! I rarely meal prep my breakfasts, whether on a round of Whole30 or just eating Paleo. But, when I do prepare breakfasts for the week, I do it in the form of this breakfast hash. In 30 minutes you'll have breakfast meal prepped, or a family friendly Whole30 and Paleo meal! Back in the day, I used to make this Mediterranean sausage hash loaded with feta cheese. I now skip that ingredient unless I'm making this for a brunch for guests or friends.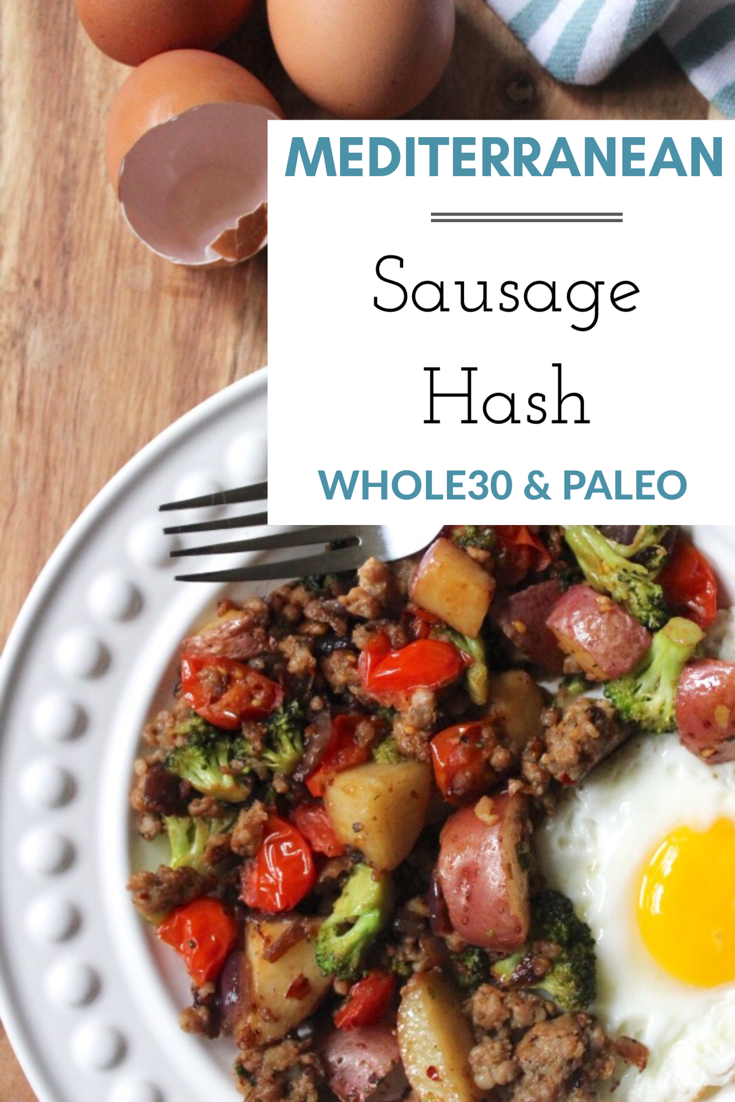 One of the main reasons I don't prepare my breakfasts is because that's the meal I enjoy eating fresh the most each day. I'm not a fan of reheated eggs in any form so it's just easier to make breakfast the meal I make fresh. Unless, like I mentioned, I make a breakfast hash. Not only is egg not an actual ingredient in the meal that will go to the fridge, but it's a nice change of pace when I need a few days of egg free breakfasts.
The egg burnout is real sometimes, folks.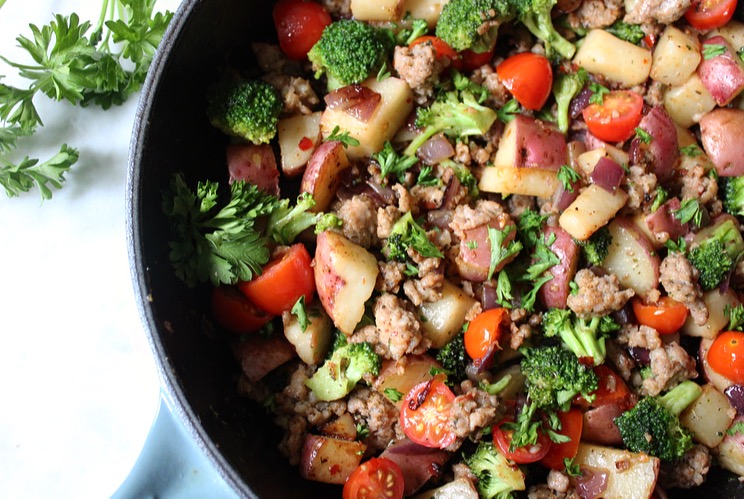 You're going to start by adding the diced potatoes into a hot, oiled skillet. When making hash, you'll generally want to start by first adding the food that will take the longest to cook. You'll continue adding ingredients to the skillet in order of cook time from there, ending with the veggie that takes the least amount of time. Once the potatoes begin to soften slightly you'll add in the onion and sausage.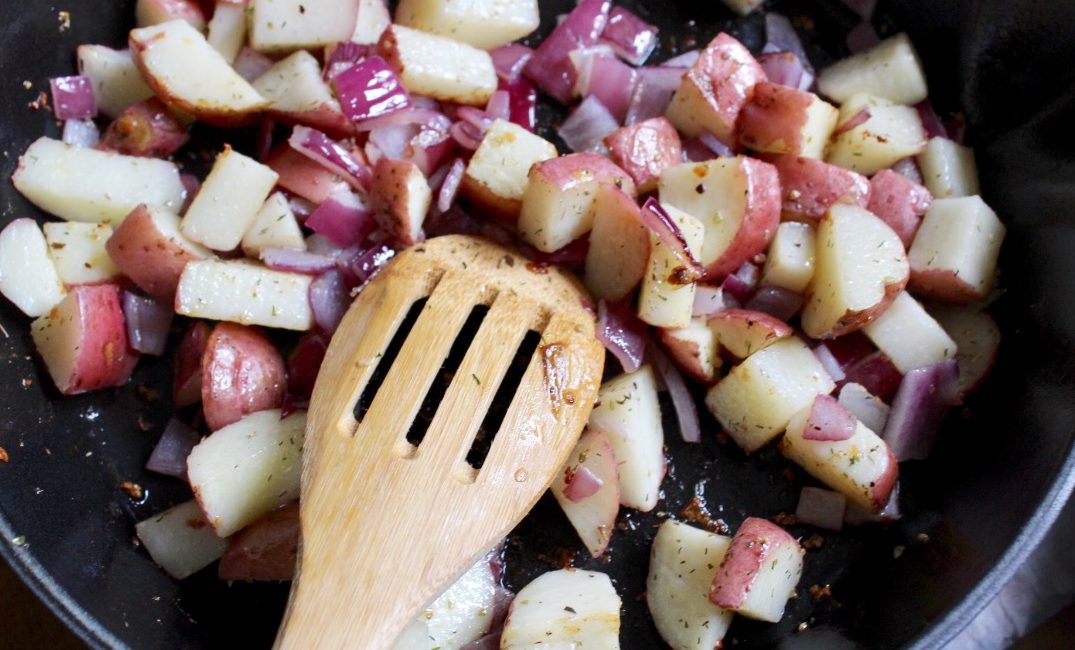 The veggies I used were cherry tomatoes, broccoli along with the potatoes and onions. Other options to add to this Mediterranean sausage hash would be Kalamata olives, artichokes, Roma tomatoes or hearts of palm. You can use fresh herbs if you have them for the dill, parsley and thyme. I love dill so I always add more than what's maybe necessary. Maybe.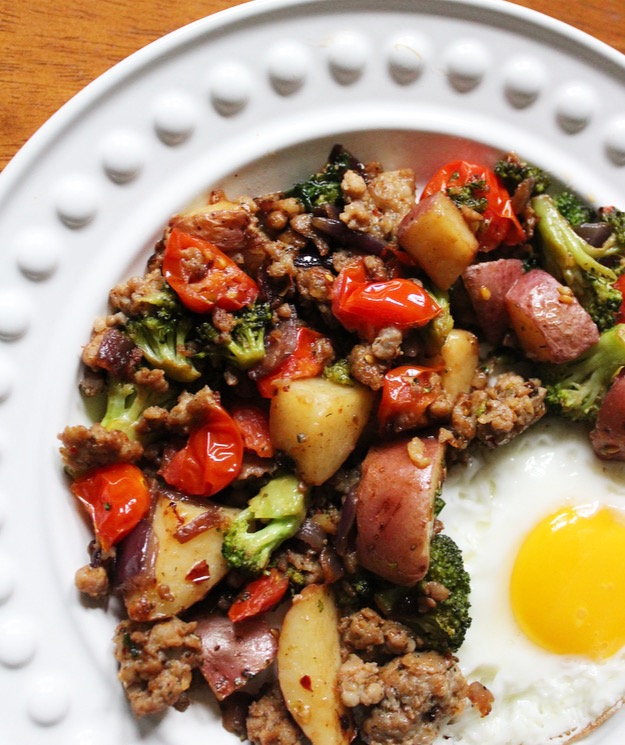 If you don't want this to just be a Whole30 egg free breakfast hash, it's still awesome for meal prepping. You can just fry or scramble an egg in the time it takes to reheat your prepped container of mediterranean sausage hash. Breakfast is still quick and easy! I've been known to eat this cold too as I fly around the house in the mornings. A bite, a sip of coffee, dry my hair, another bite, pack lunch, a sip of coffee… You get the point. Hash is great for basically any kind of morning.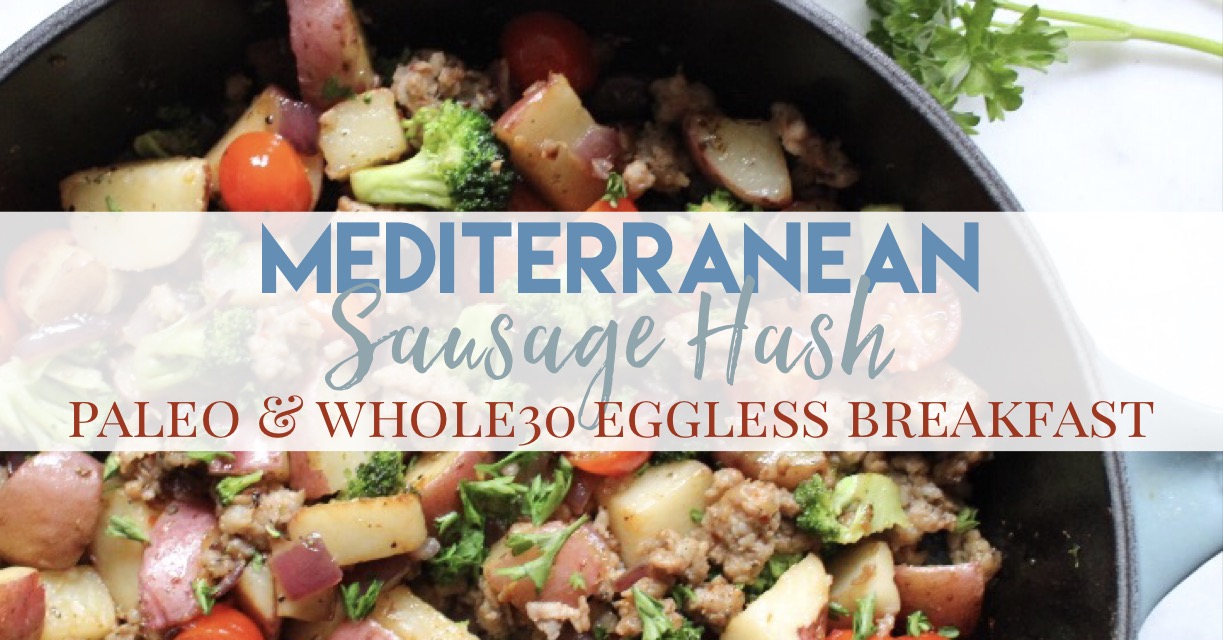 Print
Hungry for more? Subscribe to my newsletter to get new recipes delivered straight to your inbox! And be sure to stay in touch on Facebook, Pinterest and Instagram for all of the latest updates.
Mediterranean Sausage Hash: Paleo and Whole30 Breakfast
Prep Time: 10 minutes
Cook Time: 15 minutes
Total Time: 25 minutes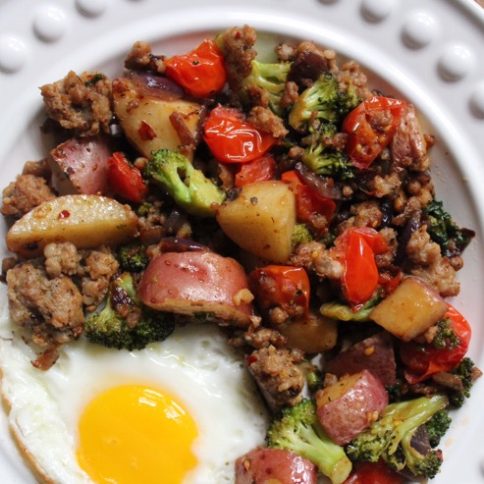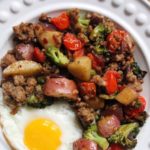 Ingredients
1/2 pound ground breakfast sausage (I used Pederson's)
2 cups diced potatoes
1/2 cup diced onion
1 cup chopped broccoli florets
1 cup or 1 large handful halved cherry tomatoes
2 tablespoons olive oil or avocado oil
1/2 tablespoon dried dill
1 teaspoon oregano
1 teaspoon thyme
Salt and pepper to taste
Instructions
Heat oil in a large skillet over medium heat
Add potatoes and dill
Once potatoes have softened slightly, about 5 minutes, add in onion and sausage
When sausage starts to brown and onions are almost translucent, add in broccoli
Once broccoli begins to soften add in cherry tomatoes, thyme, oregano, salt and pepper
Hash will be done once potatoes are completely cooked and tomatoes are wilted down
Notes
For a larger meal prep, double the recipe
This post may contain some links that are affiliate links, though products are ones I use personally and recommend. When you purchase anything using my links, it costs you absolutely nothing extra, but it does give wholekitchensink.com a little financial support which helps to keep this blog running. Thank you for your continued support, both with your dollars and your interest.