I know this pineapple ham Whole30 sheet pan recipe is bound to be your new favorite use for all of those holiday leftovers! If you're needing an easy way to repurpose Whole30 holiday ham leftovers, or you're looking for a sugar free Paleo ham option, you're in the right place! This pineapple ham Paleo sheet pan dinner is what you've been looking for!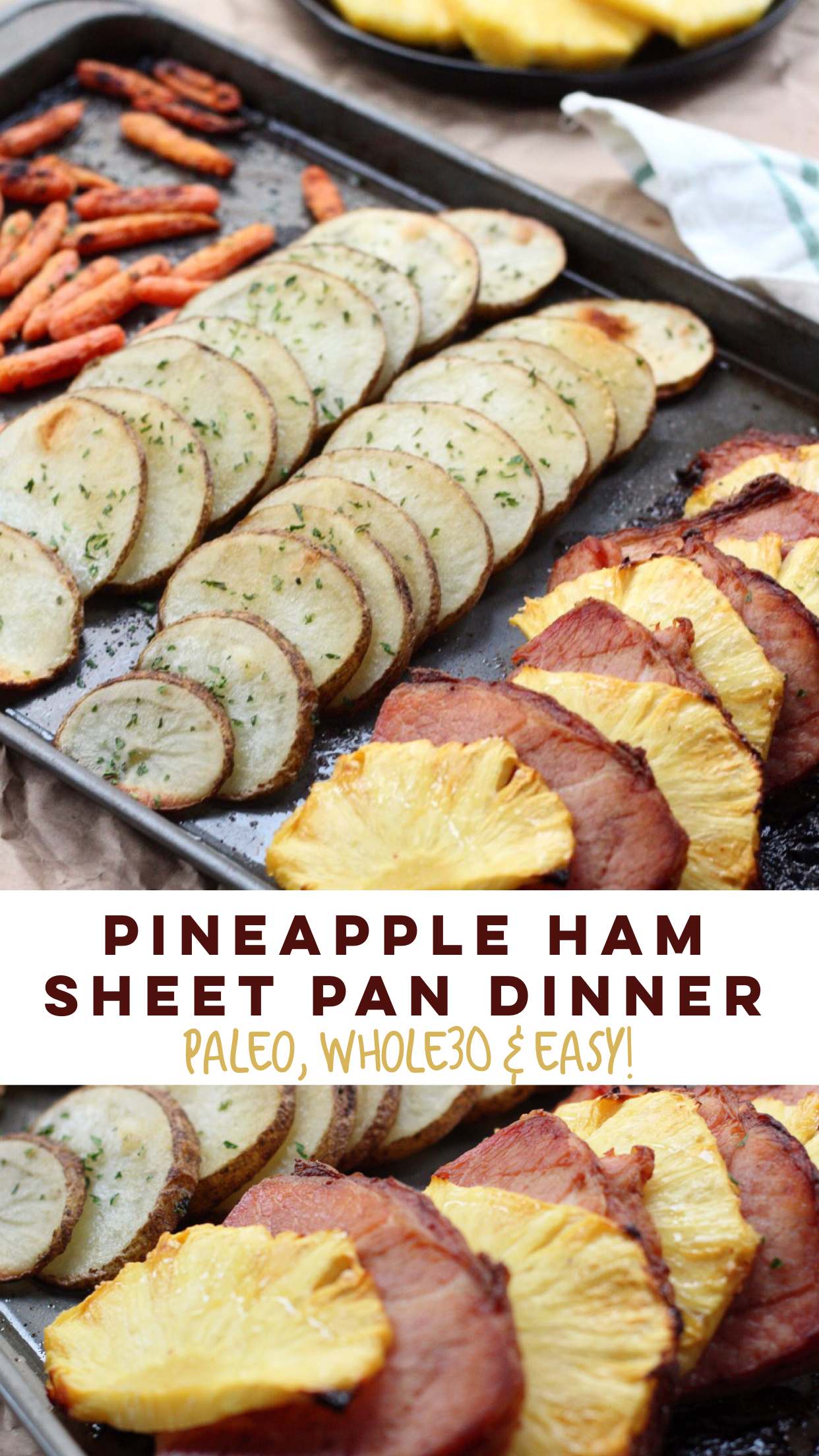 This post is sponsored by Pederson's Farms. I'm happy to work with a company I love, use and believe in so much! Thanks for your support here on the blog and your support for Pederson's Farms!
Ham is one of my favorite ways to switch up which protein I'm eating and it's such a treat when I make it since I don't have it nearly enough! It can be hard to find Paleo ham unless you know what you're looking for. The holidays are one of my favorite times of the year for this because it's easier to get, and it means lots of leftover Paleo ham! Plus this recipe for Whole30 ham and baked pineapple that gets nice and caramelized in the oven is basically the best thing ever.
Add in some hearty roasted veggies and I'm all about it.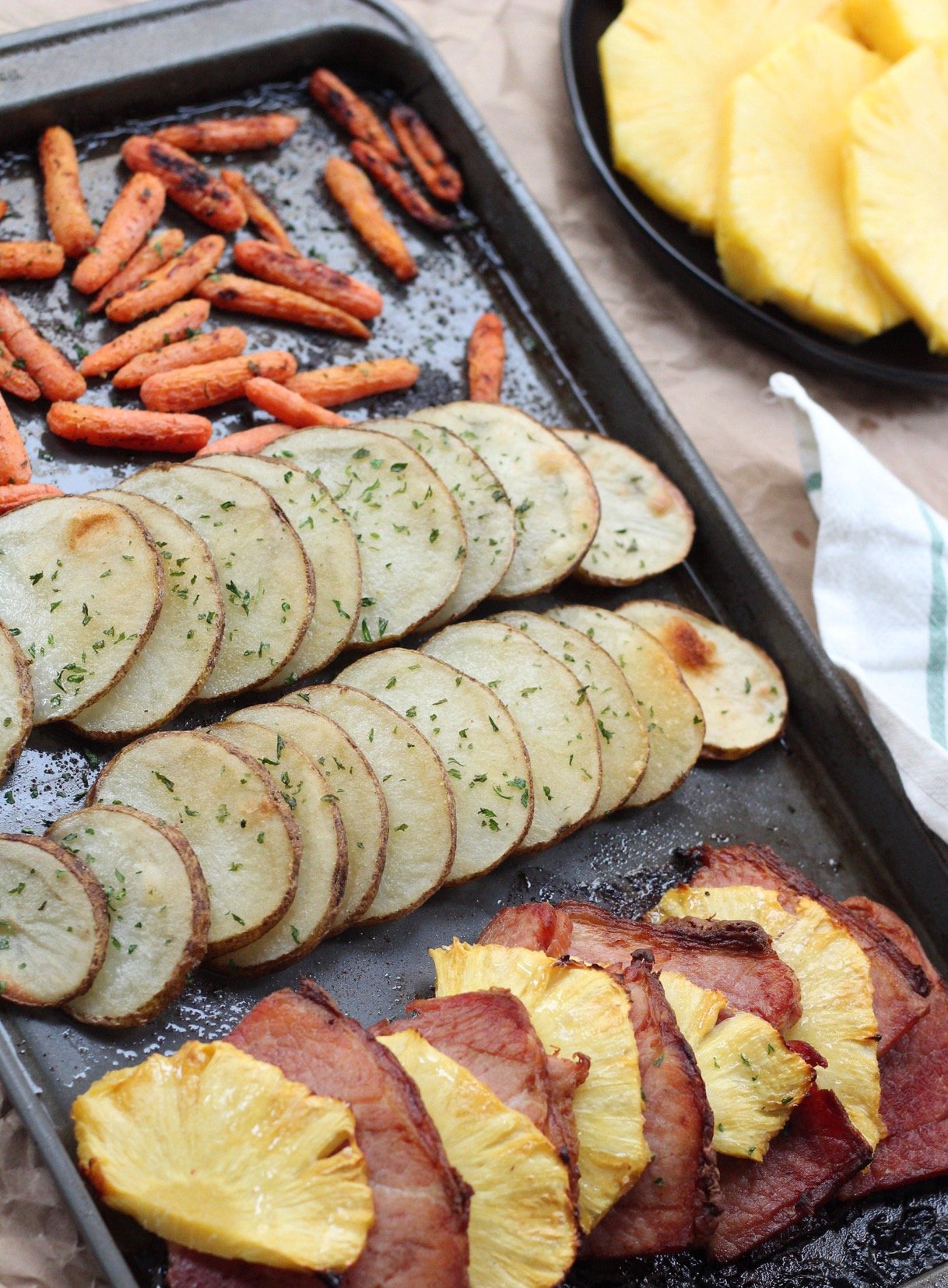 The holiday Paleo ham I used came right from Pederson's Farms (the highest quality and best meat you're gonna find, and Whole30 Approved, too!). The fully cooked and pre-sliced Paleo hams make the tastiest leftovers. Ham bone soup and this Whole30 sheet pan dinner are just two of the delish ways to repurpose your leftovers!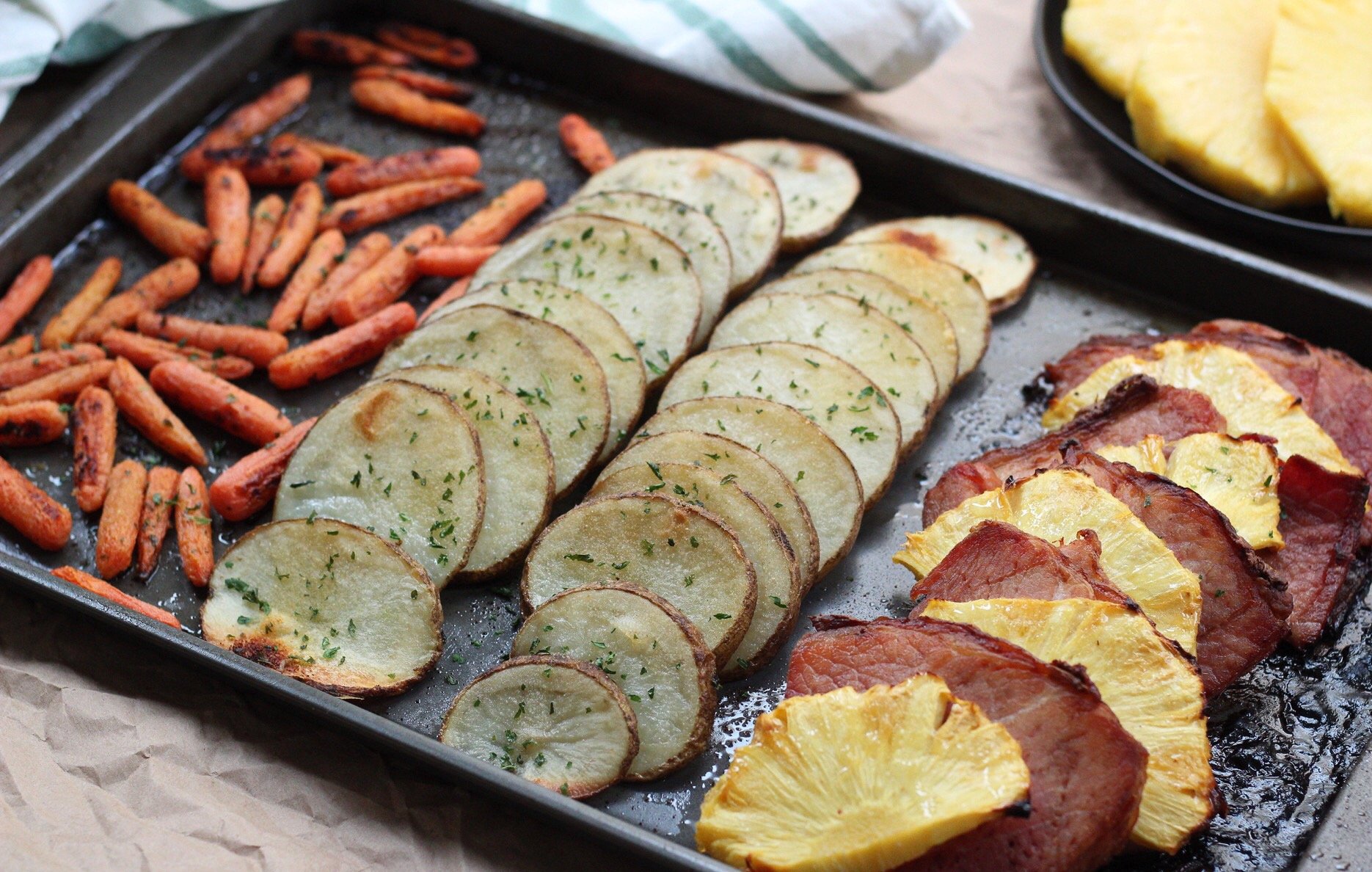 I seriously love roasted potatoes and carrots with this pineapple ham Whole30 sheet pan recipe but feel free to change it up. Use your favorite veggies that would go well with Paleo sheet pan ham! If you use potatoes like I did, make sure to slice them thin enough so they cook completely in the time it takes the Paleo ham to reheat. Remember, it's been already cooked usually!
The pineapple layered with the leftover Whole30 ham really gives the meat such a yummy flavor as the natural sugars in the pineapples help to caramelize the the artifical sugar-free Paleo ham a bit. It's like using brown sugar to get that slightly sweet taste, except totally way better, way healthier and obviously Whole30 compliant!
Other Whole30 Ham Recipes You'll Love:
Slow Cooker Creamy Whole30 Ham Soup
Whole30 Ham and Hash Brown Egg Bake
3 Ingredient Holiday Paleo Ham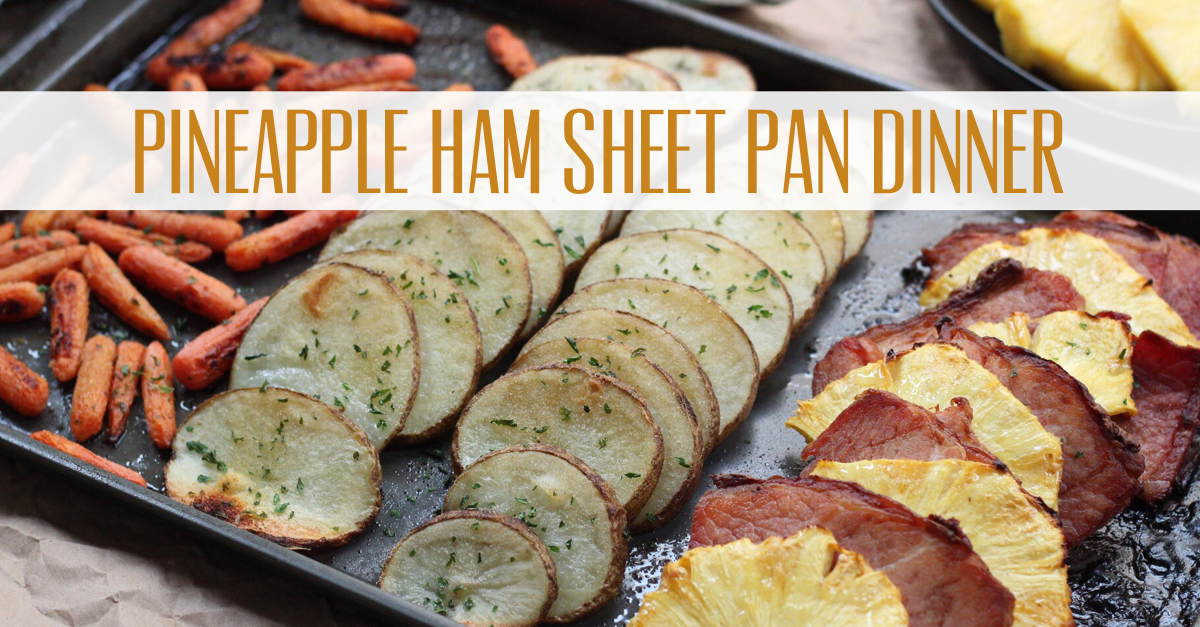 Print
Pineapple Ham Sheet Pan Dinner: Paleo, Whole30 and Easy!
Prep Time: 5 minutes
Cook Time: 35 minutes
Total Time: 40 minutes
Yield: 4 1x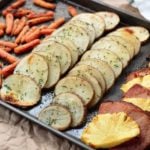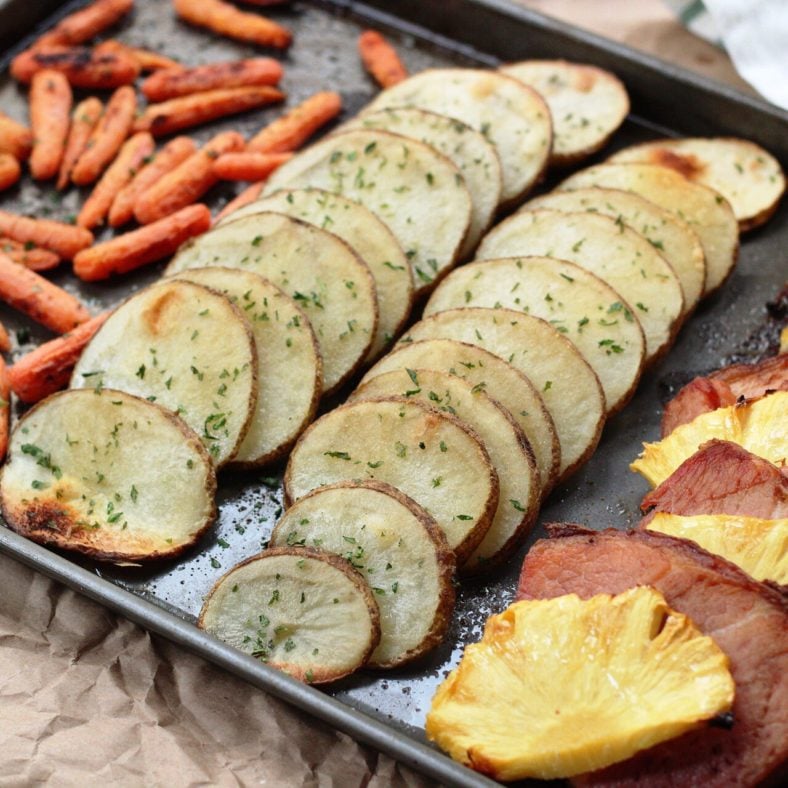 Ingredients
1/2 to 1 pound Pederson's Farms Holiday Ham
2 large white potatoes
1/2 pineapple, sliced and halved
1/2 pound baby carrots
2 tablespoons olive oil
1 teaspoon dried parsley
1/2 teaspoon garlic powder
1/4 teaspoon salt
Instructions
Preheat oven to 350 degrees F.
On a large sheet pan, coat potatoes and carrots in oil, parsley, garlic powder and salt and arrange on the pan
Layer ham and pineapple on the sheet pan
Place in the oven and bake for 35 minutes, turning the carrots over halfway through
Remove from oven and serve!
This pineapple ham Whole30 sheet pan post contains affiliate links, though all products are ones I use personally and recommend. When you purchase anything using my links, it costs you absolutely nothing extra, but it does give wholekitchensink.com a little financial support which helps to keep this blog running. Thank you for your continued support, both with your dollars and your interest.