Whether you're meal prepping or feeding your family, this no-fuss sheet pan salmon and veggies is the way to go. With this cooking method, you'll end up with 4 servings of a totally healthy dinner for only a fraction of the work. Even better, you can customize sheet pan dinners to your preferences!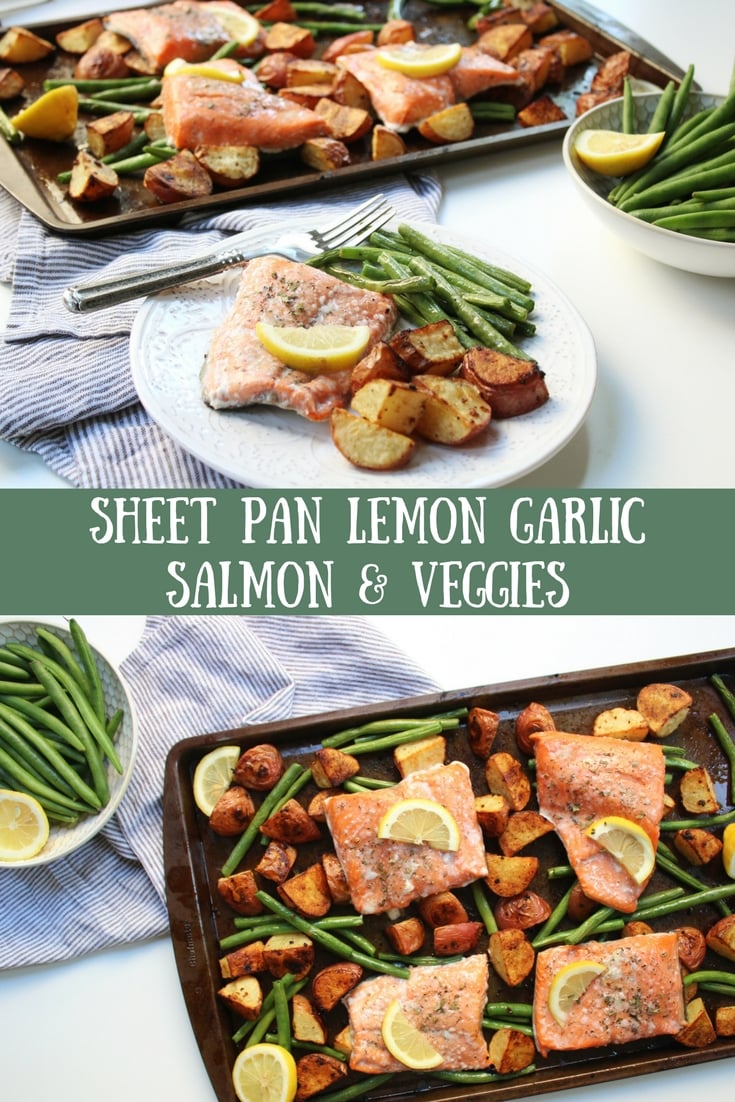 You'll only need a few pantry staples. No fancy ingredients here. Just simple flavors that come together to make this sheet pan salmon and veggies dinner taste awesome. Because you don't need any of those specialty ingredients, you can create any type of flavor profile you want to season the potatoes, green beans and salmon with. You could use steak seasoning, Italian spices, really anything you're feeling like adding!
Speaking of salmon, I'm super excited that I got to meet up with Grant Niver, founder of Surrender Salmon for a little lesson on salmon, the fishing industry and how they're doing things differently (read: better). I always love supporting local Minnesota companies who are doing awesome things and it's important to me to know where my food is coming from when possible, so partnering up with them seemed like a no-brainer!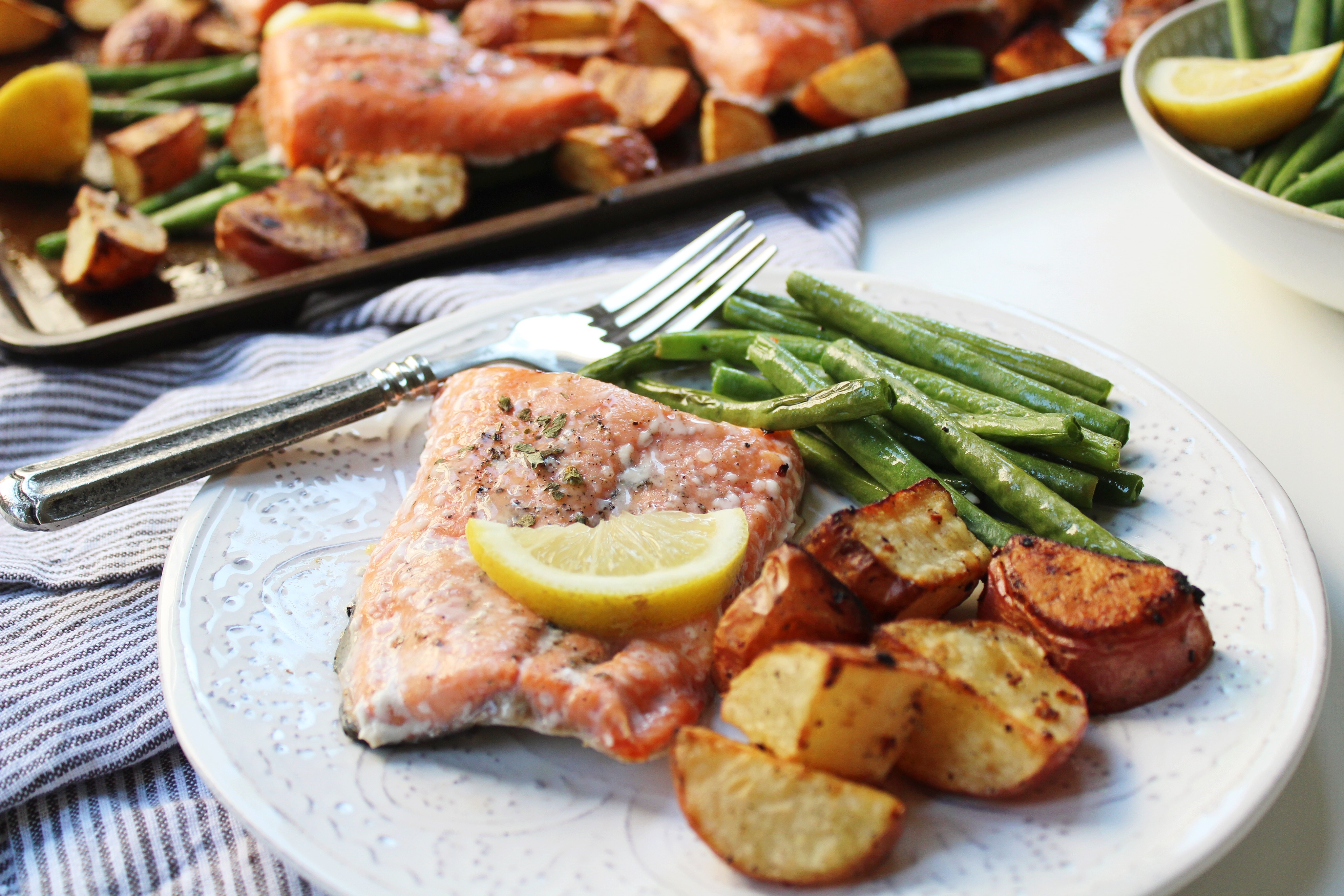 I don't take every partnership that comes my way. In fact, I don't take a majority of them. I hold this blog (my baby!) to high standards, so if a company's ingredients or mission doesn't match those, I know it's not a good fit. And even though I'm not being paid for this, Surrender Salmon is doing really, really amazing things. They're working hard to bring wild salmon that their family catches in Alaskan waters back to Minnesota and then educate Minnesotans on knowing where their fish is coming from.
The crew at Surrender Salmon (Grant, his brothers and his dad!) are the fishermen, which removes the middleman, making it so you're buying your fish right from the source. Their wild salmon (fyi: most salmon, even "organic" is farm raised!) is caught in Bristol Bay, Alaska, bled and refrigerated right away on the boat and then immediately flash frozen and vacuumed sealed, which is why it doesn't have that fishy taste and smell. It's truly some of the best stuff I've ever tasted.
It was just a really cool experience to speak to Grant and learn about how fishing wild salmon works. These are hard workin' guys who truly care about the quality of their fish and the health of their customers. If you're in Minnesota, I'd definitely check them out. If not for all the good work they're doing then do it for the super awesome price of $14/lb which is such a great price point for wild salmon.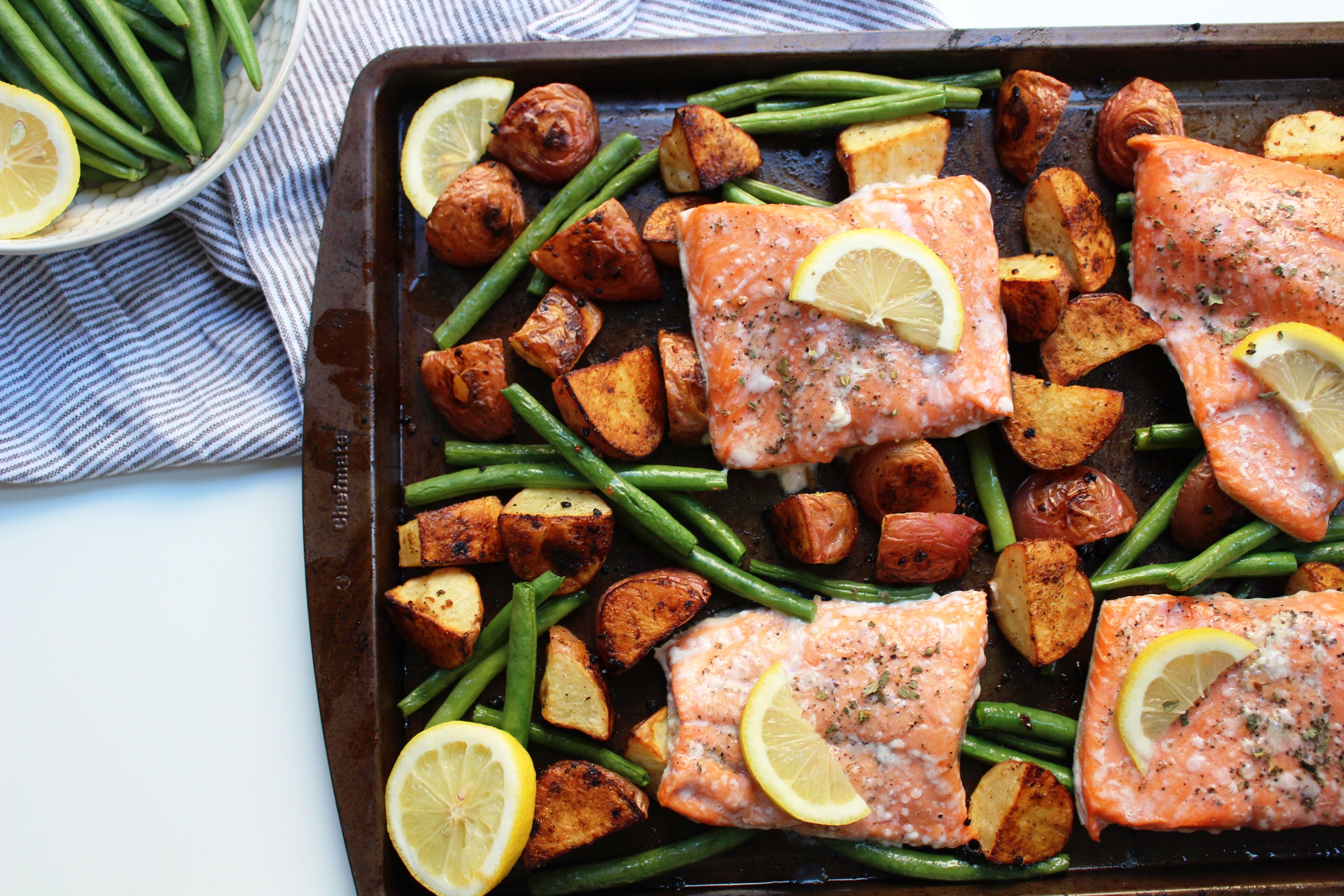 For the first part of this recipe, all you're going to be doing is baking the potatoes. I love to just use some oil (avocado or olive is the best for this), pepper and minced garlic. YUM. While the potatoes are cooking, just quickly trim the ends of the green beans off, coat with a little oil and salt and then prepare the salmon.
Typically, when I'm making salmon I like to use a paper towel to soak up the extra moisture on the flesh. You don't have to press hard but make sure you do this prior to seasoning it. All I do is drizzle a bit of oil (not a ton!) and add the spices and lemon juice. That's it! Honestly, this salmon is so good you really don't need much of anything to make it even tastier.
Other One Pan Meals You'll Love:
Butter Herb Steak and Veggies Sheet Pan Meal
One Dish Pot Roast and Veggies
One Pan Honey Mustard Chicken and Veggies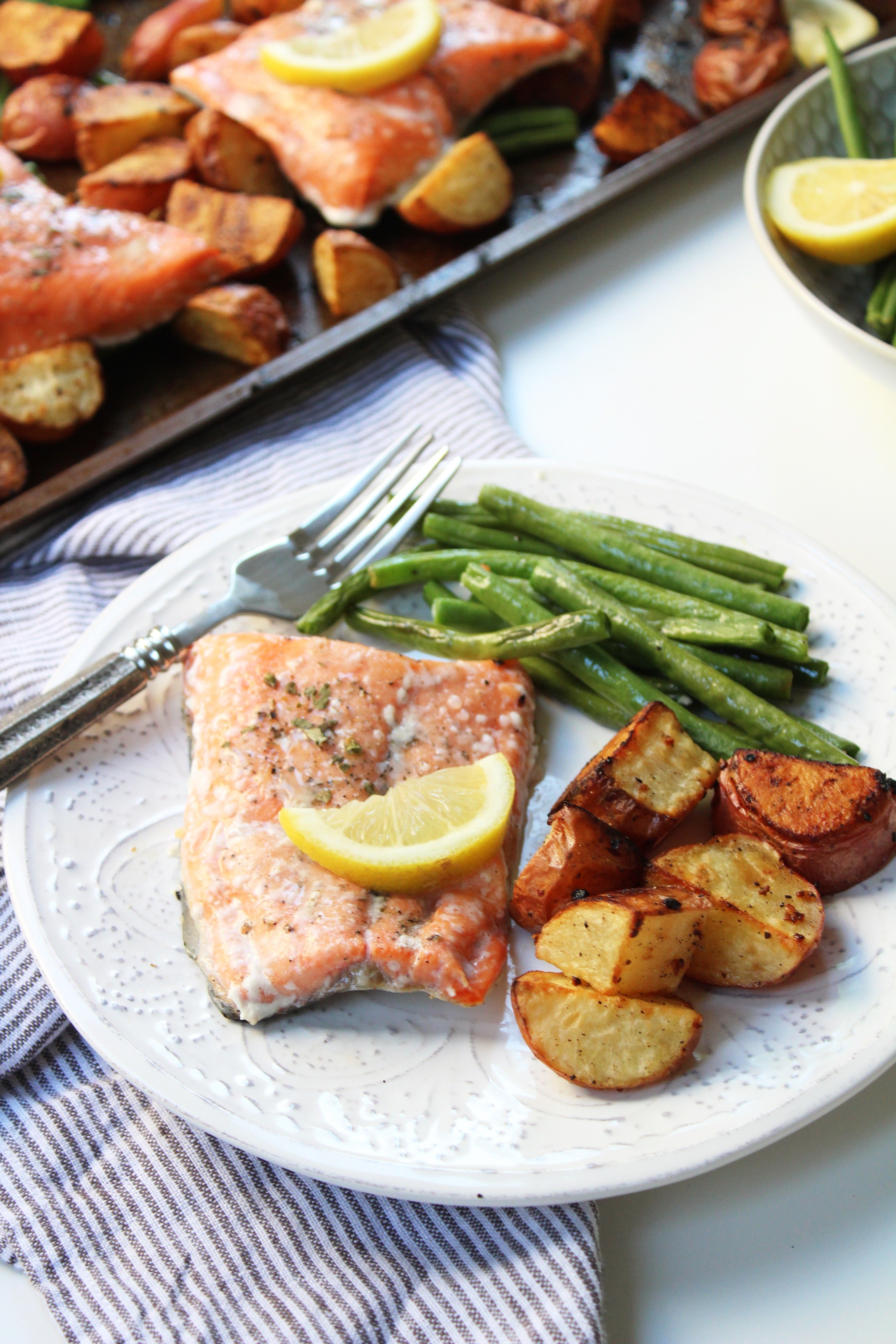 Once the potatoes are fork tender, remove, and add the beans and salmon to the sheet pan. Pop it back into the oven for an additional 10 minutes and viola! Your sheet pan salmon and veggies dinner is DONE!
Enjoy!
Print
Sheet Pan Lemon Garlic Salmon and Veggies: A Hands Free Healthy Dinner
Prep Time: 10 minutes
Cook Time: 40 minutes
Total Time: 50 minutes
Yield: Serves 4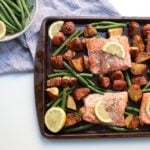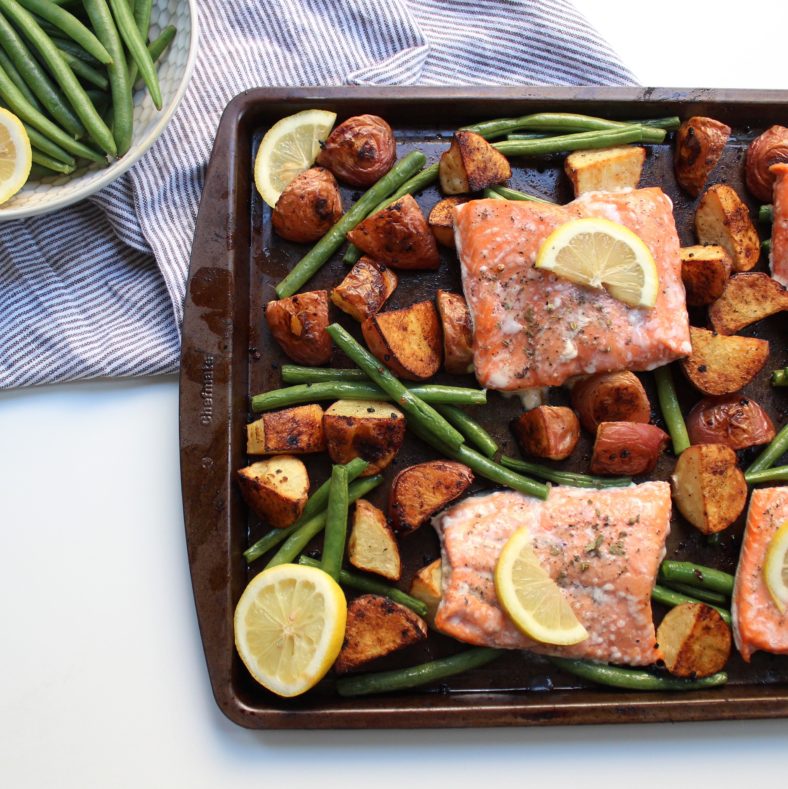 Ingredients
4 salmon fillets (approximately 1 pound)
2 pounds red potatoes, cubed
1/2 pound green beans, trimmed
1/2 lemon, sliced
3 tablespoons avocado or olive oil, divided
1–2 tablespoons minced garlic
3/4 teaspoons black pepper
1/4 teaspoon salt
Instructions
Preheat the oven to 400 degrees F.
Chop the potatoes into equal size cubes
On a baking sheet, use hands to coat the potatoes with 2 tablespoons oil, pepper and minced garlic
Arrange the potatoes in a single layer and place in oven
Bake for 30 minutes until fork tender
Before it's done baking, trim the ends off the green beans and coat with 1/2 tablespoon oil and salt
Pat dry the salmon with a paper towel and season with 1/2 tablespoon oil, 1/4 teaspoon black pepper and a generous squeeze of lemon juice
Remove potatoes from the oven, flip and add green beans to the sheet pan and add a squeeze of lemon juice over sheet pan
Either move potatoes and green beens to the sides and place salmon in the center, or place over top
Place lemon slices on sheet pan or directly on the salmon
Turn oven to broil
Put the sheet pan back into the oven and broil for about 10 minutes, until salmon is easily flaked with a fork
Serve and enjoy!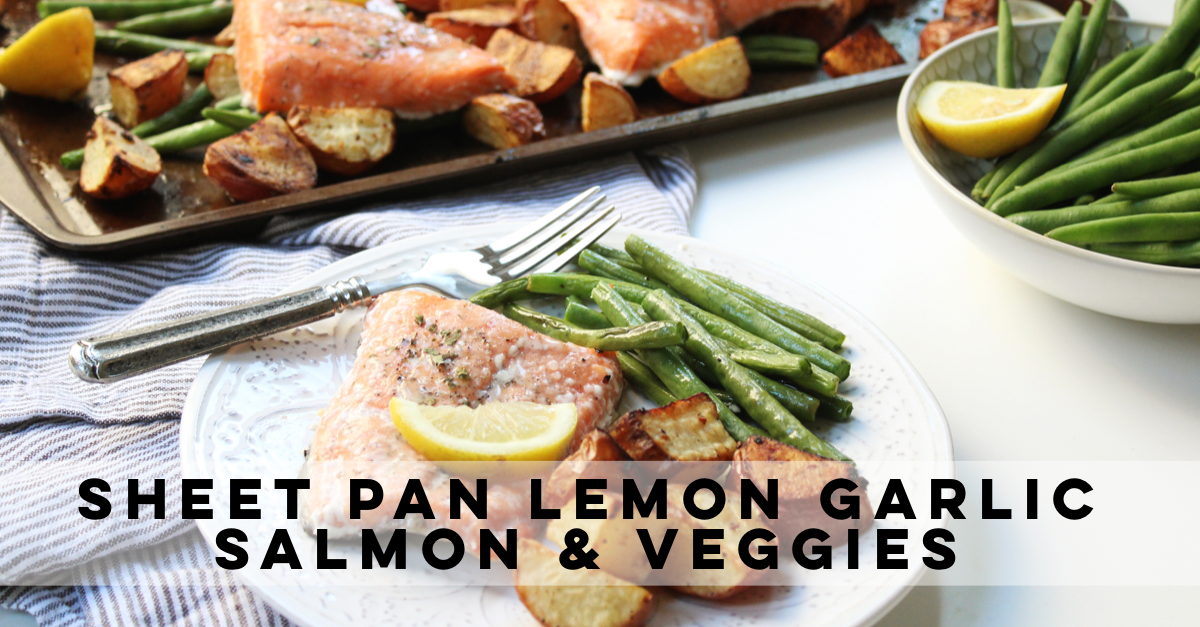 This post may contain some links that are affiliate links, though products are ones I use personally and recommend. When you purchase anything using my links, it costs you absolutely nothing extra, but it does give wholekitchensink.com a little financial support which helps to keep this blog running. Thank you for your continued support, both with your dollars and your interest.