Sheet pan Paleo meals are my favorite weeknight dinners. This Whole30 sheet pan fish fajitas recipe is quick and easy, taking under 30 minutes. Made with delicious seasoned cod that you can serve it over cauliflower rice, in taco salads, or burrito bowls. Whole30 sheet pan meals put dinner on the table without any extra clean up!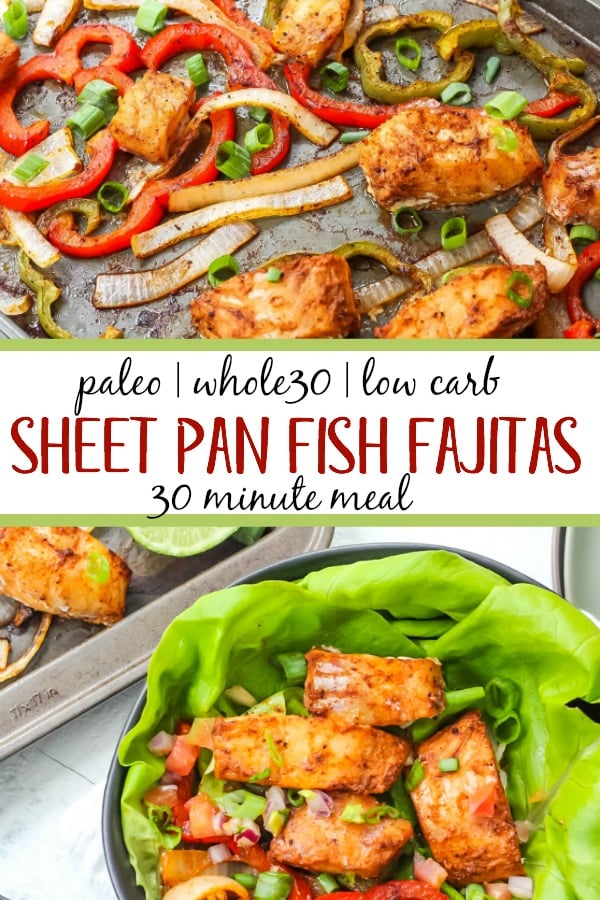 This post is sponsored by Sea to Table. I'm excited to partner with a company I believe in so much! Thanks for your support here on the blog and your support for Sea to Table!
While you could use any white fish for this Whole30 sheet pan fish fajitas recipe, I highly recommend using cod. It cooks quickly, absorbs the flavors of the seasonings nicely and comes out of the oven perfectly flakey. The cod I prefer to use is from Sea to Table. Sea to Table is a seafood company that sends quality seafood directly to my door. The convenience combined with the fact that I can't get traceable, wild-caught seafood from the grocery store makes using Sea to Table a no-brainer.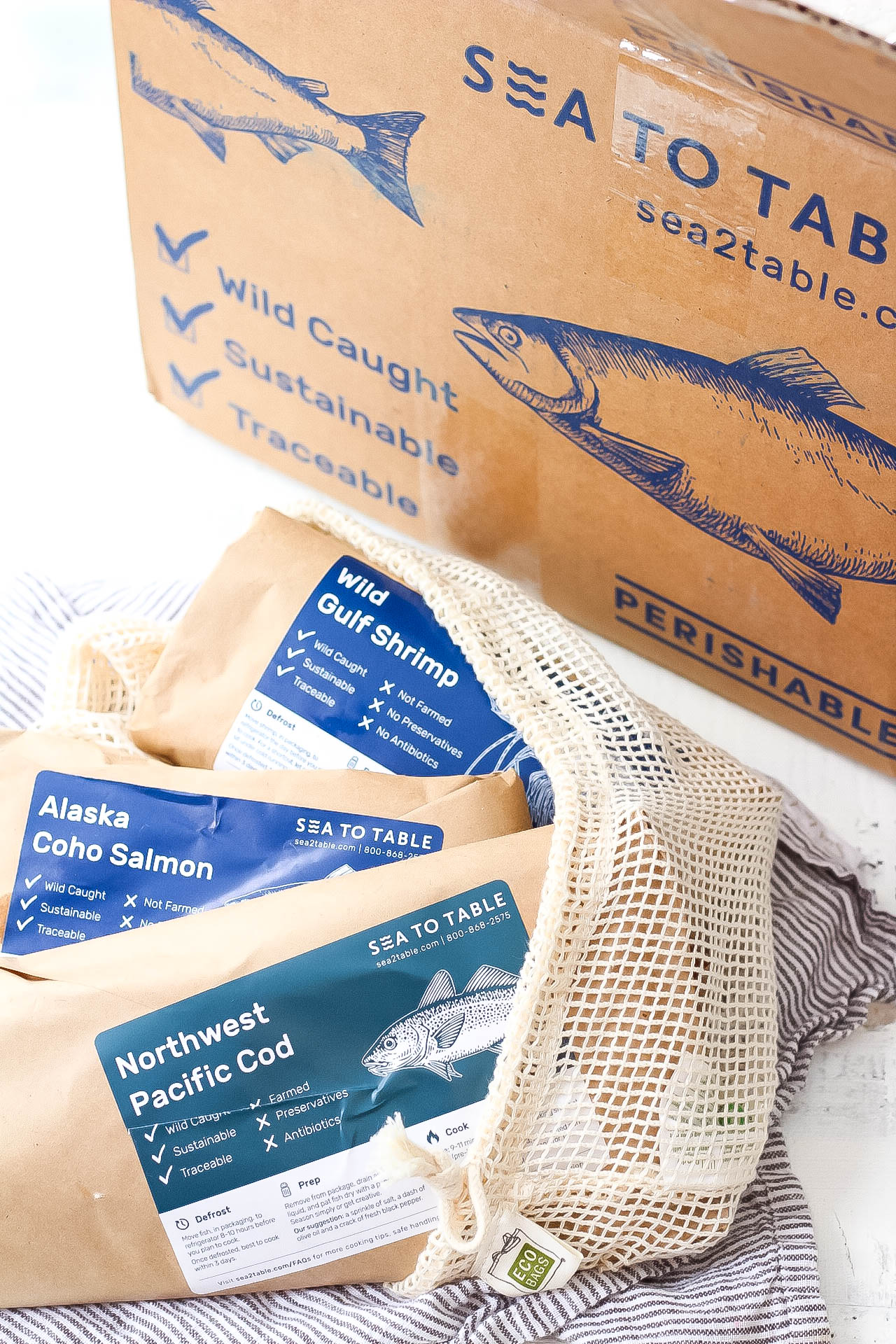 Each package of seafood you get from Sea to Table is clearly labeled with where and how the fish was caught, and all of their fish was caught right off our own coasts by local fishermen. This is a huge selling point for me because I try to not purchase farmed or imported fish as much as possible. 90% of the seafood we eat in the U.S. is imported, mislabeled, and full of antibiotics from being farm-raised fish, and supermarkets don't offer much in terms of wild-caught fresh fish.
Read more about Sea to Table's mission HERE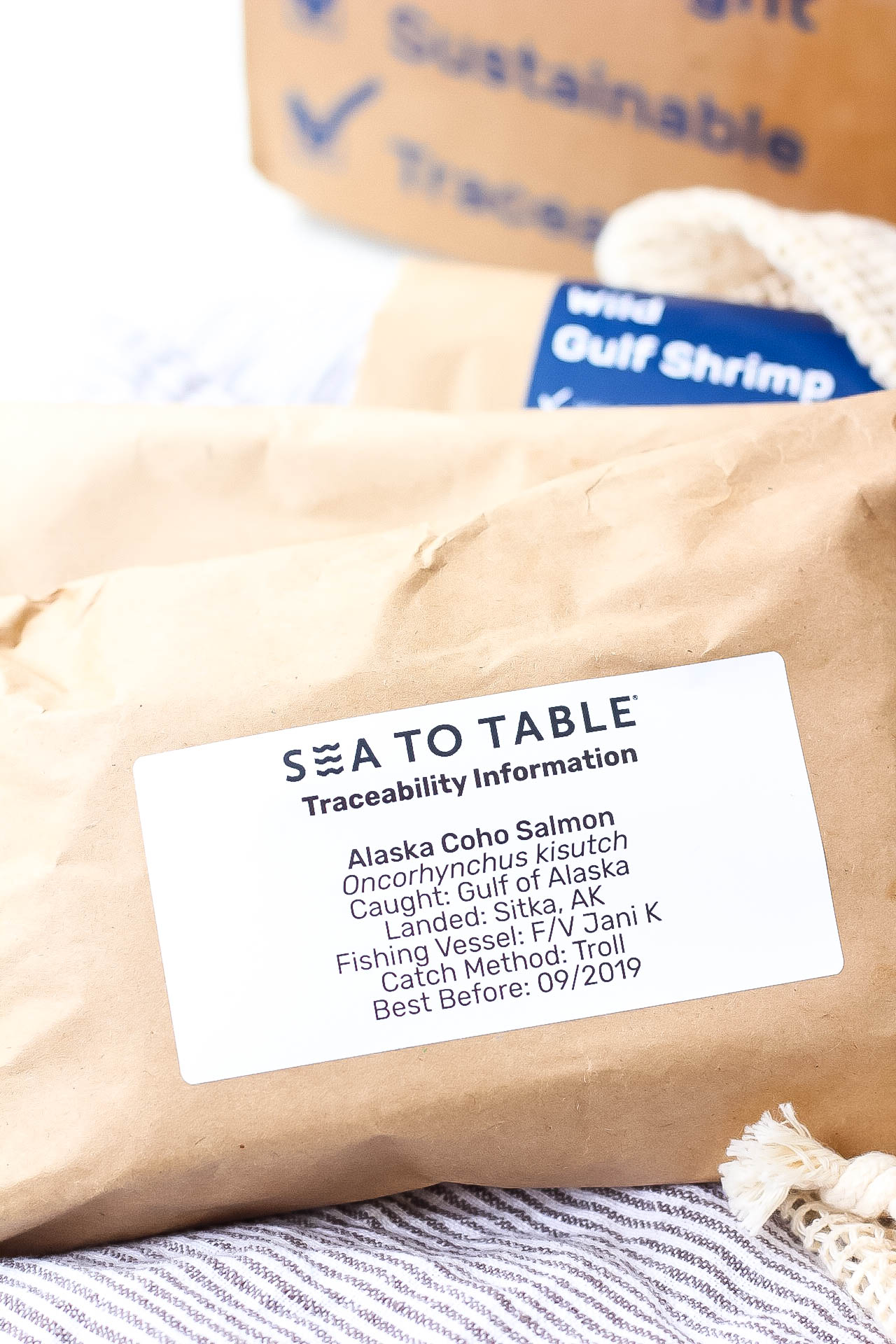 In the Starter Pack, which has 6 full-size servings and is a super budget-friendly choice for my family, I used the Northwest Pacific Cod for this Whole30 sheet pan fish fajitas recipe. Another great option, and Sea to Table's bestseller, is their Fish Lover's Box, which includes 14 servings and all 7 of the species they offer. With 25% off AND free shipping, it's a really awesome value for families. All of the fish comes cleaned, flash frozen and individually packaged ready to go. That helps make this Paleo sheet pan recipe so simple to make.
Once you've got your cod, you only need a few fresh veggies to season with spices you already have in the kitchen. It's one of my favorites to make because it only takes a half hour to put dinner on the table, and the fish is light and perfect for spring. Like I mentioned above, you can serve the Whole30 sheet pan fish fajitas over cauliflower rice, in lettuce cups, or in burrito bowls.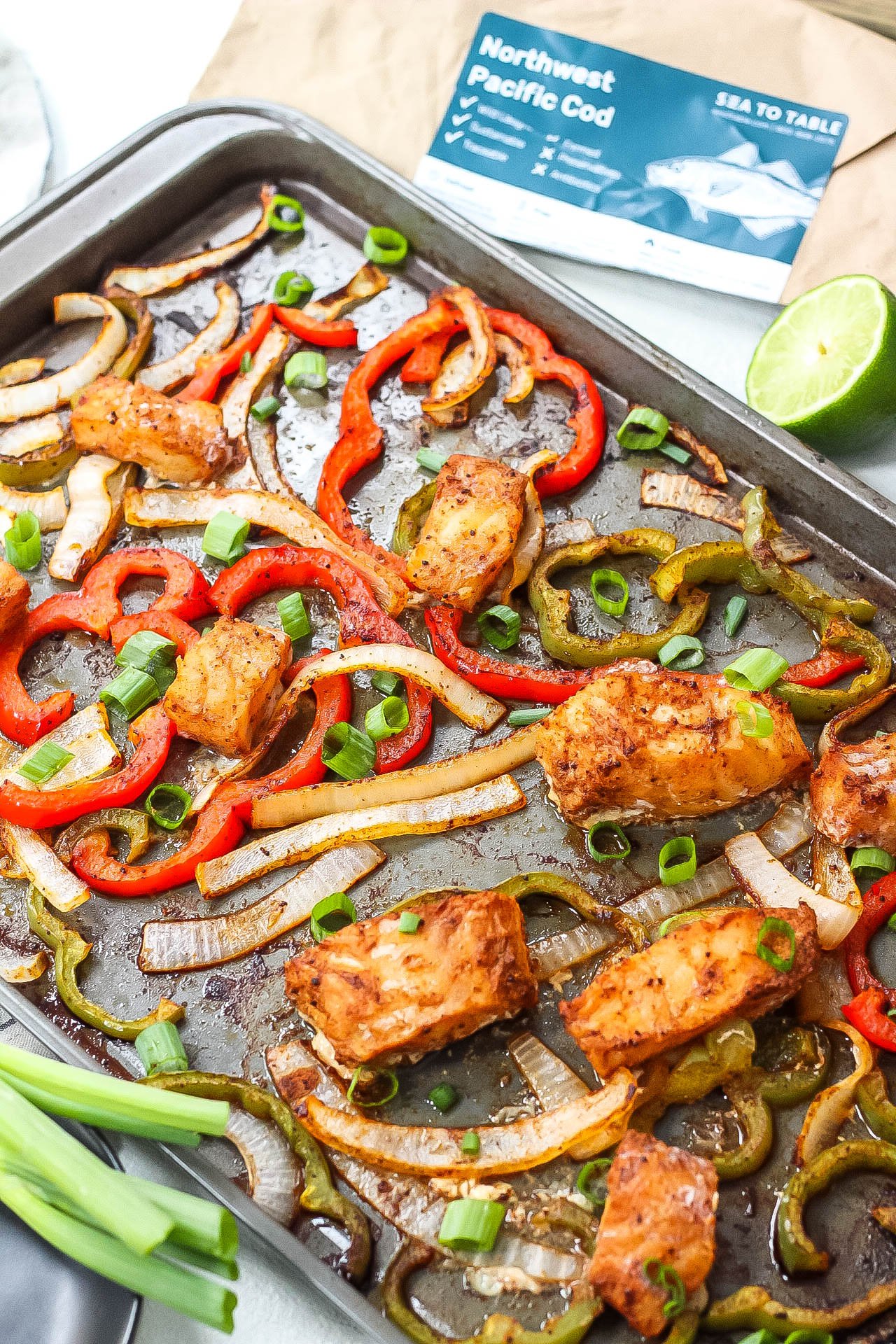 The variety of ways I can eat this paleo fish recipe makes it an ideal one for my meal prep. I can have it a few different ways throughout the week if I decide not to share with the family. Whether for meal prep, or a quick weeknight dinner, the sheet pan recipe makes clean up as easy as possible. Which is the way I like it.
Related Posts You May Like:
Paleo Fish Tacos with Mango Salsa
Print
Hungry for more? Subscribe to my newsletter to get new recipes delivered straight to your inbox! And be sure to stay in touch on Facebook, Pinterest and Instagram for all of the latest updates.
Whole30 Sheet Pan Fish Fajitas (Paleo + Gluten Free)
Prep Time: 10 minutes
Cook Time: 20 minutes
Total Time: 30 minutes
Yield: Serves 4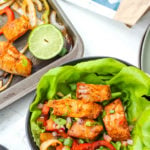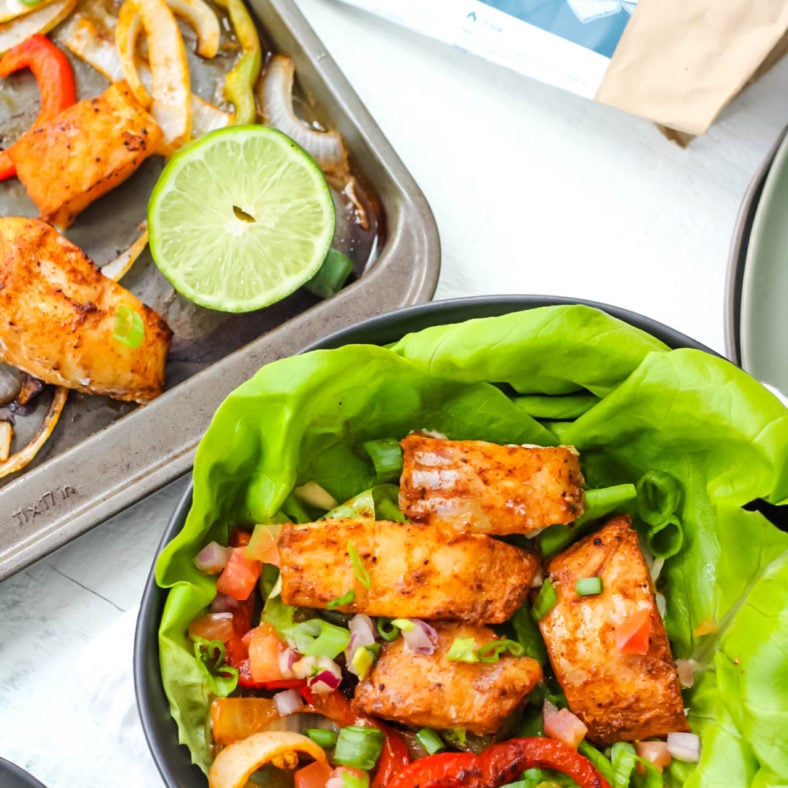 Ingredients
1 pound Northwest Pacific Cod from Sea to Table, cut into 2″ pieces or strips
3 bell peppers, any color, sliced
1 large white onion, sliced
1 lime, juiced (about 4 tablespoons)
2 tablespoons avocado oil
1 tablespoon minced garlic
2 teaspoons chili powder
1 teaspoon cumin
1 teaspoon dried parsley
1 teaspoon chipotle powder
1/2 teaspoon coriander
1/2 teaspoon onion powder
1/2 teaspoon salt
1/4 teaspoon pepper
Optional toppings and garnish: cilantro, green onion, avocado, guacamole, pico
Instructions
Preheat oven to 400 degrees F.
Line a sheet pan with tin foil
In a medium bowl, mix together dried seasonings and set aside
Place onions and peppers onto sheet pan and drizzle 2 tablespoons oil, minced garlic and juice from 1/2 of the lime
Use hands to mix together on the sheet pan, evenly coating with oil, garlic and lime juice
Sprinkle 1/2 of the seasoning mixture over veggies on the sheet pan
Use hands to evenly coat veggies with seasoning mixture and spread out evenly on the sheet pan
Place into the oven and bake for 12 minutes
While veggies are baking, place cod pieces into the bowl with the remaining seasoning mixture
Add 1 tablespoon oil and juice of remaining 1/2 lime
Use hands to evenly coat fish with seasonings, oil, and lime. Rub seasoning into the fish well
Remove sheet pan from the oven, stir veggies and place fish onto the sheet pan
Put back into the oven and bake an additional 10-12 minutes until fish easily flakes with a fork
Remove from oven, serve over cauliflower rice or tacos and enjoy!
This post may contain some links that are affiliate links, though products are ones I use personally and recommend. When you purchase anything using my links, it costs you absolutely nothing extra, but it does give wholekitchensink.com a little financial support which helps to keep this blog running. Thank you for your continued support, both with your dollars and your interest.