I've been utilizing one pot meals lately. I'm a fan of not spending a ton of time cooking and getting a delicious comfort meal out of it, too. This one pot creamy chicken and veggies is full of flavor, loaded with nutrients and won't take you 5 hours to make.

Of course I threw bacon in it, because… bacon. I also added the fresh veggies I had on hand that I picked up from the farmer's market. Please don't run out and buy exactly what I used here! If you have zucchini but no green beans, use that instead! When I make this dish, I honestly just use the bones of the recipe as a base and plop in whatever I'm feelin' that night.
My idea of "one pot meals" mean that they're EASY and fast. In my house they're usually unplanned and not something I have to run out to the store to go get! Another reason why I always keep cans of coconut milk and other staples around.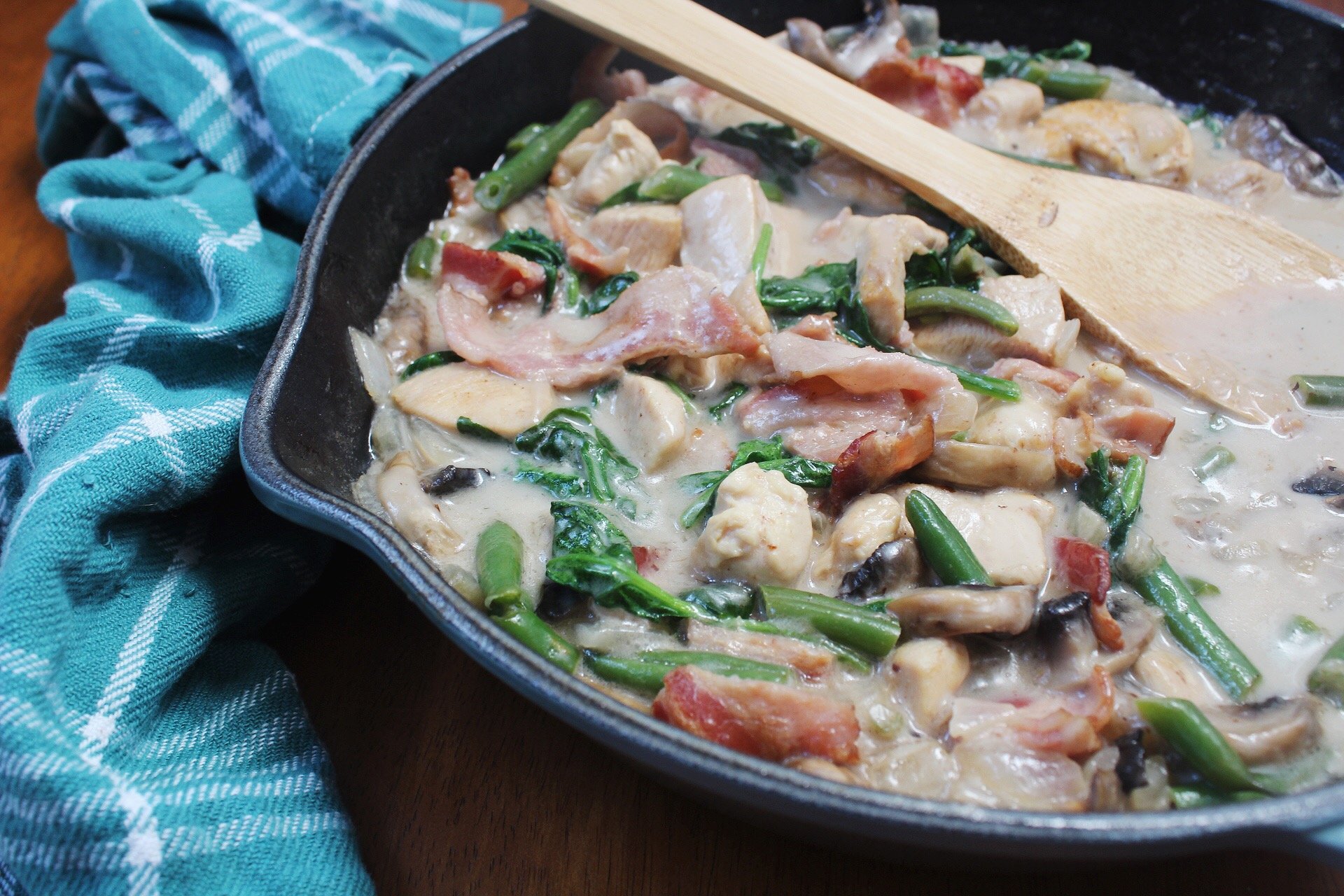 Other One Dish Meals:
Chorizo and Butternut Squash Chili
This recipe does call for coconut milk. If you're not a huge coconut fan, don't worry! I swear you can hardly taste it after the bacon, veggies, seasoning and red wine vinegar is mixed in. It just creates a perfect creamy consistency without a super overpowering coconut flavor.
If you don't have red wine vinegar you can totally use white wine. If you're doing a Whole30, both red and white vinegars are approved so you're A-OK there. I used a little more than 1/2 a can of coconut milk but if you like it more or less creamy, use a little more or a little less coconut milk! It's easily customizable to your preferences.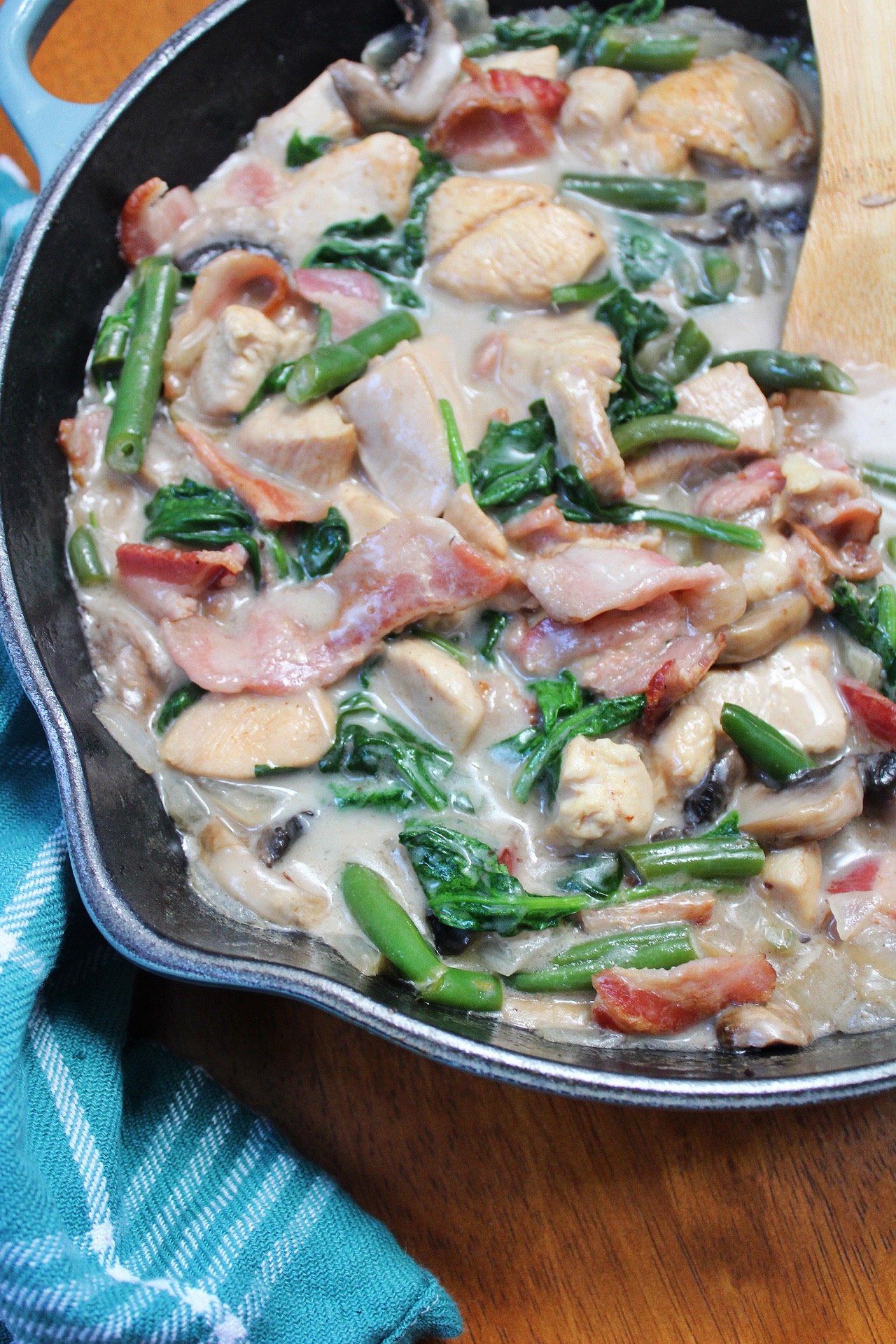 This healthy creamy chicken is seriously so good. I'm not just saying that because I made it either. My boyfriend loves it and we finish off the pan to ourselves. He keeps telling me to double the recipe… which is what I always tell you guys to do so maybe next time I'll take my own advice!
Print
One Pan Creamy Chicken and Veggies: Dairy-Free, Low-Carb, Paleo and Whole30!
Prep Time: 5 minutes
Cook Time: 25 minutes
Total Time: 30 minutes
Yield: Serves 2-3 1x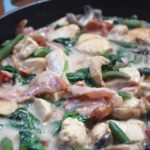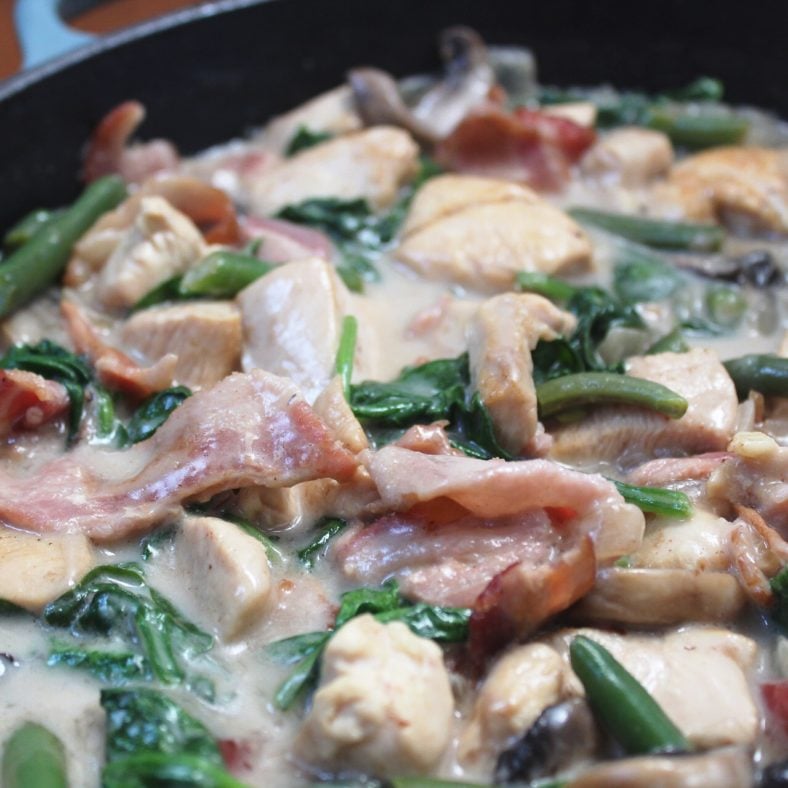 Ingredients
2 chicken breasts cut into 1" pieces
5 slices of bacon (I used Pederson's Farms no sugar bacon)
1/2 can of full-fat coconut milk
1 cup sliced mushrooms
1 cup diced white onions
1 cup green beans, cut in bite-size pieces
1 cup baby spinach
2 tablespoons red wine vinegar
1/2 teaspoon black pepper
1/2 teaspoon salt
1/2 teaspoon garlic powder
Instructions
In a large pan over medium heat, cook bacon slices
Remove bacon and set aside
Remove bacon fat from pan, leaving 1-2 tablespoons
Add in white onion and let cook for 1-2 minutes
When onion becomes translucent, add in chicken
Allow chicken to cook for 5 minutes, stirring occasionally
Once chicken is about halfway cooked, add in green beans and mushrooms
Let cook for another 2-3 minutes
Pour in coconut milk, bacon, spices and balsamic vinegar and stir
Bring the pot to a slow simmer
Let cook for an additional 10 minutes or until chicken and veggies are cooked thoroughly
In the last two minutes of cooking, stir in spinach leaves to wilt. Remove from heat once wilted and well combined into the skillet.
Note: If the liquid is too thin still, add in 1 tablespoon tapioca flour and whisk into the liquid and allow to simmer an additional 5 minutes
This post may contain some links that are affiliate links, though products are ones I use personally and recommend. When you purchase anything using my links, it costs you absolutely nothing extra, but it does give wholekitchensink.com a little financial support which helps to keep this blog running. Thank you for your continued support, both with your dollars and your interest.