My puppy girl has been sick all week, I'm getting sick and basically I'm worn the hell out. I just haven't had the energy to make anything that would take longer than 5 minutes of my time to prepare. I also needed a meal that I could turn into multiple meals for my weekend back at work doing 12 hour overnights at the hospital. My *super totally creative* way to make a ton of food but also not do any work was to throw stuff on a sheet pan and make this one pan sausage and veggies meal.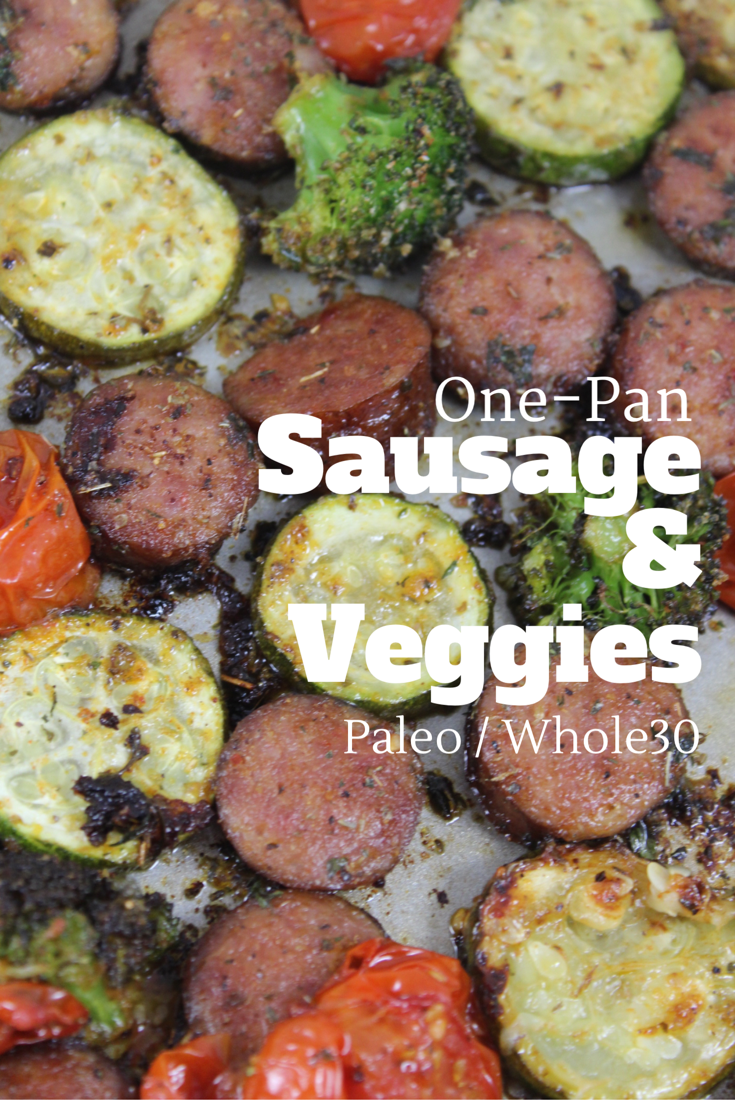 It's stupid easy to prepare and makes amazing tasting leftovers. I'm already looking forward to eating them tonight. Honestly, you could use whatever veggies you wanted to or had in the fridge already but I chose to go with these ones. I used an Italian blend of seasonings and I love these particular veggies roasted that way.
To make this even heartier you could add potatoes, carrots and/or green beans. That's what's so great about one pan meals like this. Basically you're just doing whatever works and whatever's convenient. Not having anything to fuss over in the kitchen is such a nice feeling sometimes. One less thing to worry about so you can just get it taken care of and move on with your day.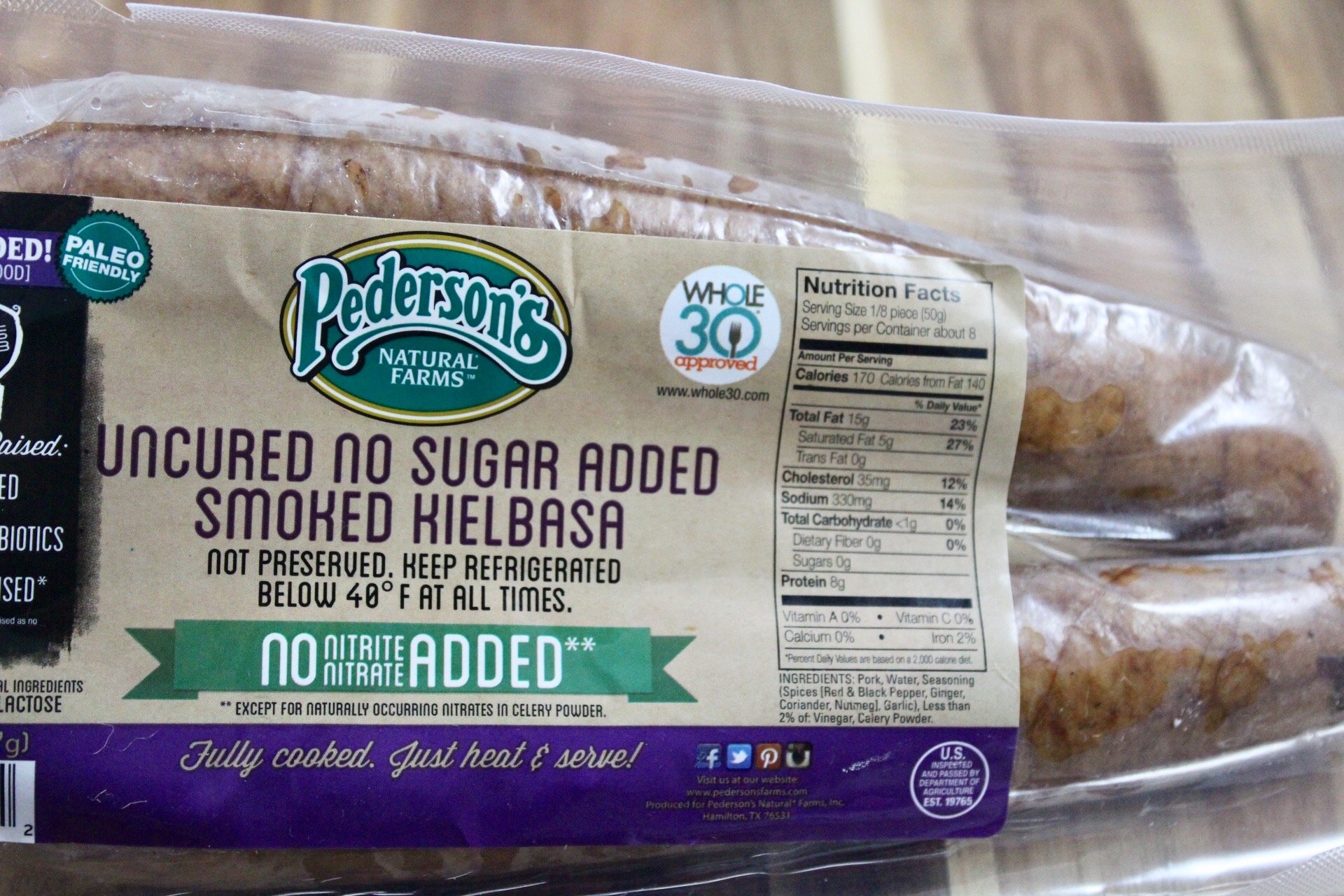 I didn't have to go out and buy anything special for this. Just defrosted some kielbasa from the freezer and pulled from my sad produce drawer that needs restocking. I used Pederson's Farms kielbasa. It's precooked, so I didn't add it to the sheet pan until the last 15 or so minutes. If you're using an uncooked sausage or kielbasa, you'll want to obviously cook it for the entire time so it cooks fully.
Sometimes sugar and nitrate free kielbasa or kielbasa style sausage is hard to find. If you're in that kielbasa-less boat, you can use Aidell's chicken and apple sausage. That brand can be found at most Target stores. You can also buy Pederson's online from a few places such as Paleo on the Go or The Simple Grocer. Or, simply use whatever you prefer if you have your own favorite. Even sub chicken or beef (stew meat works great!) in place of the sausage.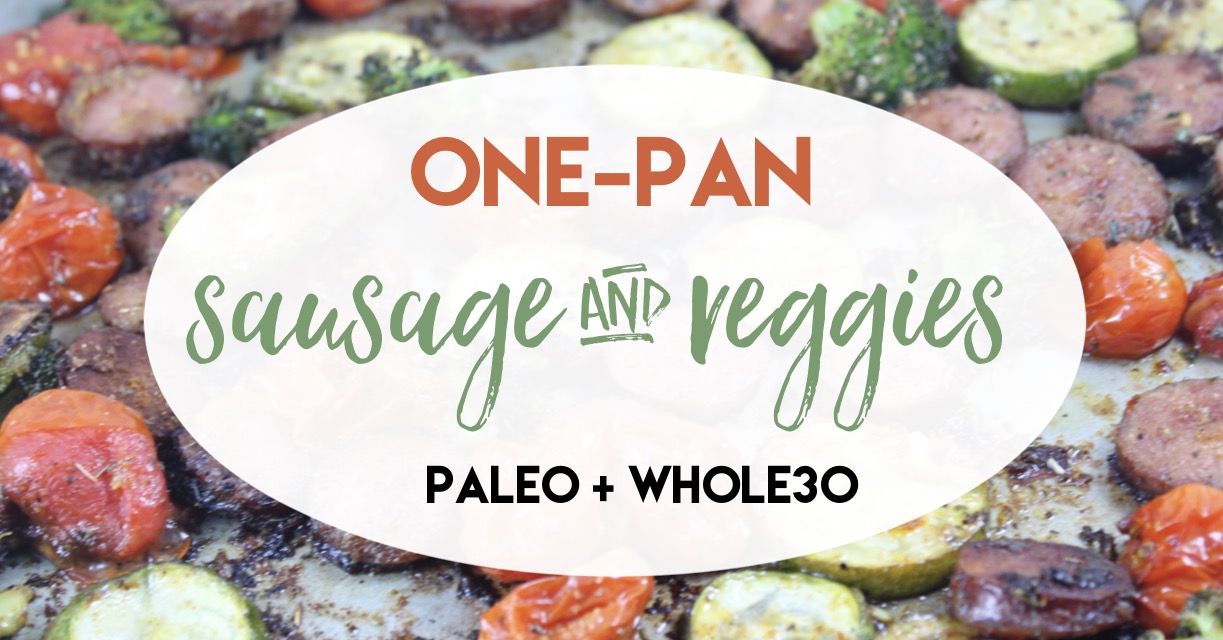 This meal is a good one to add into your next meal prep plan. I love that it makes multiple servings. It also leaves you freed up to make your other meals while it cooks in the oven. Bonus: It's mostly vegetables so you're totally hitting that 3/4ths of your plate veggie guideline 😉
Print
One Pan Sausage and Veggies: Paleo & Whole30
Prep Time: 5 minutes
Cook Time: 45 minutes
Total Time: 50 minutes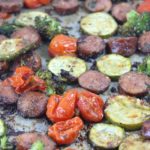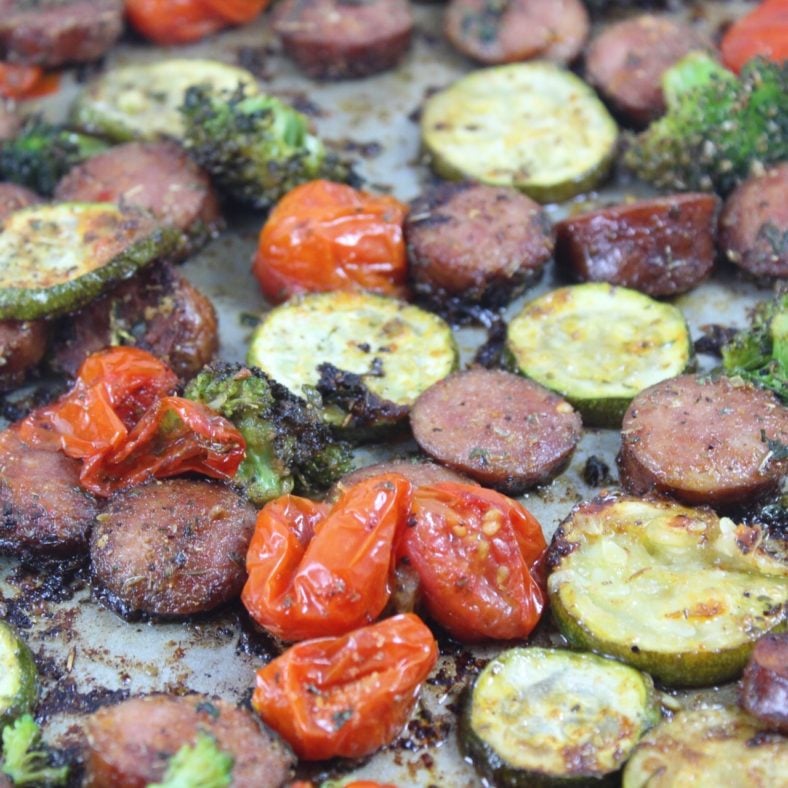 Ingredients
1 full-sized kielbasa or sausage, sliced (12–16 ounces depending on brand)
1 and 1/2 cup cherry tomatoes (or two large handfuls)
1 medium zucchini, sliced
2 cups broccoli florets
2 tablespoons olive oil or avocado oil
3 tablespoons Italian seasoning (or a tablespoon each of oregano, parsley and thyme)
1 tablespoon onion powder
1 teaspoon salt
Instructions
Preheat oven to 400 degrees F.
Line baking sheet with tin foil for even easier clean up
Place all of your veggies onto the tray and drizzle with oil
If your sausage is PRECOOKED, leave it out for now
If your sausage needs to be cooked, place it on pan with the veggies now
Add seasonings and mix around with hands to coat evenly
Spread everything out so it's in one even layer on the sheet pan
Place in the oven for 30 minutes, flipping halfway through
If your sausage is precooked, at 30 minutes, remove the sheet pan from the oven and mix in the sausage. Add it back to the oven for an additional 15 minutes to heat sausage.
If your sausage was uncooked, at 30 minutes evaluate the doneness of the sausage and veggies and place back into the oven for up to an additional 15 minutes
Remove sheet pan when veggies are roasted to your preference
Ovens vary so please watch the sausage carefully to make sure you don't overcook or undercook!
This post may contain affiliate links, though all products are ones I use personally and recommend. When you purchase anything using my links, it costs you absolutely nothing extra, but it does give wholekitchensink.com a few pennies which helps to keep this blog running. Thank you for your continued support, both with your dollars and your interest.