I'm not sure what to actually call these. They're more like salmon fajitas in taco shells as opposed to salmon tacos but we're just going to go with it. Whether you want to call them salmon fajitas or salmon tacos, it doesn't change the fact that they're delicious!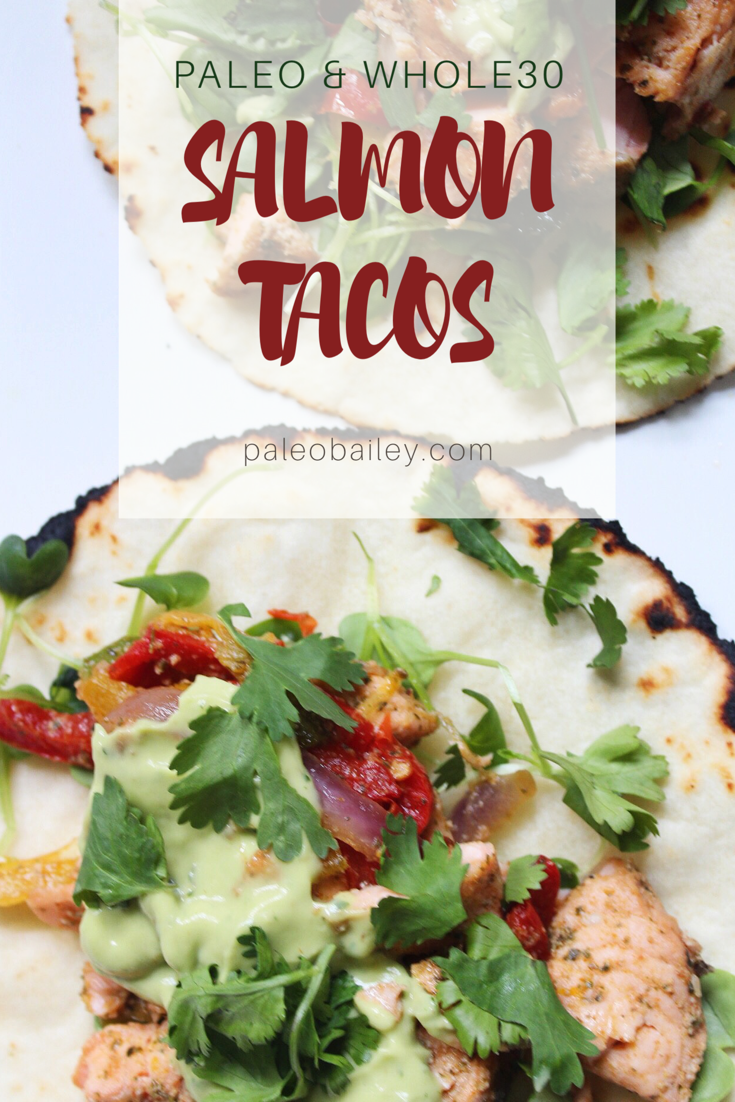 Technically tortillas, even these compliant ones, are off-limits during a round of Whole30, so if you're doing one you'll want to eat this over some greens, with jicama tortillas or with just with your favorite (Whole30 compliant) taco or fajita toppings.
The tortillas I used are from Siete Foods which I purchase at Whole Foods. They're a little pricey for what they are, in my opinion, so I use them sparingly. Before you could buy Paleo tortillas so easily I got used to eating taco salads and fajitas over chopped romaine so it's something I don't really miss anymore or feel like I "need" when I make either of those meals.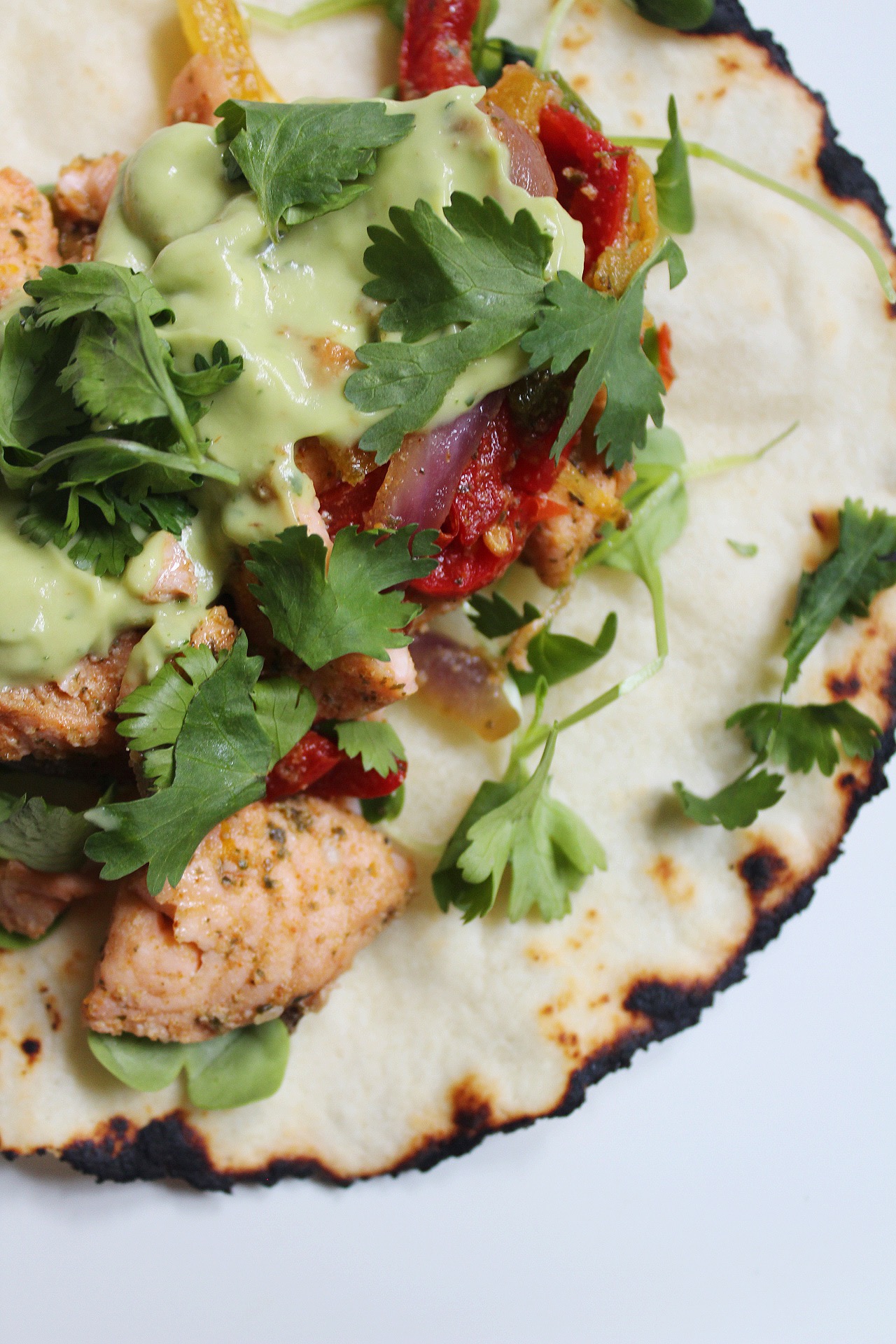 When you're making these with salmon, you'll want to remove the skin first. It's pretty quick and easy to do. If you buy salmon from the meat counter or butcher, you can also have them remove the skin before they pack it up for you.
If you've got a grill pan, I'd totally recommend using that because I'm in a "grill all the things" phase right now being it's summer. If you don't, no worries! Just cook these up on a skillet over medium-high heat for a few minutes which is what I usually do with salmon fajitas. Or any fajita/taco filling anyway!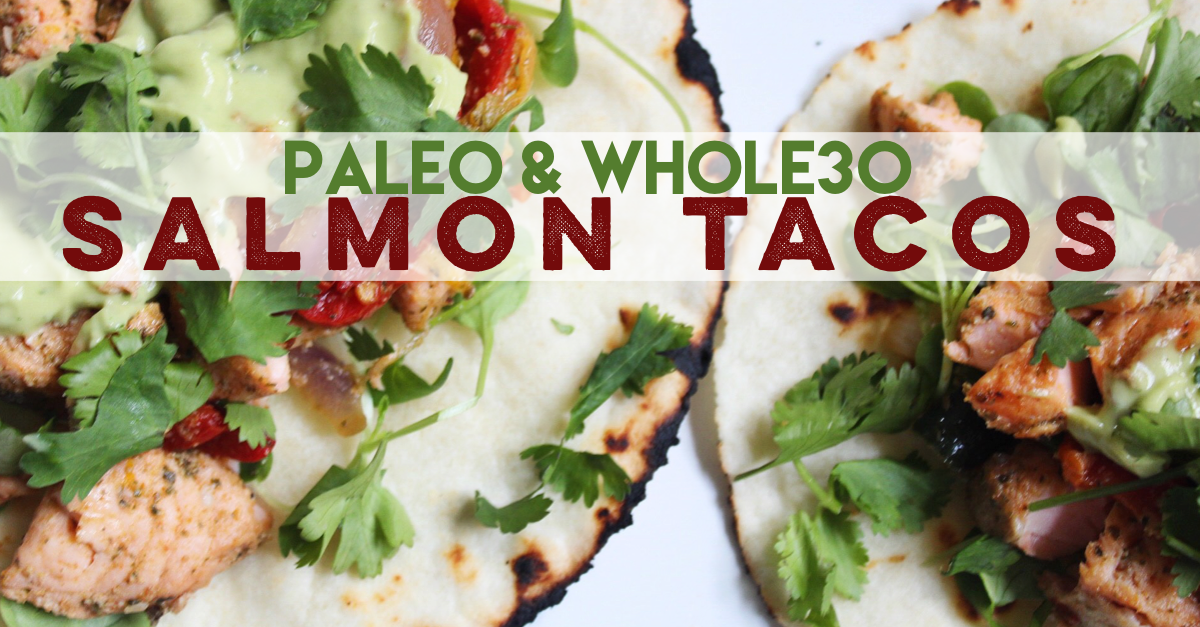 Print
One Skillet Paleo Salmon Tacos with Fajita Veggies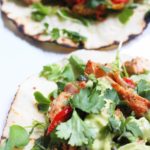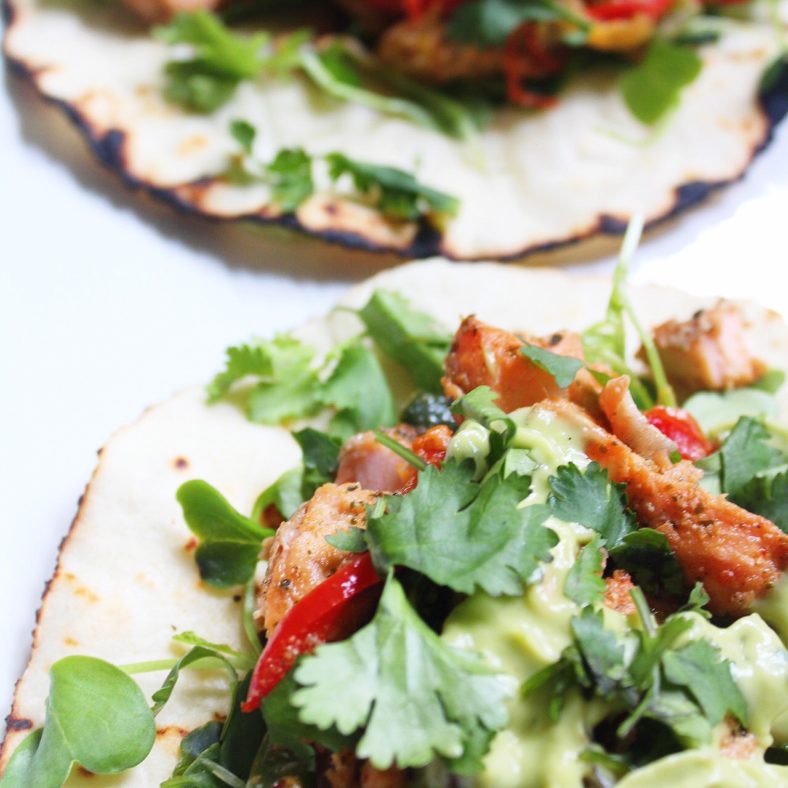 Ingredients
1 pound boneless, skinless salmon, cut into roughly 1/2 pieces
1 red pepper, thinly sliced
1 yellow pepper, thinly sliced
1 small-medium red onion, thinly sliced
1 small poblano (or jalapeño) seeded and sliced
3 tablespoons olive oil
Juice of 1 lime (about 4 tablespoons)
1 teaspoon chipotle powder
1 teaspoon garlic powder
1/2 teaspoon cumin
1/2 teaspoon coriander
1/2 teaspoon dried parsley
1/2 teaspoon onion powder
1/2 teaspoon salt
1/4 teaspoon black pepper
Instructions
Combine spices into a small bowl and mix together well
In a large bowl, add salmon, veggies, olive oil and lime juice and mix together
Add in the spice combination and stir well to coat evenly
Refrigerate and allow to marinate for a half hour or overnight
In a skillet or grill pan, add the salmon and veggies
Cook for about 8 minutes on medium-high heat, stirring occasionally
Remove from heat and serve!
Add cilantro and taco/fajita toppings on top!
This post may contain some links that are affiliate links, though products are ones I use personally and recommend. When you purchase anything using my links, it costs you absolutely nothing extra, but it does give Paleobailey.com a little financial support which helps to keep this blog running. Thank you for your continued support, both with your dollars and your interest.