Have I mentioned how much I love my instant pot? I know, I know, I have. But it's worth saying again because I went from having frozen chicken and no meal to this chicken taco soup in about 25 minutes. Thanks to the magic of my instant pot. I've made this chicken taco soup plenty of times in my slow cooker but started testing it out in the instant pot too.

I'm including the directions for both cooking methods – slow cooker and instant pot. While my instant pot may have a new permanent home on my counter, I'm not ready to give up my slow cooker just yet. I think there's times when one is more useful than the other. I still love throwing this soup together and letting it do it's thing for a few hours while I ignore it. But when I'm in a time crunch with nothing thawed, my instant pot is the best thing ever invented. It's perfect for when I haven't thought or planned ahead enough to get the slow cooker going earlier in my day.
I seriously look at this thing with heart eyes.
Anyway, the recipe. Add your favorite taco ingredients, dump in instant pot, serve! I love this recipe because it satisfies a variety of eaters. People who aren't Paleo love this chicken taco soup and people who are do too. My boyfriend always adds cheese, sour cream and crunched up tortilla chips. You can really make it your own. When I have them on hand, I'll throw some black olives in the soup or on top afterwards.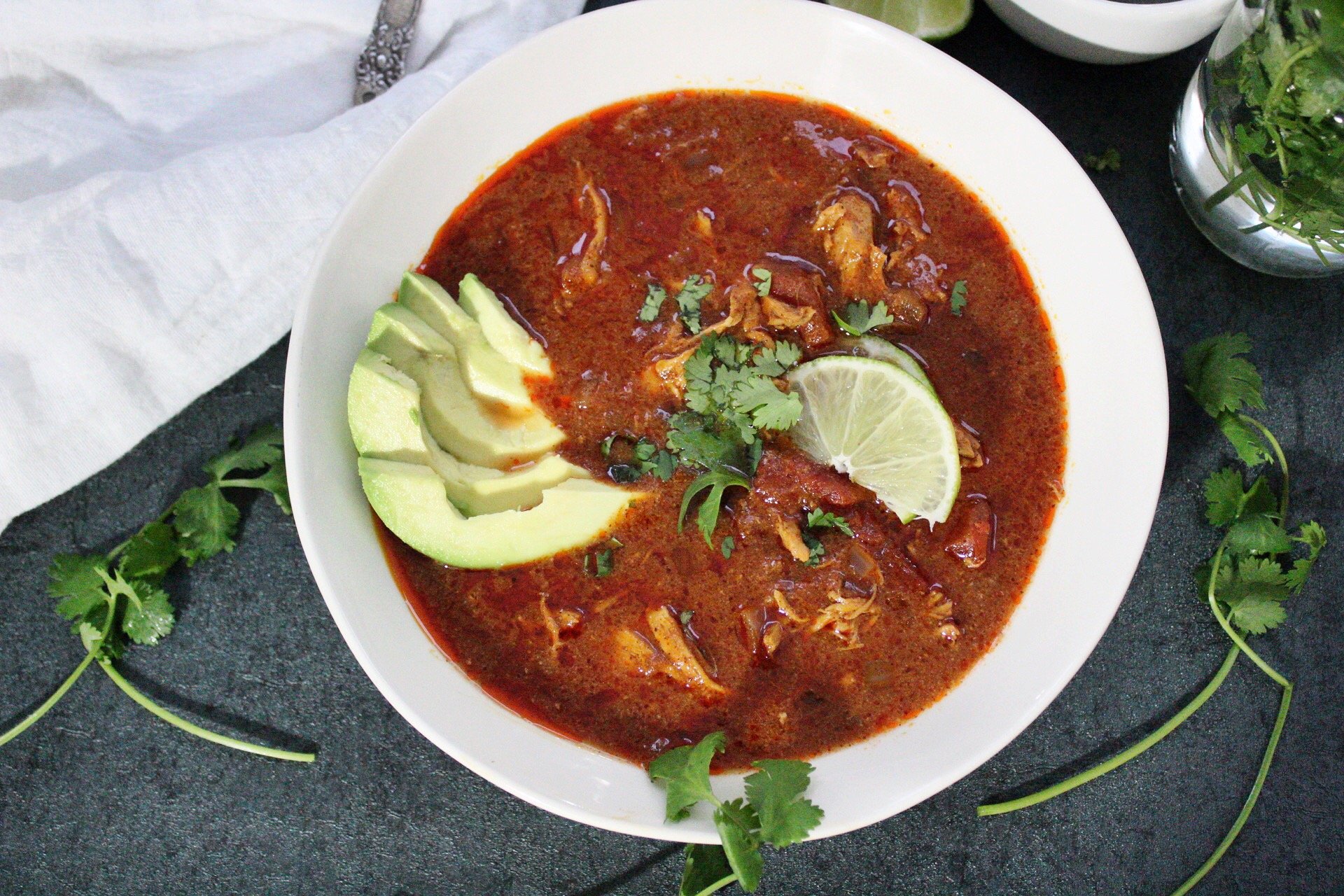 You can also make it as spicy or mild depending on your preferences. Add less chili powder, cayenne or chipotle powder if you know you don't like a lot of spice or add more if you do! I'm all about flexibility over here.
I believe that recipes are just a template that you can play around with to make it your own. I don't even make my own recipes exactly the same every time! Keeping it easy while also keeping it interesting has always been the key to my meal prepping and my weight loss. Making substitutions if you don't have something the recipe calls for, whether it be meat, veggies or cooking oil/fats, is a good way to save money, make sure you're using up what's already in your fridge and keeping your life simple.
Either way, even if you follow this recipe exactly, you won't be disappointed. It's so simple, minimal effort and only a few ingredients. Great for when you just need an easy weeknight meal!
Other Recipes You'll Love:
Chorizo and Butternut Squash Chili
Print
Chicken Taco Soup: Instant Pot & Slow Cooker Instructions
Prep Time: 5 minutes
Cook Time: 25 minutes
Total Time: 30 minutes
Yield: Serves 4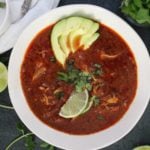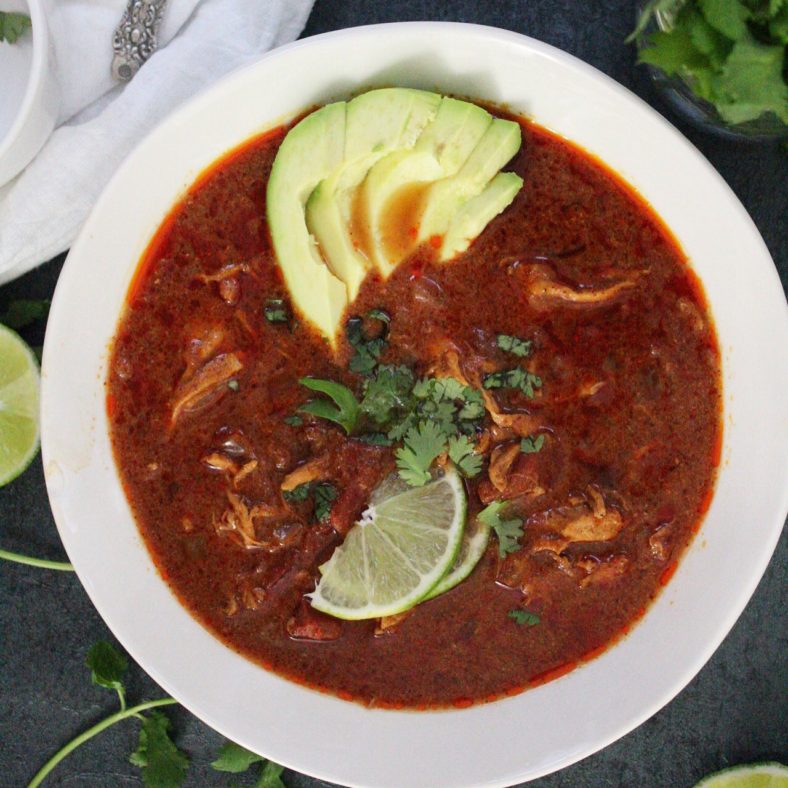 Ingredients
For the Soup:
1 pound frozen chicken breasts or tenders
1 can full fat coconut milk
1 14.5 ounce can diced tomatoes, with liquid
1 14.5 ounce can tomato sauce
1 cup chicken broth, divided
1 and 1/2 cup diced red onion
2 tablespoons chili powder
1 tablespoon garlic powder
1/2 tablespoon paprika
1 teaspoon cumin
1/2 teaspoon cayenne
1/2 teaspoon chipotle powder
Juice of 1/2 lime
For toppings (optional):
Cilantro
Avocado
Lime
Red onion
Cheese – if not strict Paleo
Instructions
First place the chicken, coconut milk and 1/2 cup chicken broth into the instant pot
Close the lid and cook on high pressure for 10 minutes (Set to 6 minutes if you're using already defrosted chicken breasts)
Do a quick release and transfer chicken to a cutting board
Chicken should be almost completely, if not thoroughly cooked – depending on thickness (if not completely cooked yet, don't worry it's going back in!)
Shred with two forks or chop chicken
Transfer chicken back into the instant pot
Add diced tomatoes, tomato sauce, the remaining 1/2 cup of broth, onion, lime juice and spices
Place the lid back on and cook on high pressure for 15 minutes
Add all ingredients into the slow cooker
Stir to combine the spices
Cook on low for 5-6 hours or high for 3-4 hours
Remove chicken breasts, shred and place back into slow cooker
Serve and enjoy!
Nutrition Facts:
Calories: 423
Sugar: 10
Fat: 27
Carbohydrates: 22
Protein: 27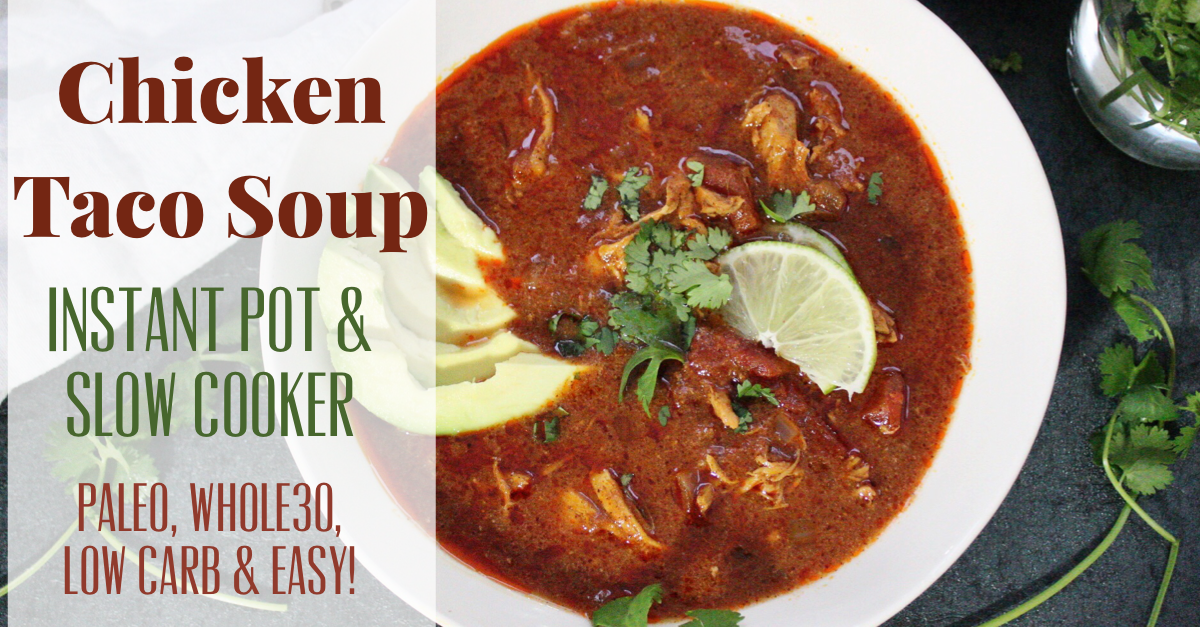 This post may contain affiliate links, though all products are ones I use personally and recommend. When you purchase anything using my links, it costs you absolutely nothing extra, but it does give wholekitchensink.com a little financial support which helps to keep this blog running. Thank you for your continued support, both with your dollars and your interest.