Whole30 Mexican Instant pot shredded chicken is a family friendly recipe that's only made with a few simple ingredients. It's perfect for a low carb, Paleo chicken dinner, or Whole30 meal prep!
I was planning on making burritos or enchiladas with this Whole30 Mexican instant pot shredded chicken but it was so good it didn't last long enough in my house. My boyfriend and I ate it right away over make-shift taco salads instead of taking the extra few minutes to wrap them up in some Paleo tortillas. It was the fast and easy dinner we wanted. Weeknight dinners usually consist of throwing what we can together to make a meal and with my Instant Pot that has become much easier.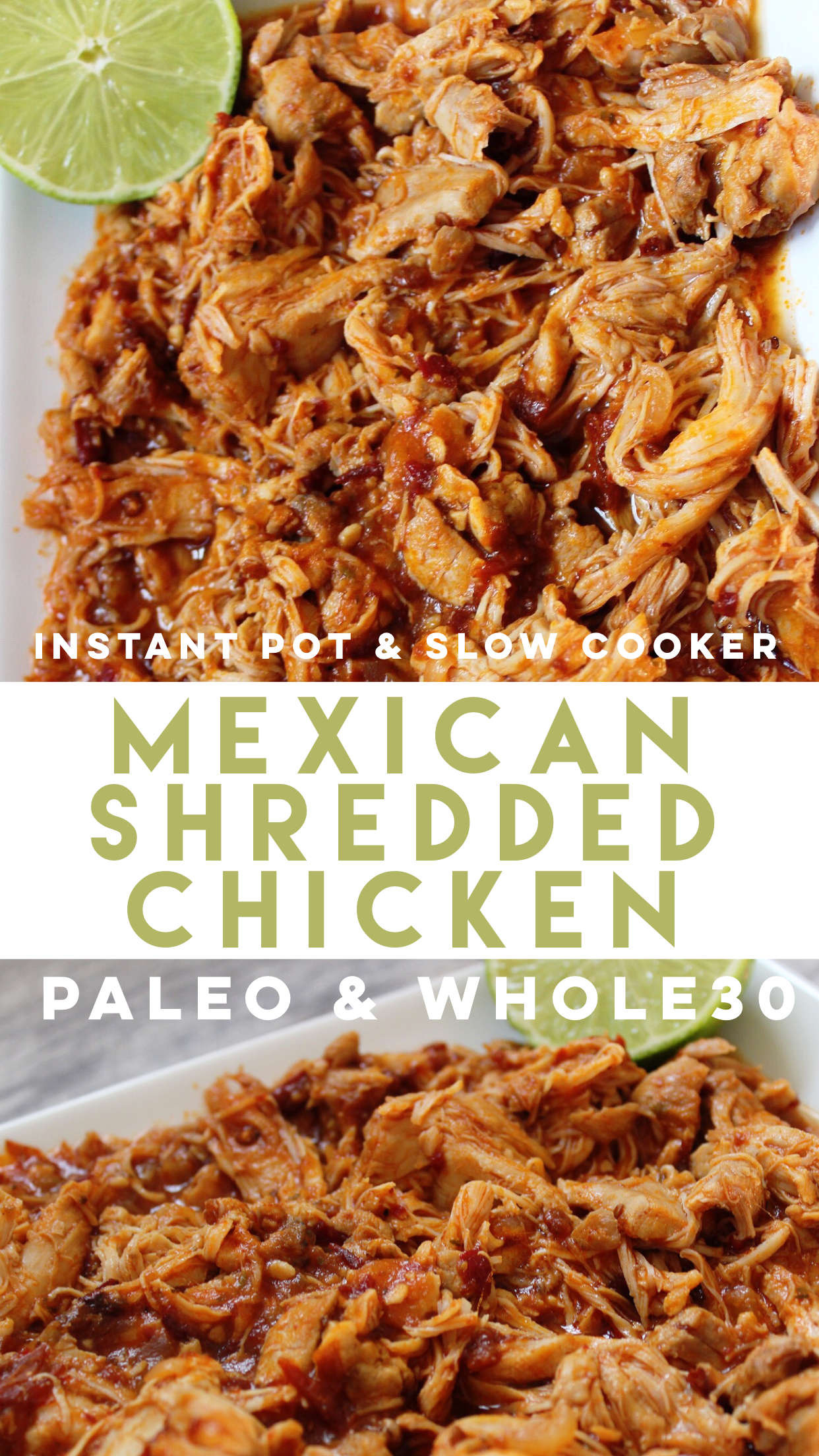 There's only a few ingredients you need to make this Mexican Whole30 instant pot shredded chicken. All of them are things I typically have stored in a cupboard. Meaning there were no extra grocery store trips involved. Score.
A few days after we made this, I made another batch for my Whole30 meal prep so I'd have some for the following days. It's so simple and delicious that I couldn't really think of a reason not to. That and I'm totally a recipe repeater. When I love something I will eat it until I can't eat it anymore. This stuff is no exception!
Other Whole30 Instant Pot Recipes You'll Love: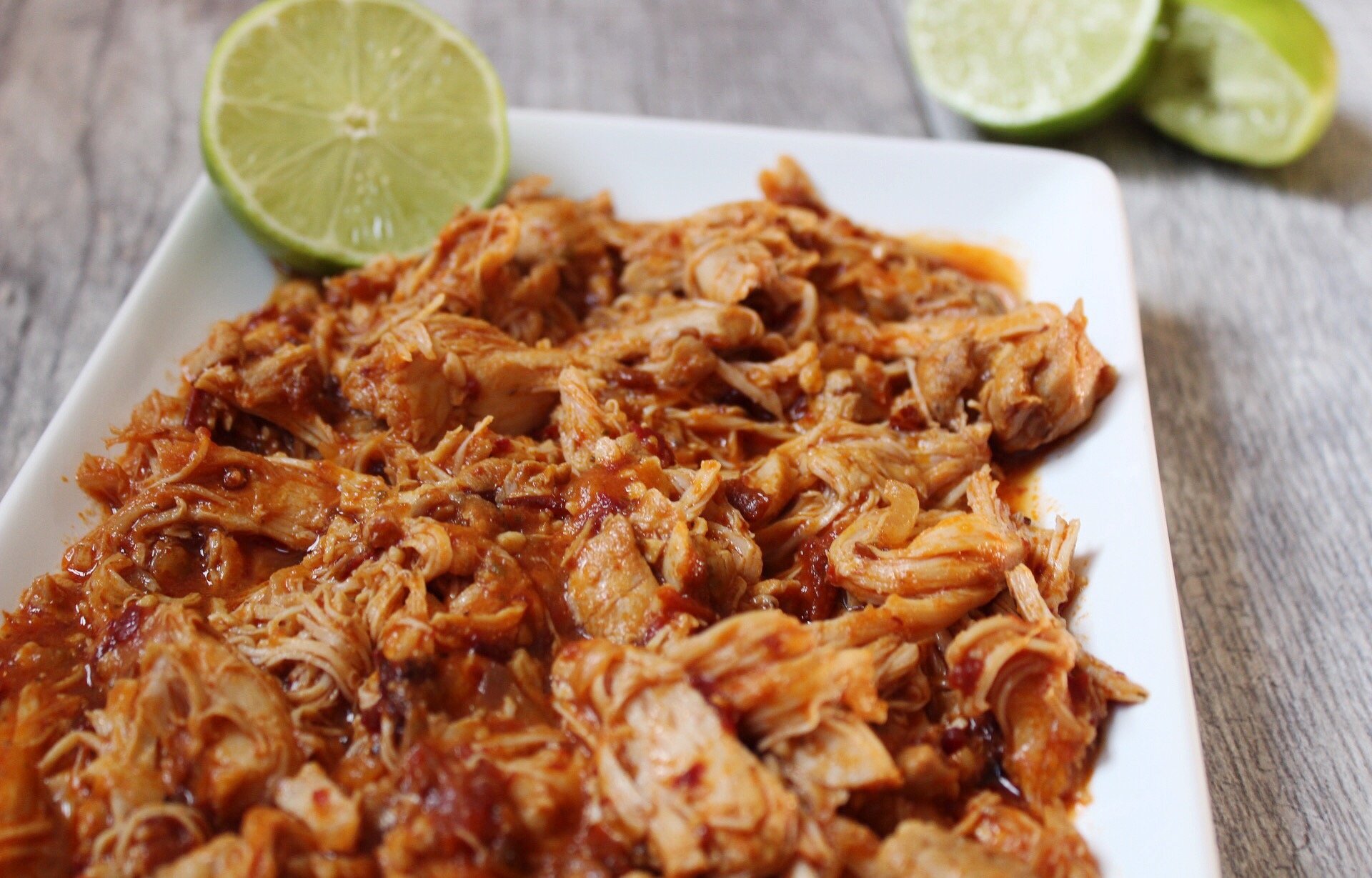 I used my Instant Pot to make this but I've done so before in the slow cooker. I'll include both methods in the recipe! Also, I realize that pressure cookers have been around a while but I'm brand new to the game. If you're like me (a little behind the times) I'd suggest you invest in one. It's a kitchen tool that I really rely on heavily. The convenience it adds to my life has made it invaluable.

In the Whole30 instant pot shredded chicken recipe, I specify to use chicken thighs. But if you only have breasts or tenders those will totally work too. I just love doing shredded chicken dishes like this with thighs because they're so juicy. They seem to stay that way after being in the fridge for a few days more so than breasts. That could be all in my head though!
If you make this Mexican instant pot shredded chicken, tag me on Instagram and show me what you did with it!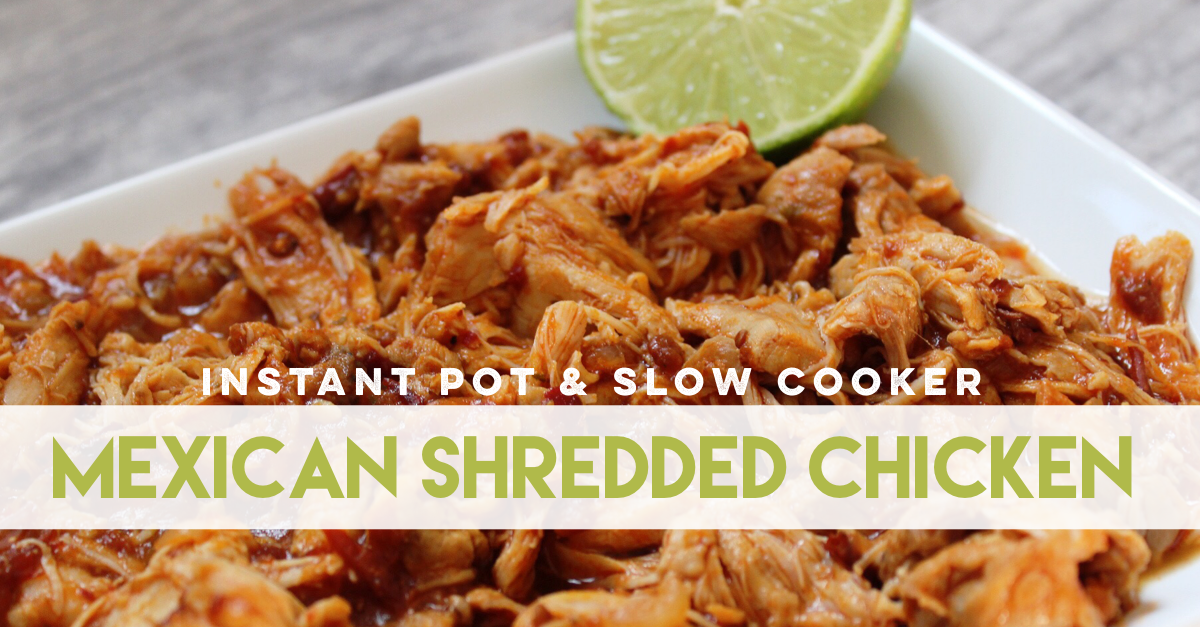 Print
Mexican Shredded Chicken
Prep Time: 10 minutes
Cook Time: 15 minutes
Total Time: 35 minutes
Yield: Serves 4-6 1x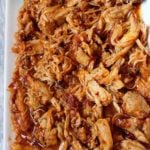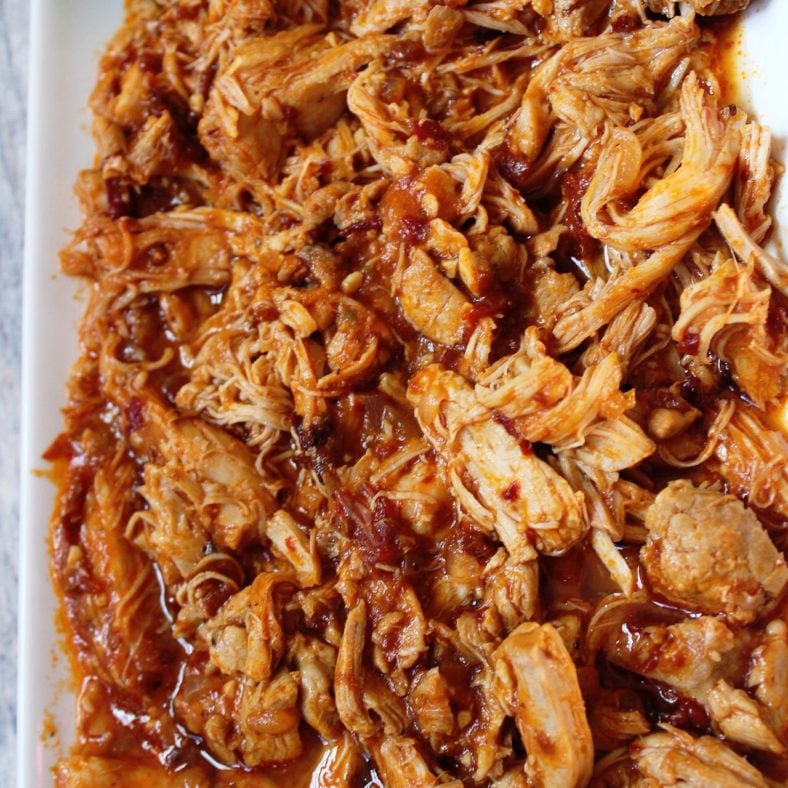 Ingredients
1.5–2 lbs boneless and skinless chicken thighs
1 cup water
1 cup chicken broth (or two cups water)
4–5 diced chipotle peppers in adobo sauce (refrigerate or freeze the other half of the can for later use!)
Juice of 1 lime
2 tablespoons ghee
1 tablespoon minced garlic
1 teaspoon oregano
1 teaspoon salt
1 teaspoon pepper
1 teaspoon cumin
1/2 teaspoon cayenne pepper
Instructions
Set to sauté mode and add ghee and minced garlic
Once the ghee is melted and garlic is fragrant, add in chicken thighs
Cook for about 4 minutes, flipping halfway through
Add in the liquid, spices, lime juice and peppers
Close the lid and manually set the Instant Pot to high pressure for 15 minutes
Ensure the steam valve is closed
When the time is up, do a quick release and shred chicken!
Add all ingredients to the slow cooker except for 1 cup of liquid
Set on low for 4-6 hours or high for 2-4
Halfway through cooking, stir and add the other 1 cup of liquid if needed!
Shred chicken and enjoy!
Nutrition Facts:
Calories: 185
Sugar: 0.5
Fat: 8
Carbohydrates: 0.5
Protein: 28
This Whole30 instant pot shredded chicken post may contain some links that are affiliate links, though products are ones I use personally and recommend. When you purchase anything using my links, it costs you absolutely nothing extra, but it does give wholekitchensink.com a little financial support which helps to keep this blog running. Thank you for your continued support, both with your dollars and your interest.