Warm weather is right around the corner and even though the temperature here in Minneapolis has been all over the place, I wanted something light and summery tasting. I made lemon and basil chicken thighs to scratch that itch. This meal is Whole30 complaint, as I'm currently on a round, and only requires a few ingredients! I love using lemon with chicken that's naturally juicy like thighs. They go so well together. Plus the fresh herb? So good.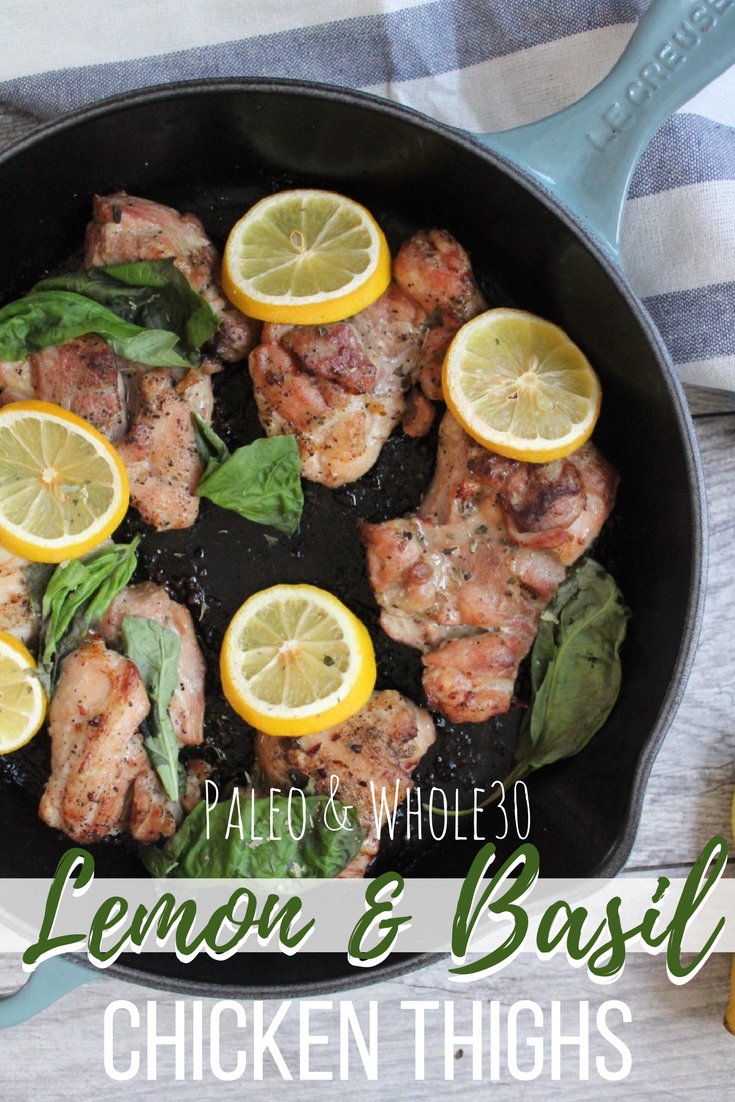 I used tallow for this lemon and basil chicken thighs recipe but I've used lard before as well. You can use any oil you have handy, I just prefer cooking meat like these thighs in those types of animal fat products. It gives the meat a richer flavor and crisps up the chicken a bit more while still keeping it juicy and tender.
I use this one from Fatworks or this one from Epic. I do want to point out quick that when I buy them from Amazon, I get the three pack from Epic because it ends up being a cheaper price to get all three (beef tallow, pork lard and duck fat) for $29 instead of 14 bucks a piece.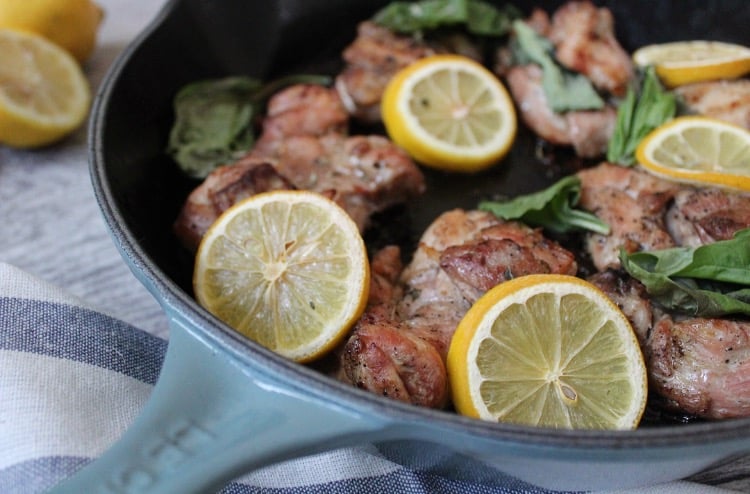 You can omit the ghee if you don't have any. Instead, just add a tablespoon or two more of the cooking fat.
One quick note about chicken thighs: sometimes they're done even if they're still a little pink! A lot of things determine the end result of what color of the juices and meat will be. Anything from using meat from a young chicken to the way it was cooked, whether that be from frying without skin, grilling to smoking. The sure way to tell is if the internal temperature of the thickest part of the thigh is 165 degrees F.
Print
Lemon Basil Crispy Chicken Thighs
Prep Time: 5 minutes
Cook Time: 30 minutes
Total Time: 35 minutes
Yield: Serves 3-4 1x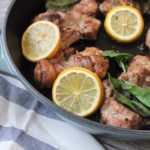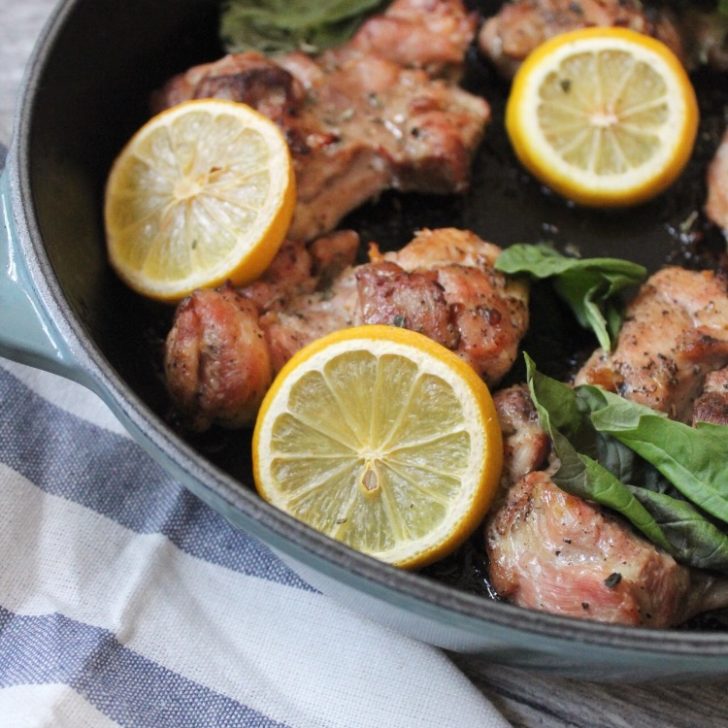 Ingredients
6 chicken thighs, with or without skin (will be crispier with skin)
1 lemon, sliced
2 tablespoons tallow or lard cooking fat
3 tablespoons ghee
1 tablespoon minced garlic
6–8 fresh basil leaves
1/2 tablespoon dried basil
Salt and pepper to season chicken
Instructions
Preheat oven to 400 degrees F.
Heat the cooking fat, ghee and minced garlic in a large pan on high heat
Season chicken thighs with salt and pepper
Once the fat and ghee are completely melted and hot and the garlic becomes fragrant, place the chicken thighs into the pan
Sprinkle the dried basil over chicken
Cook on each side for 4 minutes, just enough to fry the outer layer
Add fresh basil and lemon slices over chicken thighs
Transfer the pan to the oven
Bake for 20-25 minutes or until chicken is cooked thoroughly
Remove, squeeze lemons over chicken and replace basil with fresh leaves, if desired
Enjoy!
Nutrition Facts:
Calories: 319
Sugar: 0
Fat: 27
Carbohydrates: 0
Protein: 19
This post may contain affiliate links, though all products are ones I use personally and recommend. When you purchase anything using my links, it costs you absolutely nothing extra, but it does give wholekitchensink.com a little financial support which helps to keep this blog running. Thank you for your continued support, both with your dollars and your interest.