I've said this a few times now and I swear I'll stop eventually, but my new Instant Pot is the best thing to hit my kitchen counters. I've been testing it out with bigger cuts of meat and I found a winner with this round roast. It's so easy it's almost stupid. I sort of even feel silly making a "recipe" for it because it's just that simple. I cooked potatoes, onions and mushrooms with it and they cooked in the roast juices and turned out perfect each time I tested it. YESSSSSS.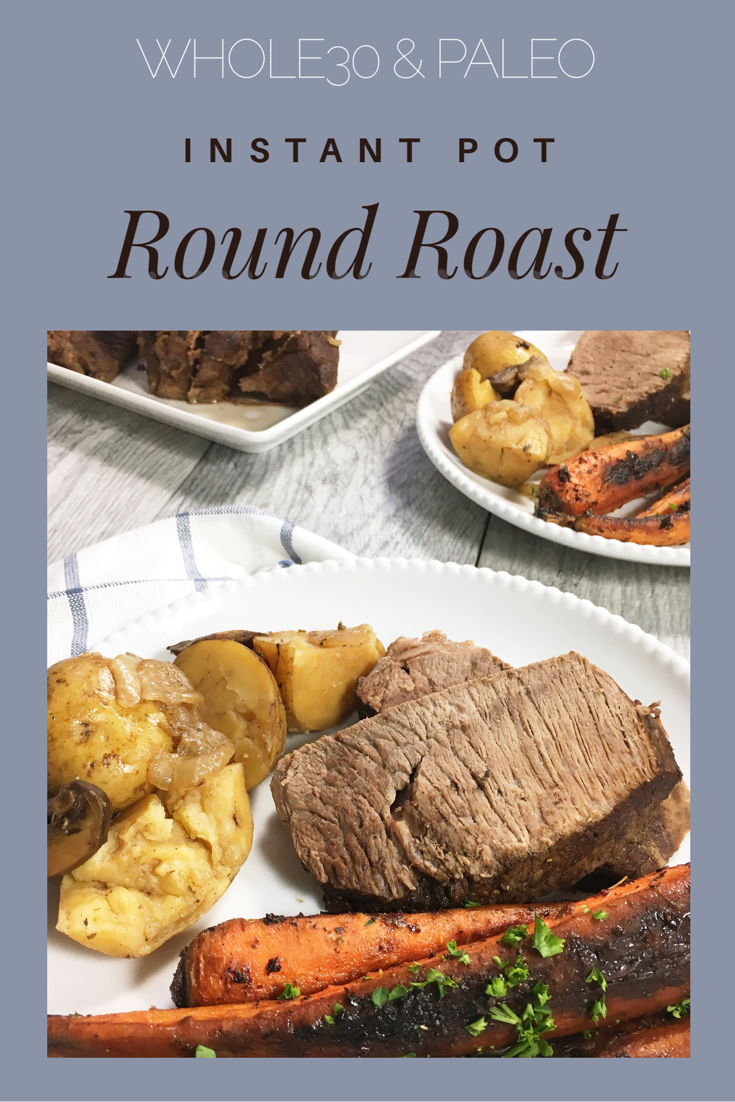 My next experiment will be to make gravy in the Instant Pot but I'm going to save that for a rainy day ;). For now, let's just chat Instant Pot round roast.
To be completely honest, the first time I was going to try this out, I thought I was purchasing a plain old beef roast, not a round roast. I didn't realize what I had done until I took it out of the Instant Pot and it didn't shred like I thought it was going to.
Then I looked at the package and still didn't even realize a round roast was different than a chuck roast (commonly known as pot roast). Some kind of food blogger I am, huh?! Just goes to show you I'm a normal person just tryin' and learnin' as she goes – just like you.
Other Instant Pot Recipes You'll Love: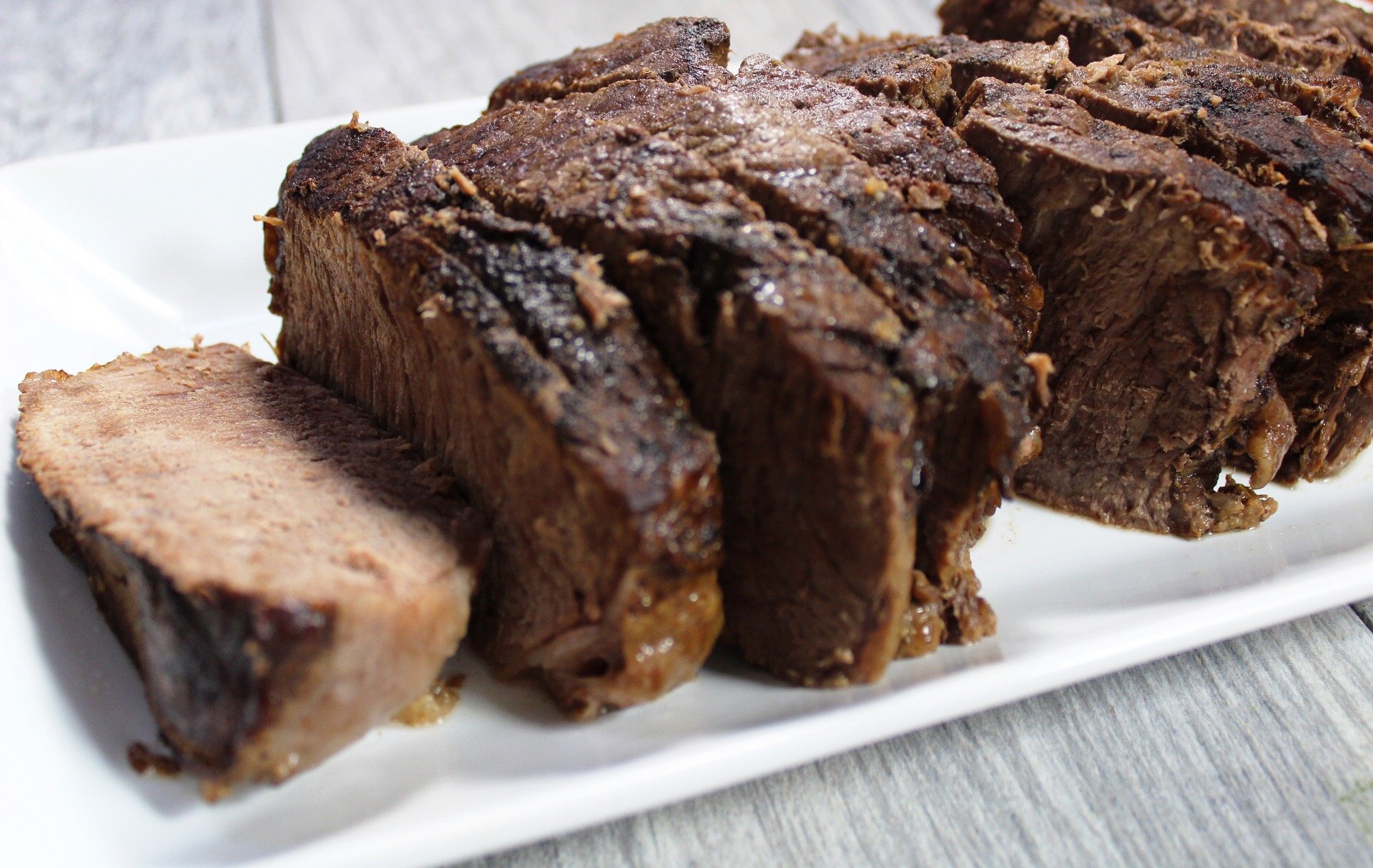 So anyway, I thought I was going to be making Instant Pot pot roast. Jokes on me. It still turned out great. I just had to remember to buy the same cut when I tried it out again. I'll get around to making a pot roast here soon though. While we're on the subject – pot roast (or chuck roast) is from the shoulder while round roast is from the hind leg. WHO KNEW, right? I'm sure lots of you did, but because I don't cook with beef that often I ended up getting a crash course from the Google on cuts of beef.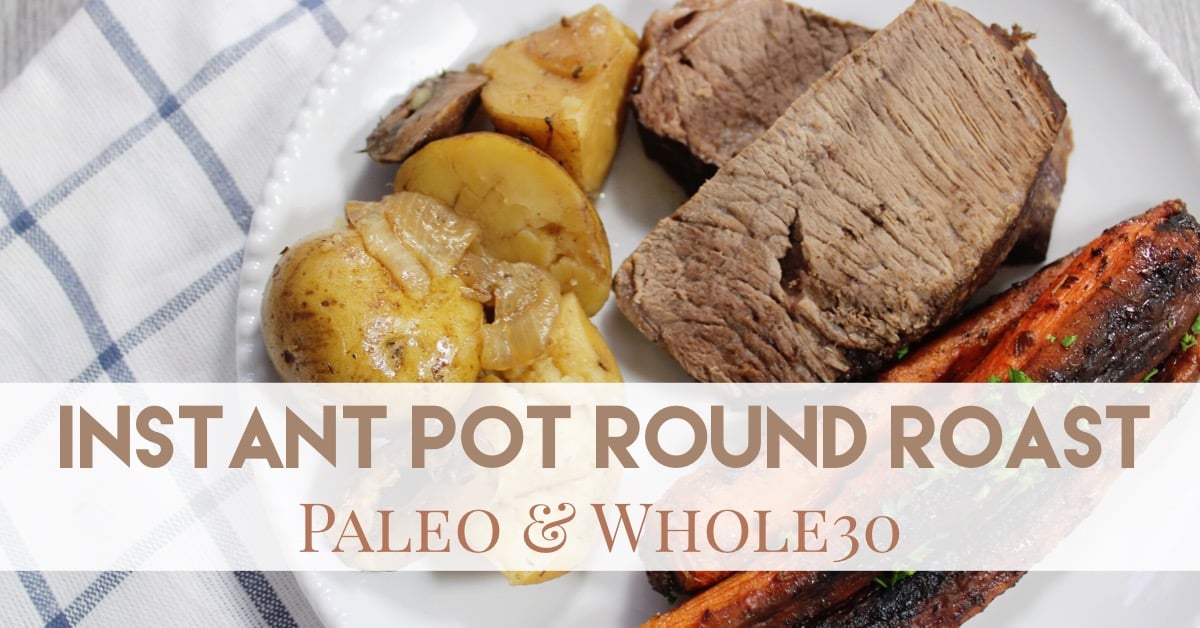 Long story short: Here's the recipe. It's delicious. Make it. And let me know what your favorite cuts of beef are to cook up in the Instant Pot!
Print
Instant Pot Round Roast and Veggies: A Complete Meal in 30 Minutes
Prep Time: 10 minutes
Cook Time: 25 minutes
Total Time: 35 minutes
Ingredients
3 pound round roast (top or bottom)
1 large white onion, sliced or diced however you prefer to eat them
2–3 cups sliced mushrooms
1 pound potatoes, quartered or cubed
3 cups vegetable or beef broth
2 tablespoons minced garlic
2 tablespoons olive oil
1 tablespoon thyme
Generous pinch of salt and pepper
2 tablespoons honey (exclude if doing a Whole30)
Instructions
Add all wet ingredients and spices to the Instant Pot and stir to combine
Add in meat and veggies, excluding potatoes
Seal and set the timer for 20 minutes on low pressure
Do a quick release and add in the potatoes
Cook for another 5 minutes on low pressure and allow natural release when finished
Remove and enjoy!
This post may contain some links that are affiliate links, though products are ones I use personally and recommend. When you purchase anything using my links, it costs you absolutely nothing extra, but it does give wholekitchensink.com a little financial support which helps to keep this blog running. Thank you for your continued support, both with your dollars and your interest.