I woke up feeling a cold coming on. You know those first signs  you get that alert you that you're about to have an unpleasant week but it's not full-blown misery yet? That's how my day started. On top of that it was raining, windy and chilly all day. So besides loading up on cold meds and juicing some oranges for some extra vitamin C, I made a thick and hearty potato and bacon chowder. There's something about soup that just makes me feel better.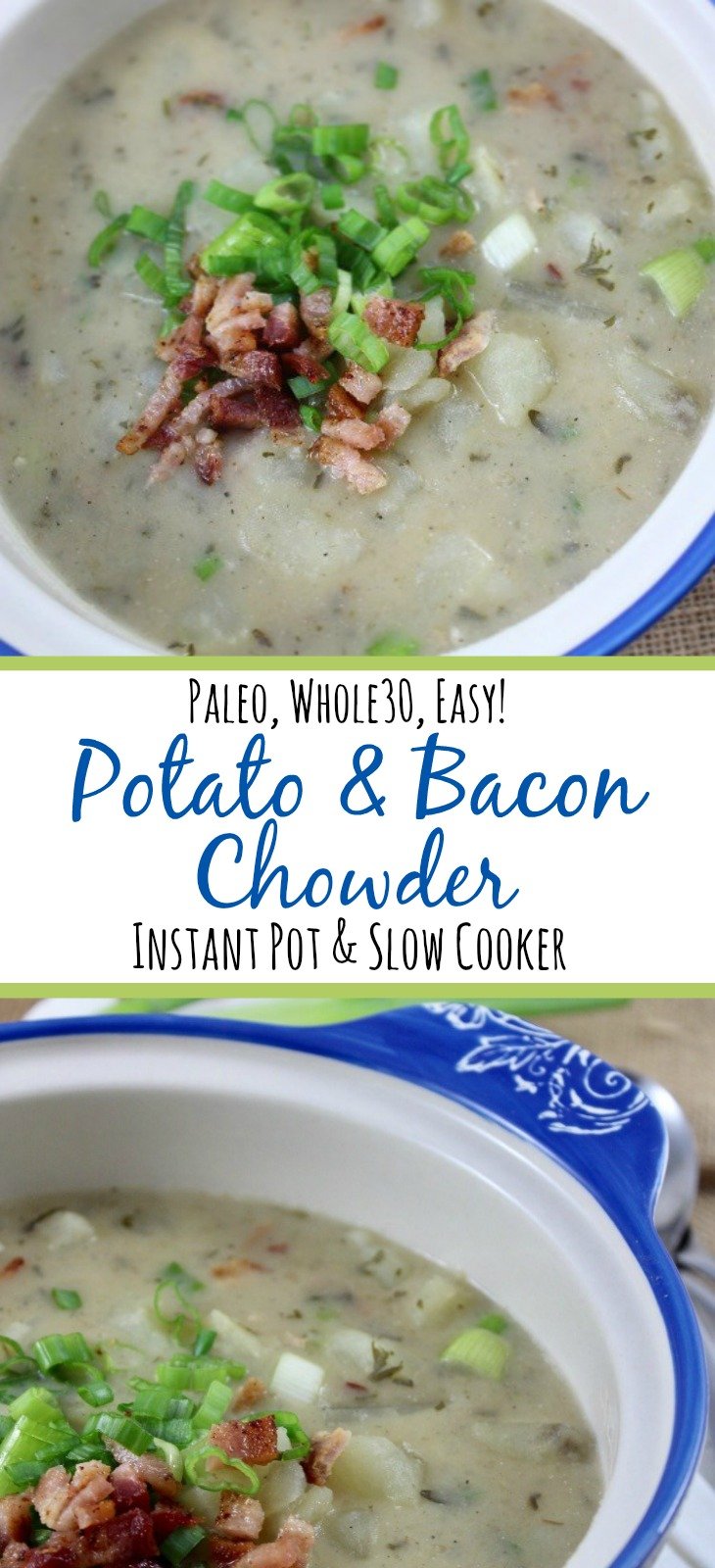 I recently received an Instant Pot, otherwise known as a pressure cooker (thanks, Linda!). I assumed by the name it would be an easy contraption to work. You know, put food in, press a button, cook it at lightening speed, take food out.
Well, not so much. There's way more to this than I first thought. Getting it out of the box and putting it on my countertop was super intimidating at first. Reading through the instructions actually made me feel even more overwhelmed. There's like 34 different ways to release the pressure (and stop the cooking) for this thing and about 545 different modes to cook food on. Every. Single. Food. has a different cook time and each food has a different cook time depending on if it's frozen or thawed. There's high pressure and low pressure and it was beeping at me and AHHHH. The buttons make me feel like I'm in a spaceship and the command center is in a foreign language. Houston, we have a problem.
I guess that's what doing anything new feels like though, regardless of what it is. We get pretty accustomed to what we know and confident in our abilities (if you call the slow cooker an ability) so anything unfamiliar is uncomfortable for a while. Which was the case here.
I'm slowly learning and figuring it out. Again, much like anything else in life 😉
The first (and second) attempts at making anything remotely more complicated than a chicken breast were total flops. The first time I tried to make a broccoli and chicken dish my broccoli was mush and my chicken wasn't cooked. It ended up becoming chicken and broccoli soup. After like 3 more tries at cooking the chicken and playing with the little steam releaser ma-bob and realizing I had been doing it wrong, the chicken was fully cooked.
BUT that forced me to start at the basics to figure out how this thing works by playing with the settings and trying different times and modes for myself. It's different than with a slow cooker where you can dump everything in, forget about it and come back hours later.
There's no forgetting about this because you'll be hovering over it just waiting for your house to explode the first few times you use it. Or maybe that was just me. I am starting to love it though.
I totally see the benefits to using it, even after only a few days with this guy. I also can totally understand the merits of using it, too. It's cut down on my time in the kitchen exponentially which is obviously a plus on busy weeknights or if nothing is defrosted.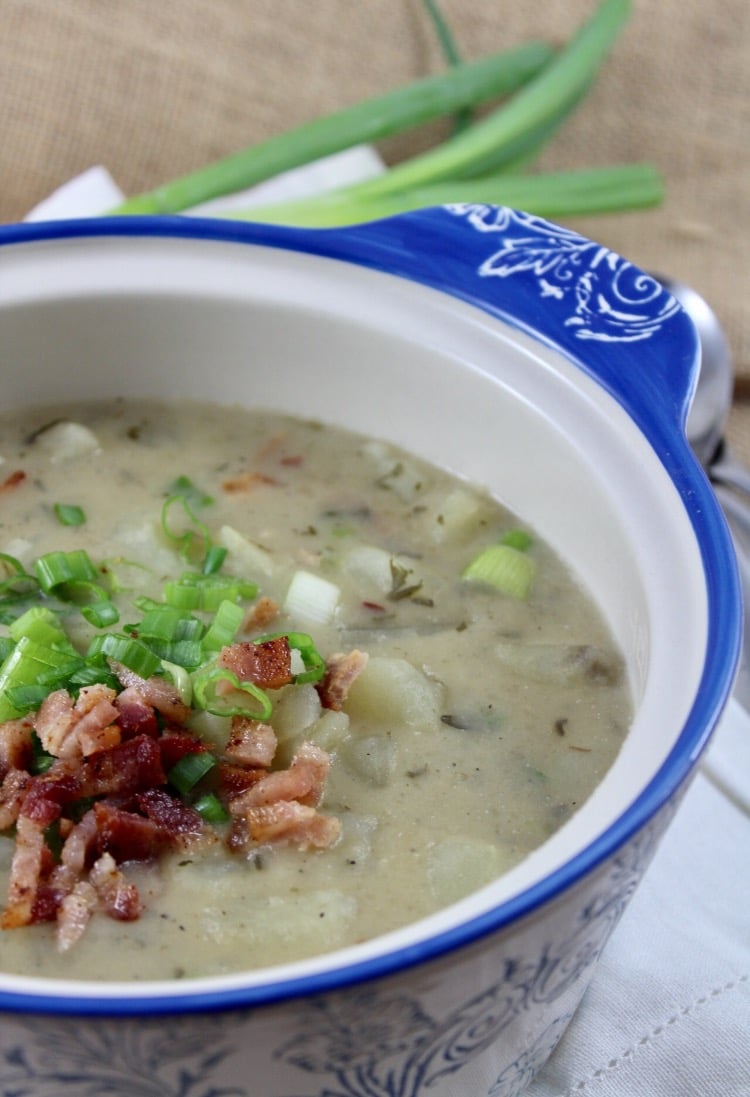 It's also going to be an awesome tool for meal prepping. I'll be able to make one meal in the instant pot while also cooking something else. Basically doubling my efficiency. AND it also has a slow cooker option. Meaning I now have the ability to cook two meals in a slow cooker at the same time. Another meal prep trick I'm going to try in the near future. High fives for easier meal preps!
Anyway, the reason you're here – potato and bacon chowder.
It's so easy and so good. I say that about everything I make, I know. But it's true. Making complicated, time consuming, 500 ingredient recipes just ain't my gig, ya dig?
I've included both the instant pot and slow cooker methods for this potato and bacon chowder. I've made the slow cooker one dozens of times before. I'm pretty impressed that I got a soup that would have taken me much longer to make, even if I did it on the stove top, that tasted so amazing out of an instant pot. Which was good, 'cause I felt like napping all day and not cooking.
Unfortunately for me, I'm an adult and have to feed myself. This is when I realized that this instant pot business miiiight be good for having to do just that kind of thing. The hardest part about this potato and bacon chowder was prepping the veggies. Which obvioulsy wasn't hard at all. Everything else is a walk in the park.
Well, it will be for you, now that I've figured out how to use this thing.
If you don't have a sauté mode on yours or you're doing this in the slow cooker, either do that part on the stovetop or just skip it and throw the onions and ghee in with everything else. It's not going to make or break the chowder.
Also, if you want a thinner soup, add more broth. If you want a thicker soup, add less broth and/or more potatoes.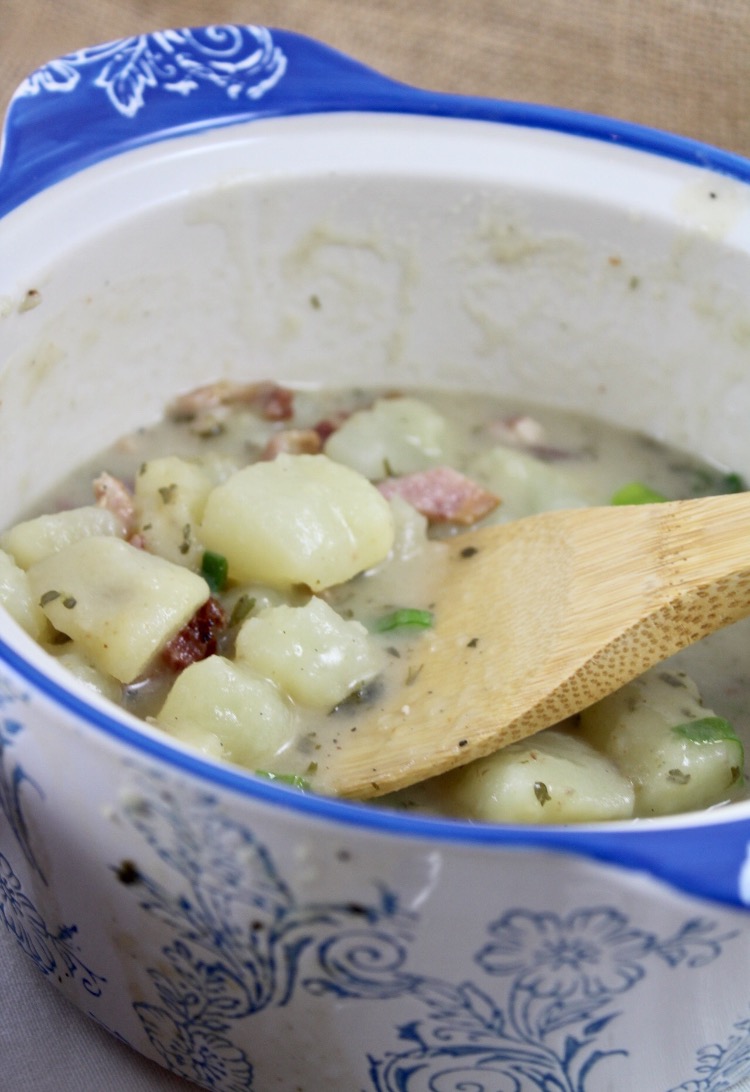 The flour and almond milk will help thicken it up after. But before you put the lid on, you'll be able to see what the liquid to potato ratio is and you can add more or less from there depending on your preference!
Print
Hungry for more? Subscribe to my newsletter to get new recipes delivered straight to your inbox! And be sure to stay in touch on Facebook, Pinterest and Instagram for all of the latest updates.
Whole30 and Paleo Potato and Bacon Chowder: Instant Pot and Slow Cooker Variations
Prep Time: 10 minutes
Cook Time: 12 minutes
Total Time: 22 minutes
Category: Soup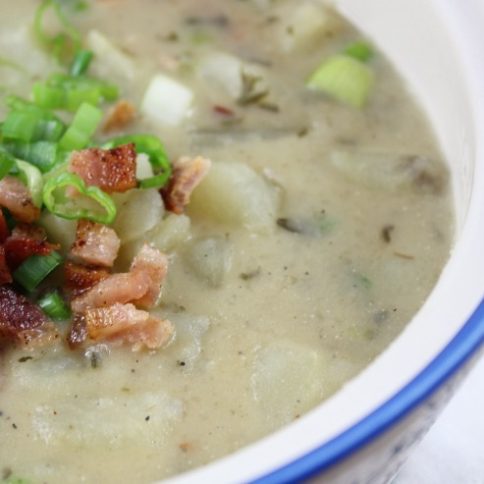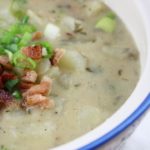 Ingredients
6 cups peeled and cubed white potatoes (about 3 large potatoes)
1/2 cup diced red onion
6 slices cooked and chopped bacon
2 diced green onions, leave one half out for garnish
28 ounces chicken stock or bone broth
2 cups almond milk or original flavored nutpods
3 tablespoons ghee
1 and 1/2 tablespoons arrowroot powder or tapioca flour (thickener)
3 tablespoons parsley flakes
1/2 teaspoon pepper
1/2 teaspoon salt (or salt and pepper to taste)
small pinch of red pepper flakes
Instructions
For Slow Cooker Method:
Add all ingredients besides cooked bacon, almond milk and thickener to the slow cooker
Cook on high for 3-4 hours or low for 6-8
Once done, add thickener and almond milk to the slow cooker and whisk until clumps (if any) are dissolved
You can also add almond milk to a large skillet on the stove top over medium heat, add in thickener, whisk until thick (and bubbling) and clumps dissolve, then add into slow cooker
Stir in cooked bacon and allow to heat up for a few minutes before serving
Garnish and enjoy!
For Instant Pot (Pressure Cooker) Method:
Use Sauté mode first and put ghee into the pot
Once it's melted, add in the onion, stirring occasionally
Once the onion is translucent, add in all spices, potatoes and the chicken broth
Close the lid and cook on the Manual High Pressure setting for 12 minutes
Once time is up, use the quick release to open the pot
Select the Sauté mode and add in thickener and almond milk
Whisk until thick and any clumps are dissolved
Stir in bacon
Garnish and enjoy!
This post may contain some links that are affiliate links, though products are ones I use personally and recommend. When you purchase anything using my links, it costs you absolutely nothing extra, but it does give wholekitchensink.com a little financial support which helps to keep this blog running. Thank you for your continued support, both with your dollars and your interest.