Now that summer is here, I've been having a lot more smoothies in my life. Not only do I LOVE them, but it helps me avoid heating my house up ;). This has been my typical recipe the last few weeks either in the mornings or before or after a workout. It's super thick and not too sweet. I can't stop making it and I don't want to either!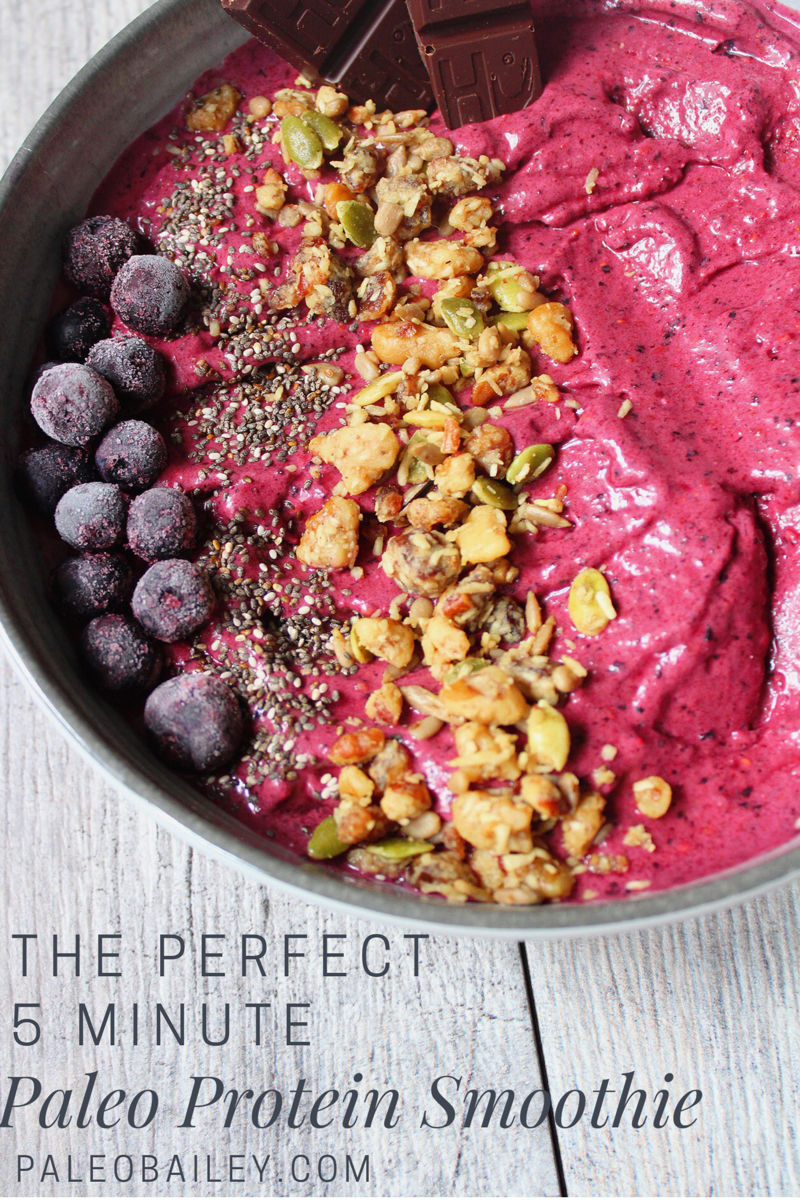 I've been adding collagen to my daily life since December now. But when Primal Kitchen came out with collagen fuel (protein + collagen) I knew that I'd have to add that into the rotation as well. I've been blending the chocolate flavor with my coffee and putting the vanilla flavor into my smoothies.
If you're unfamiliar about why collagen has hit the natural health scene so hard lately, it's because there's SO many benefits that a lot of people are missing out on from their every day diet. Some of those include faster recovery after workouts because of collagen's ability to help repair joints, tendons and muscles. Collagen supports gut, hair, skin and joint health.
Adding collagen with protein, like Primal Kitchen did with their collagen fuel adds benefits from protein too, such has maintaining and repairing the structure and function of connective tissue. It also helps keep you fuller longer with the healthy fats from coconut milk. SCORE.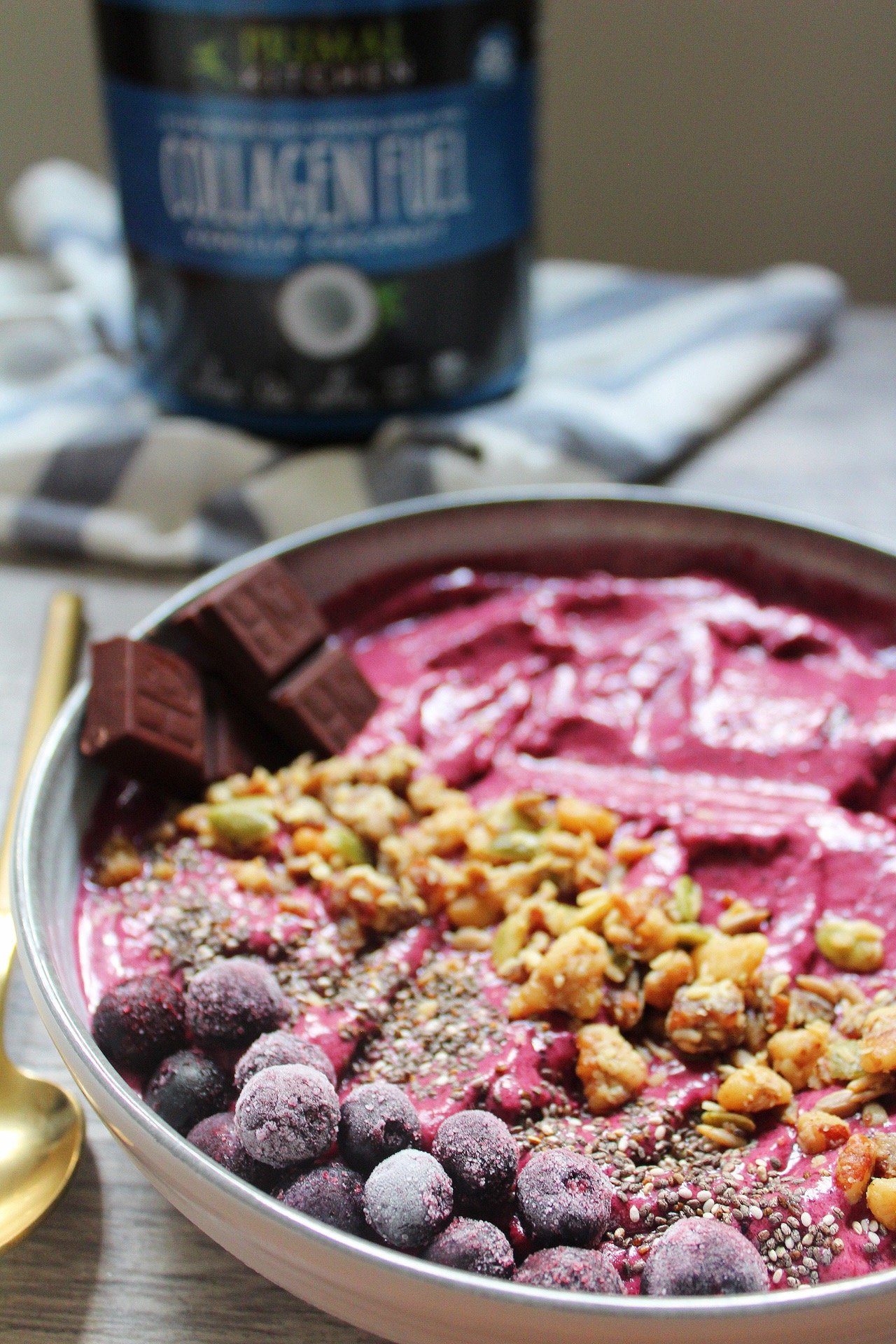 It does come out to about 3 bucks per serving (without the discount GROK15 to save 15% off site-wide), but if you think about it, it's about the same price as a protein bar. The difference is with this you're getting collagen too AND none of the junky ingredients that are in most of the protein options on the market.
You could also get it from Thrive Market (<- this link saves you 25% off your entire first order!). It's 10 bucks cheaper on Thrive Market, which is exactly why I do so much of my own shopping there. I can't say enough good things about it.
Anyway, the smoothie, right?
I really like to think of smoothie recipes as just a template. You can customize them for your preferences or for what you have on hand already. They're quick and easy to make and have relitively little clean up.
For this smoothie that I've been on a kick with lately, I add frozen blueberries and raspberries, spinach, a little bit of almond butter, a little bit of dairy-free cream (I used nutpods but you can also use almond or coconut milk!) and of course I added protein and collagen in the form of Primal Kitchen's collagen fuel.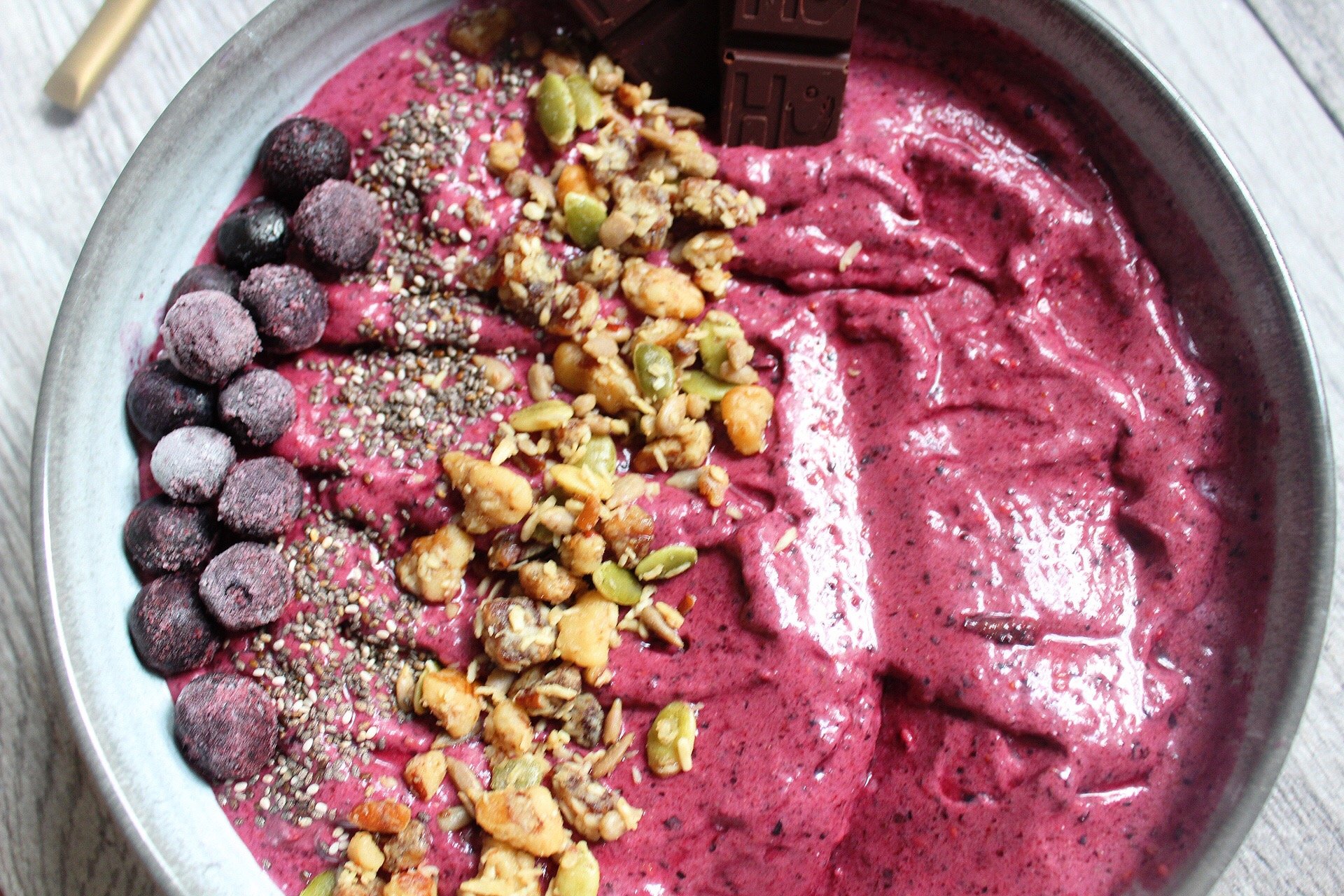 I usually just toss some extra frozen blueberries and slivered almonds on top of my smoothie when I'm in a hurry like in the morning or before a workout. To top this one, though, I was feelin' fancy so I added some chia seeds, grain-free granola and some squares of Paleo chocolate from Hu's kitchen (all of which is also available on Thrive Market).
Print
5 Minute Paleo Protein Smoothie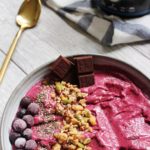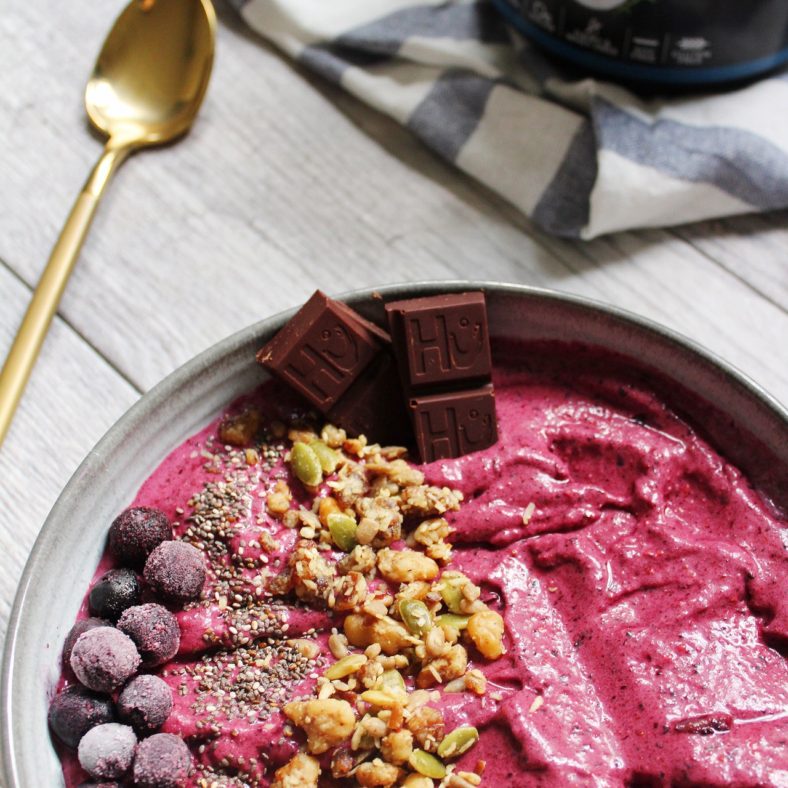 Ingredients
3/4 cup frozen blueberries
3/4 cup frozen raspberries
2 handfuls spinach
1/3 cup original flavored nutpods
1 to 2 tablespoons almond butter
2 scoops (1 serving) vanilla coconut collagen fuel
A few tablespoons water or milk if it's too thick (might happen depending on brand of almond butter!)
Instructions
Blend all the ingredients together until combined
Pour into a jar or bowl and enjoy!
This post may contain some links that are affiliate links, though products are ones I use personally and recommend. When you purchase anything using my links, it costs you absolutely nothing extra, but it does give wholekitchensink.com a little financial support which helps to keep this blog running. Thank you for your continued support, both with your dollars and your interest.