A while ago, someone, rather bewildered, asked me how I cook sweet potatoes in the slow cooker. I didn't know people didn't utilize their slow cooker for that, to be honest. It's something I do frequently to ease the pain of my meal prep process. It came in so handy the last year as I dropped 120 pounds because that's work enough, right? 😉 Anyway, one of my favorite ways to eat sweet potatoes is to stuff them with things that would normally be on a burger. Or on pasta. Or on tacos. Or, like these Caesar chicken loaded sweet potatoes, on a salad.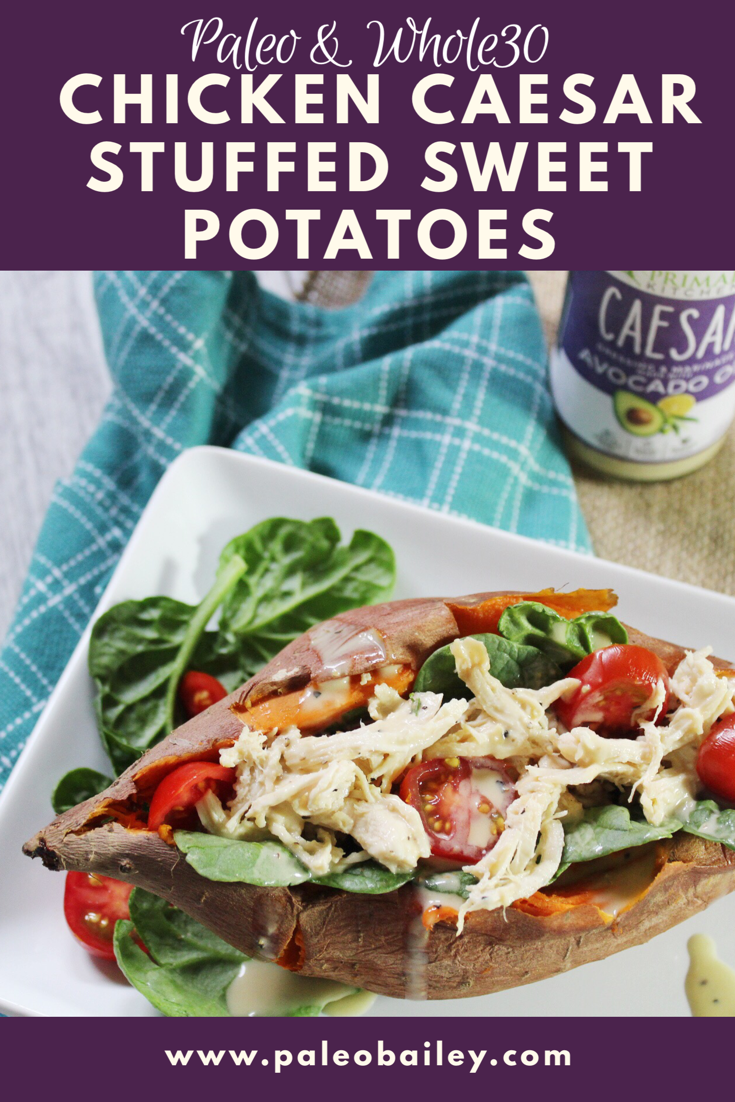 Changing up the way I eat your standard meals keeps things interesting for me. Plus, by throwing a few sweet 'taters in the slow cooker and eating the things I've meal prepped and have in the fridge, I save time and effort by not having to make zoodles for a Bolognese sauce to go over or futz with trying to wrap a burger in lettuce. It all just gets plopped on a sweet potato that's ready and waiting for me.
My usual process for making sweet potatoes in the slow cooker comes the day after my big meal prep day. I'm usually using my slow cooker for an actual meal or meat on the day I'm prepping. But the day after, in the morning, I'll put some sweet potatoes in there and let them cook all day and add them in for the rest of the week. I don't really consider it cooking, so taking this extra step the following day is super easy.
Chicken Caesar stuffed sweet potatoes alllllll week, please. 😉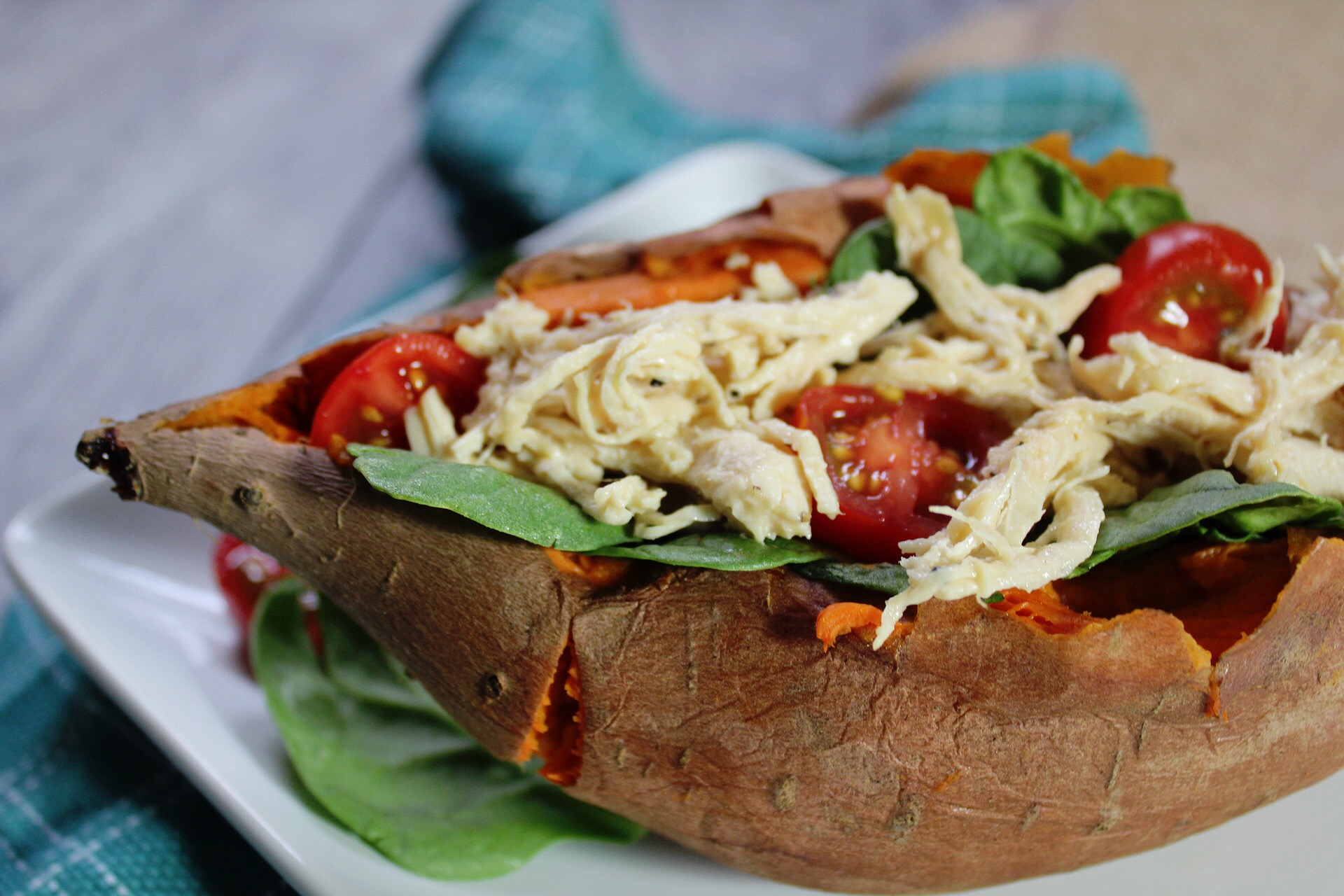 You can make a Paleo and Whole30 Caesar dressing on your own, if you want to. Making dressings are really not my favorite thing to do in the whole world. Much like baking, I'd rather leave it to the pros. Which is why I should probably buy stock in Primal Kitchen. I've yet to find dressings I like better. When the ranch came out, I about lost my mind. But now that the Caesar has hit the market, I really can't decide which I like (okay, love) more. I've been throwing the Caesar on everything lately because it's just so convenient to keep in the fridge and marinate meat and veggies with or top my meals with.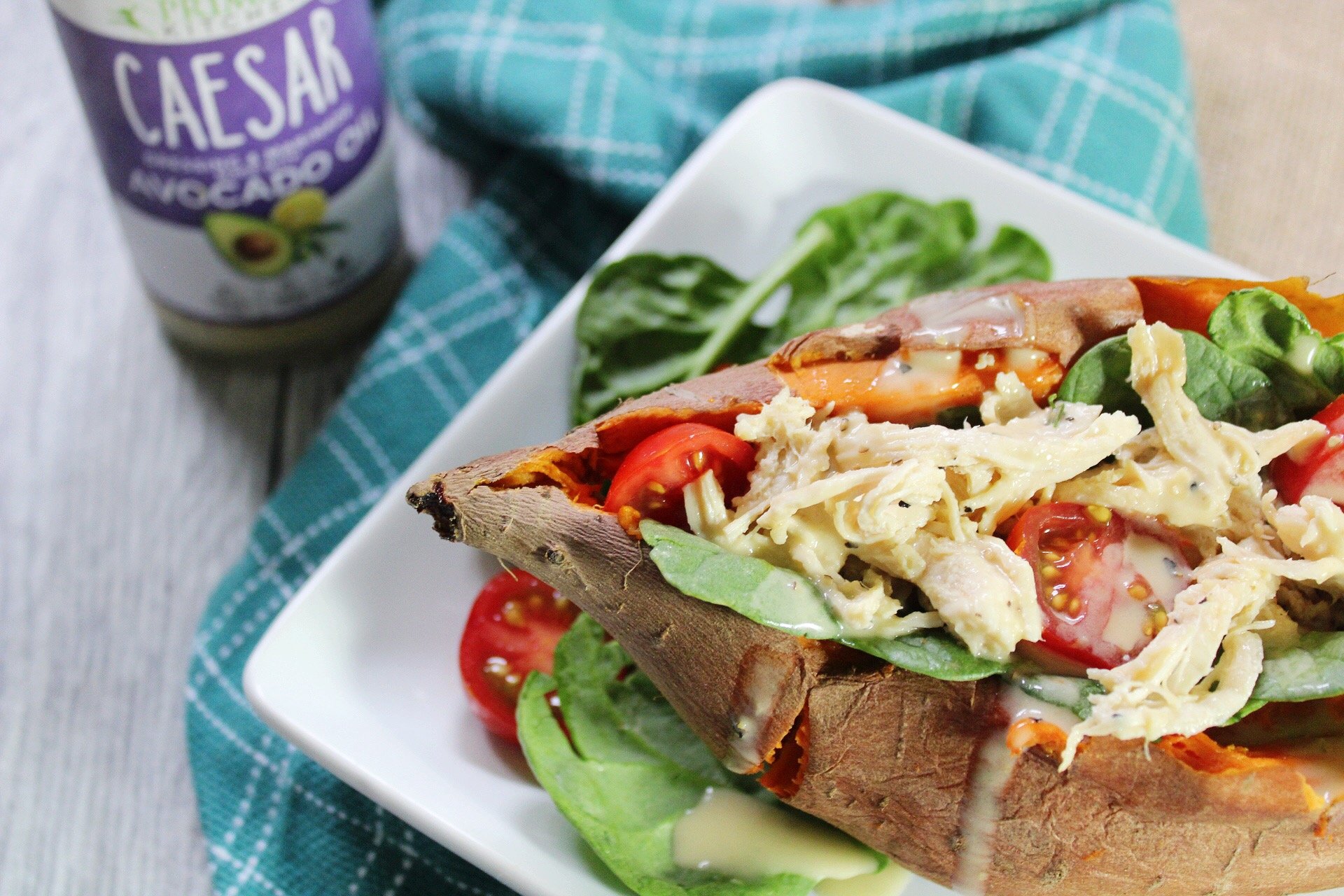 You can pick up a bottle, or 5, of Primal Kitchen's Caesar dressing on their website (use code GROK15 to save 15% off site-wide), on Thrive Market or at most Whole Foods!
Take a peek at some other awesome ways I use this dressing and add it into your next week's meal plan 😉
Chicken and Bacon Caesar Spaghetti Squash Pasta
Print
Slow Cooker Sweet Potatoes: Caesar Chicken Loaded Sweet Potatoes:
Prep Time: 5 minutes
Total Time: 5 minutes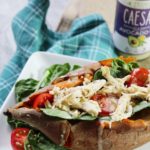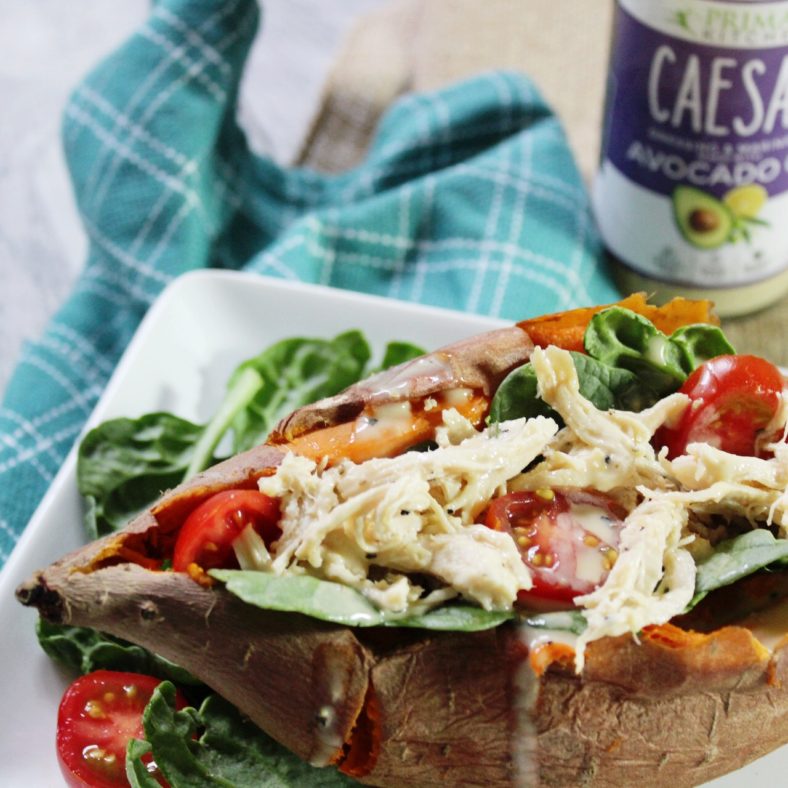 Ingredients
Recipe for the Caesar Pulled Chicken
For the Sweet Potatoes:
3 or 4 sweet potatoes
Tin foil
For the Toppings:
Spinach or romaine lettuce
Sliced cherry tomatoes
Parmesan cheese (if not strictly Paleo)
Additional Caesar dressing to drizzle
Instructions
Cook chicken per instructions in the recipe or bake them prior
Wrap each sweet potato in tin foil
Place in the slow cooker and cook for 4 hours on high or 8 hours on low
Remove and serve immediately, or keep wrapped and place in the fridge
To assemble chicken Caesar sweet potatoes:
Make a deep slice through the center of potato and line with a few layers of spinach
Stuff a serving of shredded chicken and top with tomatoes and other desired toppings
Drizzle more Caesar dressing over top to your preference
Add salt and pepper as desired and enjoy!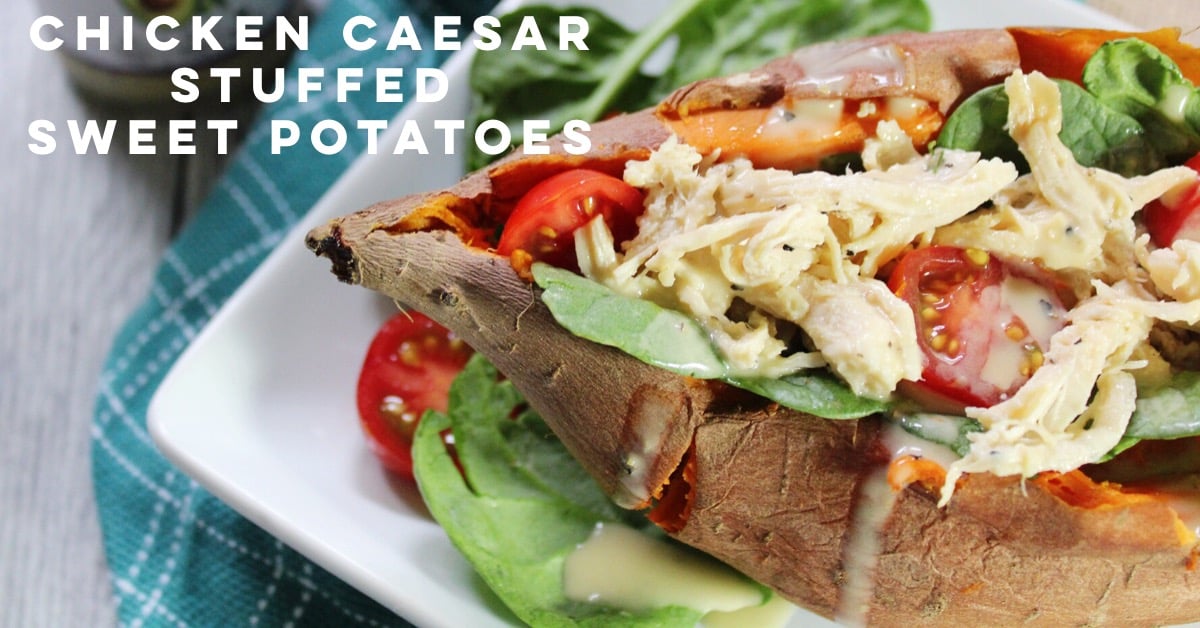 This post may contain some links that are affiliate links, though products are ones I use personally and recommend. When you purchase anything using my links, it costs you absolutely nothing extra, but it does give wholekitchensink.com a little financial support which helps to keep this blog running. Thank you for your continued support, both with your dollars and your interest.