This Paleo ham egg bake is the perfect "clean out the fridge" meal. It works for both hosting a brunch or simple Whole30 meal prep with leftover ham to have grab-and-go breakfasts for the week. The versatility of it for those reasons make it a hit no matter what you're doing or who you're feeding. Everyone loves the hash brown crust too! I've made this dozens of times with a variety of different veggies, so get creative and change things up!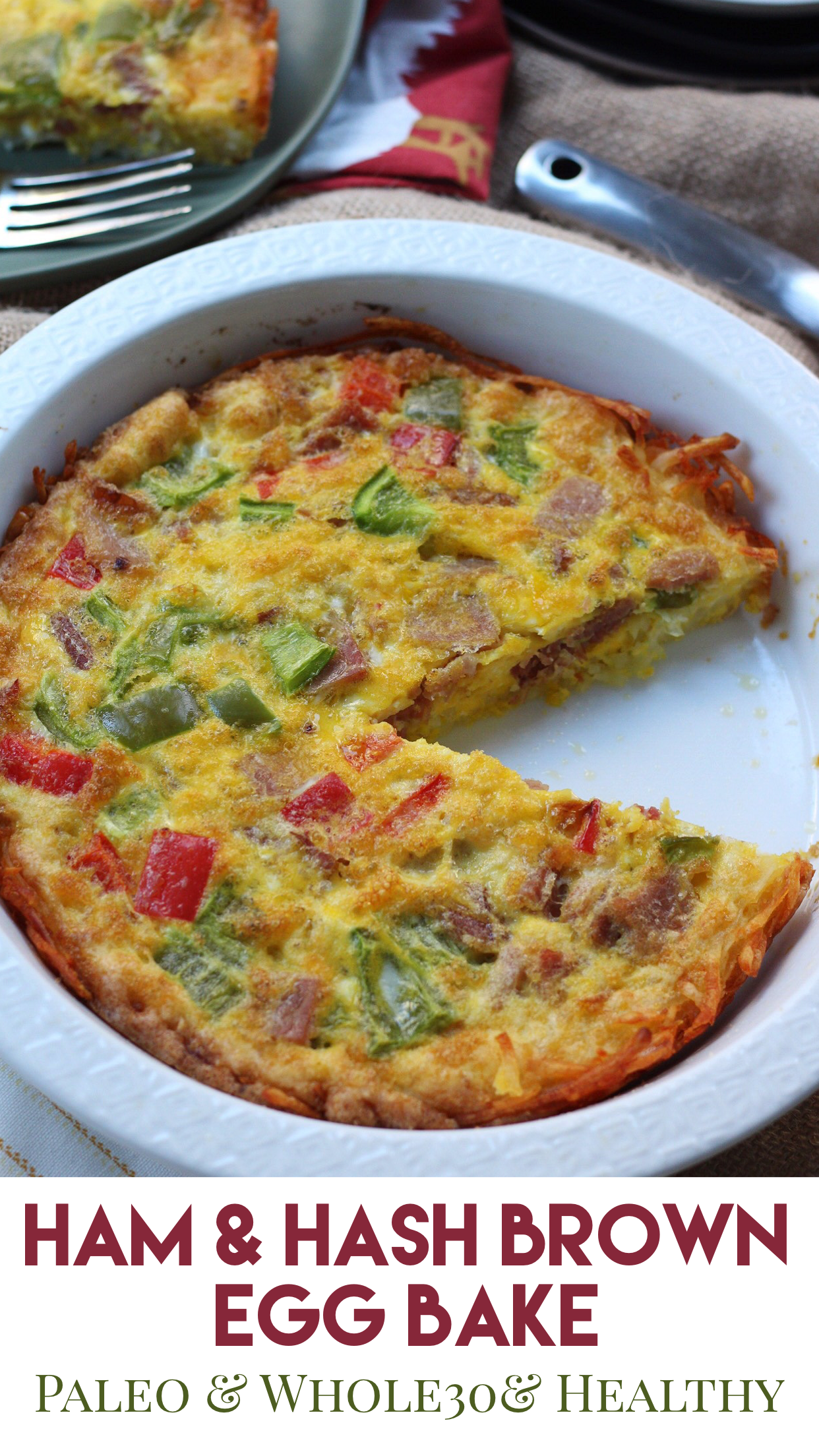 You could try diced tomatoes, mushrooms, zucchini, whatever ya got handy! If you're swapping them out, I'd be sure to still use the same measurements so the egg, Whole30 ham and hash brown ratio still stays the same as well.
It can be hard to find ham without added sugar or preservatives. I opt for Whole3o Approved Pederson's Farm ham. In fact, this egg bake is a result of the leftover holiday ham I made! Egg bakes are a big holiday staple for the morning after Christmas in my family, so it was perfect! Plus it's pre-cooked and sliced so I have to do about 4 minutes of actual "cooking".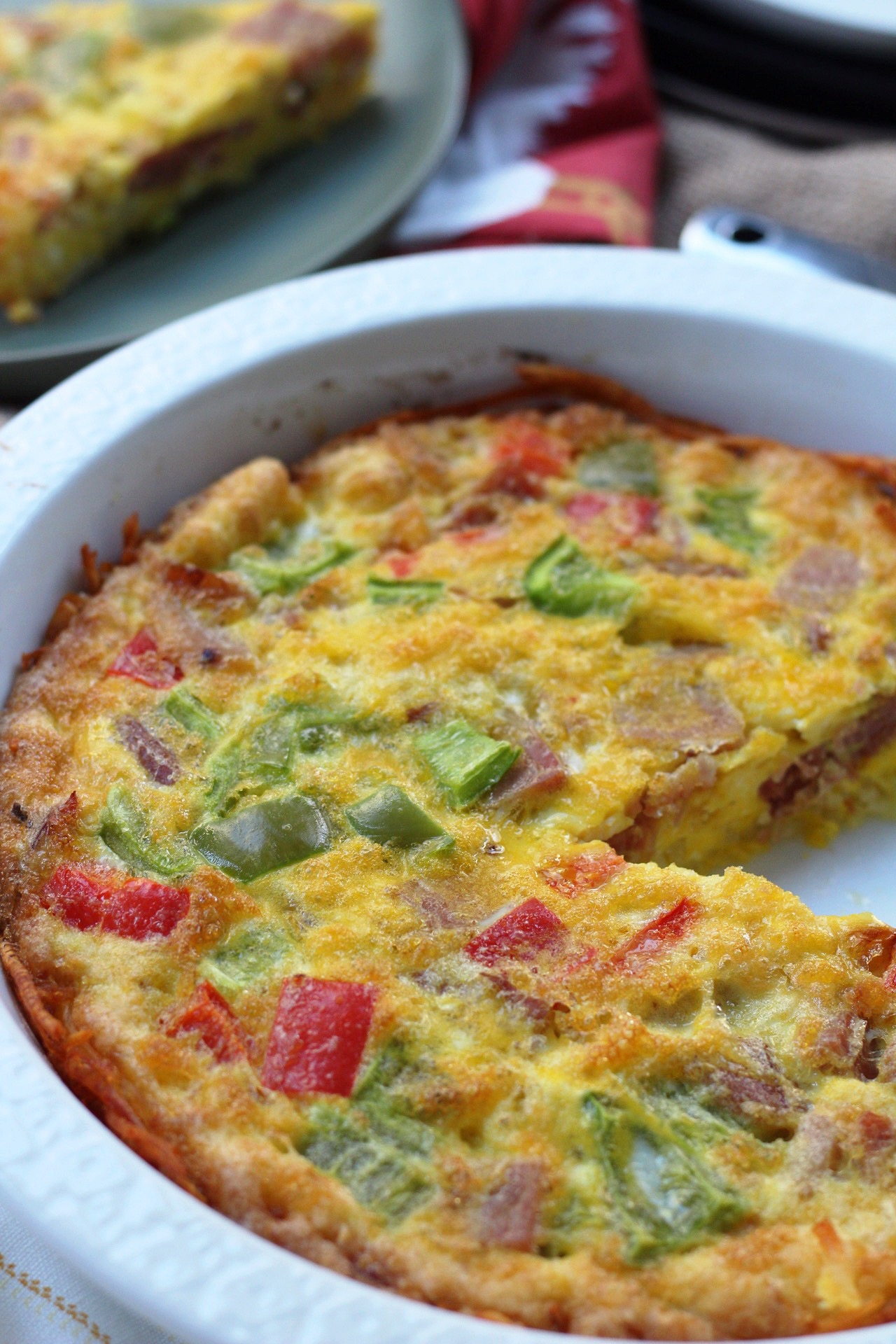 I'm not a huge fan of reheated eggs personally, but I love this right out of the oven and then my boyfriend takes every last bit of the Whole30 ham egg bake leftovers for his breakfast throughout the week. What I do is just cut it up and place each one in a baggie. Egg bakes also freeze really well! When you take it out of the freezer it will thaw and reheat in the microwave in just a few minutes so they're really convenient that way if you're a freezer meal fan!
You can serve this Whole30 ham egg bake by topping it with salsa, hot sauce, or with a side of crispy bacon and extra veggies! It's so filling and satisfying, just the way I like my breakfasts.
Other Recipes with Whole30 Ham That You'll Love:
Holiday Whole30 Ham (3 Ingredients!)
Pineapple Ham Sheet Pan Dinner
Slow Cooker Paleo Ham and Potato Soup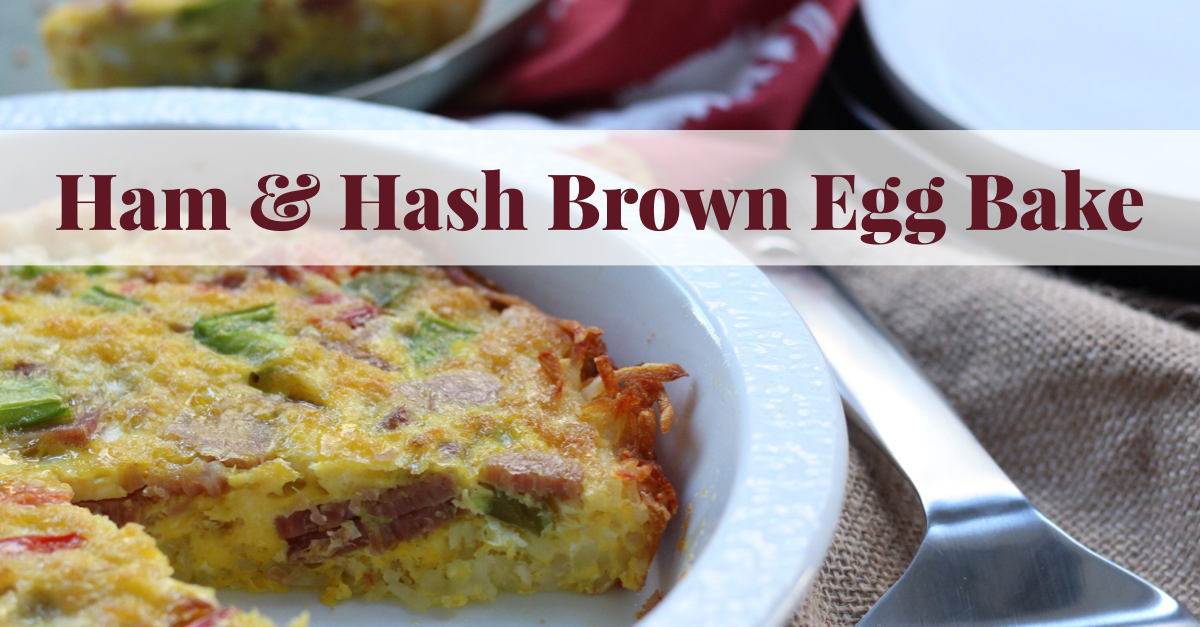 Print
Hash Brown and Ham Quiche
Prep Time: 10 minutes
Cook Time: 50 minutes
Total Time: 1 hour
Yield: Serves 4-6 1x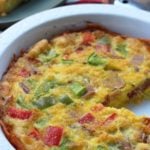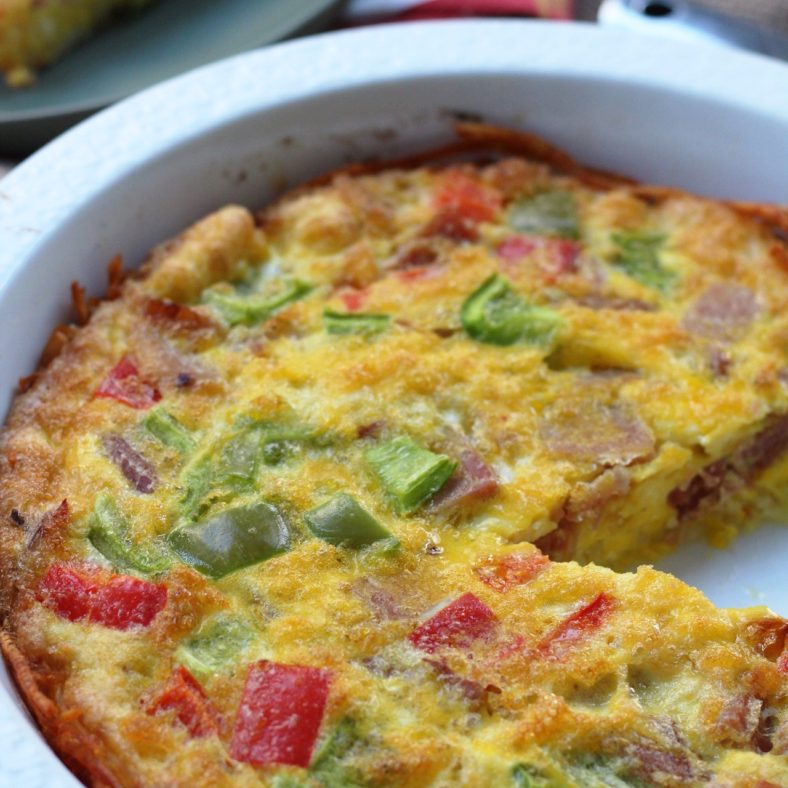 Ingredients
3 cups hash browns, thawed
3 tablespoons melted ghee
1 cup diced ham, cooked
8 eggs
1/2 diced green pepper
1/2 diced red pepper
1/4 diced onion
1/2 cup Original flavored Nutpods or almond milk
1/2 teaspoon salt
1/2 teaspoon pepper
1/2 teaspoon dried parsley
Instructions
Preheat oven to 400 degrees F.
In a medium sized casserole dish or round quiche dish, press hash browns into bottom and up the sides to create a crust
Brush melted ghee over hash browns
Bake for 25 minutes or until golden brown
While that's baking, beat eggs with milk, and spices
Combine with diced veggies and ham
Once hash browns are golden, remove from oven, turn temp. down to 350 degrees F., pour egg mixture over hash browns and place back into oven
Bake until eggs are no longer runny on top, about 25-30 minutes
If you want to add cheese to it (or just half of it for the kids!), do so 5 minutes prior to removing from oven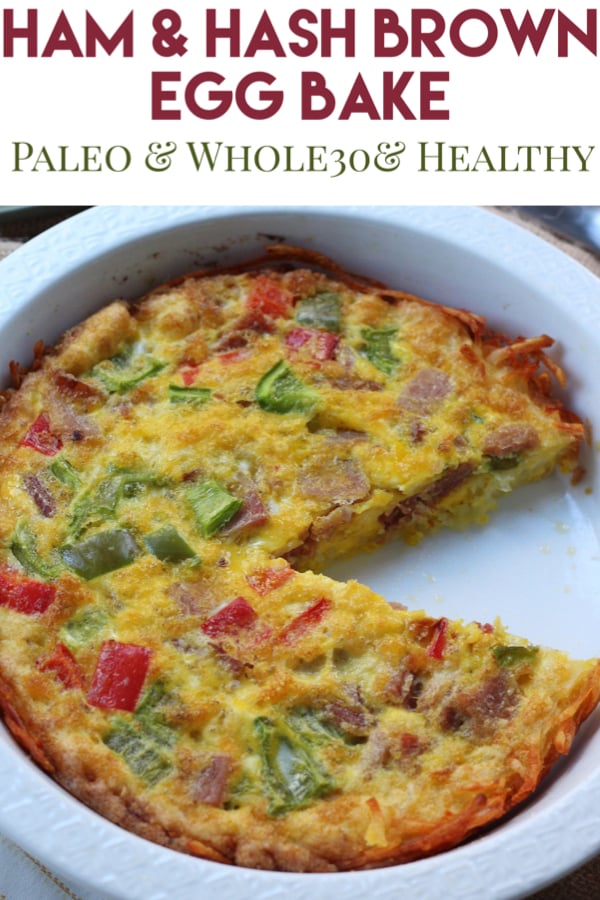 This Paleo ham egg bake recipe post contains affiliate links, though all products are ones I use personally and recommend. When you purchase anything using my links, it costs you absolutely nothing extra, but it does give wholekitchensink.com a little financial support which helps to keep this blog running. Thank you for your continued support, both with your dollars and your interest.