I get asked this question all of the time. What's the difference between Paleo and Whole30? Which one is better? I think that the clarification for both new Whole30'ers and people interested in Paleo is helpful to understand. We're going to talk about what the differences between the two are to hopefully clear up any confusion and answer all of your questions!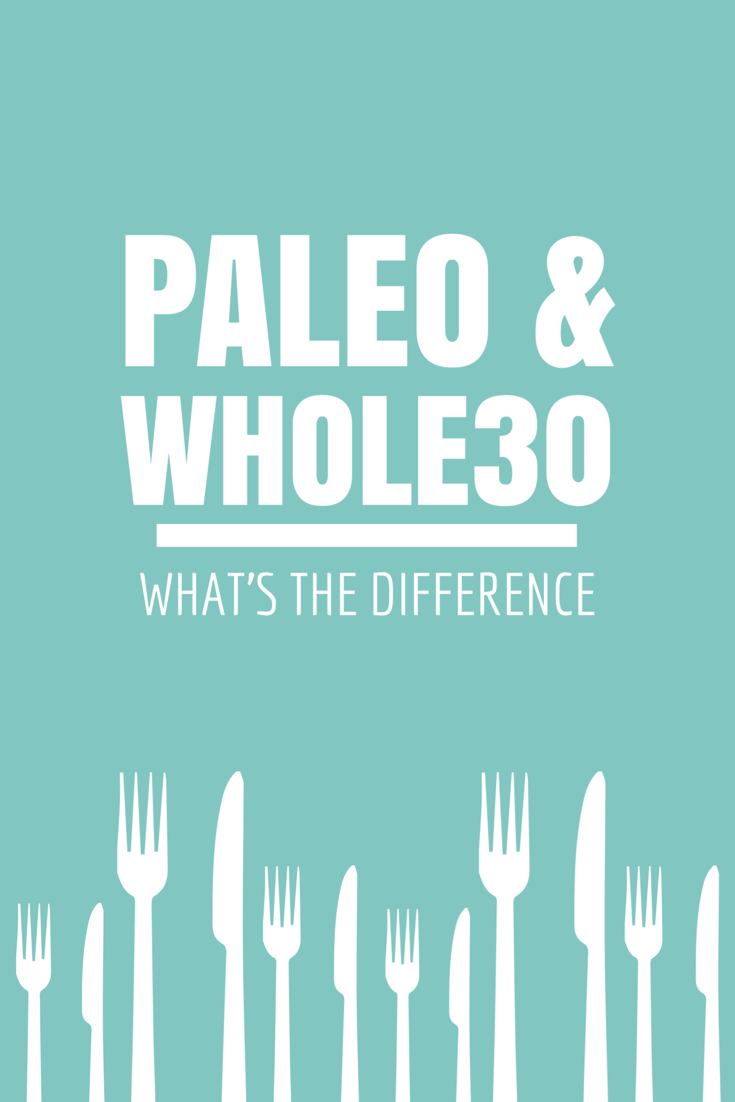 The Basics
The Paleo diet template centers around eating whole foods, cutting out anything processed. The premise for this is that our bodies are best served by eating the way our Paleolithic ancestors would have. The Paleo diet focuses on eating plant-based meals with high quality proteins and fats.
The Whole30 is often referred to as "a stricter form of Paleo". While that is true, they both serve different purposes. The Whole30 includes more on it's off-limits list than Paleo does but is intended as a short reset for your body. The Whole30 is a 30 day "reboot" of sorts, followed by a reintroduction period. During those 30 days you eliminate certain food groups and then mindfully add them back in afterwards.
Short-Term vs. Long Term Differences Between Paleo and Whole30
One difference between Paleo and Whole30 is that the Whole30 program doesn't advocate for it's participants to continue eating according to the Whole30 rules indefinitely. It's not intended to be a long-term diet. In fact, it's not labeled as a diet at all. The program provides the vehicle that will get you to a place where you can make more conscious choices after your Whole30 is over by finding out which foods your body doesn't tolerate, then using that information to help your body feel it's best. For example, you might find out that dairy causes bloat or acne, grain causes lethargy or auto-immune symptoms and then you can decide to not include them in your meals going forward.
The Whole30 also aims to improve your relationship with food during those 30 days. It does this by encouraging you to evaluate how and why you were eating the way you were, in turn creating new healthy habits in place of your old ones. Whole30 is a short-term program to help you find a long-term solution that works best for both your health and everyday life, not to be a solution.
Read about my very first Whole30!
Paleo is a form of eating that is geared towards a long-term lifestyle. While the Whole30 should be viewed as a reset, Paleo is something that many people choose to sustain indefinitely. It is more lenient when it comes to things you'll ultimately end up doing from time to time, like snacking and drinking alcohol, two things the Whole30 prohibits. Whether it's to meet weight-loss goals, improve health conditions or just because that's when their body feels it's best, Paleo is a dietary adjustment made for more than just a month.
Paleo Guidelines vs. Whole30 Rules
One reason that Paleo is more of a long-term option is because it's more of a guideline. There's a Paleo template of what you should and shouldn't eat, but anyone can choose to eat any "non-Paleo" food at any time if they think it's worth it to them. Many people eat most of their meals based on the Paleo guideline but may choose to eat pasta twice a week. And that's fine. Because that's their Paleo lifestyle.
The guidelines are just that. A guide. Some people may have found out that certain foods that are technically not Paleo don't bother their digestion or how they feel so they might still choose to eat them. Maybe dairy or quinoa isn't a big deal to them. Again, that's fine. Some people may not agree with me, but there's no right or wrong way to eat Paleo if you're being mindful of the template while simultaneously being mindful of what works for your body. When you're doing it for the long term, you're constantly re-evaluating what does and does not help you feel your best, so the do's and dont's of Paleo become more of a pliable guideline to live by.
With Whole30, on the other hand, there definitely is a right and a wrong way. There are hard and fast, black and white rules that must be followed (for your own good, of course) for 30 straight days. You can't top your egg bake with cheese, say that cheese doesn't affect your body and call it a Whole30. Nope. The rules are the rules.. and they're for everyone. The rules are what make Whole30 more strict than Paleo. There's no Paleo sweeteners such as honey or maple syrup and no recreating Paleo desserts. So no, you can't add coconut sugar to almonds to make cinnamon sugar roasted almonds and call it Whole30, even if it is Paleo.
Sugar Dragons & SWYPO
Everything that is Whole30 compliant is also Paleo but not everything that is Paleo is also Whole30 compliant. This is a big difference between Paleo and Whole30. As mentioned in the example of cinnamon sugar roasted almonds, that would be totally something you could do if you weren't doing a Whole30. One of the most incredible things that happens to people during their Whole30 is that they regain control of their sugar cravings, or better known within the Whole30 community, their sugar dragons. This wouldn't happen if there wasn't a rule that required you to exclude all sugar from your program, even Paleo forms of it. I know people who eat Paleo every single day but their day also includes Paleo cookies. AKA, they still have an out of control sugar dragon because they're still feeding their cravings. The Whole30 helps to squash your treats and junk food addiction by not allowing it. Period.
Another difference is that Whole30 also doesn't allow Paleo recreations of binge-worthy foods. They call this Sex With Your Pants On. The acronym is a way to describe eating foods that are technically Whole30 compliant but don't taste as good as the real thing and may be a food with no brakes. Meaning, SWYPO is any food that you just can't. stop. eating. once you start. They are foods that many people have an unhealthy relationship with and while SWYPO foods are different for everyone, there are a few that are explicitly ruled out. Paleo pancakes, chips, pizza and ice cream are an across the board no-go.
Everything else is a conditional, not one size fits all deal. Some people may have old tendencies to go overboard on french fries or chicken tenders. Maybe you could care less about either those but you used to take comfort in heaps of mashed potatoes and gravy. While both of these things can be made Paleo and Whole30, the program urges you to leave your SWYPO out of your program. Paleo doesn't have rules like this to help you with the relationship between you and how you view and use food, allowing you to eat any Paleo version of any food.. every day if you wanted to.
Reintroduction
The final major difference between Paleo and Whole30 is that the Whole30 program encourages it's participants to go through a deliberate reintroduction phase to add the excluded foods back into your diet one at a time. There's no reintroduction phase with Paleo, the list of foods to avoid are to just simply be avoided. The Whole30 doesn't require you to never eat the "off-limits" foods ever again. The point of the reintroduction phase is to find out which ones do give you problems and then enable you to make more mindful choices in the future by being aware of how certain foods affect you. Just as the first 30 days of the Whole30, this next phase also helps make you more aware of how your body functions depending on what you put into it.
Which is Better?
There's no right answer for that. Both will have a positive impact on your health and fitness goals. They're similar in that they will give you tools to help you feel better than you previously did. With both Paleo and Whole30, you'll be moving away from eating out of habit and closer to eating purposefully for nutrition and flavor.
Many people either use Whole30 as a starting point for diving headfirst into a Paleo lifestyle or they do a Whole30 and then discover Paleo because of it. I didn't even know what Paleo was until my first Whole30, but I did know that I felt so good that I wanted to keep eating this way.
Some people choose to do Whole30 to figure out which foods trigger different autoimmune reactions they experience or to try to eliminate skin issues or sleep problems. There's many benefits for both Paleo and Whole30 and they are, at the permitted food level, extremely similar. That being said, I'll always tell someone to do a Whole30. Even if they aren't interested in eating Paleo forever, I think the lessons that can be learned by doing it are invaluable and will truly make a difference well after the program is completed.
And for the people who ask me and are thinking about eating Paleo, even with all of the similarities I'll still recommend that they do a Whole30. Check out my tips for a successful Whole30, favorite Paleo resources and get started! It's an amazing program with all of the necessary resources at your fingertips. All of the information you need to do it is completely free online (because Whole30 is awesome like that). By doing a Whole30 first, you'll get a good lesson in what is and isn't Paleo, how to make different substitutions, what sneaky additives to look out for and how to cook Paleo meals. If you use the Whole30 as a jumping off point for Paleo, it'll be an easy transition being Whole30 is a little more strict than Paleo is. Basically, by the end of those 30 days it'll just be second nature. You'll be a Paleo expert and you'll be starting with your sugar cravings already in-check.
Have you done a Whole30? Are you eating Paleo now? Comment and let's talk about it!