I love cooking whole chickens for a lot of reasons. Mostly because it saves me money and makes meal prep easier. I will cook a whole chicken for dinner, like this slow cooker lemon thyme chicken, and then shred the leftovers. There's so much you can do with shredded chicken and keeping a Tupperware container of it in the fridge makes an easy and versatile option for lunches throughout the week.
Sometimes, if I'm really in a meal prepping mood, I'll separate out the leftover pulled chicken into serving size baggies and use different sauces (Tessemae's BBQ sauce, Primal Kitchen Food's honey mustard, etc.) to marinate it. I'll leave the baggies in the fridge until I'm ready to eat and then just grab one to throw on top of a salad.
Another reason I love cooking whole chickens is because there's really no end to how you can change up the flavors to keep it interesting. Like with this recipe, you could switch out the thyme for rosemary and have a totally different tasting meal.
While I don't mind baking a whole chicken in the oven, I typically utilize my slow cooker for them. The end result just seems to leave me with a much juicier, more flavorful chicken than the oven does. I also find that baked chicken sometimes drys out a lot faster in the fridge. Having better tasting leftovers keeps me more on track because I don't get sick of eating out of Tupperware all week.
Plus I'm just a fan of any meal I don't have to actually cook. This slow cooker lemon thyme chicken is perfect for when I know I'll have a busy week. Or when I just won't have the extra time to spend in the kitchen for dinner on a weeknight. I even keep a frozen whole chicken in the freezer for emergency situations!
Make this for dinner this week and feel free to get creative with the seasonings! What is your favorite way to cook a whole chicken?! I'm always looking for new ideas! Let me know in the comments!
Print
Slow Cooker Lemon Thyme Chicken
Prep Time: 5 minutes
Total Time: 5 minutes
Yield: Serves 4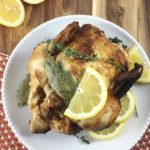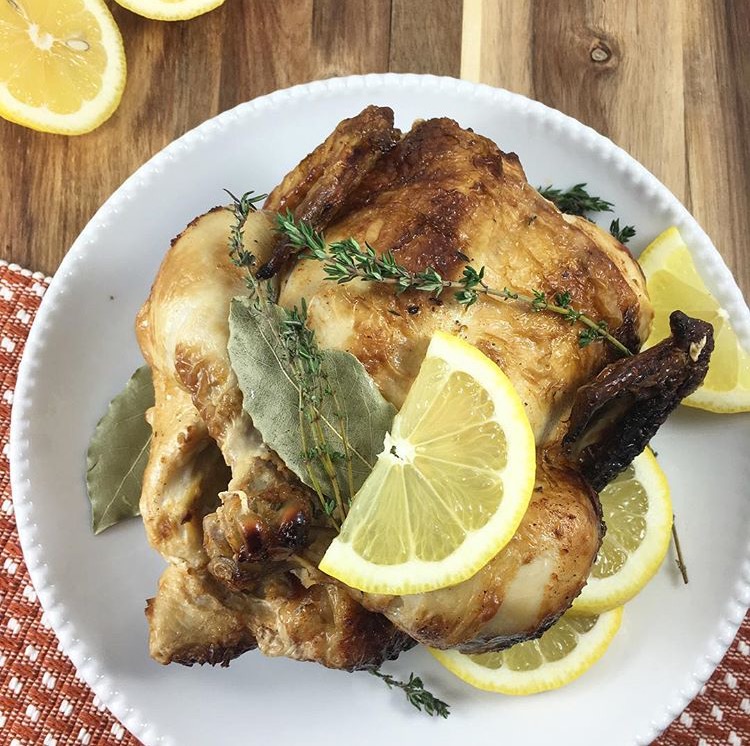 Ingredients
1 whole chicken, defrosted
1/3 cup lemon juice, or the juice of one lemon
2 tablespoons minced garlic
1 teaspoon salt
1/2 teaspoon pepper
6 fresh thyme springs or 1 and 1/2 teaspoon dried thyme
3 bay leaves
Instructions
Place chicken into slow cooker
Pour or squeeze lemon juice over chicken
Sprinkle garlic, salt and pepper over chicken
Add in bay leaves and thyme to slow cooker
Cook on low for 6-8 hours or on high for 4-6!
This post may contain some links that are affiliate links, though products are ones I use personally and recommend. When you purchase anything using my links, it costs you absolutely nothing extra, but it does give wholekitchensink.com a little financial support which helps to keep this blog running. Thank you for your continued support, both with your dollars and your interest.